20 things to do in Manhattan in New York
If you're planning a trip to the capital of the modern world, don't miss the best things to see and do on the island of Manhattan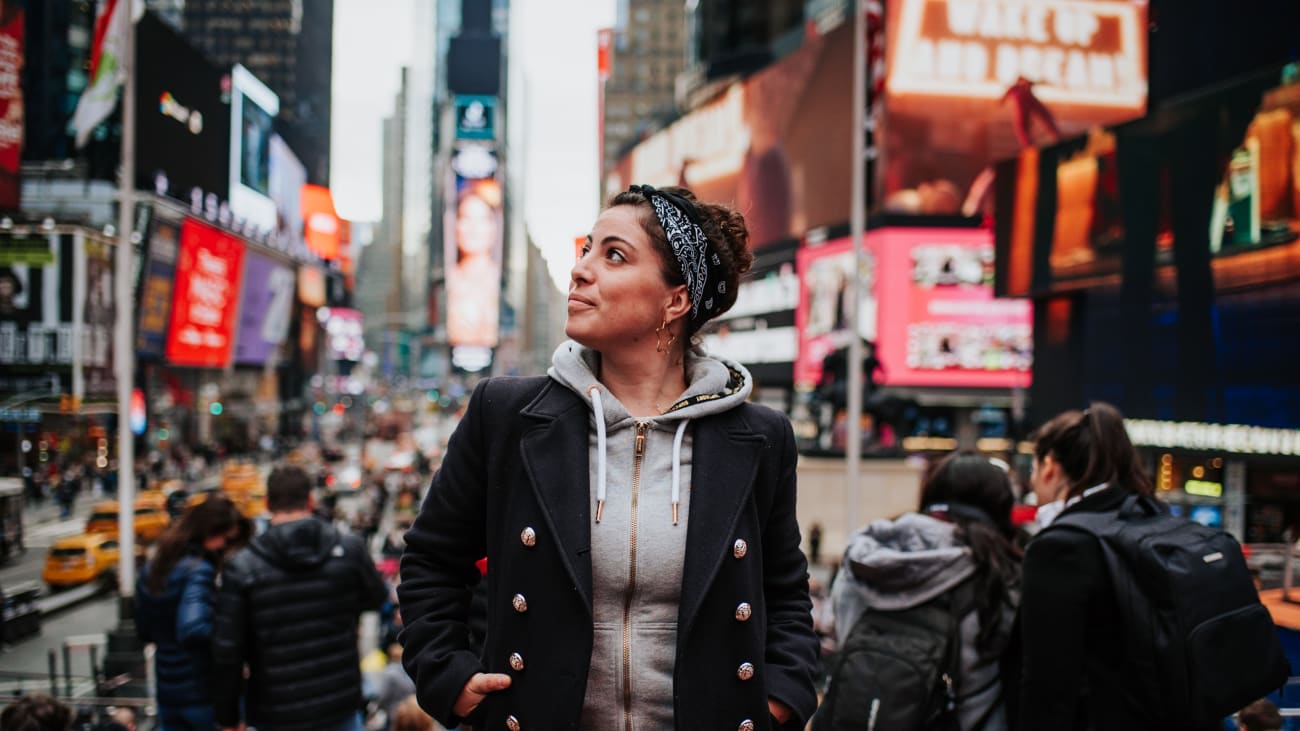 New York is a city brimming with possibilities and a dream destination for many. First-time visitor? There is so much to discover that you can make an itinerary in many different ways. To make sure you don't miss a single corner of this city, here are my Must-Sees of Manhattan:
1. Marvel at the lights of Times Square, day and night
I still remember the first time I visited New York, I left my bags at the hotel and we quickly went down to the subway to get out at the Times Square stop. It was already night and my first feel of the streets of the Big Apple was this: the lights of Times Square had me ecstatic for several minutes and then I knew it would be my favorite city, forever.
What you'll see in Times Square
Just look up to see some of the largest advertising screens in the world.
It is quite common to see the famous half-naked cowboy and other characters surrounded by tourists lining up to take a picture (if you do, you'll have to tip him).
Disney Store
M&M's themed store, where you will feel like Charlie in The Chocolate Factory.
World-famous clothing stores, such as H&M or Gap (Gap usually has quite a few sweatshirts and t-shirts personalized with New York-themed details, so it's a good place to buy an original souvenir).
Well-known themed restaurants such as the Hard Rock Café, Bubba Gump, or Planet Hollywood.
The famous ball with which New York celebrates its New Year's Eve Chimes.
The famous red stairs from where you can appreciate the square from a higher perspective.
Fast-food street stalls: pizza, hot dogs, hamburgers...
Times Square at Christmas
If there is one time of the year when Times Square becomes the center of everything (even more so, if possible), it is Christmas. The square is filled with huge crowds on the night of the famous Black Friday (the last Friday of every November), kicking off the Christmas shopping season. In addition, days before Christmas Eve the "Santa Convention" is celebrated: a parade of a thousand Santa Clauses.
Why I like Times Square
Every time I visit Manhattan, I pass by it day and night: the atmosphere of New Yorkers crossing (always in a hurry), tourists gawking at the screens skimming the sky and dozens of costumed characters, hot dog carts, and teenagers shopping. When you're in Times Square you know you're at the epicenter of the modern world.
Isa's Traveller Tip

Times Square is a great choice for the first stop on your trip. Marvel at its lights reflecting on the iconic yellow cabs of the city! Although the square is overrun with pedestrians, the traffic never stops. Welcome to Manhattan!
2. Visit the New York City Cathedral: St. Patrick's Cathedral
You probably didn't have this in mind when you started imagining your trip to the Big Apple, but here are a couple reasons why you shouldn't miss it. At a ten minutes walk from Times Square, located on Fifth Avenue and in front of Rockefeller Center is the St. Patrick's Cathedral, the largest neo-Gothic Catholic temple in North America.
What you will see
This is a very special building, not only for its exterior (its white marble façade stands out among the skyscraper buildings that surround it), but also for its interior, where there are two organs with about 10,000 pipes that offer spectacular recitals of music each season, starting in October.
Inside St. Patrick's Cathedral you can see a reproduction of Michelangelo's Pieta, which is three times larger than the original in Rome. Also, note the 26-feet diameter rose window above the main organ and the altar of St. Louis and St. Michael.
Why I like St. Patrick's Cathedral
When planning your trip to the city of skyscrapers it's difficult to imagine that right there, in the locus of modernity and avant-garde, you can find such a spectacular classical building. The entrance to the temple is free, so it won't cost you anything to go in and take a look, and the contrast with the rest of the attractions you will visit on your trip shows you that New York is full of surprises.
3. Go shopping on Fifth Avenue
The well-known Fifth Avenue in New York connects the north and south of Manhattan, being one of the most important arteries of the city and also one of the most expensive. Not in vain, Fifth Avenue is also known as the "Millionaire's Row" for having the most exclusive hotels and stores in the Big Apple like Armani, Prada, Chanel, or Tiffany, among many others.
What will you see on Fifth Avenue?
Surely you will pass by this avenue several times throughout your trip, but if you want my advice, don't rush this visit and spend an afternoon passing through its shop windows and going to the most famous stores on this street.
Very close to Central Park you can reach Trump Tower, and from there, a myriad of stores, malls, and tourist attractions such as the Empire State Building, St. Patrick's Cathedral, Rockefeller Center, the MET, the Public Library, and a bit further down, the **Flatiron Building **, the first skyscraper in New York.
The five best stores and storefronts
The famous Tiffany & Co jewelry store: in addition to its several floors of luxurious jewelry, it has recently opened a cafeteria on its top floor, so that you can actually have Breakfast at Tiffany's.
Saks Fifth Avenue a shopping mall with incredible window displays where you will lose track of time.
Apple Store: this Apple Store is not just another one! Close to Central Park and fully glazed, it will make any Apple Store you have visited before look like a convenience store.
Abercrombie & Fitch: not everyone is lucky enough to have an Abercrombie store in their hometown, so it's a good place to get your hands on the iconic sweatshirts of this American brand.
NBA Store: whether you are an NBA fan or not (keep reading, I'll give you some tips and tricks to attend a game below), you will definitely want to get a cap or a T-shirt of the most important basketball league in the world. This is their official store in New York, so do not hesitate to visit it.
Why I love Fifth Avenue
I must admit that as a shopaholic, I'm a little bit biased, but if there's one thing why Fifth Avenue deserves to be in my ranking, it's mainly because it's one of the most iconic avenues in Manhattan, that will help you get your bearings when moving around the city, and a place to shop whatever your budget. Plus, having Central Park as the backdrop to your afternoon of shopping is a nice touch.
4. Get cultured at MoMA
Past Fifth Avenue and into 54th Street, you will find the unmissable MoMA Museum in New York, the world's most important museum on modern art. So much so that it is considered a temple of modern art and has a vast collection including works by super famous artists such as Dali, Van Gogh, Pablo Picasso, and Andy Warhol, among many others.
Practical information
Address: 11 W 53rd St, New York, NY 10019.
Hours: open from 10:30 a.m. to 5:30 p.m.
Express visit: if you do not want to spend too much time, it is best to focus on the fourth and fifth floors, which is where the works of artists such as Warhol, Pollock, Matisse, and Cézanne are exhibited.
Tickets: Find more about their price and how to buy them in my article on how to visit MoMA.
Why MoMA is an essential for me
There are many museums in New York, but MoMA is dynamic and quite fun to visit, making it a tremendously popular attraction, even if you go with kids. You can see the most representative works of art of the nineteenth, twentieth and twenty-first centuries and discover the most famous series of Andy Warhol, which marked a before and after in the history of modern art. Check out my guide on MoMA Tickets if feel like exploring the museums of New York.
5. See the Manhattan Skyline by climbing the Top of the Rock
It could be said that the soul of New York resides in the skyscrapers that draw its skyline. The list of observatories in the city is long (you can also climb the Empire State Building, One World Observatory and The Edge) and from each see a different and unique face of New York City, but for many (myself included), Top of the Rock is the best observatory to enjoy the most fascinating panoramic view of New York in all its splendor.
The Top of the Rock observation deck is located in the Rockefeller Center, a huge complex of restaurants, offices, stores, theaters, and television studios that were built during the Great Depression in the heart of Midtown Manhattan.
What will I see from the Top of the Rock?
From Top of the Rock, the views of the city are spectacular: you'll have a wonderful panoramic view of Central Park, a perfect view of the Empire State Building, and you'll be able to see the Downtown skyline in the distance, but in great detail.
Plus, their outdoor observation deck is quite large, allowing you to enjoy your moment up there even more: no rushing and no squeezing in crowds.
Why I prefer the Top of The Rock
Going up Top of the Rock was one of the experiences that impressed me the most on my trip to New York. Atop a skyscraper like this, you get a bird's eye view of Manhattan, and even if there are bars or restaurants on other rooftops, the views from the Top of the Rock are unbeatable. You won't regret it, I promise!
6. Get swept up in the magic of Broadway
Visit Manhattan to have fun, to be surprised at every corner, and, as much as possible, to daydream. For this, go enjoy a Broadway musical and leave in awe: the magic of Broadway will fill your heart with wonder, and it's the perfect plan for your trip whether you go with family, friends, or your couple.
Of course, I recommend that you get your tickets online and in advance to make sure you get the best seats on the date you want and for a better price than at the box office, where you would also have to wait in long lines.
The most outstanding musicals
The Lion King: it's not only the king of the jungle, it's also the king of the billboard. It's been playing at Broadway every night since 1997 and is the most-watched musical in history. There must be a reason, right?
Aladdin: my personal favorite. Maybe because I went to see it with lower expectations than I had for the Lion King, it surprised and amazed me in equal parts.
Chicago: travel to 1920s Chicago and enjoy an unparalleled soundtrack that you'll surely recognize.
Frozen: surely, the favorite of the new generations. Treat your children to this if you're visiting New York City with them!
The Phantom of the Opera: the perfect classic if you're not high on Disney-themed musicals.
Why go to Broadway
Just strolling along the boardwalk and seeing the luminous billboards will be enough to make you curious about these world-famous shows. It is probably the best place in the world to see a musical, which in my opinion you have to do (at least) once in your life.
7. Enter the New York Public Library
Turning onto Fifth Avenue (back again), you'll find the famous steps of New York's Public Library. This impressive three-story neoclassical building will inevitably catch your eye with its marble staircase decorated at the entrance, with two fountains and two lions famously nicknamed Patience and Fortitude.
Inside it holds more than three million books, including in its catalog a letter from Christopher Columbus, some William Shakespeare manuscripts, a draft of the Declaration of Independence of the United States, and a copy of the Gutenberg Bible in the McGraw Rotunda. Quite impressive!
What to see inside the Public Library
Surely its reading rooms will transport you directly to "Ghostbusters", "Breakfast at Tiffany's" or "The Day After Tomorrow," as they filmed several of their scenes there. The most famous room of all is the Rose Reading Room, on the third floor: for its large dimensions (it is as big as a football field) and for its ostentatious decoration with hanging lamps, massive oak tables and beautiful frescoes on the ceiling.
Why I like the Public Library
I won't hide it, the fact that it's free is enough incentive to take a look at it and go inside, even if it's only for a few minutes. This library has been the filming location of several movies and not by chance. It is certainly the best reading room I have ever seen. It seems incredible that you can find a place with so much calm and peace in the middle of bustling Midtown.
8. The best basketball league in the world at Madison Square Garden
:
Madison Square Garden, popularly known as "The World's Most Famous Coliseum," is a huge indoor arena in Midtown Manhattan. With five floors and a capacity of more than 20,000 spectators, it is famous for being the home of the Knicks (NBA) and the Rangers (NHL).
Madison Square Garden also hosts musical events (and in fact some of the best artists in the world have performed here) but if during your visit to New York you would like to catch an NBA game, go ahead and get your tickets for a New York Knicks game. If you're more of an ice hockey fan, you can also go see the New York Rangers play.
Why I recommend you to visit Madison Square Garden
As I said, New York is a city to have fun and even if you do not like sports or the NBA, watching a basketball game is a spectacular display of music, dancing, partying, and above all, sport. Put on your cap and get a hot dog and try to catch one of the t-shirts thrown by the cheerleaders. Maybe even get the attention of the kiss-cam! Do you want to know more? Find all about Madison Square Garden here: Madison Square Garden Tickets.
9. Grand Central Station, a crossroads in the heart of Manhattan
Grand Central Terminal is the most important railway station to see in Manhattan and one of New York's architectural jewels. This prodigy of art and engineering opened its doors in the 19th century and you may have seen it in a couple movies and TV shows. A real crossroads at rush hour.
You will recognize it by its main lobby called Main Concourse decorated by a huge vault with frescoes of constellations. Once inside you can also see its three large arched windows and its iconic clock as well as a huge American flag in memory of the victims of 9/11.
Why I like Grand Central Terminal
As a movie and series lover, it may sound a bit geeky, but I really wanted to see the famous hall of this station. If you want to see it in full swing, I recommend you stand in the center of the concourse at rush hour, around 5 p.m., and be prepared to be amazed by the millions of New Yorkers you'll see rushing through.
Isa's Traveller Tip

While visiting Grand Central Terminal, have a drink in one of its cafes and restaurants. My favorite is the "Oyster Bar", the most famous and oldest of this station, open in 1913.
10. Have a picnic in Madison Square Park
While it is true that Central Park is the green heart of Manhattan and the largest urban park in New York, on Fifth Avenue next to the Flatiron building is located a small park not known by all visitors to the city that is an oasis of peace and quiet in the middle of bustling Midtown: the Madison Square Park.
Here, it is common to see office workers taking a break and it is also a local favorite where outdoor exhibitions and concerts take place.
What to do or what to see in Madison Square Park
It has an area with tables and chairs where you can sit and enjoy a takeaway cup of coffee, sandwich, or ice cream while you take a break from your day of sightseeing in Manhattan. Also, the original Shake Shack restaurant is located here, so it might be a good idea to pick yourself up with a cheesy, saucy burger and a giant milkshake.
Why I recommend Madison Square Park
No offense to Central Park (I know you'll visit it anyway), but I found Madison Square Park to be quite genuine. Many tourists overlook it (and that, believe me, makes it even more authentic), and taking a walk or having a picnic on the grass is a great plan to rest amid a sightseeing marathon.
11. Natural History Museum
Before leaving the Midtown area, I can't help but recommend one of the most visited museums in the United States: New York's Museum of Natural History, which has topped every list of the best science museums on the planet since its founding in the 19th century.
Disseminating literacy about the universe, the Earth, and the human being, this museum is one of the fundamental tourist attractions in Manhattan due to its interesting collection, full of fossils, minerals, and even meteorites, which appeals to both adults and children. Keep this one in your itinerary if you're traveling to New York with kids.
Why I like the Natural History Museum
Although I've never been a big fan of museums, the truth is that visiting the Museum of Natural History was a jaw-dropping experience. It's a great way to add contrast to your trip and rest up a bit from Manhattan's bustling streets. In fact, if you only have time to visit one museum, I would definitely recommend this one.
12. Travel to the heart of Harlem and take part in a Gospel Mass
A walk through Harlem is a must during your visit to Manhattan. This area of the city is the heart of the African American community and it had an impressive artistic effervescence in dance, painting, and music in the last century. In fact, Ella Fitzgerald, Count Basie, Aretha Franklin, Michael Jackson, or James Brown all started their careers in this iconic NYC neighborhood.
What to do in Harlem
If you are passionate about music, the best way to soak up the culture of Harlem is to take a tour of the neighborhood, where you will get to discover its genuine atmosphere and streets full of history. You'll even experience the spirituality of attending a Gospel Mass at a local church.
Why I like Harlem
New York is a city of contrasts and if we were to focus only on the majesty of the Midtown and Downtown skyscrapers, we would be leaving a large part of the city behind. Harlem is not only a neighborhood in Manhattan but the heart and soul of a community with a tradition and culture deeply rooted in the history of the city. A Gospel Mass will be the perfect way to round out your visit to these iconic streets of New York.
13. A bittersweet but essential visit in Manhattan: the 9/11 Memorial
:
Past the north area of the island, if you head south of Manhattan, you will find, located at Ground Zero in New York, the 9/11 Memorial. This is one of the most moving things to do in New York. It pays tribute to all the victims who perished in the terrorist attacks of 2001 and truly changes the way you perceive the city and its inhabitants.
What to See at Ground Zero
In the same place where the Twin Towers stood, today is located the Memorial Plaza, two large fountains filled by waterfalls surrounded by bronze plaques where the names of all the victims have been engraved.
In turn, these pools are surrounded by hundreds of oak trees, creating a place of reflection that invites you to remember the past and to fill the future with hope. Among this oak forest, stands out "The Surviving Tree", the only one that survived the tragedy.
Why I recommend visiting the 9/11 Memorial
We all remember in greater or lesser detail what happened on that terrible September 11 that changed the world forever. The 9/11 Memorial is a delicate and sensitive tribute to the victims of this tragedy and also has a museum with a collection of more than 10,000 objects recovered from the disaster. Find out more details about the visit in this guide of 9/11 Memorial Tickets and Tours.
14. Be in the shoes of a Wall St. broker for a day on the streets of the Financial District
The Financial District, in the heart of Downtown Manhattan, is one of the most representative neighborhoods of New York. Its narrow and long streets flanked by huge skyscrapers will barely allow you to see the sky, immersing you fully in the rush and adrenaline of high-pressure business days.
What to see in the Financial District
Wall Street, the most representative street of this neighborhood.
The new World Trade Center (also known as One World), built after the terrorist attack on the Twin Towers
The famous New York Stock Exchange.
The Wall Street Tower
Trinity Church, an architectural oasis among so many modernist skyscrapers
Battery Park, with the piers that set course to the Statue of Liberty
15. Dive into Chinatown
New York is a multicultural city where different religions, races, and cultures coexist. If after attending a Gospel mass you want to keep exploring the city's diversity, at 133 Canal Street in Chinatown is located the Mahayana Buddhist temple, with the largest Buddha in New York measuring 16 feet high.
What to see or do in Chinatown
In addition to the Buddhist temple, you can enter the Chinese Museum in America to learn about the history of this community in the United States
You can also go hunting for the best deals in Chinatown and browse its stores where all kinds of products are sold at very cheap prices
You can stroll through quiet Columbus Park
Here is a compilation of the best things to do in Chinatown so you don't miss anything.
Why I like Chinatown
It is one of the most popular neighborhoods in New York and although I personally wouldn't spend more than a couple of hours there, it is highly recommended to stroll through its streets to perceive a totally different atmosphere than the one you find in nearby SoHo or Wall Street itself. Again, this area represents the daily life contrasts of the city, so do not hesitate to visit it during your stay in Downtown.
16. Sail to the Statue of Liberty
This gift from France to the United States on the 100th anniversary of its independence has become the country's most famous monument and a symbol of freedom and democracy.
The Freedom Statue, 150 feet high, is located on Liberty Island and can be visited by ferry. This experience is highly recommended because you will be able to see this spectacular sculpture up close and enjoy the views of New York from the sea.
Why I like this experience
Visiting the Statue of Liberty (you can access her pedestal and I tell you how in my article on Statue of Liberty Tickets) can only be done by ferry. The views you will have from that boat, are, for me, the best in Manhattan Island. The skyline of the financial district is seen to perfection and it is a totally relaxing experience that will allow you to take a break from the long walks across the city.
17. Enjoy the nightlife of Manhattan with its live jazz clubs
New York is the perfect setting to enjoy the best jazz. Since most of Chicago's best musicians moved to New York in the late 1920s, the city soon became the Jazz Mecca of the United States. Almost all the relevant styles of this musical genre have emerged in the Big Apple in recent years and musicians from all over the country come here to work their way up to the top.
In Harlem
In Harlem, many clubs feature live bands, but if you prefer to go somewhere truly authentic you should check out the Village Vanguard. Despite opening its doors in 1925, it has hardly changed since then and that's why it has kept all of its charm. As you go down the stairs of this place you will see some small tables where you can have a drink during the concert and several pictures of the musicians who have played here, of which there are many.
In Times Square
Other jazz clubs to check out in Manhattan are Iridium, known for carrying a variety of bands playing different genres such as jazz, blues, and rock every day of the week. As it is in the heart of Times Square, it is a perfect plan to end the day and then go back to the hotel, if you're staying in this area of the city.
Near Times Square is another jazz club with a long history, Birdland, named after the popular musician Charlie Parker and his nickname "Bird". This club is an essential part of the history of jazz in New York, especially in the 50s and 60s. Today, Birdland is known for its resident bands and for hosting such popular events as the Umbria Jazz Festival in New York and the annual Django Reinhardt NY Festival.
18. Spend an afternoon shopping at Macy's
If you want to take a souvenir of your trip to New York and, in addition, you can't resist to an afternoon of shopping, make room in your itinerary to go to Macy's, the largest store in the world located on 34th Street, known as "The Fashion District", in the heart of Midtown Manhattan.
Besides being one of the most popular places among New Yorkers for shopping, it is also worth a visit for its history and anecdotes. For example, did you know that Macy's had the first Santa Claus to work in a department store during Christmas in 1862 and that this store organized the first Thanksgiving parade in 1924?
Even more, its building was declared a Historic Landmark, so how could you resist touring this iconic NYC mall?
Why I recommend Macy's
Far from the strict luxury of other malls in Manhattan, here you will find brands and products for all budgets. In addition, you will always find special offers. If you travel to Manhattan at Christmas, Macy's and its decorations are a must-see.
19. Enjoy the gastronomy of New York in its genuine markets
Drinking and eating are two of the favorite activities for travelers when on vacation, especially in New York with its endless culinary possibilities. Check out my guide about 20 places to eat in New York City, but as an appetizer, here are my favorite places in Manhattan to eat:
Gotham West Market in Hell's Kitchen
West of Times Square in Hell's Kitchen, a neighborhood full of bars and restaurants, is located Gotham West Market, a food hall where there are no fast-food chains, but restaurants with a more elaborate gastronomic offer that share space in a large open room on the first floor of the building.
Gotham West Market is a fairly quiet place with a wide menu to choose from (ramen, pizza, sandwiches, tacos, burgers, crêpes, etc.) so there will be no problem to agree on what to eat if you travel with friends to New York. This market has a little bit of everything.
Little Spain Market
Another perfect choice in Manhattan is the newly opened Little Spain Market, located in the trendy neighborhood of Hudson Yards inside 10 Hudson Yards. A gastronomic space dedicated to the flavors of traditional Spanish cuisine by the prestigious chef José Andrés in collaboration with the brothers Ferrán and Albert Adriá.
Little Spain has a dozen stalls where you can savor great classics of Spanish gastronomy such as tapas, sandwiches, stuffed bread, cheeses, or Spanish wines. In addition to these places to snack, the restaurants Mar, Leña, and Spanish Diner complete the offer with outdoor tables to enjoy the best of Spanish cuisine away from Spain. While you are there, make the most of your visit with a stroll around this new trendy neighborhood, Hudson Yards. Find more details in my article on Things to do at Hudson Yards.
Chelsea Market
Finally, Chelsea Market is one of the most famous food markets in New York. It is located in the Meatpacking District next to the High Line, an urban park built on former elevated railroad tracks, which crosses the west side of Manhattan.
It is a former cookie factory converted into a beautiful market where it has retained its old industrial style with charming brick walls and high ceilings. Strolling through Chelsea Market is a pleasure, not only because of its decoration but also because here you can buy delicacies from all over the world and order something to eat at their fast food stalls (sushi, tacos, noodles, pasta or seafood, the specialty of the market).
Also, did you know that Oreo cookies were invented here? Look at the walls, they are full of Oreo references!
20. Have fun at Madame Tussauds
Another essential visit to see in Manhattan is the Madame Tussauds Museum, especially if you travel with children to New York as they will have a great time in what is considered the best wax museum in the world.
Located in Times Square, it opened its doors in 2000 to realistically portray celebrities from all fields (film, music, television, sports, politics, etc.) and let the public interact with these wax figures in a themed background.
Why I liked Madame Tussauds
Everything is set up at Madame Tussauds for having a great time. There are even special shows like King Kong (where you will face an imposing animatronic of this legendary and ferocious ape), Marvel 4D Experience (an entertaining interactive activity with superheroes like the Hulk, Captain America, Thor, or Iron Man), or Ghostbusters (where you can catch your own ghost!).