MoMA Tickets in New York
Spending an afternoon at the MoMa is a great plan: here's how to get tickets and the amazing works of art you can't miss inside the museum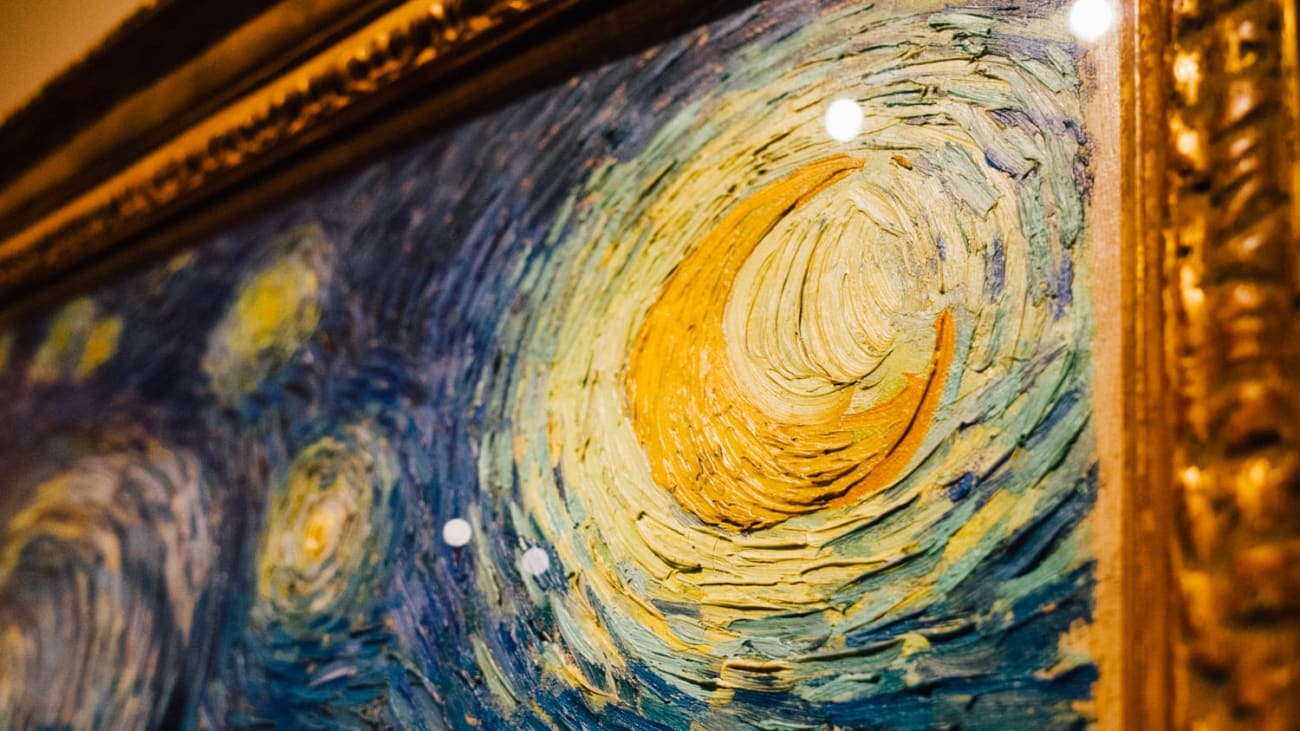 The MoMA in New York is the most important museum in the world on modern art and one of the essential visits in the Big Apple. It has an extensive collection of 200,000 pieces, including works from Picasso, Dali, Van Gogh, and Andy Warhol, among many others.
New York's MoMA (Museum of Modern Art) is incredibly popular, and the downside to this is that the queues for access are huge no matter what time of the year... but here's a few ways to avoid them:
The best option
MoMA offers a complete experience dedicated to modern art suitable for all ages. With the no-queue admission to MoMA you get immediate access to the MoMA Museum in New York to see the world's most famous collection of modern and contemporary art, which houses such iconic works as Picasso's "Les Demoiselles d'Avignon", Miro's "Dutch Interior" and Warhol's "Campbell's Soup Cans".
The collection also includes architecture, photography, film, design, performance art, and media. Plus, with this skip-the-line ticket to MoMA, you'll also have access to MoMA PS1, Long Island City's contemporary art center, for 14 days following your visit to the Manhattan venue to soak up even more art. This cultural space hosts diverse exhibitions that address everything from artist retrospectives to site-specific exhibitions.
Why I like this option: it's both the cheapest and the most convenient way to access the museum. You are guaranteed entry without having to wait in endless lines at the entrance.
Recommended if... you want to visit the MoMa at the best price.
---
Tourist cards that include the MoMA
To get the most out of your trip to New York, buying a tourist card is a great idea. Why? If used properly, you will save money and time by not having to buy individual tickets, and in some cases, you won't even have to wait in line. It is also very convenient to have all the tickets in one place.
New York Pass
The New York Pass is a pass that you purchase for a set number of days and pay depending on the number of days of validity you choose. Watch out, because they are not 24-hour days: from the time of activation of the pass you have until midnight before it counts as a full day and stops working.
This tourist card is highly recommended if you like to see as many things as possible on the same day. You can select any duration you like from one to ten days.
Includes: a travel guide in English, skip the line access to more than 100 attractions and activities, New York's top attractions such as MoMA, Statue of Liberty, Madame Tussauds Museum, Empire State Building, 9/11 Museum, Top of the Rock, Manhattan cruise, Manhattan sightseeing bus... You can read more details here: New York Pass.
New York City Explorer Pass
If you already have no doubts about the New York landmarks you want to visit during your trip, the New York City Explorer Pass is ideal to customize your visit to the maximum since you can choose between 2, 3, 4, 5, 6, 7 or 10 attractions and you will pay according to the amount you choose. From the moment you activate the pass, you have a full month to visit the attractions you have chosen, so no rush.
Includes: free choice from over 100 activities and attractions, queue-free entry to some attractions, and valid for 30 days from the moment of pass activation. You can read more details here: New York Explorer Pass.
New York Sightseeing Pass
Like the New York Pass mentioned above, the New York Sightseeing Pass works per day and each day is valid from activation until midnight. This tourist card is the most recommended if you want to see the tourist attractions at your own pace. Its duration is from one to ten days.
Includes: skip-the-line access to over 100 attractions and activities and includes credit to spend at the attractions, some pretty cool discounts throughout the city, and a free meal at the restaurant of your choice from a list of popular New York sites. You can read more details here: New York Sightseeing Pass.
At the box office: MoMa ticket prices
Adults: $ 25
Seniors over 65 with ID: $ 18
Disabled visitors: $ 18
Students with ID: $ 14
Children under 16: free
MoMA New York Hours
MoMA is open from 10.30 a.m. to 5.30 p.m. daily (Fridays from 10.30 a.m. to 8 p.m.). Regarding closing days, MoMA is closed on Thanksgiving and Christmas. MoMA PS1 is also closed on New Year's Day.
Where is the MoMA and how to get there
MoMA is on 53rd Street between 5th and 6th Avenue. To reach MoMa by public transportation, the closest subway station is the 5th Avenue and 53rd Street stop on the E and V lines. By bus, you can get there on the M1, M2, M3, M4, and M5 lines.
What to see at MoMA
From the eight canvases and one drawing with which the MoMa open up its doors in 1929, its collection has grown to more than hundred thousand pieces including paintings, prints, sculpture, photography, drawings, design, film, architecture, and prints. To this must be added the annexation of MoMA PS1 in Queens, a cultural space with a special focus on contemporary art.
MoMA's vast collection is spread over 6 floors, although the bulk is distributed between floors 2, 3, 4, and 5, as the first floor is used as a lobby (store, ticket offices, art lab, restaurant, etc.) and the sixth floor is reserved for special exhibitions.
Museum collections
Hall
During your visit to New York's MoMA, you can take the opportunity to grab a coffee and relax in the museum's Sculpture Garden, an oasis in the middle of the city, designed by Philip Johnson in the 1950s.
Floor 2: 1970s - Present Collection
The second floor of MoMA New York is devoted to prints, illustrated books, and audiovisual media. There is a café here as well.
Floor 3
The third floor of the museum is devoted to architecture collections, graphic and industrial design, drawing, and photography.
Floor 4: 1940s - 1970s Collection
Here you can find the work of artists such as Roy Lichtenstein, Andy Warhol, Jasper Johns, Jackson Pollock, Yayoi Kusama, Robert Rauschenberg, or Mark Rothko.
Floor 5: 1880s - 1940s Collection
On the fifth floor of MoMA, you can see paintings by artists such as Frida Kahlo, Pablo Picasso, Salvador Dalí, Claude Monet, Vincent Van Gogh, Paul Cézanne, Henri Matisse, and Piet Mondrian.
Floor 6
The sixth floor is dedicated to special exhibitions. From the large windows on the top floor, there are amazing views of Midtown Manhattan, where important buildings such as Rockefeller Center, St. Patrick's Cathedral, and Grand Central Station are located.
Isabel's Traveler tip

For a short visit to MoMA, focus on the fourth and fifth floors, where the works of famous artists such as Warhol, Pollock, Matisse, and Cézanne are displayed.
A brief history of MoMA
Located in the heart of Manhattan, right next to Central Park, is the MoMA (Museum of Modern Art), the world's most important museum of modern art. It opened in 1929 at the initiative of three philanthropists named Abby Aldrich Rockefeller, Mary Quinn Sullivan, and Lillie P. Bliss to help others understand and enjoy the modern visual arts.
When MoMA opened its doors, it began exhibiting its first works in a modest facility. However, the public's reception was so good that in the following years the museum had to move several times to other larger locations until it finally settled on its current location in 1939.
Today it is considered a temple of modern and contemporary art in the West and has even undergone a new expansion to provide more space for new exhibitions.
Other museums that may interest you
If you want to complete your visit to New York with some other museum, I have to recommend the Museum of Natural History. I was greatly impressed on my first visit, and I tell you all about my experience in my article on Museum of Natural History Tickets.
Anyway, I have also written a practical guide about all the museums in New York, where you can choose the one that most interests you. Follow this link to check it out: 12 best museums in New York City.
Frequently asked questions
Is the MoMA free on Fridays?

The MoMA is indeed free on Fridays, however only from 16:00 to 20:00. It is also important to note, that at this time the MoMA can quickly grow crowded, with the entire experience turning into a queue.

When is the best time to visit the MoMA?

Ironically the best time to visit the MoMA is Friday, between 12:00 to 16:00, as most people (post-morning) will be waiting for the free period.

What can I see at the MoMA?

The most important works at the MoMA include van Gogh's The Starry Night, Dali's The Persistence of Memory and Warhol's Campbell's Soup Cans, among many others.