New York Sightseeing Pass
With the Sightseeing Pass you will have a "flat rate" to enjoy New York's attractions at an affordable price.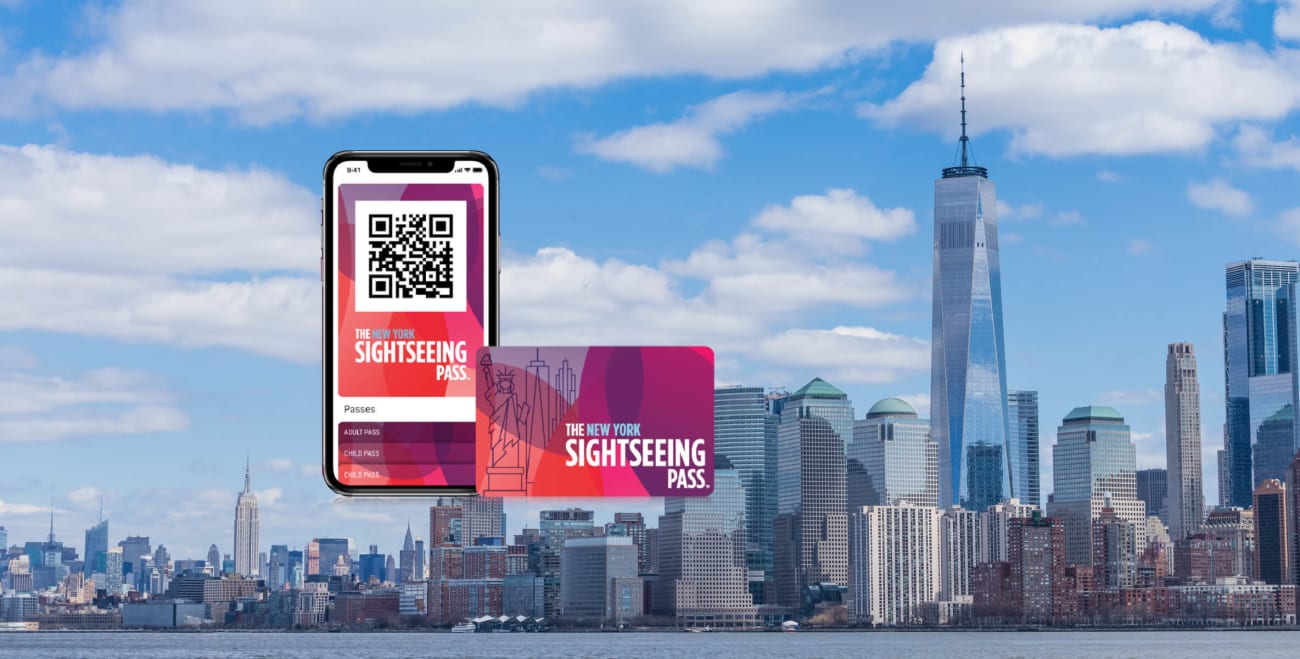 If you're reading this, it's because you're looking forward to eating New York on your next trip. To simplify the organization of your trip there are a few tricks and the New York Sightseeing Pass is one of them.
Tourist Card
Access to New York's best attractions, at a lower price
With this tourist card you will have access to the best attractions in New York during your trip. You will pay for the days you want to use it, recommended for off-road travelers who don't want to miss anything!
The New York Sightseeing Pass is a tourist card that gives you access to the most important attractions and points of interest in New York. The Sightseeing Pass, like other tourist cards, has several advantages: you save money and you save time waiting in line by avoiding the ticket booths of each attraction.
If you are going to visit New York in a big way for ten or fifteen days, this is the perfect pass for you as it will allow you to save about 30€ per day compared to buying an individual ticket for each attraction, not to mention the discounts in stores and restaurants that can help you save even more.
Just like the New York Pass, the New York Sightseeing Day Pass works on a daily basis and each day is valid from activation until midnight. It has some differences with the other New York Sightseeing Passes, such as including credit to spend at attractions and a free meal at the restaurant of your choice from a list of popular sites in the city.
How to choose the tourist pass that best suits your trip
According to the type of trip you prefer
Day Passes: you choose the number of days of validity for your pass and they are ideal if you want to go from one attraction to another and experience your trip to New York without wasting a minute. The New York Sightseeing Day Pass is one of them.
2. Passes per attraction: they work for a fixed number of attractions that you choose when you buy the pass. If you want to enjoy New York at your leisure and get lost at your own pace.
Depending on which attractions you want to visit
The second thing you need to know is what you are going to see in New York, I recommend that you make a list of the places (museums, viewpoints, tourist attractions) that you want to visit to calculate how much their tickets would cost separately and see if the price of the pass is worth it.
That said, if you are deciding between several passes and you are sure you want to visit the One World Observatory, the New York Sightseeing Pass is the only one that includes this skyscraper. It also includes a 72-hour sightseeing bus ticket, unlike most sightseeing passes that include a 24-hour ticket.
What is included in the Sightseeing Pass
The only pass that includes the One World Observatory
Lunch or dinner at a restaurant of your choice (from a list of selected restaurants)
40 credit (about $37) to spend on tours, attractions (such as the Empire State Building), Broadway shows and cruises
Access to 115 attractions (including One World Observatory, Top of the Rock, Madame Tussauds, Madison Square Garden Tour and Radio City Music Hall Tour)
New York Sightseeing Flex Pass
The New York Sightseeing Flex Pass allows you to pay per attraction instead of per day. Otherwise, it includes the same as the regular version.
I recommend this option if you are very clear about what you want to see in New York, or if you like to travel at your leisure without the pressure of having to be squeezing the most out of a sightseeing pass. This way, you can visit one or two attractions a day between sightseeing, shopping and visiting free attractions.
Included Attractions
One small disadvantage of the New York Sightseeing Pass is that all attraction entries have a fixed time. Before reading the list of the main attractions included in the pass, keep this in mind as it will detract from the flexibility of your travel arrangements.
One World Observatory
One World Observatory is located at One World Trade Center, the tallest skyscraper in New York (and the United States) that pays homage to the Twin Towers, destroyed in 9/11. In addition to its observation deck, the One World Observatory includes interactive activities, stores, restaurants... You will see the Hudson River and the Statue of Liberty up close, as well as the Brooklyn Bridge.
Price: The general admission ticket costs 32€ per adult and 27€ per child (which includes the Sightseeing Pass). Children under 5 years old are free. The combined ticket costs €42 per adult and €36 per child, and gives you access to both observation decks.
How the pass works: You will not have to buy a ticket, but you will have to present your pass to get a fixed time entry, so be aware that you may have to wait. Also, you will have to go through the security checkpoint.
About the attraction: It is open from 9:00 to 21:00, and the visit usually lasts between 45 and 60 minutes.
Empire State Building
Needless to say, climbing the Empire State Building is a must when traveling to New York: this is one of the most iconic buildings in New York and also offers the chance to visit its observatory for some of the best views of downtown Manhattan.
Price if you buy the ticket separately: from 35 Euros
How the pass works: Skip the line to buy tickets and go directly to the security checkpoint, where you can show your pass and they will let you through. Please note that the CityPass includes two entrances at different times to the Empire State Building.
About the attraction: Open from 8:00 to 2:00, and a typical visit lasts 2 hours.
Top of the Rock
The Top of the Rock (located in Rockefeller Plaza) offers the best views of New York from a skyscraper: it is from here that all those wonderful postcard photos of the Empire State have been taken.
If you're passionate about photography, you'll be amazed at the photos you can take of this icon of New York architecture, especially if you climb to the Top of the Rock at sunset or on a foggy morning. As a bonus, you'll also be able to see the One World Observatory and the Statue of Liberty as if it were a toy.
Price: Admission to the Top of the Rock is 35€ (adults) and 30€ (children). Children under 6 years old get in for free.
How the pass works: You can use your pass to get an online ticket with a set schedule, or present the pass at the box office to have your ticket validated.
About the attraction: Opening hours are from 8:00 until midnight (last elevator up is at 23:00). The average visit is usually one hour.
Statue of Liberty
The Statue of Liberty represents New York City like no other monument to any other city in the world. Seeing it up close is impressive, and almost even more impressive are the views of Manhattan from Liberty Island. To visit it, you will have to take a ferry from Battery Park and with the New York Sightseeing Pass you don't have to worry about the ticket, because it is included. In addition, it also includes the ferry to Ellis Island.
Price: The ticket with access to the pedestal costs 24€ per adult and 15€ per child. The one that includes access to the crown costs 28€ per adult and 22€ per child. Please note that it is limited to 4 tickets per person and are non-transferable, as you have to put them in your name and present them in person.
About the attraction You can go to the Statue of Liberty from 9:30 a.m. to 5:25 p.m. The typical visit lasts about 4 to 5 hours.
Hop on Hop Off Sightseeing Bus
The New York Sightseeing Pass includes CitySightseeing's 'Best of Manhattan' tour, where as the name suggests you will see all the major sights of Manhattan in a 6-hour experience. It also includes a sightseeing cruise to continue your visit. Below you have detailed the main stops of the itinerary. You can read more here about the best Hudson River cruises.
9/11 Memorial and Museum
The 9/11 memorial and museum is undoubtedly one of the most special visits of the trip. For a moment, the chaos and the dynamism of the city give way to the recollection and a historical tribute to the victims of the most notorious terrorist attack in modern history. The Memorial is located on the street, in the perimeter occupied by the Twin Towers and the Museum, on the other hand, does require admission.
Price: The 9/11 Memorial is free and open to the public. A ticket with tour of the 9/11 Museum costs €42.50 per adult.
How the pass works: Skip the ticket line, go directly to the security checkpoint and present your pass for direct access to the 9/11 Museum.
About the attraction: Open from 9:00 am to 8:00 pm and until 9:00 pm on Fridays and Saturdays. Most people take a 2-hour tour.
Museum of Natural History
The Natural History Museum is perfect to complete the trip with a cultural and very interesting attraction. Its permanent exhibition is dedicated to the history of Planet Earth, with very interesting spaces dedicated to marine life, fossils and meteorites. If you don't have time to visit more than one or two museums, this is, for me, one of the best.
Museum of Modern Art (MoMA)
MoMA is a must-see museum in New York if you want to see with your own eyes an extraordinary exhibition of works of art that have defined the last century. You can enjoy works of art such as Van Gogh's famous 'Starry Night', as well as paintings by Monet, Pollock, Mondrian, Hellen Frankenthaler and Andy Warhol among others.
Intrepid Sea, Air & Space Museum
This museum is the fantasy of any fan of engineering works, offering the unique opportunity to see inside the aircraft carrier Intrepid, on whose deck there are a variety of planes and helicopters from various eras; the Growler submarine, which can be explored in its entirety; and the supersonic Concorde aircraft.
Before you buy
Now that you know what the New York Sightseeing Pass includes and what its advantages are, this is the summary to help you make your decision:
The New York Sightseeing Pass is for you if:
You want to visit the One World Observatory
Want to climb all three of New York's skyscrapers
You love bus tours
You are on a tight budget for your trip to New York City
You like to organize your trips to the millimeter
You can choose a duration between one and ten days for this pass, but my recommendation is that you avoid the one-day pass, as it will most likely not work out for you. It is best to select three, five or seven days, which at a rate of 4 or 5 attractions per day will save you a lot of money.
The Flex option is probably your choice if:
You like to travel without rigid planning
You will be in New York for many days
You want to visit a specific combination of attractions in New York City
If you are traveling with children
There is a children's pass for children from 3 to 12 years old that you can buy at a lower price than the adult pass. The one-day children's pass, for example, costs 28 euros less than the adult pass, but if you buy a 10-day pass the difference between the adult pass and the children's pass is more than 150 euros.
Other passes available
If you are still not sure if the Sightseeing Pass is the best fit for your ideal trip, remember that there are three other passes available. I have made a practical guide about each of them and have compiled in an article their advantages and disadvantages so you can easily compare them. Here are the links: