Empire State Building Tickets
The Empire State Building is one of the most mythical buildings of the New York Skyline. If you want to get tickets to climb the Empire State and see the city from a bird's eye view, read on!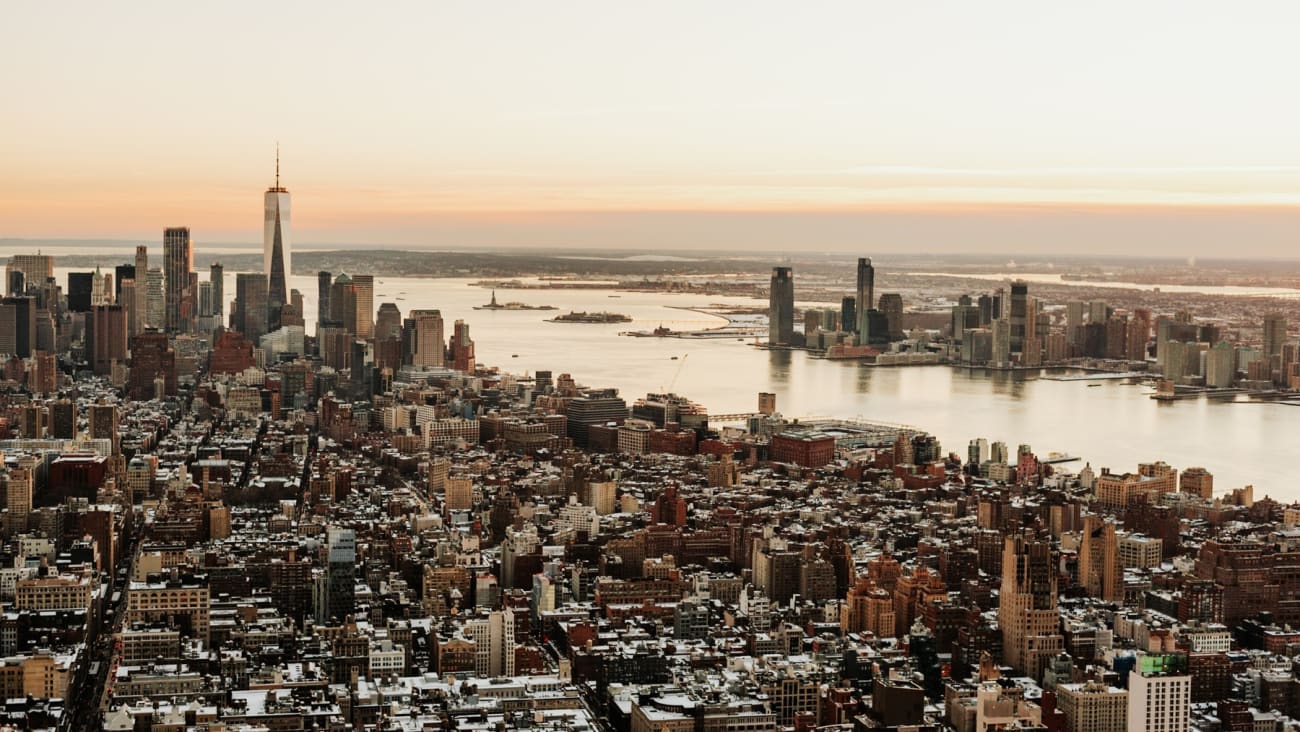 Visiting the iconic Empire State Building is an experience you have to include in your trip to New York. It is a jewel of Art Deco, inside and out, and the exhibitions it houses and its views of the city will not leave you indifferent.
1. How to get your tickets to the Empire State Building
On the internet
My first tip is to get your tickets in advance: this will save you standing in line to buy tickets, although you will have to stand in line at the security checkpoint.
At the ticket office
Buying tickets at the same ticket office is also an option, although as I commented above, the queues can be very long (and you may run out of room to go up at the time you wanted).
2. General admission to the Empire State Building
The Empire State has two observation decks, one on the 86th floor and one on the 102nd floor. With this general admission to the Empire State: you access the 86th floor and my advice is not to pay the supplement needed to access the top deck, not worth too much.
Something you should keep in mind is that the entrance fee goes up in high season, and therefore, you will find a greater number of tourists in their observatory. Remember that children under 6 years old are free.
Best time to go up to the Empire State Building
To avoid lines and crowds visit the Empire State in the morning. At 8:00 a.m. you'll hardly have to wait in line, and you'll enjoy an almost private experience any day of the week. Your other best option is to visit the building around 00:30, although on Saturdays and Sundays you are sure to encounter other tourists.
When it comes to buy your ticket: you have to choose a day, when you will be able to access the Empire State Building at any time you want. I'm a romantic and I find going up first thing or midnight a fantasy, but you can choose the time you want, as it is open every day of the year without exception from 8am to 2am, and the last elevator up is at 1:15am.
Tips for booking online
When you get your confirmation, check to see if you have to bring your printed tickets (at least when I last went up, they didn't accept electronic entry). If so, and for some reason you can't print them out, don't worry, you can print them at the ticket machines at the entrance, but you will have to wait in line.
Alex's Traveller Tip

Did you know that the Empire State is open until 2am? Climb the Empire State late at night to be completely alone in front of the immensity of New York, it's worth it!
3. Climb the Empire State with the New York Pass and other tourist cards.
The Empire State is undoubtedly one of the most demanded points of interest in the Big Apple and therefore, its entrance is included in the vast majority of tourist passes that exist to visit the city. Still do not know what a tourist card is or how it works? In a nutshell, it is a card that you book in advance for a "flat rate" and it will give you access to several attractions in the city, allowing you to save time (skipping the queues at the ticket office) and money.
As I said, most of these cards offer the entrance included to the Empire State Building. Here is a list of these cards and the links to my practical guide of each one. But if you are thinking about buying a card, I recommend that you read this article from the comparison of New York tourist passes:.
List of passes that include the Empire State Building.
My personal advice
If you can't decide on what time to go up the iconic skyscraper, I recommend you buy the New York CityPASS and go up in the morning for a hustle-free no crowds experience and return at sunset to enjoy the views.
To visit the Empire State Building with your New York City Pass, simply go to the building and enter through the designated gate especially for visitors with a New York City Pass.
Where is and how to get to the Empire State Building?
The Empire State is located at 20 W 34th St, New York, NY 10001 and the best way to get there is to take the subway to 34 St - Herald Sq and walk down the street.You can't miss it!
Near the iconic building, you will find the area known as Koreatown full of pastry shops, coffee shops, Korean BBQ restaurants and karaokes, as well as cosmetic stores with products imported directly from South Korea.
How long does it take to visit the Empire State Building?
There is no time limit for your visit to the Empire State Building. Most people usually spend around one hour on the observation deck, but you can stay until closing if you feel like it.
In case you want to go up at sunset at the Empire State, my recommendation is to check what time the sunset is and go up to the observatory an hour early to get a good spot and enjoy the visit before it starts to fill up with tourists.
Something that distinguishes the Empire State from the rest of the skyscrapers in New York is that it opens until 2am, allowing you to go almost any time you want. I'll let you in on a secret: climbing to the top of the building after a party and a night walk around New York is at the top of my plans.
6. What the observatory looks like
From the Empire State Observatory, you can look through the famous binoculars and watch life go by in New York, with views of Bryant Park, the Flatiron Building, Fifth Avenue, One World Trade Center and of course admire the majesty of Manhattan's buildings as a whole.
7. What you will see from the Empire State Building
From the moment of its inauguration in 1931 the Empire State became the star of the New York skyline, and quite an attraction for tourists who climbed to its observation deck. Here's what you can see from the top of the Empire State Building:
Bryant Park
Flatiron Building
Fifth Avenue
Rockefeller Center
Chrysler Building
One World Trade Center
Times Square
Statue of Liberty
Brooklyn Bridge
8. Practical information on how to climb the Empire State Building
There are toilets on the 2nd and 86th floors of the Empire State, so don't worry, if you get caught in an emergency up high you won't have to run down to the ground.
Camera tripods and excessively large suitcases or backpacks are not allowed in the Empire State, and the building does not have lockers where you can leave your belongings. If you need to, LuggageHero is quite close to the skyscraper and is the cheapest option to leave your belongings while you climb the Empire State.
9. Empire State Architecture and Design
image|url=https://res.cloudinary.com/hello-tickets/image/upload/v1613036043/post_images/new-york-1/Empire-state/Empire-State-interior-2.jpg|caption=Interior exhibition of the Empire State Building :: @Hellotickets:::
Also, inside, you'll see the 'Dare to Dream' exhibit dedicated to the construction of the Empire State Building and telling the stories of its builders, through architectural plans, drawings, and photographs. Also, you'll find an exhibit dedicated to explaining the building's sustainable energy use.
A bit of its history
Something that not many people know is that in the same year of its opening, the spire located at its highest point served as an anchor point for a zeppelin, since according to the architects of the building this would be the mode of transport of the future. Good thing they designed one of the greatest architectural gems in the world, because as soothsayers they weren't good for much....
Symbol of Art Deco
What makes the Empire State Building a must-see on your New York adventures is not only the breathtaking views from its observatory, but also its impressive Art Deco interior, which is a marvel. It's a complete experience that you're sure to look back on with nostalgia many years after your trip.
10. Where to eat in the Empire State Building area
If heights make you hungry and you like to know in advance where to eat, near the Empire State there are a few restaurants you're going to want to try. You can, for example, head over to Koreatown and try Turntable Chicken Jazz or BCD Tofu House where you'll find vegetarian options.
My personal recommendation is to walk a bit in the direction of the Chrysler Building and go to Urbanspace Vanderbilt, a warehouse converted into a market with stalls of all kinds of food.
11. Visit the Empire State Building with kids.
If you visit the Empire State with kids, it's best to go as early as possible in the morning. They will let you in with backpacks, as long as they are the size of a typical backpack with handles, and in case you bring a stroller they will most likely make you fold it up to go up to the observation deck.
When you get to the Empire State you can have your picture taken and then buy it as a souvenir. It costs about 20 dollars and I think it is not worth it, but if you know that your children will be excited make sure you do not wear any green color, as it will spoil the photo (they will take it in front of a chroma).
12. Other popular observatories, skyscrapers and buildings in New York City
New York is a city made to be admired from below but also from the heights and, to that end, you have a multitude of skyscrapers from which the views of New York are breathtaking.
One World Observatory
One World may not come to mind so quickly because of its relatively young age, but it will offer you a impressive view of the financial district, with stores, a fancy restaurant, and interactive activities where the kids will have a blast. If you're up for a visit, you can check out all the details in my handy guide: :One World Observatory Tickets and Tours:.
Rockefeller Center, the Top of the Rock
And among all the skyscrapers in New York, my personal recommendation is the Rockefeller Center. Its observation deck known as the Top of the Rock will offer you the best views of the city including a spectacular close-up of the Empire State Building.
Other iconic buildings
Also, if you're one of those people who shy away from the established tourist circuits, there are many more buildings in New York that you can visit, even if they don't have an observatory. Woolworth Building, Chrysler Building, Flatiron Building and many others will delight anyone passionate about architecture.
13. Comparative table of the best skyscrapers in New York City
14. Other interesting activities in New York City
Alternatively, if climbing a skyscraper doesn't really appeal to you but you want to enjoy the views of New York from above, you have other options such as taking a helicopter tour of Manhattan or visiting one of the many rooftop bars in the city. But in my opinion, climbing a skyscraper is a mind-blowing experience you can't miss, especially on your first time in New York!
Now all you have to do is choose a skyscraper and get ready to see one of the most beautiful cities in the world as it deserves to be seen. Bon voyage to the heights!
Traveller tips
Helpful advice from us and our travellers so you can enjoy your experience to the fullest.
Which is better, Top of The Rock or Empire State Building?
Empire State Building observatory is higher and offers better views of the Financial District and the One World Trade Center, while Top of the Rock is the choice for views of Times Square and Central Park, and the Empire State Building itself.


How long does it take to get to the top of the Empire State Building?
Between 20-45 min. To avoid queues, its best to visit early in the morning or late in the evening (around 22:00).


Can I bring a backpack into the Empire State Building?
Yes, you can bring your suitcase, backpack, bag and other luggage. Cameras are also allowed inside Empire State Building.