Washington Day Trips from New York
Washington DC is undoubtedly one of the most interesting cities in the United States and you can visit it in just one day from New York.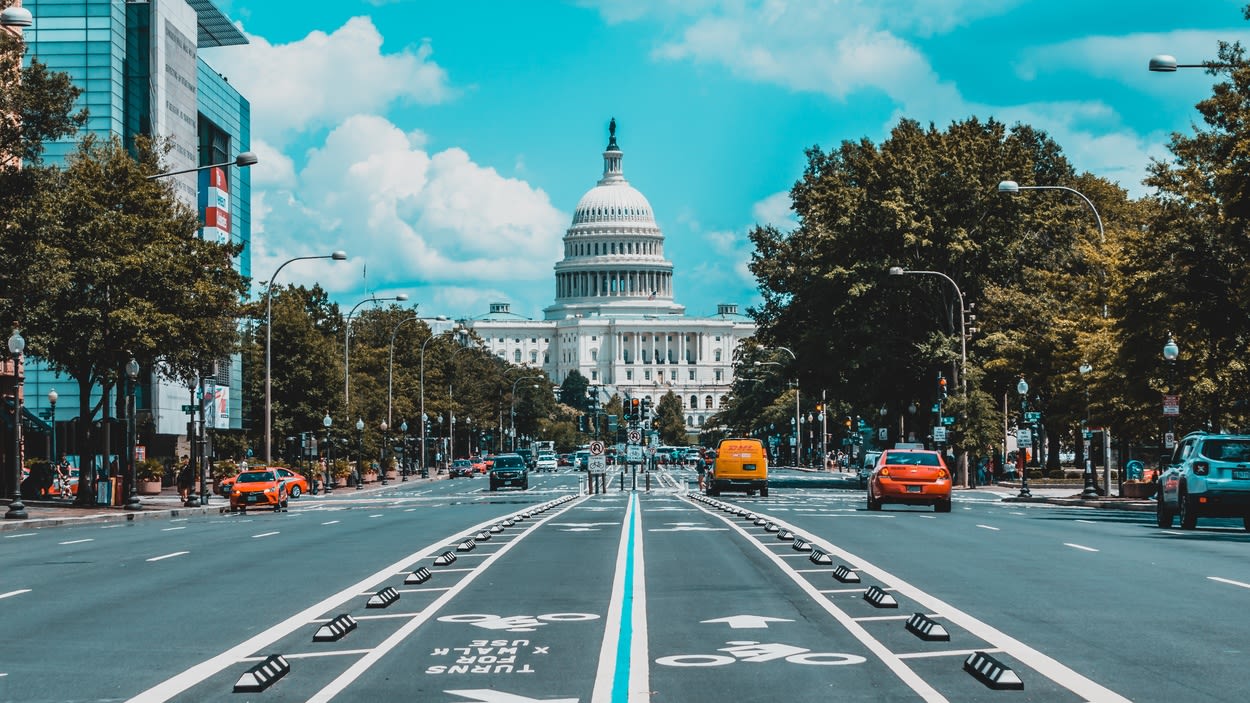 The illustrious city of Washington represents the spirit of the United States with its streets and museums presided over by the Capitol. On a trip to Washington you can see, among others, the White House or the Pentagon.
1. The best tours to Washington from New York
The tour to Washington from New York is one of the best one-day experiences you can do from the Big Apple, and in fact, there are several types of tours to suit all budgets and trip lengths. I'll tell you the ones that for me, are the best:
2. Day trip to Washington from New York.
The best way to visit Washington from New York in one day:, not miss anything of the city, and learn the history of each monument with the explanation in Spanish of a professional guide is with an organized tour.
Why I like this tour
In addition to its good value for money, I recommend this activity because it includes a very complete tour of Washington with which you will get the most out of the tour.
This tour is a full day tour (between 12 and 15 hours) with round trip transportation by air-conditioned bus with WiFi. It takes about 4 hours to get to Washington from New York, and your group will consist of a maximum of about 50 people.
All entry fees are included on this tour, and you will have free time at lunchtime (which is not included in the activity) to explore at your leisure and eat where you choose. If you'd like a few recommendations on where to eat in Washington, I'll leave a few at the end!
What you will see
The White House
U.S. Capitol
Arlington National Cemetery
The Pentagon
National Air and Space Museum
Lincoln Memorial
Vietnam Veterans Memorial
Korean Veterans Memorial
3. Two-day tour to Washington from New York.
If you prefer to make the most of your time and combine two tours into one, the two-day Washington tour includes a visit to Philadelphia:: and is a good choice.
Why I like this tour
This is a more comprehensive tour and takes you to the main points of interest, not only in Washington, but in Philadelphia. There you will see the Liberty Bell and the Philadelphia Museum of Art, on whose stairs the famous 'Rocky' scene was filmed. This is a good way to take advantage of your trip to Washington, to get to know another of the main cities of the East Coast.
What you will see
The White House
U.S. Capitol
Arlington National Cemetery
The Pentagon
National Air and Space Museum
Lincoln Memorial
Vietnam Veterans Memorial
Korean Veterans Memorial
Martin Luther King Memorial
Liberty Bell
Rocky Statue
Amish Community
4. Four-day tour to Washington, Philadelphia and Niagara Falls.
If you have plenty of time to tour several points of interest on the East Coast of the United States, this trip is for you. In four days, you'll visit Washington, Philadelphia and Niagara Falls from New York:, seeing the most important of each place. If you are only interested in going to Niagara Falls:, you can read our article where we tell you all the secrets.
Why I like this tour
If you have four extra days on your trip to New York, this is definitely the best way to make the most of them. First, because I think this four-day tour will offer you a great contrast to what you will have seen in the Big Apple. The nature of the Falls, the history of Philadelphia and the stately spirit of Washington will seem like another world to you.
If you were to do this tour on your own, it would be impossible to fit it into such a short time, so this seems to me the most efficient way to squeeze the most out of your time.
What you will see
The White House
U.S. Capitol
Arlington National Cemetery
The Pentagon
National Air and Space Museum
Lincoln Memorial
Vietnam Veterans Memorial
Korean Veterans Memorial
Martin Luther King Memorial
Liberty Bell
Rocky Statue
Amish Community
Watkins Glen State Park
She-Qua-Ga Falls
Niagara Falls State Park
Niagara Falls (full tour)
Crossings Premium Outlets
5. What to see in Washington
:
Seeing Washington's major monuments is easy, as most are located inside the National Mall. As you might imagine, the main interest of these monuments is related to the political history of the United States and its presidents. Most tours follow an itinerary similar to this:
National Mall
National Mall (also known as the National Mall) is the extension that contains the Capitol, the famous Obelisk, the Lincoln Memorial, the Smithsonian Institution building, and other points of interest.
Capitol Hill and the Library of Congress
Start the day by visiting the iconic Capitol, home of the U.S. Congress, and the Library of Congress, which you are free to enter at your leisure and marvel at its spectacular interior.
U.S. Marine Corps War Memorial
You'll know this memorial statue when you see it. It depicts American soldiers raising the flag on Iwo Jima, and if you're lucky you'll see a military parade passing in front of it.
Lincoln Memorial
Located at the west end of the National Mall, the memorial dedicated to President Abraham Lincoln has been the site of numerous historically significant speeches, including Martin Luther King's famous 1963 speech.
Korean War Veterans Memorial
To the southeast of the Lincoln Memorial you will find a series of steel statues depicting a group of soldiers, arranged in a triangle shape in front of a wall with Korean War imagery.
The White House
A must-see if you take a trip to Washington. Even if you don't take a tour of the interior, you can see the unmistakable building from the outside fence (except on some occasions, such as official events).
Martin Luther King Jr. Memorial.
Unveiled in 2011, the monument consists of a granite statue of the leader of the Civil Rights Movement quarried from a rock behind him, where a series of inscriptions related to Martin Luther King Jr. are located.
Arlington National Cemetery
This military cemetery is home to the remains of more than 14,000 veterans of wars as old as the American Civil War. Arlington National Cemetery is quite unique, with headstones rising above ground along a grove of trees.
6. Plan your trip to Washington from New York City
First of all, keep in mind that the round trip will take you about seven hours. If you're reading this, you know that discovering new places is always worthwhile, and the truth is that Washington is an interesting enough city overall to justify the long trip from New York.
That said, one day is enough to see the sights and buildings of interest in Washington, so some tours combine a visit to Washington with a Philadelphia tour.
Best day of the week to tour Washington from New York.
As you might imagine, it's best to visit Washington during the week and avoid Saturdays and Sundays. Specifically, the best days to do this tour are Mondays and Wednesdays, and the sights are usually less crowded after 2:00 p.m. Many of the museums and monuments close. Many of the museums and monuments are closed on holidays, so try to avoid public holidays to see everything.
Best time of the year to take a trip to Washington from New York City
If you happen to be visiting New York in spring or fall, you'll be lucky to be able to take a tour to Washington at the best time of year. Winter in Washington is quite cold, and the problem with summer is that it usually rains at least once a week and is quite hot. Undoubtedly, the best time to visit Washington is spring, as you will have the opportunity to enjoy the city full of almond blossoms.
Winter
December - March
Weather: Occasional blizzards
High 7ºC
Low -7ºC
Spring
March - June
Climate: Changeable
High 25ºC
Low -2ºC
Summer
June - August
Climate: Hot
High 28ºC
Minimum 13ºC
Autumn
September - November
Weather: Sunny
High 23ºC
Low 1ºC
9. Where to eat on your trip to Washington from New York City
:
Beware of restaurants in the more touristy areas! A meal for two can easily run up to $50. If you're on a bit of a tight budget, it's best to pack food in your backpack or look for cheaper dining options, as most tours to Washington from New York do not include food.
Some of my recommendations:
Pho 75 - near Arlington National Cemetery you'll find this Vietnamese restaurant, which ranks #7 of 712 on TripAdvisor.
Five Guys, Swizzler Burger Truck or Proper 21 - Washington is known for its all-American food and especially its burgers, so any of these options will delight any meat lover.
Lincoln's Waffle Shop** - another option is to have a hearty, American-style breakfast. If the combination of pancakes, bacon, and scrambled eggs makes your mouth water, this is the place for you.
Astro Doughnuts & Fried Chicken** - if doughnuts are your thing, head here and take one (or more) of these treats to go.
10. What should I take to Washington?
As a general rule, I advise you to wear comfortable clothes and shoes suitable for walking for a whole day, as even if you take public transportation you will have to walk a bit to visit each monument. Washington DC is a elegant city and its inhabitants reflect this: the style of dress is usually more smart than casual. You won't find too many people wearing flip-flops, shorts or a t-shirt, so if you don't want to look like a tourist it's best to avoid this type of dress.
Check the weather before you travel
Bearing this in mind, it is logical that if you visit the city in summer you go with an outfit as cool as possible because the temperatures are quite high. As you know, it usually rains, so it is a good idea to bring a raincoat or umbrella just in case. Winters are cold and it is rare for temperatures to go above 0º, so be prepared for some pretty extreme temperatures.
Alex's Tip

If you visit Washington during the hot season, Arlington Cemetery will be full of mosquitoes, so take repellent with you if you don't want to be massacred!
11. Last tips
You'll love Washington if you're interested in American politics and history, if you enjoy walking through cities full of monuments, parks and imposing squares, and if you're interested in architecture and urbanism as Washington has a somewhat unique floor plan, if you find this isn't your style, since you're in New York, try some of the hundreds of tours of New York City: that exist.
Washington with kids
And if you are visiting with children, don't worry: it is very easy to get around the city using public transportation, which is safe and quality. You won't have to walk too far and thanks to the abundance of parks and esplanades you can take a break from sightseeing when necessary.
Don't forget...
Some tips we can give you before your trip is not to carry too much cash to avoid having it stolen or lost, but keep in mind that in some restaurants and local stores credit cards are not accepted (for example, in Pho 75, you can only pay in cash). For the same reason, avoid carrying valuable belongings and leave what is not essential in your hotel or apartment.
Remember to carry your passport and be prepared to go through the occasional security check, especially at monuments and points of interest such as Arlington Cemetery. Washington DC takes security quite seriously, not least because of the political importance of the city.
Let's travel!
Traveller tips
Helpful advice from us and our travellers so you can enjoy your experience to the fullest.
What places can I visit in the Washington DC trip?
You will visit the Arlington Cemetery, the National Air and Space Museum, the National Mall and you will drive through the Washington DC City Center.


Will there be a visit to the White House?
For safety reasons, you won't enter the White House, but you will see its exterior. Depending on the day, you will be able to stop for a picture from outside the fence.


When is the best time to book a trip to Washington DC?
While visiting Washington DC is worthwhile at any time of the year, you might want to book your visit during the Cherry Blossom Festival (between March and April) to enjoy some of the most stunning views of the city.