Best things to do in New York
The definitive guide to the world's most spectacular city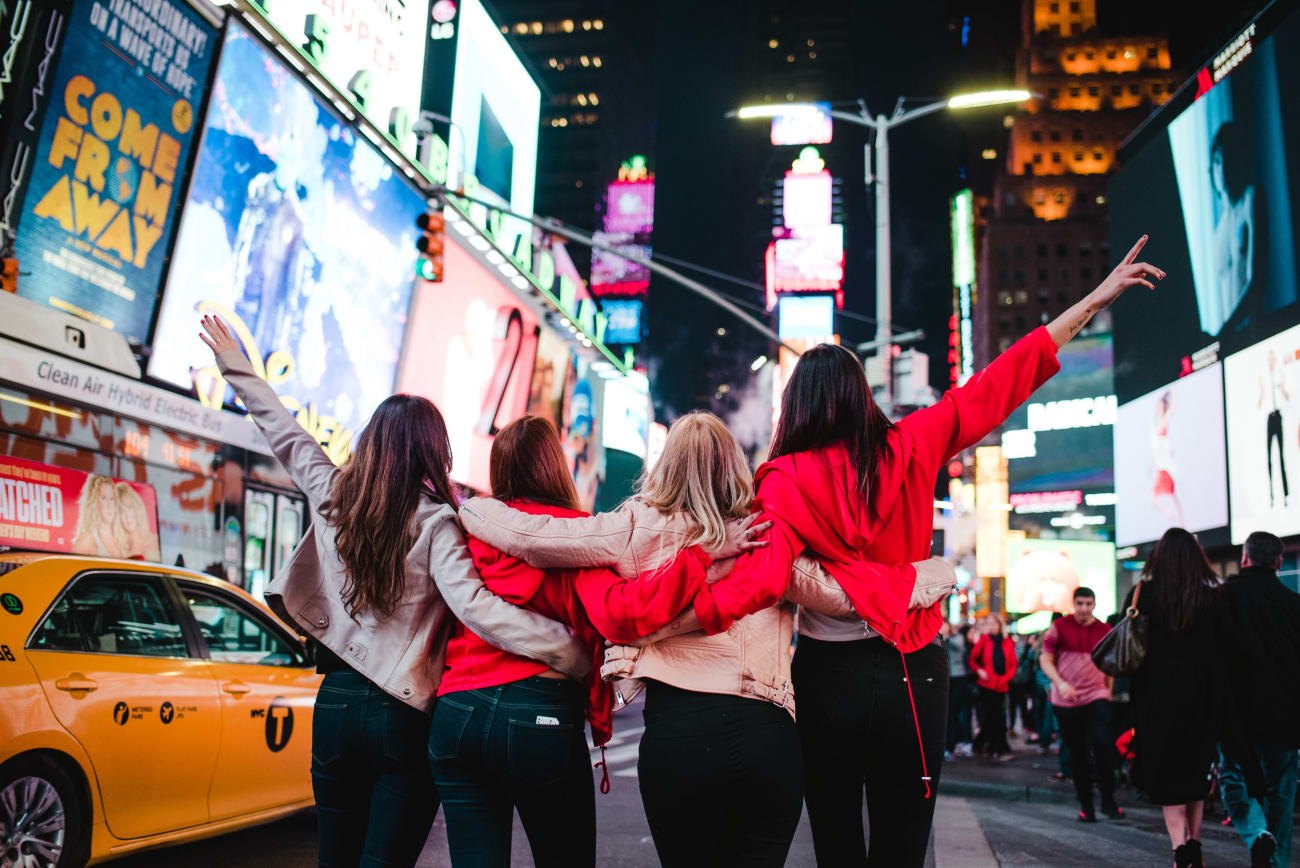 The Big Apple is the place where great artists have dreamed of success, where many European immigrants found a way to change their destiny and where every visitor has found a reason not to leave.
We are talking, of course, about New York: a city where it is practically impossible to close your eyes. There's so much to see and do that it's important to know what's worth seeing and what's not so you don't get overwhelmed. So here are the most amazing experiences for your trip to New York.
1. Fly over New York on a helicopter tour.
Taking a helicopter tour of New York City will show you the city as few others see it. The bird's eye view will allow you to see New York as if it were in the palm of your hand, and it's an experience you'll definitely want to talk about when you return from your trip.
The city's skyline is a spectacle in itself, even more so from a helicopter flight over New York:. Most flights last around 15 minutes, making a journey in which the wonderful views join the adrenaline of flying in a helicopter over New York at more than 200 kilometers per hour.
2. Defy vertigo from the top of the Empire State Building.
The Empire State Building is the most iconic building in New York, and from its observation deck you can enjoy wonderful views of the Big Apple. You can go up at dawn, just before sunset, or at night: whatever you choose it will be an experience that you will surely remember with nostalgia many years later.
For this, I highly recommend buy your tickets online for the Empire State in advance to avoid the queue at the ticket office and avoid the large crowds of tourists who, of course, have this visit among their priorities when visiting New York.
3. Explore New York's multiculturalism on the most popular guided tours.
image|url=https://res.cloudinary.com/hello-tickets/image/upload/v1610965482/post_images/new-york-1/hopon-hopoff-bus/Tourist-guide-nyc.jpg|caption=During one of the guided tours
The tour of contrasts
New York is, without a doubt, a city where contrasts follow one another at such a speed that it is difficult to keep up with them. The :Contrasts Tour: takes you to four very different neighborhoods of the city: Queens, Harlem, Bronx and Brooklyn.
You will see the industrial part of the city, the Jewish quarter, the historic streets of Harlem, iconic buildings of the city and in just one day you will have toured the city and know it like a local.
The Upper and Lower Manhattan Tour
If the contrasts tour is a must to get to know the different areas of New York and understand much better how its different cultures fit together, the Upper and Lower Manhattan tour: will delve much deeper into those contrasts and corners of the island of Manhattan that you can't miss. Whether it's your first time in New York or you're already a regular in the city, the explanations of this expert guide will uncover many key places in the city that I bet you didn't know about.
Other tours
For better or worse, New York is a tourist mecca for millions of travelers who make the pilgrimage to the city that never sleeps every year. As such, there are dozens of options for touring the city (on foot, by bus, more or less in depth, etc) and sometimes, choosing the one that best fits our travel itinerary can seem overwhelming. That's why I have made this selection of 10 best New York City Tours: so you can choose the one that suits you best.
Discover the secrets of the city
If you are not a fan of guided tours and prefer to walk around the city at your own pace and without explanations from a guide, I recommend that you make your own itinerary to make sure you don't miss anything. If it's not your first time in the city and you feel like discovering alternative or hidden places that are less visited by tourists, don't miss my guide on secret places of the city:.
4. Tour Harlem and attend a Gospel Mass
Exploring Harlem with a guide is one of the best experiences you can have in New York, as you will find everything that many tourists miss by only seeing Manhattan during their trip. In addition, you will be able to attend an authentic Gospel Mass: and feel the enormous spirituality that is lived in the churches of the neighborhood, with services so intense that they are a spectacle.
5. Take a trip to Niagara Falls.
While it's not something to do in New York, it's a great way to use your trip to the East Coast of the United States to cross off the list of one of the world's most impressive natural wonders.
Niagara Falls is a bit far from New York, but that doesn't stop many people who travel to this city from taking a trip to the Canadian border and marveling at the breathtaking spectacle they offer.
6. Get cultured in the best museums of New York City
Whether you want to devour the city's entire museum offerings or select one or two museums to visit during your trip, I've put together this list of 10 best museums in New York City:. Here you can read the highlights of each one of them so you can see all the options that exist, what you will see in each one or how to get tickets at the best price.
The MoMa
Impossible not to mention, among the must-sees of New York, the MoMa or Museum of Modern Art: of the city. In its halls you can find such iconic paintings as 'The Starry Night' by Van Gogh, 'The Persistence of Memory' by Dali, 'Les Demoiselles d'Avignon' by Picasso, 'Cambell Soup Cans' by Andy Warhol and many other works of modern art that are worth seeing live at least once in a lifetime.
The MET
The majestic museum on Fifth Avenue (whose stairs you'll instantly recognize if you've seen Gossip Girl) houses works of art and artifacts such as Chinese calligraphy books, cuneiform writing tablets, Egyptian mummies, armor of European kings, musical instruments and a collection of paintings that will leave you open-mouthed, with works by Van Gogh, Rembrandt and Raphael among its most important.
Madame Tussauds
If you are curious to visit the wax museum to see up close what your idols or the most popular characters are like today and historically, Madame Tussauds is a great option. Besides being a fun visit, it will leave you with countless photos and anecdotes that are worth it. If you go with children or friends, it is a great option. I leave you here all the information about Madame Tussauds New York tickets:.
A day at the museum of "A Night at the Museum".
Despite the fact that it was the movie "A Night at the Museum" that launched it to fame, near Central Park is located for decades one of the museums that most impresses its visitors by the large number of curiosities and objects that can be seen (and learn) inside: the Museum of Natural History:.
Today it is still one of the most important scientific and research centers in the city and its collection houses thousands of fossils, meteorites and minerals that you will not be able to see anywhere else. If you are also visiting New York with children, do not hesitate to make this visit that will leave them speechless.
7. Take a stroll through Central Park
Surely you count visiting Central Park among your plans in New York, but do you know what not to miss once you get there? Stroll through the Conservatory Gardens, a European style garden with beautiful fountains and statues, the Belvedere Castle, a small castle located at the highest point of the park with beautiful views, and the Bethesda Terrace and its fountain, a marvel of architecture where you can take some spectacular pictures.
Its extension is enormous, so in order to give you the best possible orientation, I have elaborated this guide about 10 things to do in Central Park:. In general, I recommend that you rent a bike (snow permitting) and spend a few hours getting lost in the lungs of Manhattan. Let's roll!
Other charming parks: Bryant Park
If you thought there were no green spaces in New York beyond Central Park, you were wrong. Along its long streets and avenues you will find small squares and parks where you will see a large crowd of New Yorkers strolling, doing sports or taking a picnic on a break from work. If I have to choose my favorite (after, of course, the obligatory visit to Central Park) is Bryant Park.
I recommend you get one of their little tables (they bring them out when the weather is nice) for a picnic with a view, but I tell you more details in my article on 10 things to do in Bryant Park::.
8. Tour the High Line Floating Park
This linear park, built on former railroad tracks, crosses the Chelsea neighborhood with a walkway flanked by floral arrangements and views of the surrounding buildings and the Hudson River to the south. Walking along it is a different way of strolling around New York and I recommend you include it in a Chelsea walk.
In this article about Guide to the High Line in New York City: I tell you some tips to walk it, where to stop to eat or to contemplate the best views and I give you a proposed itinerary so you don't miss the most important things.
9. Stay with your mouth open in Times Square
Times Square needs no introduction: neon, giant screens and lots of people. It can be equal parts overwhelming and wonderful, but it sure doesn't leave you indifferent. It's definitely a place to get lost in during your visit to New York, and even more so at night, when the buildings shine brightly and the magic of New York begins to shine through.
What else can you see and do in Manhattan?
Although it may seem that I am pulling cliché, Times Square is undoubtedly an emblematic place of the city. But fortunately, Manhattan holds many other corners (some surprising, others we have seen thousands of times in the movies) that will leave us amazed. If you do not know where to start, I leave you a practical guide on the top things to do and see in Manhattan: so you can organize your visit.
10. Shopping
For SoHo
SoHo ("South of Houston Street") used to be an industrial area full of factories, and long before the concept of gentrification existed the neighborhood's charm attracted the great riches that turned its buildings and streets into the birthplace of "industrial chic." Today, it's an area full of bars, restaurants and stores on the site of former factories: visit if you love exposed brick walls, exposed pipes and iron architecture.
Along Fifth Avenue
Fifth Avenue is the street of luxury in New York, where you'll see the city's most opulent residential buildings, the headquarters of some of the world's most prestigious jewelry and fashion brands, and a battery of museums including the Guggenheim and the Metropolitan Museum of Art.
Visit New York's Best Outlet Store
If you love shopping but are looking for the best deals, you're in luck in New York, because you can visit the Premium Outlets, where you'll find dozens of luxury brand stores at deeply discounted prices. Being a bit far from Manhattan, there are organized tours so you can go shopping without having to worry about the logistics of how to get there. I'll tell you how I did it and give you some tips on how to organize your shopping day here: :Premium Outlet Day Trips from New York:.
What to buy
You're probably going to New York with a "bargain" in mind that you want to get. And you're not wrong: American brands (both clothing and electronics) are undoubtedly the most rewarding. In New York you will be able to find certain products at very good prices, but you will have to know how to look for them. That's why I've written a practical guide to help you find your way around: :10 things to buy in New York: Remember to leave enough room in your suitcase!
11. Delight yourself at the New York Botanical Garden
The New York Botanical Garden is a lush park of 100 hectares in which more than one million species are grown in 50 different spaces and environments. One of its main attractions is that it has part of the old forest that covered New York before it was colonized in the seventeenth century, where you can find beautiful specimens of white ash, birch, tulips, cherry and beech trees. I recommend a visit, especially in spring.
12. Tour Chinatown
Manhattan's Chinatown, surrounded by TriBeCa, the former Little Italy, and the Lower East Side, is a place where you could easily imagine yourself on the Asian mainland, for the coming and going of Cantonese phrases and signs, and the constant market atmosphere, with fishmongers, butchers and greengrocers in constant activity. It is not the most beautiful Chinatown in the whole country, but certainly one of the most authentic and worth a visit if you pass by.
So that you don't just get lost among its streets (although wandering around is always highly recommended), I leave you a practical guide to 10 things to do in Chinatown: with tips and a list of things you can't miss to see and do there.
13. Stroll around Hudson Yards
It's New York's hottest new neighborhood. In just a few years it has gone from being a totally abandoned area to the new golden mile for luxury residences, ultra-modern Manhattan skyscrapers and trendy restaurants and stores. In addition to housing The Vessel and The Edge (I'll tell you more about them later, but you can't miss them), it has the famous High Line, the new city park I've already told you about.
In this neighborhood you will be able to eat luxury, you will be able to admire the new wonders of New York architecture and you will be able to go shopping at the new luxury mall. I leave you a practical guide to get to know the neighborhood here: :Things to do at Hudson Yards:.
Say hello to the Statue of Liberty.
:
If one had to choose just one icon to represent the City That Never Sleeps, it would be the Statue of Liberty. The famous 'Lady Liberty' is located on Liberty Island, a ferry ride away from the piers south of Manhattan, and visiting her is one of the must-do activities on a trip to New York.
Once you arrive at the Statue of Liberty, you have the option to go inside and tour its museum and an observation deck with beautiful views of Manhattan.
15. Go in search of movie sets.
:
It is clear that the city hides in its streets and squares thousands of scenarios of mythical movies and series. If you want to know exactly where is the apartment where Monica and Rachel had Chandler and Joey as neighbors in Friends or you want to discover the mythical fire station of Ghostbusters, this article on 10 TV & movie locations in New York City: will help you. Whether you join a guided tour or tour the locations on your own, be sure to look them up!
16. Visit the 9/11 Memorial and Museum
The Memorial and Museum dedicated to the 9/11 terrorist attacks are located on the site where the Twin Towers would occupy today, also known as Zone Zero::. Instead, you'll find fountains engraved with the names of the victims and a memorial museum telling the story of the attacks and how New York slowly rebuilt itself in the days that followed.
Although visiting the 9/11 Museum exhibit: is an emotionally overwhelming experience, I recommend it as it will give you an alternative context to your trip and you will see New York through different eyes after the visit.
The One World Observatory: a tribute looking to the future
If you are in the area and you have been encouraged to visit the 9/11 Memorial or the 9/11 Museum, you might want to go up to admire New York from the heights at the One World Observatory. At the top of One World Trade Center, the skyscraper that was built at Ground Zero devastated by the 9/11 attacks, you will find a glass observation deck that will allow you to see southern Manhattan, the Hudson and Brooklyn with total clarity.
If you have some vertigo, this is undoubtedly the best viewpoint in the city, since being glazed, it conveys a sense of protection that other open observatories do not have. You can read all the details here: :One World Observatory Tickets and Tours:.
Discover all that Rockefeller Center has to offer.
:
Climb the Top of the Rock
And while you're there, how can you not go up to one of the most popular observatories in the city? Don't miss the New York skyline from the Top of the Rock, at the top of Rockefeller Center. Here are the details to help you organize your climb: :Top of the Rock Tickets:.
At Christmas
Rockefeller Plaza will be a must stop if you are in New York at Christmas for its famous tree and skating rink. The city would not be the same at Christmas without this little corner, where you can take the typical photo and even put on your skates and jump on the rink. In general, I will not deny that Christmas in New York deserves a point and apart.
That's why I've put together this guide to 10 Christmas things to do in New York City: so that you leave no Christmas tree unseen, no showcase undiscovered and of course, no ice rink un-skated. Ah! And if you're lucky enough to visit New York at Christmas, don't miss the spectacular decorations that Brooklyn locals put up every year in their homes in Dyker Heights::. Christmas lovers, this will be your paradise!
18. Enjoy a Broadway show.
New York is a city entirely dedicated to entertainment. It is no coincidence that Broadway musicals and theatrical performances are famous in the world and an attraction for visitors, so if you want to enjoy a truly unique experience I recommend you to buy your tickets in advance and give a special touch to your visit to New York.
Both The Lion King: and Aladdin: are undoubtedly two of the most demanded musicals, so try to get your tickets as soon as possible to ensure the best seat at the best price. But if you still don't know which one you want to see, I leave you a list with the ones that for me, are the best Broadway musicals::.
19. The best basketball live in the world.
:
Whether you're a basketball fan or not, going to an NBA game is something you won't be able to experience anywhere else. The iconic Madison Square Garden is the home of the New York Knicks:, the local team, and it is in this stadium where you will be able to see the stars of the NBA leave their skin on the court. Definitely, an experience that will add a lot to your trip and a must if you are passionate about basketball. If you already know that you are not going to miss it, buy here your tickets for NBA games::.
If you want to read a little more about the experience, understand what you'll find there or discover why it's one of the top experiences you can have in New York, let me convince you in my article on How to Buy Tickets for an NBA Match in New York::.
Get to know the mythical Madison Square Garden
You may not be that much of an NBA fan per se, but you're dying to discover this venue where so many artists and sports teams have made history. There are guided tours of the venue, you can attend concerts and you can, of course, watch the Knicks play at home. Here's how buy tickets to Madison Square Garden:.
Don't miss the Brooklyn Nets Stadium
The Brooklyn Nets: may not be as well known as Madison Square Garden, but the Barclays Center is no less interesting. This venue hosts concerts and events in addition to NBA games and is worth a visit during your tour of Brooklyn. Here is everything you need to know about the Brooklyn Nets stadium:.
20. For the bravest of the brave, The Edge
:
One of the most amazing observation decks in the world recently opened its doors in New York: :The Edge:. With the glass floor (yes, yes, you read that right) you can fly over the New York skyline with your own two feet. The structure of the building (it's literally an "edge" as the name implies) is designed to make you feel the wind (and vertigo) on your skin as you lean out from the top. Ready to test your adrenaline?
Visit Harvard University in Boston from New York City.
As you read it: visiting Harvard is possible, and you don't have to be enlightened (or an alumnus) to do so. One of the most famous universities in the world opens its doors for travelers to visit on a guided tour. By taking a excursion to Boston from New York:, you will also be able to explore the historic center of the city of Boston, where one of the most important episodes of American history was forged: the American War of Independence.
On this tour you will also see MIT and learn everything you need to know about the city and its customs, which contrast with the hustle and bustle of New York. The best part? In the evening you will be back at your hotel in the Big Apple ready to continue your trip.
22. The lights of the city, best from the tour bus
Whether you visit the city in winter, when the cold will ravage, or if you do it with little time, the tourist bus will alleviate the low temperatures and allow you to tour the city in the easiest way possible. Although it may seem at first an inauthentic experience, the truth is that the New York City Sightseeing Buses routes are designed to get you from one attraction to another as quickly as possible (and without fighting with the subway map!).
What I like most about this experience is that you can do it both day and night, when you have finished your marathon day of sightseeing and you just want to rest while still enjoying the panoramic views.
23. What's New, New York: The Vessel
Even if it's not your first time in the city, this area is going to be a complete unknown to you: after being a semi-abandoned area of industrial use for decades, Hudson Yards has emerged in Midtown Manhattan over the past few years (and is still under construction) to accommodate shopping centers and luxury housing. And much of the limelight in this futuristic new area of Manhattan goes to The Vessel: (or the Hive, as many call it).
Halfway between architectural jewel and tourist attraction or viewpoint, this building stands out for its external appearance but also for the optical games and the views it offers to those who visit it. I encourage you to go inside, climb its four flights of stairs and draw your own conclusions.
Have a good cocktail at the best rooftops in town.
If the views from one of the observatories of the city have not been enough for you, you can continue contemplating them from one of the wonderful rooftops or terraces that Manhattan has to offer. Although the views will not be as impressive (almost none of them offer 360 views of the city, because other skyscrapers in front can block the views), they usually have live music and a very New York atmosphere that always seems to me a great plan to close a busy day of sightseeing in the city.
Sometimes, finding these little bars or rooftops can seem complicated, so I've put together a list of what I think are the best rooftops in New York City best rooftops::.
Get out of Manhattan and explore the rest of New York's boroughs.
:
Sorry but... New York is so much more than Manhattan and while it's tempting to stick to exploring the island's most iconic landmarks, New York has much more to it than that. In fact, the city is made up of five boroughs (or "Boroughs") where New Yorkers live, dine out, shop, dance.... Don't be lazy and explore what, in addition to Manhattan, Brooklyn, Queens, the Bronx and Staten Island have to offer. Here's what you can't miss on your visit to the city: :15 best New York City Neighborhoods:.
What to do and what to see in Brooklyn
I won't hide or deny that Brooklyn is one of my favorite areas of the city, so I encourage you (because I can't force you) to go to its streets to leave no corner uncombed in this area. You will love its cafes, vintage markets, alternative stores and gastronomic markets. Here are my recommendations: :Things to do in Brooklyn:.
Also, in Brooklyn, you can visit Williamsburg and the Jewish Quarter of New York, a real world apart that blew my mind the first time I visited it. I give you some tips to organize your visit in this practical guide about :10 things to do in Williamsburg, Brooklyn::.
Americanize yourself at a Football or Baseball game.
:
If there's one thing that will make you feel truly at the heart of the United States, it's enjoying its most popular sports. Being in New York you will have the chance to see the mythical New York Yankees: in a baseball game, which for me was a real experience (I didn't even know the rules of the game, but the experience surrounding these events seemed spectacular).
If on the other hand you prefer to watch a NFL (National Football League):, the New York Giants play at MetLife Stadium and watching them live is a spectacle.
27. Disconnect from the tourist life on a Hudson River cruise.
Cruising the waters of the Hudson will allow you to take a break from long walks while you take in the views of the Manhattan Skyline, cross the Brooklyn Bridge underneath and get up close and personal with the Statue of Liberty.
Best of all, there are routes and itineraries to suit all budgets (from a short one-hour route to a luxury cruise with dinner and live music). Dare to try it and even if it's cold, wrap up warm and go out on deck to take the best pictures. Here is an article I wrote about Best Manhattan Cruises: with my favorite options.
Get around using the ferry.
The Hudson is one of the great protagonists of the city and if you want to get out of Manhattan, you will have to cross it by subway, train or ferry. I find the ferry a great way to get around the city while enjoying the views of the Skyline, so even if the boat is not as comfortable as the cruise ships, don't hesitate to use the ferry during your trip. Here is all the information you need about the New York ferry:.
Enjoy the best international gastronomy
image|url=https://res.cloudinary.com/hello-tickets/image/upload/v1611156792/post_images/new-york-1/food-and-drinks/coffee-letters-nyc.jpg|caption=Lit sign of one of Manhattan's coffee shops ©Hellotickets:::
Yes, I know, burgers aren't exactly what you have in mind when you think of "haute cuisine," but the great thing about New York is that you're going to be able to eat literally everything. From the cheapest fast street food to the best pasta, fish, sushi or pizzas you can imagine.
Of course, on your trip you can't miss the hot dogs, the mythical hamburgers and cheesecakes. Dare to have a picnic in one of its parks, to save in their fast food chains and to sit down one night for dinner in one of its cozy candlelit restaurants in the West Village or SoHo. I tell you all about it here: :20 places to eat in New York City:.
Visit Chelsea Market
If you plan to walk along the High Line, eating at the Chelsea Market: before or after your route is a great option. In this gastronomic market you will find stores where you can buy good quality food, but also several stalls where you can stop for lunch. If you are looking for desserts, breakfasts or snacks, you are also in luck: they have bakeries, cupcake stores, pastry shops...
Take the opportunity to visit other cities such as Washington or Philadelphia.
New York itself is a world apart, but America has so much to see that it would be a shame to forget about other nearby cities like Washington or Philadelphia. If you take a guided tour to the cradle of the history of this country, you can learn much more about its culture and idiosyncrasy. I found Washington in particular to be an incredible place, very monumental and with many corners, monuments and emblematic places to discover.
In addition, its order, cleanliness and majesty, contrasts with the chaos of the Big Apple, so you will complete your trip by adding this counterpoint that will not leave you indifferent. The best of all is that there are several options to, besides visiting Washington, discover its surroundings, so I have compiled the most interesting ones here: :Washington Day Trips from New York:.
Other excursions
If you feel like exploring around New York but are still not sure which is your preferred destination, I have written a guide on Day Trips from New York: where I have compiled the best places to discover and how to join a guided tour so you don't have to worry about the logistics of getting there by public transportation or renting a car. Let's travel!
30. Enjoy the views from the Roosevelt Island cable car.
You may not even have heard of this little island east of Manhattan, but the truth is that if you have time and feel like discovering something different, it is a great option to spend an afternoon. To get there, it's best to take the cable car (it leaves from Second Avenue and 60th) and enjoy the views along the way.
You'll see some of Manhattan's most iconic buildings and land on the other side, already on Roosevelt Island, to enjoy a walk along its pier. If you are thinking about crossing the river aboard this cable car, you can read more about the experience in my article on Roosevelt Island Tramway::.
Other unique experiences in New York
If in addition to the cable car you want to know other unique activities to do in the city, I have prepared a list of the best experiences to live in New York: so that your trip is not like the others. I recommend it especially if it is not your first time in the city or if you want to get out of the typical tour to take a unique souvenir of your stay in New York.
Make the most of the summer in the Big Apple...
If there is a time of the year when you can enjoy more daylight hours to walk around the city outdoors, it is summer. It is true that temperatures are very high (sometimes too high) and you will appreciate the air conditioning in stores and buildings, but the cool nights on the terraces and endless walks through Manhattan, the banks of the Hudson and bike tours in Central Park make up for it all.
Starting with the 4th of July fireworks and taking into account that the baseball league takes place in the summer, I propose a myriad of activities that will make you not want to leave the city despite the heat: :what to do and what to see in summer in New York:.
32. ... And face the cold in winter
If on the other hand you decide to visit the city in winter, besides the great incentive that is Christmas, I assure you that the cold will not prevent you from enjoying the city, as it is more than prepared for low temperatures. If you're lucky, it may even snow and you'll be left with some postcard Christmas photos.
Besides being able to enjoy the NBA games, you will appreciate having a warm drink in the coziest cafes in the city. My advice is to combine indoor activities in the afternoons (such as visits to observation decks or observatories, attending a Broadway musical or shopping) with outdoor activities (walking around the city, taking a cruise on the Hudson or crossing Central Park) in the middle hours of the day when the sun tempers the temperatures a bit.
If you are cold, don't worry because I have put together a guide with everything you can see and do in New York in winter and what to bring, what clothing to wear, etc. to make your stay there more than pleasant: :what to do and what to see in winter in New York:.
Take care of your budget from day one (yes, you can!).
Perhaps less romantic but just as practical as any other advice I can give you about your trip to New York, I'm going to give you some tips so you don't destroy your travel budget as soon as you arrive (if you're traveling on an unlimited budget this part might interest you a little less, but allow me to address the rest of us mortals).
Get a tourist card
If you are planning to visit several attractions or take a tour (viewpoints, museums, sightseeing bus tours, cruises, etc), it is possible that the amount you will spend on entrance fees will be more than relevant. For this, there are the tourist cards of the city, which will allow you to access the most emblematic points for a fixed, reduced price.
There are four main options: :New York Pass:, New York CityPASS:, New York Explorer Pass: and New York Sightseeing Pass:. I know: choosing one among these four may seem like mission impossible, so in addition to the detailed explanation of each of them, I recommend you read this comparison of New York tourist passesl: so you can be sure which one to choose before making the investment.
Book a transfer between the airport and your hotel in Manhattan.
If you are looking for a comfortable way to get to your hotel from the airport you land at without leaving a large sum in the attempt, I recommend that you hire a transfer (which you can use exclusively or share with other travelers) to the door of your accommodation. I tell you how to do it in this article on New York Airport Transfers:.
Use public transportation
Besides the fact that the New York subway is an attraction in itself (if you like to take pictures, there are some iconic stations where you will enjoy going underground), it is the fastest way to move from one point to another in the city. Don't be paralyzed by the large number of lines and stops that you will see on the maps: jump on the subway and move like a New Yorker. Here's a practical guide to get around on the New York subway::.
Follow these basic tips
If this is your first time in New York, don't worry. There are hundreds of doubts that assail you now just as they assailed all of us travelers when we were there for the first time. In the same way, we have all fallen into the tourist traps that the city has prepared for its visitors. That is why I have decided to compile the best 10 travel tips for New York in this article. I'm sure they will come in handy to start organizing your trip.
Plan your itinerary
To avoid wasting a lot of time (and money) on unnecessary tours, I recommend that you organize - roughly speaking - an itinerary that goes by days or by things you want to see. I leave you here these practical guides that I think will help you to organize your time in the most efficient way possible: :Things to do in New York City in the Fall: and 7-day New York Itinerary:.
Take out travel insurance
Although at first it may seem like an extra expense, I assure you that having travel insurance is essential when you travel to New York (or anywhere in the United States). The medical costs there are very high and it never hurts to take a good insurance that covers any unforeseen event. If you don't know which one to take, what you need to cover and how to do it, I leave you here an article with all the details about Health insurance to travel to New York:.
Remember to bring your visa ready
Most likely to enter New York as a tourist you will need to bring the ESTA visa. You can fill it out online and pay the fee also online, which makes the process much easier. If you have doubts about how to do it because you have never done it before, you can check my article about how to get the ESTA visa to travel to New York::.