Guide to the New York City Subway
The New York subway is literally a city under the city. Here are some basic tips to help you get your bearings and get the most out of the Big Apple's fastest transportation method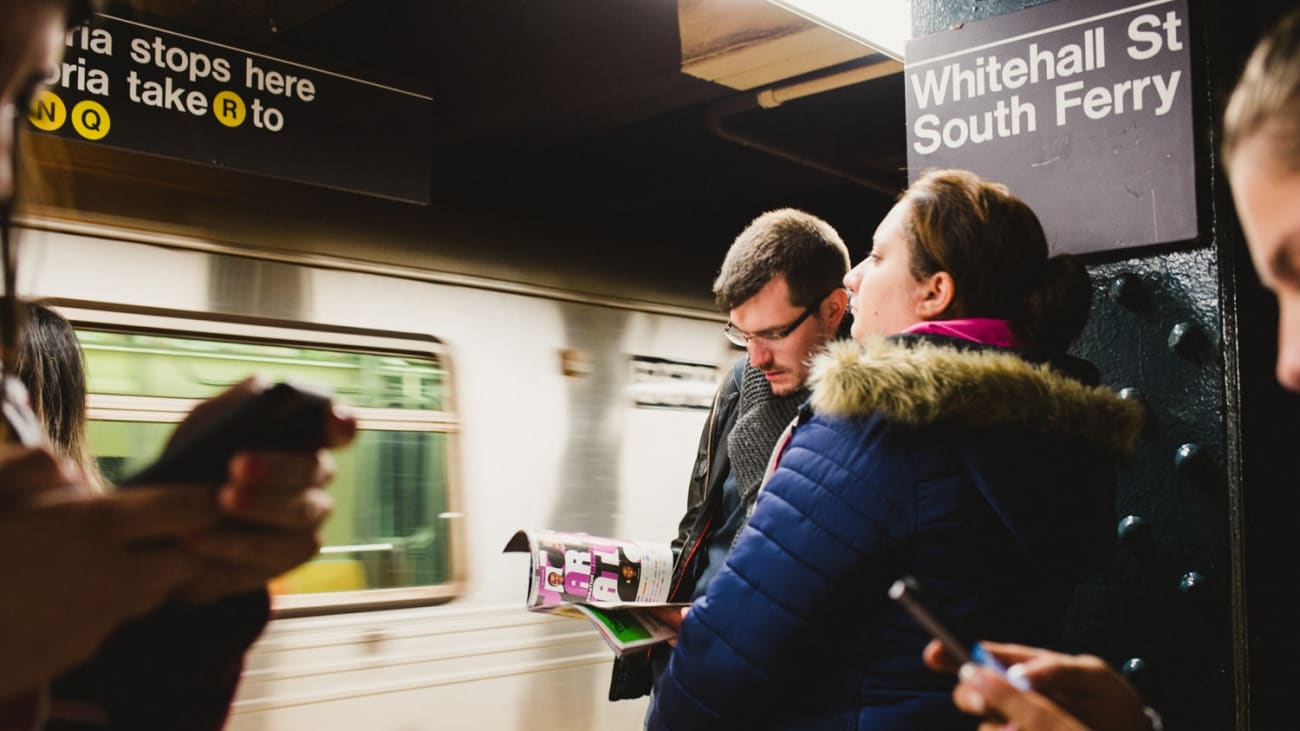 If you are planning a trip to the Big Apple, getting around on the subway is probably something you want to do some research on, since it has many different lines, stations, and types of subways it is easy to make a mistake. Don't worry! In this guide about the New York Subway, I tell you everything you need to know to get around like a true New Yorker.
1. Get your hands on the New York Subway Map
To begin with, I suggest you download the New York subway map in PDF on your phone. This way you can always carry it with you and consult it whenever you need it even when you don't have an Internet connection.
However, it is best to download the official app of the New York subway as you will not only find the map but you can also calculate the best route to move, the time in which the next subway will arrive, or check if any lines are not working, among many other things. Here is the version for iOS.
2. How much does a ticket cost and how do I buy it? Any special ticket I can buy to save money?
A single New York City subway ticket costs $ 2.75. If you plan to use public transportation frequently for your trips around the city, the best way is to buy the MetroCard, a rechargeable card valid for the subway and bus.
As in other cities around the world where a similar system is also used, the Metrocard is a public transportation card for getting around the city using the New York bus and subway network.
The particularity that the Metrocard has is that it can be recharged for:
Single rides (Pay per Ride)
Unlimited rides for 7 days
Unlimited rides for one month
3. How to get the Metrocard?
To get your Metrocard you must go to any subway station, where you will find the ticket dispensing machines.
Choose the type of card you want from the available options.
If this is the first time you are buying a Metrocard you must choose the option "Get a new card" which has a $1 fee.
In case you already have a Metrocard from a previous trip just select the "Reload your card" option and enter the balance you want.
How to buy it at the machine step-by-step
After selecting the "Get a new card" option you will need to choose the type of Metrocard: Regular Metrocard and Unlimited Ride.
Within the Unlimited Ride option there are two possibilities: "Unlimited Ride for 7 days for $ 33" and "Unlimited Ride for one month for $ 120".
Most commonly, we commuters choose the "Unlimited Ride for 7 days for $ 33" option. In a city as big as this you will get a lot out of it because there are long distances and with this Metrocard, you will be able to hop on and off the New York bus or subway as many times as you need.
The next step is the payment method. You can use cash, bank card (ATM), and credit card.
When you insert your card, the vending machine will ask you for a zip code. As you are a tourist you will not know the zip codes of the city you can enter the number 00000 or 99999.
And that's it! The ticket vending machine will issue your Metrocard and you can start using it.
What happens if I have both balance and unlimited travel on my card?
In case you have both balance and unlimited rides on your Metrocard for 7 days, you will first consume the rides for that week and then the dollar balance will start to be spent. In other words, unlimited travel takes priority over the balance for individual trips.
Do children pay on the subway?
Children under 44" can ride for free when accompanied by a paying adult. As for babies, they do not pay until they are two years old.
How to validate your Metrocard?
It may seem obvious, sliding the card through the slot on the turnstile, but the trick is to do it at an intermediate speed so that the machine's reader can read the Metrocard properly. That is, neither too fast nor too slow.
At this point I want to make a digression and is that if when entering the subway you have confused access and you must go back out to the street to take the correct station access, you will find two situations:
If you have chosen the unlimited travel Metrocard, to re-validate the card at the turnstile you will have to wait 20 minutes.
If you have loaded the Metrocard with a balance in dollars, you will have to pay for the trip again. In other words, they will deduct another $2.75 from your balance. Unfortunately, you can't request a financial refund for the previous wrong trip.
Metrocard Frequently Asked Questions
Can I buy the Metrocard before traveling to New York City: No, it is only possible to buy it at the subway vending machines.
If I have doubts when buying it, will someone help me?: In many stations, you will find subway employees that you can ask for help but if there are not, don't worry because New Yorkers are very attentive and they will help you if you need it.
If I travel to New York for two weeks, should I buy two cards: No need. Once you use up the 7-day Unlimited Ride voucher you can reload the same card with credit or another unlimited voucher for another week.
Can I share the Metrocard with another person?: If you choose the 7-day Unlimited Ride option, the card is for personal use and is not transferable. On the other hand, if you choose to load it with credit and pay for each trip, then you can share the Metrocard.
What happens if I lose my Metrocard?: Unfortunately you will have to buy a new card and you will lose all the balance and/or value you had on it. Only the "One Month Unlimited Ride" MetroCard is protected against theft and loss if you purchase it with a debit or credit card at the Metro vending machines.
How do I know how much balance I have left on the card?: If you have been recharging the card with balance and you don't know how much you have, in many metro stations you can check it at the card readers that will tell you the balance, the days you have left, and when the card expires.
If I have a balance left on my card, do I get my money back?: No, so my advice is to be cautious when topping up. However, the Metrocard is valid for 2 years so if you have any leftover I recommend that you keep the card to use on your next trip to the city or to give it to someone else who will be traveling to New York.
Can the Metrocard be used for other transportation? In addition to the New York subway system, this card can be used on the bus network and the Roosevelt cable car. If you want to take a ferry you will have to pay a separate ticket as it is not integrated in the Metrocard. If you'd like to know more about the ferry, don't miss my practical New York ferry guide.
4. Getting your bearings: express trains, direction of lines, and meaning of letters
Once you have your ticket in hand, you'll need some orientation so you don't get lost in the most extensive subway in the United States and one of the largest in the world. It has 26 lines, nearly 500 stations, and more than 1,000 kilometers of track connecting Manhattan, Bronx, Brooklyn, and Queens.
The only borough where the New York subway does not reach is Staten Island although you can go by car from Brooklyn or from the south of Manhattan on the Staten Island Ferry.
The New York subway lines are identified by colors and each of them can branch out into letters (A, B, C, etc.) and numbers (1, 2, 3, etc.) according to directions, so to avoid getting lost it is good to follow the following tips:
Be clear where you are heading
When taking the subway be sure of the direction you want to go as most lines are divided and trains take different directions.
Once you know which line to take, go to the nearest metro stop. At all stations, the entrance to the southbound (Downtown and Brooklyn) or northbound (Uptown and Queens) platforms is marked.
When boarding the subway, pay attention to any signals. Both signs and loudspeakers indicate which direction the train is heading, showing the last stop on the route or which borough the train is heading to.
Local vs. express trains: how to tell them apart
An important detail to note is that in New York there are two kinds of trains: local trains and express trains. Unlike the local trains, the express trains don't stop at every stop and are much faster, so they are very practical for long-distance travel. It's great because you can cross the city in less than 15 minutes!
Now then, how do we know where an express or local metro stops? Very easy, if on the map you see that the stop has a white circle it is an express train, and if it has a black circle then it is a local train.
Pay attention to the letters and numbers
Each New York subway line has a different color to identify them but because at certain points on the map they branch off, to avoid the map becoming a multicolored mess each branch is given a different name with numbers and letters.
Therefore, when taking the subway you should have as a reference not only the color of the line but the letters and numbers. In fact, New Yorkers know the lines better by the numbers and letters, not so much by the colors.
And where can I see the letter or number of the subway to know which subway I'm getting on? It appears on the first car of the subway although it is also posted outside each car so you can check it out. Keep it in mind if inside the subway you need to ask for directions or a route.
Note the direction of the subway stations
As I said before, if you look at the New York subway map you can see that there are subway lines that go in different directions by forking two or more times (such as the orange or yellow line).
The first thing you should know before using it is to distinguish correctly between Uptown and Downtown. Sometimes in the same subway station, the different entrances have different directions, that is to say, in many streets if you enter through the entrance on one sidewalk you go south and on the other side you go north.
Therefore, before getting off the subway, I advise you to look at the direction to avoid having to go back out to the street and change direction, because in many cases once inside the station you can no longer change platforms.
The directions that the New York subway can take are Downtown and Uptown (South and North) or Westbound and Eastbound (West and East).
Sometimes you'll also see them point to the borough or neighborhood they travel to:
Manhattan
Queens
Brooklyn
Bronx
Etc.
Transferring between lines?
If we look at the New York subway map we might think that it is not possible to transfer between lines unless it is indicated that they cross. But this is not always the case, as the map shows black lines that tell the existence of transfer tunnels that make it easier to change lines so as not to make unnecessary trips.
5. What is the schedule and frequency of the New York subway?
The good thing about the New York subway is that it runs 24 hours every day of the year but at night not all station entrances are open.
It ranges from 2 to 5 minutes during peak hours (6:30 AM to 9:30 AM and 3:30 PM to 8:00 PM Monday through Friday), from 5 to 10 minutes at noon and from 5 to 15 minutes until midnight. The frequency of the subway from early morning to 6:30 AM is approximately 20 minutes although at night I advise you to take a cab, especially if you are traveling alone between districts, as few operators are working in case of any incident.
6. Tips for using the New York City Subway
The New York subway is not that different from other subways around the world when it comes to rules of use. However, as a commuter, it always pays to keep in mind some basic rules to make it easier to get around the transportation network.
In vehicles, always let yourself out before entering.
Do not block the carriage doors with your luggage to facilitate the entry and exit of people.
When using escalators, if you walk up or down them, always use the left one. Otherwise, place yourself on the right side to facilitate the transit of other users.
Give up your seat to people who may need it (elderly, pregnant women, handicapped, etc.).
Do not occupy other seats with your belongings. Seats are for the use of other passengers.
Avoid eating or drinking inside the carriage during the journey out of respect for other passengers.
On the subway or platforms, do not overly stare at people.
7. Enter New York's ghost subway station
The streets of New York are fascinating, there is always something new to discover in the city that never sleeps. There are countless tourist attractions on the surface but not many know that beneath it lies a secret site known as the City Hall Ghost Subway Station, which for a long time was plunged into darkness.
Its enigmatic name alone makes you want to find out what it's all about, right? All you have to do is enter the New York subway and take line 6 to the end of the route as the train continues to travel through this station. After Brooklyn Bridge you can pass by the City Hall ghost station and view it from inside the train car.
Unfortunately, you can't go down to the station to see it, but at least the subway runs at such a slow speed that if you're skilled enough you can take several photos of this little piece of New York history, which tells us about the origins of this public transport at the beginning of the 20th century.
What does the New York City subway ghost station look like?
City Hall was never a station frequented by New Yorkers, as most got on and off at the nearby Brooklyn Bridge. Over time and for various reasons, it was eventually closed to the public in 1945.
Perhaps this has allowed it to remain in such good condition, as well as the original stained glass, chandeliers, and stained glass windows that decorate it. In fact, many find a similar air to the decoration of Grand Central Station, what do you think?
Another way to get a glimpse of the City Hall ghost station is from above ground. In the middle of City Hall Park sits a space reserved for pets. If you pay attention, here you'll see an iron opening from which you can peek inside the structure. Amazing, isn't it?
I was struck by the elegance and style of the design of this stop compared to the others that made up the subway network at the time. City Hall had glass windows through which natural light penetrated and vaulted ceilings covered with tiles with clear influences of the Spanish architect Rafael Guastavino, whom the New York Times dubbed after his death as "the architect of New York" for his famous "Guastavino tile" and his great contributions to American architectural design.
8. More things to do in New York!
But the New York subway ghost station is not the only secret place in the city. There are many original things to do and unique places to explore! In the article 10 secret places and original plans you can't miss in New York I tell you about some of them.
And if so many tourist routes whet your appetite, then I recommend you to take a look at the article 10 best places to eat in New York to know where to have a good meal. Here you come to enjoy and have fun!