10 secret spots of New York
If you feel like going off the "official" tourist circuits and make your trip an unforgettable experience, don't miss my favorite secret plans in the city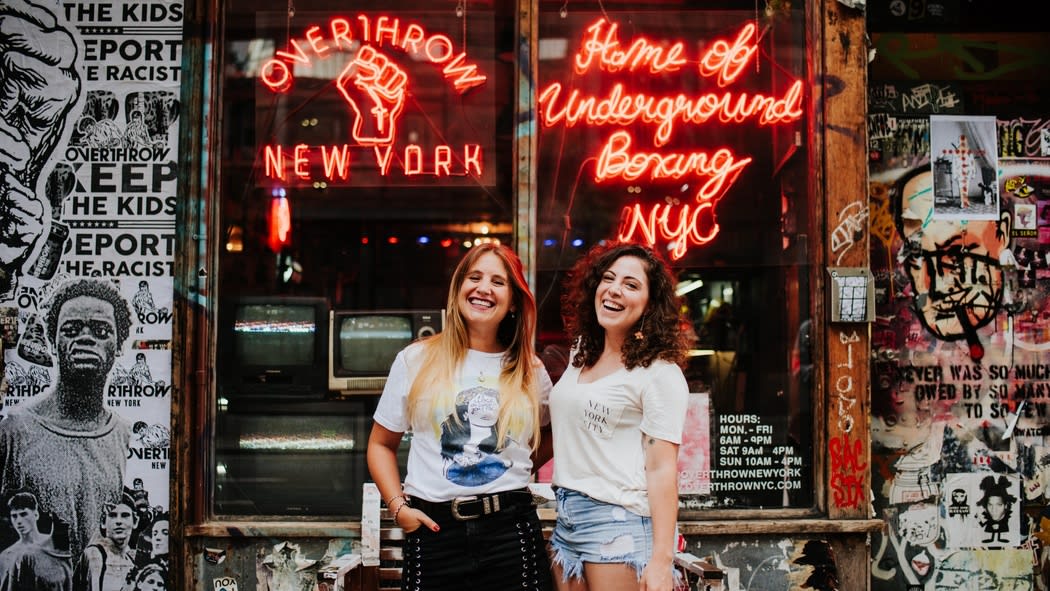 Surely you know by heart the must-see places of New York for your trip, but a city as big as this one is full of possibilities, original things to do, and secret places to discover. Take a look at these alternative plans to include in your visit to the Big Apple!
1. Visit secret waterfalls among skyscrapers
On the way to any of the tourist attractions that can be found in the center of New York, it is always a pleasure to discover small treasures that are not normally listed in travel guides.
Especially if we are talking about gardens in a city as bustling as this one where the incessant traffic on the streets and people in a hurry is a constant. It is wonderful to find small oases where you can take a break surrounded by water and vegetation. Such is the case of Greenacre Park and Paley Park, both in Midtown Manhattan.
Why go to these parks?
What makes these two secret spots in New York different from other parks are two beautiful waterfalls that adorn the surroundings and whose sound of water transports you to a place of quiet where you can escape the hustle and bustle of the city while reading a book or sipping a coffee at one of the cozy little tables available to visitors. The trees in Greenacre Park and Paley Park create a sense of intimacy and serenity, and this is what I love about this place.
My favorite time to visit is in the spring and fall when the flora is at its peak. For example, in autumn the trees were very beautiful and decorated with pumpkins so typical of Halloween and Thanksgiving. It makes for some cool pictures.
Practical information
Greenacre Park: Located in Midtown East at 217 E 51st Street.
Paley Park: It is located between 3 East 53rd Street and Fifth Avenue.
2. Experience a movie night at Bryant Park!
Why not dedicate an evening to go to the movies in New York during your trip? A good plan for Monday nights during the summer in the city, when temperatures are hot, is to go to Bryant Park to enjoy its Outdoor Film Festival.
This small oasis in the middle of the bustling Midtown Manhattan is one of the most beloved gardens by New Yorkers and has a great cultural agenda: from writing workshops and meetings with authors, to gatherings and film festivals to musical concerts and so on.
Going to the movies in Bryant Park is one of my favorite activities during the summer. In front of the park's famous fountain, a giant screen is set up where classic movies are shown while the audience picnics on the lawn and enjoys the evening lying on the grass.
When does the curtain open?
The viewing area opens at 5 PM for attendees to get seated but the movie starts between 8 PM and 9 PM. From my experience, I recommend you go early to get a good spot on the lawn and a popcorn cone, which is free at the entrance if you arrive early.
While you wait for the movie to start you can relax on the grass, read, review what you have left to see of the city, or just have a picnic while enjoying the atmosphere at Bryant Park.
Isabel's Traveller Tip

Did you know that at this festival the public chooses the film of the night? To participate follow the @vultur Twitter account, which proposes several options and the one with the most votes will be broadcast.
3. Enter the ghost subway station in New York
The streets of New York are exciting, and there is always something new to see in this ever-changing city. On the surface, there are tourist attractions for all tastes but not many know that beneath it lies a secret place known as the ghost subway station of City Hall, which was plunged into darkness for a long time.
The name alone makes you want to find out what it is all about, right? You only have to go into the subway and take line 6 to the end of the route because the train continues to travel through this station. After Brooklyn Bridge, you will pass by the ghost station of City Hall and admire it from the train car.
Unfortunately, it is not possible to get off to see it but at least the subway runs at very low speed so if you're nimble you can take several photos of this piece of New York history, which tells us about the origins of this public transport at the beginning of the twentieth century.
What does the ghost station look like?
City Hall was never a station much used by New Yorkers, as most got on and off at the nearby Brooklyn Bridge and eventually closed to the public in 1945 for various reasons.
Perhaps this has allowed it to be preserved in such good condition, as well as the original tiles, crystals, chandeliers, and stained glass windows that decorate it. Many find a certain resemblance to the decoration of Grand Central Station, what do you think?
Another way to take a look at the station is from above ground. In the middle of City Hall Park there is an area reserved for pets. If you pay attention you will see an opening from which you can peek inside.
4. Enjoy the urban art in High Line Park
Of all the parks in New York, one of the most original to me is High Line Park. A new urban garden, barely a decade old, built on a former elevated rail line and filled with greenery, wall art, and sculptures on the west side of Manhattan. One of New York's (almost) secret places waiting for you to discover it on your trip.
High Line Park is located between Gansevoort Street and 34th Street. Its two-and-a-half-mile straight-line route begins (or ends depending on which direction you take) to the north near Hudson Yards, the trendy new neighborhood in Midtown along the Hudson River. It then runs through Chelsea and ventures south into the Meatpacking District next to the Whitney Museum.
From end to end, the path of High Line Park is lined with skyscrapers, designer buildings, and interesting sculptures. But in addition to the urban art you'll see along the High Line Park, I suggest you pause along the way to exit at the 23rd Street entrance and take a stroll around the area to see some of the graffiti by Brazilian artist Eduardo Kobra. Three of the most striking and which have become true icons of the neighborhood are:
We love NY²: with Einstein as the main character, who expresses his love squared for New York.
Mount Rushmore: on the facade of the Empire Diner, as a tribute to artists Andy Warhol, Frida Kahlo, Keith Haring, and Jean-Michel Basquiat.
Tolerance: paying tribute to Gandhi and Mother Teresa of Calcutta.
With a few souvenir photos, it's back to High Line Park to continue the route. Don't put your camera away because a little further along 21st Street, on the left is a very unique sculpture under whose arch you can take some more cool pictures.
5. See the best Hispanic art north of Harlem
New York is one of the most important cultural centers in the world. The museum offer is vast (the MoMA, the MET, the Guggenheim Museum ...) but not many travelers know that in Upper Manhattan in New York, west of Broadway, is located the Hispanic Society of America, an elegant Beaux-Arts style building that houses the most important collection of Hispanic art in the world outside Spain. Amazing, isn't it?
If you love art and history as much as I do, the Hispanic Society of America will surprise you a lot. In its rooms, you can contemplate authentic treasures from the Paleolithic to the 20th century! It has more than 18,000 works in almost every field (sculptures, decorative arts, drawings, paintings...) and within its collection, you'll find artists as important as Diego de Velázquez, El Greco, Francisco de Goya, Joaquín Sorolla, Mariano Fortuny, Ignacio Zuloaga or Francisco de Zurbarán.
Why go to this museum?
It is true that because of its location between 155th and 156th streets north of Harlem, the Hispanic Society of America is not part of the traditional route through the iconic museums of New York but this institution is a jewel that is well worth visiting not only for the great collection that houses within its walls but also because admission is free.
Also, since you are going to Harlem you can combine it with a tour of Harlem with a Gospel Mass to immerse yourself in the culture and history of this neighborhood where the African-American community has traditionally lived. You will kill two birds with one stone!
6. Listen to heavenly music at a Gospel Mass in Harlem
One of the most original things to do in New York is to leave the skyscrapers downtown for a morning to experience the cultural diversity of one of the most interesting neighborhoods in the city: Harlem.
In the early 20th century, it became the epicenter of African-American culture and civil rights advocacy in the United States. To this was added the flourishing of a musical and artistic movement led by Duke Ellington and Ella Fitzgerald performing at venues such as the legendary Cotton Club.
Through a tour through Harlem with Gospel Mass you will get to know the most authentic side of this neighborhood. It will take you to its main sites of interest such as the Apollo Theater, the Cotton Club, the Morris Jumel Mansion, and the historic streets of typical brownstones.
What is a Gospel Mass like?
Plus, you'll visit a local church to witness an authentic live Gospel Mass. I recommend going on Sundays, as you will find a larger congregation and therefore a more authentic experience.
A Gospel Mass in New York City usually lasts around two hours, although the tour only takes you there for one hour. The experience is highly recommended! The mass consists of a combination of singing and sermon. You will enter moments before the start and will usually be seated in the upper box, from where you will have a magnificent view of the proceedings.
Isabel's Traveller Tip

Remember that there is a dress code for attending a Gospel Mass: avoid tank tops and shorts and skirts.
7. Ride a bike cab or bike to see Central Park
Central Park is the quintessential park of New York. A true oasis in the middle of the city and the most visited urban park in the world.
Given its size, I know from experience that walking through Central Park will take you several visits because it is huge and there is a lot to see. If you do not have much time to invest in this visit, one of the original things to do in New York is to explore Central Park with a private bike cab tour, where together with a professional guide you will know the most iconic places of the park and also others that usually go unnoticed by tourists.
You will also discover the origins of Central Park in a fun way and see some of the locations of movies that have been filmed here, as well as several of the houses of celebrities.
Why do I like this tour?
I love to enjoy it during the fall in New York, when the sun is still warm in the morning. The light is dim and the landscape is tinged with reds, ochres, browns, oranges... It's a colorful show to admire! Take your camera and get ready to take the most beautiful pictures of your trip.
8. See New York from the heights
One of the most original things to do in New York and a unique experience to have during your stay is to take a helicopter ride to see the city from a bird's eye view.
The New York skyline is a spectacle in itself, but seeing it from a helicopter with the adrenaline rush of flying at more than 200 kilometers per hour is elevating the experience to another level.
Normally, the flight operator does not offer helicopter tours beyond 8 PM. Depending on the views you'd like to have to take pictures, you can choose between a time close to noon to see the New York buildings in all their splendor or choose a time at the end of the day to watch the sunset and the first night lights.
9. Party at the museum!
The Fotografiska New York is anything but a museum. On the outside, the building is a real marvel but inside it doesn't have the typical traditional museum atmosphere - I love it because it's a mix of photography, art, music, and nightlife!
It never ceases to amaze me because there is no permanent collection - every exhibition is unique! It is a living art space in constant change capable of showing the latest movements and social issues by emerging and established artists, through a vibrant cultural program.
All this with a very innovative proposal: the elegant interior design, the ambient lighting of the rooms, and the relaxing ambient music make the experience different every time and a reason to drop by Fotografiska New York on every trip to the city.
Isabel's Traveller Tip

Fotografiska New York often organizes events with live music and special exhibitions - you will enjoy the New York night in a very original way!
10. Kayak down the Hudson River
If you want to do something different during your trip to New York and observe its skyline from the water without spending a dime, head to Pier 96 on the Hudson River near the Intrepid Air and Space Museum. From the end of May to October you can kayak and enjoy the Manhattan landscape aboard one of these boats. The company offering this free activity is Manhattan Community Boathouse.
How to participate?
It's easy to participate. You don't have to make any reservations, just go to the dock where the company operates and sign a waiver stating that you know how to swim. After storing your belongings in a locker, you will only have to be assigned a kayak and a paddle to dive into the water.
If it is the first time you do this sporting activity as it happened to me, don't worry because at each dock there are monitors who will teach you how to get in and paddle. In addition, they will give you a life jacket for safety.
The kayak tours on the Hudson River are 20 minutes long but you will enjoy them a lot. The area where you can kayak is marked by buoys and you are not allowed to leave the area.
Isabel's Traveller Tip

Wear summer clothes, even a swimsuit if you have one. Swimming is not allowed but during the kayak ride you will get soaked. If you want to bring a change of clothes, there are usually changing rooms in the area.