Top 10 Broadway Shows 2021/2022 in New York
Get swept up in the magic of Broadway: dive into one of the musicals from its billboard and let your imagination soar from the heart of the Big Apple. Here is a list of my favorites and the most frequently asked questions to get tickets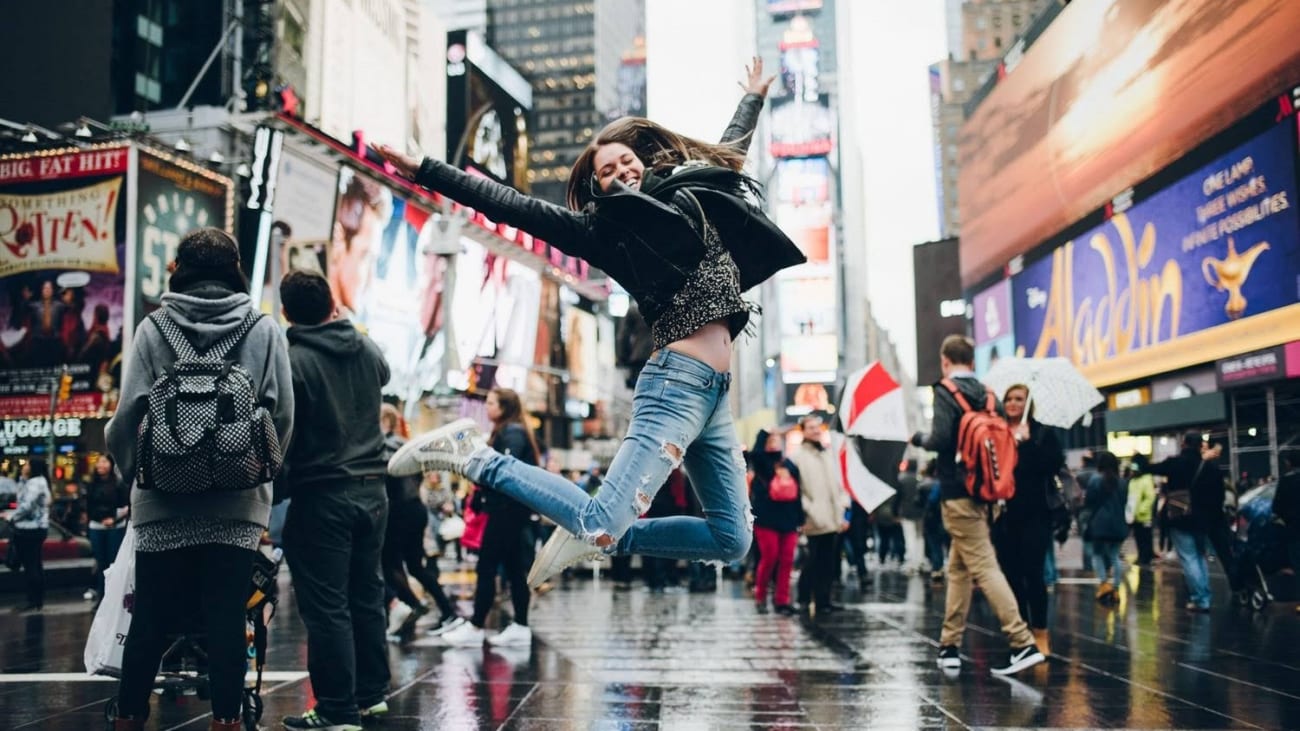 If you're planning a trip to the Big Apple soon, you're probably already making a list of things to see and do there: climb the Top of the Rock, take a Manhattan skyline cruise or go to a Broadway musical - experiencing the mecca of American theatre is a unique and unforgettable experience to enjoy in New York!
Whatever time of year you visit New York, one of the essential things to do is to go to a musical on Broadway, the famous theatre-lined boulevard that runs through the centre of Manhattan including Times Square.
You go to New York to have fun, to be amazed at every corner and even to daydream. That's what Broadway musicals are for, and they'll make you enjoy yourself like a child, no matter how old you are!
With hundreds of performances a year, Broadway is the mecca of New York theatre. Many Hollywood actors have graced its stages to delight us with their talents and great actors (although not so well known) work hard every performance to make a name for themselves.
I remember the first time I attended a Broadway musical in New York and it was one of the most exciting moments of the trip. Not only because I love theatre but because the magic of Broadway is something unique that you won't find anywhere else. Its musical numbers and majestic stagings transport you to a world of fantasy and leave you speechless, even if you're not even passionate about theatre! Here is a list of what I consider to be the best.
1. Hamilton
Can you imagine hearing the story of the birth of the United States from the mouth of one of its founding fathers and set to a rap beat? That's Hamilton, the Broadway musical that has become a phenomenon in recent years!
The show tells the story of Alexander Hamilton, an orphan from the Caribbean who through a series of events ends up coming to the United States and becoming a major figure in both the American Revolutionary War and the nation's first government.
Although I loved it, Hamilton is one of the few Broadway musicals that you'll need to have a good grounding in English, as they use a lot of puns and sing fast, so it can be easy to get lost at times.
Why you can't miss it
What's compelling about this musical is that the story is told in an unconventional way through interactive staging with plenty of spectacular sound and light effects. In addition, it is a play in which there is hardly any dialogue other than through songs. Each and every one of them is unique to this musical.
Truly, Hamilton is a highlighting experience that immerses you in one of the most exciting episodes of American history. It's not for nothing that this Broadway musical is one of the most sought-after musicals by audiences and has won 11 Tony Awards, although it was nominated for 16. More than any other show has ever won!
Ideal for...
Adults and children 10 years and older, with a good level of English.
Tickets
Buy them here: Hamilton Broadway Tickets
Useful information
Where: Richard Rodgers Theatre (226 West 46th Street between Broadway and 8th Avenue).

How long does it last?: 2 hours and 40 minutes with an intermission.
2. The Lion King
The throne of Broadway musicals belongs to The Lion King, a show that is the adaptation of the famous Disney animated film and has on numerous occasions been recognised as the best musical of them all. With sensational set design and music by Elton John, it has won six Tony Awards and an Evening Standard Award.
Since 1997 it has been the best-selling musical in New York because it is one of the most powerful productions on Broadway. There is nothing like it!
If you've seen the film you'll know the story of little Simba, the lion prince whose evil uncle Scar wants to take the throne away from him. To do this, he sets him a trap where his father Mufasa, the king of the savannah, dies.
Scar tricks him into believing that his father has perished because of him, so Simba escapes from the kingdom. Years later, the young prince learns that under his uncle's rule, the savannah has deteriorated and it is then that he decides to confront the usurper and regain his place in "the cycle of life".
Why you can't miss it
The Lion King's soundtrack is superb as is the characterisation of the actors and the staging. In addition, the story teaches values that never go out of style. Undoubtedly, an amazing show that manages to evade the real world for more than two hours.
Ideal for...
All audiences, children and adults alike will enjoy it.
Tickets
Buy them here: The Lion King Broadway Tickets
Useful information
Where: Minskoff Theatre (200 W 45th St, New York, 10036)

How long does it last?: 2 hours and 30 minutes with an intermission.
3. Radio City Christmas Spectacular
When you travel to New York you're sure to have a busy schedule visiting a multitude of museums and doing all sorts of tours of the city but if your trip coincides with Christmas, you can't miss the legendary Radio City Christmas Spectacular.
This is a magical Christmas story that was first performed in 1933 and has become a true Christmas tradition.
It really is as spectacular as the name says! A show like the ones from the old days with music, humour, dance and light effects starring the fantastic The Rockettes, which makes you relive Christmas with the illusion of a child.
Why you can't miss it
The funny thing about the Radio City Christmas Spectacular is that the show changes every year and it's always a surprise! If you're going to New York with your family, I highly recommend it because the Radio City Christmas Spectacular is suitable for all ages and the kids will have a great time.
Ideal for...
A trip to New York at Christmas. Equally amazing for kids and adults alike, who will enjoy it equally as much.
Tickets
Buy them here: Radio City Christmas Spectacular Tickets
Useful information
Where: Radio City Music Hall Theater in the heart of Rockefeller Center (1260 6th Ave, New York, 10020)

How long does it last?: 1 hour and 30 minutes without intermission.
4. Aladdin
The word that can best define the musical of Broadway's Aladdin is magic. In this theatrical adaptation of the popular 90's animated film, everything is surprising, amazing and extraordinary - another Disney classic that deserves its own musical version!
Thanks to brilliant staging, carefully crafted characterisation, some novelty songs and the Genie's always hilarious humour, this is one of the Broadway musicals that's making the biggest waves with audiences. And everyone who comes to the New Amsterdam Theatre to see Aladdin for the first time will come back for seconds!
The story begins when Aladdin, a young petty thief from Agrabah, finds a magic lamp with which he can make three wishes to fix his life and escape poverty. With one of them he wants to become a prince to conquer Yasmine, the beautiful daughter of the sultan with whom he has fallen in love, but the evil royal vizier has other plans for the Genie of the lamp that will endanger all the inhabitants of the city.
Why you can't miss it
This is one of the most unmissable New York musicals to see. Anyone who knows the songs from the film will be able to hum along to the music and it's so much fun that the 2 and a half hours will fly by. Speaking of flying, the scene in the number "An ideal world", where the main characters fly over the city on a magic carpet, is simply magnificent and will leave you speechless!
Ideal for...
All audiences, children and adults alike will enjoy it.
Tickets
Buy them here: Aladdin Broadway Tickets
Useful information
Where: New Amsterdam Theatre (214 W 42nd St)

How long does it last?: 2 hours and 30 minutes with an intermission.
5. The Phantom of the Opera
Since its premiere in 1986, The Phantom of the Opera has been one of Broadway's most successful musicals, winning 7 Tony Awards (including Best Musical of the Year) for its wonderful adaptation of Gaston Leroux's popular novel.
Set in the 19th century at the Paris Opera House, it tells the story of a deformed man who hides in the cellars of the opera house and terrorises the theatre workers with his crimes. The ghost falls in love with a young dancer named Christine, adopts her as his muse and teaches her to sing in order to become the star of the opera. However, when he discovers that his love is impossible, he swears revenge.
My favourite scene is the one in the boat, when the ghost leads Christine to his lair. It's full of intrigue and chemistry - simply sensational!
Why you can't miss it
The enigmatic and spooky setting, the actors' costumes and the superb soundtrack make The Phantom of the Opera a classic not to be missed on your trip to New York. No wonder it's the longest running Broadway musical and 80 million people around the world have seen it.
Ideal for...
Adults, although children over the age of 4 are welcome, although there are some special effects and scenes that may frighten the little ones.
Tickets
Buy them here: The Phantom of the Opera Broadway Tickets
Useful information
Where: Majestic Theatre (245 W 44th St, New York, 10036)

How long does it last?: 2 hours and 30 minutes with an intermission.
6. Chicago
Another of Broadway's great musical productions is Chicago, a classic that takes us back to the Roaring Twenties every season.
Set against the backdrop of jazz music and the Prohibition era that favoured underground activities, corruption and murder in the big city, this show is aimed at a more adult audience but it sticks in the top 10 because it is one of Broadway's greats. Such is its success that it has won 6 Tony Awards and the recording of the musical's songs won a Grammy Award as well.
Chicago tells the story of Roxie Hart, an innocent debutante actress who dreams of following in the footsteps of the famous vaudeville performer Velma Kelly. However, a series of misguided events leads to both ending up in prison on murder charges.
Under the devious care of prison warden Morton, Roxie gets the legendary and shrewd lawyer Billy Flynn to take on her case for a hefty fee. In prison, Roxie's career takes off much to the chagrin of her mentor and Velma Kelly but the artist has an ace up her sleeve for the second act....
Why you can't miss it
If you have seen the 2002 film starring Catherine Zeta-Jones, Renée Zellweger and Richard Gere you can get an idea of the fantastic musical numbers you will see on stage but seeing these spectacular choreographies live, delicately staged and feeling the music from your seat is a unique experience and totally recommended.
Ideal for...
Adults. This show may not be suitable for children 12 years and younger.
Tickets
Buy them here: Chicago Broadway Tickets
Useful information
Where: Ambassador Theatre (219 West 49th Street, between Broadway and 8th Avenue).

How long does it last?: 2 hours and 30 minutes with an intermission.
7. Harry Potter and the Cursed Child
The musical of one of the most famous characters of all time has finally arrived on Broadway. This super production comes straight from London and has fantastic reviews. Although it has only been running since 2018 at the Lyric Theatre in New York, it is already undoubtedly one of the most popular with audiences.
The plot doesn't replicate any of the films, but is a storyline that you will only see in the musical. The script was written by J.K. Rowling herself and is set 17 years after Harry defeated Voldemort. Harry is now an employee of the Ministry of Magic, married and father of three children. This starting point is the beginning of a play that has won several Tony Awards, including Best Musical, and holds the record for ticket sales in one week in the history of Broadway.
Why you can't miss it
The musical's set design, special effects and soundtrack are magnificent. But most of all, because it completes the Harry Potter story in a way that no other film, spin-off or novel has ever done. It is a true sequel written by the author and no fan of the saga can miss it.
Ideal for...
Muggles, of course!
Useful info
Where: Lyric Theatre, very close to Time's Square (214 W 43rd St, New York, 10036).

How long does it last?: 2 hours and 40 minutes with an intermission.
8. Wicked
Wicked is the most spellbinding Broadway musical ever! It is the prequel to the famous story of The Wizard of Oz, a thrilling and suspenseful play about friendship, a theme suitable for all audiences.
It tells the story of Elphaba and Glinda, two young students of witchcraft who meet in the land of Oz and, despite their differences, become close friends. On the one hand, Elphaba is an intelligent but somewhat withdrawn sorceress who struggles to make a place for herself in the world. On the other, Glinda is outgoing and very popular at the university. The circumstances of life will bring them together for some fun times, but something happens and the two will drift apart until they become the Wicked Witch of the West and the Good Witch.
Why you can't miss it
Since its premiere in 2003, Wicked has been one of Broadway's biggest hits. As a fresh and entertaining show, with intrigue, humour and impressive staging, it has won 3 Tony Awards and a Grammy for Best Score for a Musical. In addition, it remains on the podium of the highest grossing Broadway musicals along with The Phantom of the Opera and The Lion King.
Get ready to spot the flying monkeys! You'll never look at The Wizard of Oz with the same eyes again.
Ideal for...
All audiences, children and adults alike will enjoy it.
Tickets
Buy them here: Wicked Broadway Tickets
Useful information
Where: Gershwin Theatre (222 W 51st St, New York, 10019).

How long does it last?: 2 hours 45 minutes, including a 15-minute intermission.
9. The Book of Mormon
This musical may be largely unknown to foreign audiences, but it's one of the most successful and funniest musicals on the Broadway circuit and guaranteed to make you laugh!
From the creators of South Park, The Book of Mormon has been controversial since its debut in 2011 because of its provocative script and vulgar language. In fact, some people may feel uncomfortable in certain scenes because of the authors' acid criticism of religions, the spread of diseases such as AIDS, oppression or hunger, among others.
The Book of Mormon tells the story of two Mormon missionaries, Elder Cunningham and Elder Price, who are sent to a remote village in Uganda to preach their religion to the natives. However, they soon discover that things are not as they had hoped and they do not easily convert as many people as they had anticipated, which causes the mission to take a quite different turn than they had both planned.
Why you can't miss it
This Broadway musical has become one of the most popular with audiences and has won 9 Tony Awards. The best way to find out if it's as controversial as they say it is is to go see it and draw your own conclusions.
Ideal for...
Adults. Warning for parents, the musical contains explicit language.
Tickets
Buy them here: Tickets The Book of Mormon Broadway
Useful information
Where: Eugene O'Neill Theatre (230 West 49th Street)

How long does it last?: Approximately 2.5 hours.
10. Moulin Rouge
If you're a true fan of Baz Luhrmann's award-winning film starring Ewan McGregor and Nicole Kidman in 2001, you can't miss this wonderful adaptation of Moulin Rouge. A sensational experience full of colour, lights and emotions that will immerse you in the bohemian Paris of 1900.
In fact, the theatre in which it is performed has a structure and finishes that perfectly match the theme of the musical and makes you feel part of the story. This is the perfect opportunity to relive the magic of the spectacular Moulin Rouge soundtrack with the "Can-can" or "Lady Marmelade" and the romantic love story between the young writer Christian and Satine, the star of the cabaret. A celebration of truth, beauty, freedom and especially love!
Why you can't miss it
Although it is not a copy of the film, the musical retains all the essence of the film, as the set design of the musical includes the symbolic red windmill, the giant elephant and all the flavour of the cabaret, but it is also modernised by adding recent songs to its repertoire, which makes you identify more with the story. The result is daring, dazzling and exciting. Are you ready to dance?
Ideal for...
Adults. We recommend tickets for children over 12 years old.
Tickets
Buy them here: Moulin Rouge Broadway Tickets
Useful information
Where: Al Hirschfeld Theatre (302 West 45th Street between 8th and 9th Avenue).

How long?: 2 hours and 35 minutes with an intermission.
---
How to buy Broadway tickets online
If you want to attend a Broadway musical during your getaway to New York, my advice is to buy tickets online before you travel because there are shows in high demand, the theatres fill up and the box offices quickly hang the Sold Out sign.
From experience I advise you to buy tickets online as far in advance as possible to ensure you get the best seats on the date you want and at a better price than at the box office, where you will also save yourself endless queues.

The American ticket market is dynamic, which means that prices go up as the date of the musical approaches and supply decreases (just like flights, for example). If you wait too long you run the risk of running out of tickets or having too few tickets at a high price and in sectors with less spectacular visibility.

Also, by booking online you can choose your own seat in the theatre. For me, this is the easiest, quickest and safest option.
How to buy Broadway tickets at the theatre box office
In my experience, I don't think this is the best option. There are several reasons for this, which I'll explain below:
Buying tickets for a Broadway musical at the box office means you'll have to buy them when you land in New York, so you'll have to adapt to the theatre's schedule, travel there and wait in a long queue to buy them.

This means that you will lose valuable time from your trip to New York that you could be spending touring the city or visiting some of its best museums instead of queuing outside a theatre.

Getting tickets at the box office will be months later than when you could have bought them at home, there will be far fewer options left and perhaps at an exorbitant price. Or they'll have sold out outright given the high demand for Broadway musicals.
How to choose the best seat to see the musical?
Another big question you may have when you go to buy tickets to a Broadway musical is how to get the best seats in the theatre to see the show. My advice is to try to strike a balance between the type of tickets the theatre offers and the budget you have available.
Generally, the most expensive ones are in the Orchestra section in the centre and from there you will see the whole show perfectly. The Mezzanine and Balcony areas are the second and third rings respectively. Depending on how large the theatre is, these sections will be more or less far away from the stage.
Keep this in mind!
When buying tickets for a Broadway musical, there are a few basic things to keep in mind:
If you're seated very close to the stage in the theatre, you'll see the actors in the front row and catch the details perfectly, but you're likely to miss some of the choreography.

On the other hand, if you opt for a side seat you run the risk of having some of the stage out of your line of sight.

There are also some tickets called Obstructed View, which means that they have a column in front of them or any other element that makes it difficult to see the musical. These are usually much cheaper, so if you're on a tighter budget, they can be a great way to experience the magic of Broadway!
And if I don't speak English, is it worth going to a musical?
Absolutely yes! Some people are hesitant to go to the theatre in the US because they don't speak English but this is not a problem on Broadway. Remember that musicals are not films with long dialogues but the storyline is full of musical numbers, choreographies and songs that will help you to follow the plot easily.
In any case, if you are still hesitating about it, my advice is to opt for a musical that has been made into a film such as Chicago, The Lion King, or Aladdin. If you check the film before you travel, it will be much easier to follow because they usually have the same script.
However, New York theatres are aware that they attract foreign audiences to their theatres, so they are prepared in this regard. The top-grossing plays often offer the option of renting headphones that summarise each scene in Spanish, so you'll be up to date with everything that's happening on stage.
They cost about $10 and you have to leave your passport at the window as a guarantee, which you get back at the end of the show when you return the headset.
The musicals that, for the moment, have this service available are: The Lion King, Phantom of the Opera, Aladdin, Wicked, Dear Evan Hansen, Book of Mormon and Come From Away. However, if you wish to rent one of these headphones, my recommendation is to ask at the theatre box office if they are available for a particular play.
How far in advance should I arrive at the theatre?
New York is a city of long distances and heavy traffic, so to avoid arriving too early for the start time of the show, I recommend that you arrive 30 to 45 minutes early to enter the theatre at your leisure, buy a bowl of popcorn or some merchandising and find your seats.
It is important to get to the theatre early because if you arrive late, once the musical has started the venue staff will not let you in. It would be a shame if you missed the show because of traffic!
How long does the musical last?
A Broadway musical usually lasts between 2 hours and 2.5 hours. It is divided into acts and there are breaks in between, so you can go out to the restroom and stretch your legs without missing a minute of the show.
Knowing the length of the show you've chosen is essential for you to be able to organise the activities you'll be doing that day.
Kids and Broadway musicals
Attending a Broadway musical is one of the must-do things to do on a trip to New York, especially if you're going with your family - it's an amazing display of lights, colour, music and dance that the kids will love! There are many shows whose themes and staging are perfect for family audiences.
Admission of children
However, be aware that most Broadway theatres do not admit children under the age of 4. These policies are set by individual theatres. Also, unfortunately none of the Broadway musicals sell special children's tickets, so all patrons must pay the same price for tickets.
How to choose a musical?
When choosing a Broadway musical, parents should know a little about the plot of the show in question, but other aspects to take into account are the length of the show, the special effects and the language used in the dialogue. This way, you will be able to choose the musical that is most appropriate for your family.
What happens if a child has a tantrum during the show?
Sometimes it can happen that a child has a tantrum in the middle of the show because they are tired, hungry or sleepy. If this happens, the usher may kindly ask the child and a parent to leave the auditorium until the child calms down and can return later to continue watching the show.
Is there etiquette for attending a Broadway musical?
Although there is no specific dress code for going to a musical, no one is usually overdressed and comfortable and appropriate clothing is the norm. So you can spend the day sightseeing and end the day enjoying a fascinating Broadway musical - your legs will thank you for it after all that walking around New York!
Where to eat near the theatres?
It is quite common that the most popular times to go to a Broadway musical are in the late evening, that is, around 7 or 8 PM. Mainly because it allows you to spend the whole day sightseeing and get to the musical just when you need to take a break.
Once the show is over, you're sure to work up an appetite. What to have for dinner that day? Broadway is located in the heart of Times Square and everything is always open, so it's easy to find a place to eat and enjoy great burgers like Shake Shack (691 8th Ave), delicious arepas like Empanada Mama (763 9th Ave) or tasty tacos like Los Tacos No. 1 (75 9th Ave).
New York is a city of endless culinary possibilities. If you want to avoid the tourist traps and eat well without going broke trying, I recommend you take a look at my article The 10 best places to eat in New York.
What other events can I go to in New York?
New York is a city full of possibilities for fun, where there is plenty to see and do. If you want to attend another event during your holiday and you are a sports fan I recommend other options such as: