Harry Potter on Broadway NYC: what you need to know about tickets, prices and schedules
In book, in movie and also in musical! If you were thrilled with the reading and in the movie theater, you can't miss the Harry Potter and the Cursed Child musical on Broadway. Here's everything you need to know about this acclaimed show.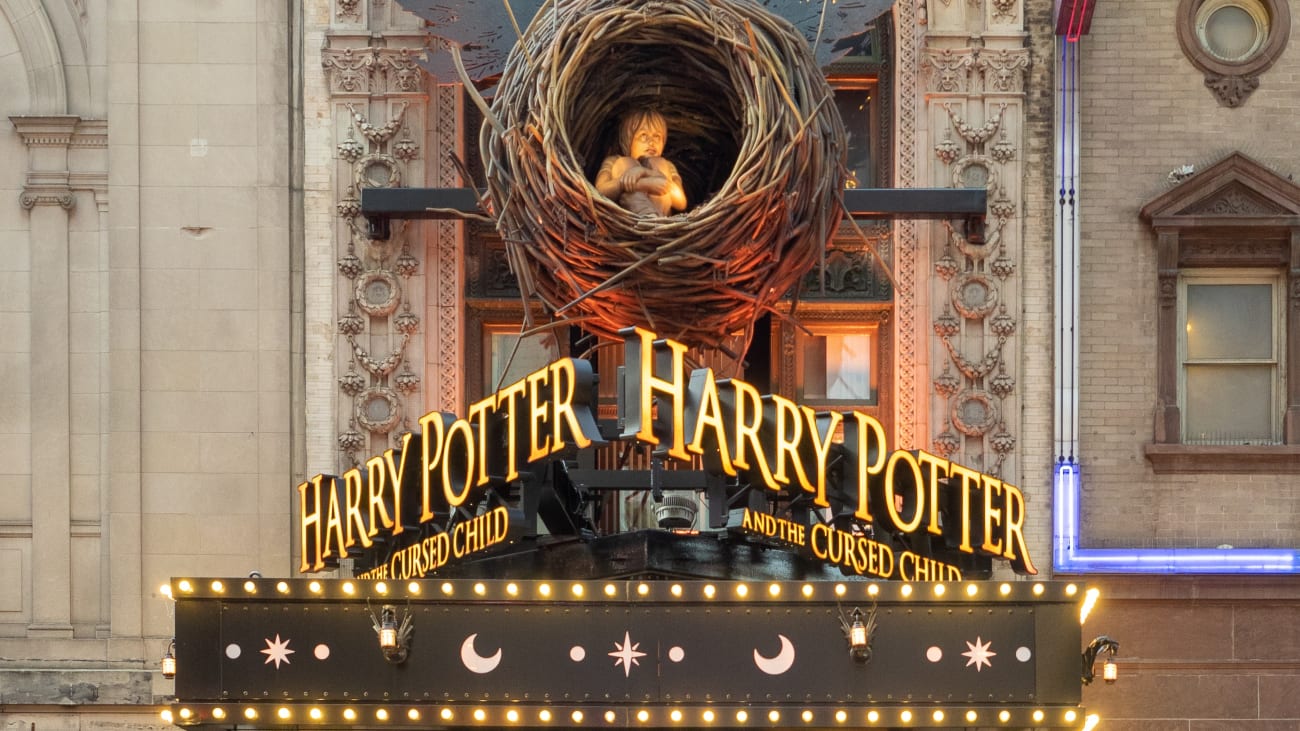 Since its premiere in 2018, there's been nothing else to talk about. Enthusiasts of the most famous saga of all time finally have the chance to see the main characters of Harry Potter on stage - on Broadway, no less! After taking London theaters by storm, Harry Potter and the Cursed Child looks set to do the same in New York and become one of Broadway's top musicals.
It won't go past this year. Don't miss out on tickets to see Harry Potter and the Cursed Child on Broadway. They are already on sale to wrap yourself in the mystery of Hogwarts School while you enter a story full of adventure from beginning to end. In it, of course, there will be no shortage of spells and, of course, magic.
Although this musical was born in two parts, it is currently represented in only one session. Thus, the whole intense experience is condensed into a single performance.
How to get tickets to see Harry Potter and the Cursed Child on Broadway
I recommend you not to wait until the last minute to buy tickets. The Internet, as you know, makes it very easy to do this kind of things; in musicals like this one, getting tickets at the box office for an early date is practically impossible. You just have to choose the day you prefer and complete the purchase process that, in most cases, is usually very intuitive.
Buying tickets in advance has several advantages. For example, you can sometimes get a lower price and you can also choose a seat with good visibility.
You already have your flights, your hotel and you know what to do in New York. All you need is the icing on the cake: go to the musical Harry Potter and the Cursed Child on Broadway. For a blockbuster show like this, foresight is especially important. And that means only one thing: buy your tickets for the Harry Potter musical well in advance, months before you want to see it.
How much do tickets for Harry Potter and the Cursed Child on Broadway cost?
Ticket prices for the Harry Potter musical on Broadway vary depending on certain factors. They are available from approximately €70 to €180. However, if you buy them in advance, you could benefit from a better price.
Comparison of the different sections of the Lyric Theatre to see the Harry Potter musical.
Of course, the price may be higher or lower depending on where your seat is located. The Lyric Theatre, where the Broadway musical Harry Potter and the Cursed Child is performed, is divided into three distinct sections: Orchestra, Dress Circle and Balcony.
Orchestra. The best area spans from row F to row T.
Dress Circle. The first few rows of Dress Circle are the most convenient.
Balcony. Visibility in the balcony is considerably less than in the other sections of the theater.
What to expect at Harry Potter and the Cursed Child on Broadway
An important fact about the Harry Potter musical is that it is not the theatrical version of any of the films. This means that it is an original work created specifically to be performed on stage.
The staging is wonderful. It perfectly combines quiet scenes with action-packed ones. The emotional component doesn't leave you during the whole session, but you will also go crazy with the special effects- I'm still wondering how they managed to do certain magic numbers!
The Harry Potter musical seems to be tailor-made for its most loyal fans. What's more, it has won a whopping 6 Tony Awards, including Best Play. Also, leading American newspapers and magazines have dedicated adjectives such as thrilling, thrilling or amazing to it. So many can't be wrong!
The Plot
The musical places the viewer 19 years after Harry, Ron and Hermione saved the world. Harry Potter is now an adult, married with children. His life is spent between his family and his job at the Ministry of Magic. The adventures and mysteries seem to have been left in the past, or not? This is the starting point of a performance that will keep you glued to your seat, almost without blinking.
Harry Potter and the Cursed Child on Broadway Showtimes
The musical of Harry Potter and the Cursed Child is performed from Tuesday to Sunday at different times and in a single session, unlike in London, when it was divided into two parts. Depending on the day of the week, there are performances at 1 p.m., 7 p.m. or even both. Although the times may vary depending on the week, these are the broad outline of the performance times. Consider them taking into account when it is Best Time of the Year to Travel to New York City.
Tuesday 7 p.m.
Wednesday 1 p.m. and 7 p.m.
Thursday 7:00 p.m.
**Friday 7:**00 p.m.
Saturday 1 p.m. and 7 p.m.
Sunday 1 p.m.
How long is Harry Potter and the Cursed Child on Broadway?
The Harry Potter musical lasts approximately 2 hours and 40 minutes. In addition, each performance incorporates an intermission of a few minutes so you can go to the restroom or buy water or refreshments.
Previously, the musical was divided into two distinct parts, so the audience had to go to the theater twice. Now the whole show is concentrated in the same session.
What theater is Harry Potter and the Cursed Child on Broadway playing at and what is the address?
Since its 2018 Broadway premiere, the musical Harry Potter and the Cursed Child has been playing at the Lyric Theatre. This was built in 1998 on the site where a theater of the same name once stood, although it should not be confused with that one. The exact address is 214 West 43rd Street.
Just a few years ago it underwent a major remodeling. Today, it has a capacity of over 1,600, making it one of the 10 largest theaters on Broadway.
How to get to the Lyric Theatre
To get to the Lyric Theatre, you can't miss it. The nearest New York subway station is Times Sq - 42 St, located a couple of minutes walk away. It is also located very close to the iconic skyscraper One Times Square which is notable for the display of illuminated billboards. Directly across the street from the Lyric Theater is the Consulate of the Dominican Republic in New York.
Can I see Harry Potter and the Cursed Child on Broadway with children and is it recommended for children?
Seeing the Harry Potter play can be counted among the things to do in New York with children. Of course, ideally they should be older than 8 years old. The musical's production indicates that children under the age of 4 are not allowed to enter, most likely due to the special effects and other theatrical elements that may not be recommended for this age group.
All spectators, regardless of their age, must be in possession of a ticket to enter the theater. Also, it is important to remember that up to 15 years of age, an adult must accompany the audience. Otherwise, the ticket may be denied. After this age, children may enter the theater alone.
Curiously, the recommended age to see the Harry Potter films is 11 years, although the creators of this musical have seen fit to adapt it even to younger children. Thus, it is a good plan to go with the family.
What level of English do I need to see Harry Potter and the Cursed Child on Broadway?
The great advantage of musicals is that, being so visual, you don't need to be bilingual to follow the plot. Also, I'm not going to lie to you, if you are not familiar with the American accent, you may feel a little lost during the dialogues. If you're not new to the Harry Potter universe and you've read the books or seen the movies, you'll easily be able to follow along.
At this point, I have a recommendation to make. Even if you don't understand everything, you'll have just as much fun! But if you still don't want to feel lost and that no word escapes you, there are those who make use of mobile applications like GalaPro.
Available for iPhone and Android, this is an app that generates subtitles in real time of the play being performed. Don't tell me it's not an excellent idea!
What is the dress code for attending this Broadway musical?
The big day is coming up and you don't know what to wear? The first thing I have to tell you is that there is no specific dress code for attending a Broadway musical. If you take a look around you, you'll notice that every audience member dresses to their liking. While some are very comfortable in their jeans and an original sweater, others take the opportunity to dress up a little more. After all, it's a unique event!
In this sense, you can consider a couple of details to choose your wardrobe. First of all, which session you are going to. The daytime session allows for a more casual outfit, while for the afternoon or evening session, attendees tend to be more dressed up. Think, for example, that after the play you might want to go to a nice restaurant or have a drink.
Generally speaking, it is not recommended to go too sporty (leave the sneakers for another occasion). If you're traveling to New York in the summer, be sure to pack an extra layer so that the air conditioning doesn't catch you off guard.
Should I eat dinner before or after the show, and will the restaurants be open in the surrounding area?
If New York is the city that never sleeps, imagine Broadway! It's hard to imagine this luminous district turning off its lights. Here, time bustles frantically and there are always people out and about. Since the last performance of the Harry Potter musical is at 7 p.m. and lasts over 2 hours and 30 minutes, you can perfectly well have dinner on your way out.
Remember that you are in the heart of Manhattan, so all dining options are at your fingertips. If you don't want to go too far, you can always dine at any restaurant in the area. Most of them are well-known chains and fast food restaurants. Right across the street is Hard Rock Cafe and there is also a Mexican food establishment called Los Tacos.
In the mood for Italian cuisine? Not far away you will find Tony's di Napoliand Carmine's Italian Restaurant.
and Carmine's Italian Restaurant. And if you want a pure American restaurant, you can check out Junior's Restaurant & Bakery or Brooklyn Diner. You might even consider dining near the Top of Rock or check out this guide on where to eat in New York- it won't be for options!
Why do I recommend this musical?
The musical Harry Potter and the Cursed Child is not only being performed in New York, but also in other cities such as London, San Francisco, Melbourne and Hamburg. It will soon be in many other locations. There is no doubt that we are in front of a worldwide phenomenon. Do you really want to miss it?
If you've read any of the Harry Potter books or seen one of the movies, you'll love to remember the epic adventures, spells and battles. The Broadway musical of Harry Potter and the Cursed Child is an original and groundbreaking story, so you'll only find it on stage and not in theaters.
Other similar Broadway musicals you may be interested in
Broadway is the place where dreams come true, or at least where we put a face to them. A visit to New York without seeing a musical would be incomplete. You are spoilt for choice. When it comes to worldwide phenomena, some of the best Broadway musicals like The Lion King, which has been running for more than 14 years, come to mind.
Another of the great successes of the famous boulevard of theaters is The Phantom of the Opera. The spectacular nature of this musical has made it more than 30 years showing in New York. Don't miss Cats or Moulin Rouge either.