10 Things to Do in New York in July
If you go to New York in July, you're in for a long list of things to see and do, from enjoying the Independence Day fireworks to enjoying the outdoor parks and beaches.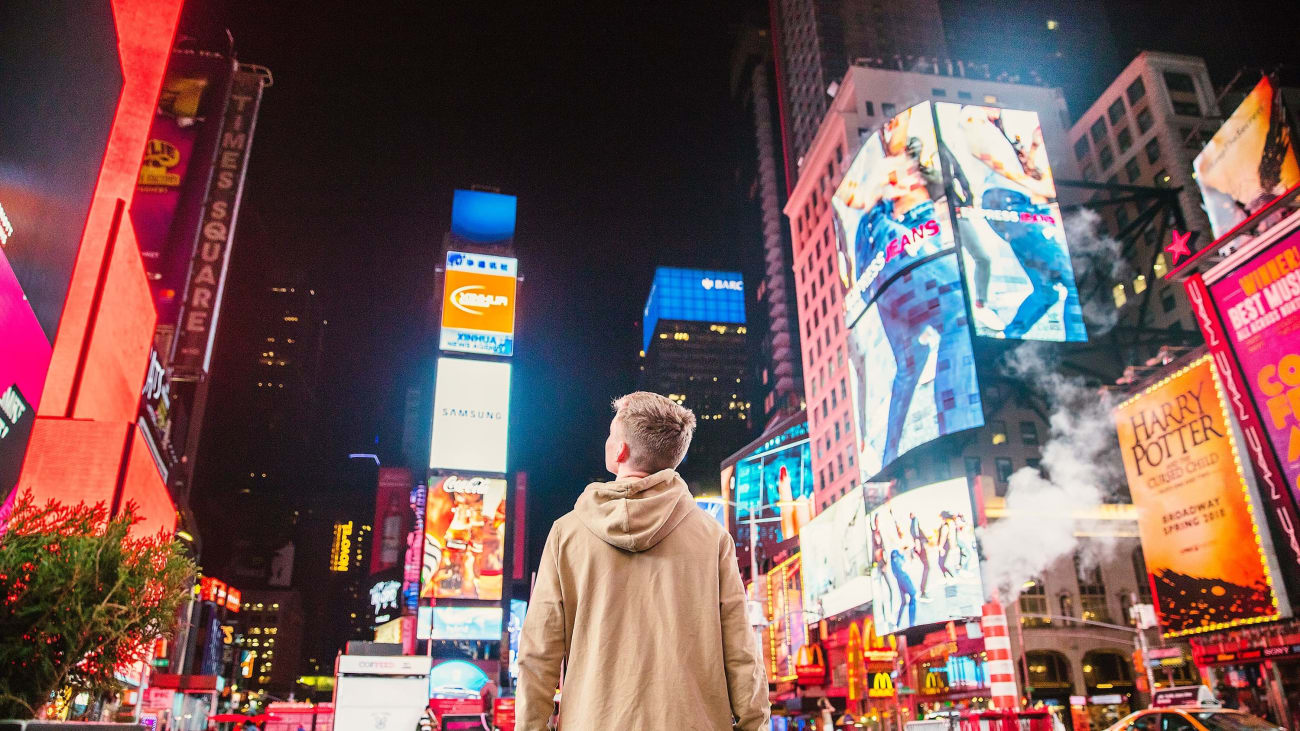 There are always plenty of things to see and do in New York and even more in the summer: in July there are many festivities and events to mark on the calendar.
Many of these attractions and activities are designed for the enjoyment of New Yorkers, but tourists are welcome. This will give you a closer look at what everyday life in New York City is like in the summer.
1. Enjoy the sky illuminated by fireworks on July 4th
What is one of the most important holidays in New York (and also throughout the United States)? On the 4th of July, Americans celebrate their independence. On that day, parades are held, the national anthem is played in many places and the night sky is illuminated by fireworks.
The event is known as "Macy's 4th of July Fireworks" and fireworks professionals are stationed on 5 barges. From these points they launch approximately 25,000 projectiles (sometimes many more).
The event is so special for Americans that it is broadcasted by a large number of news programs. On this occasion, the sky is illuminated by fireworks of all colors, millions of people enjoy it and record the moment in pictures and videos. Why don't you join in?
Where to enjoy them
The places from where you can see the show clearly are:
FDR Expressway, 23rd, 34th and 42nd Streets for Manhattan.
Bushwick Inlet Park, Domino Park, East River State Park and Transmitter Park for Brooklyn
Gantry Plaza State Park for Queens
Taking one of the Hudson River Cruises in New York City
Important information about Macy's Fireworks
When: 4th of July, starts around 9:00 pm until 10:00 pm
Price: It's a free public event.
For more information: Macy's Twitter.
2. Find out who eats the most Hot Dogs in the Nathan's Famous contest
Nathan's Famous is a famous New York restaurant located in Coney Island. One of the reasons it is so well known is that there is a competition there for who eats the most Hot Dogs in the least amount of time.
This is one of the ways New Yorkers celebrate the 4th of July. The contest started in 1972 and thousands of people have participated over the years. As for the time that is set for the competition it is 10 minutes.
Additional information about the contest
Where: Nathan's Famous, Coney Island.
When: July 4th.
Price: Free admission to watch the contest. Inside you can buy fast food.
For more information: Restaurant website.
3. Summer solstice in Manhattan: the sun aligns with the streets at the Manhattanhenge
A unique event not to be missed if you visit New York on the date it happens is the "Manhattanhenge". Why is it so special and what does it consist of? It happens a few days a year, when the setting sun aligns perfectly with the streets of Manhattan, hiding between its skyscrapers creating an incredible optical effect.
The sunlight creates an impressive glow that is reflected on the steel and glass elements of Manhattan. The north and the south are illuminated by this incredible event, many people stop to appreciate it and above all, to take pictures.
Where to enjoy it
In July, the Manhattanhenge coincides with the All-Star Baseball Games break. This incredible sunset can be seen from 14th, 23rd, 34th, 42nd and 57th streets.
Important information about Manhattanhenge
Where: Main East and West Avenues of Manhattan, across the Hudson River (New Jersey high places), Tudor City Overpass and Hunter's Point South Park.
When: July 12.
Price: natural event, so it's free.
For more information: visit the Natural History Museum's website.
4. Have fun at the Summerstage NY
One of the festivals that take place in New York in July is the Summerstage, as its name suggests, you can attend it throughout the summer. In it, musical events, dance and more are planned in different parks of the city, mainly in Central Park.
In total, more than 100 shows are performed, while you listen to music or watch a dance performance, it is possible to buy food. Near the Summerstage area, different menus and drinks are sold for attendees to enjoy the occasion even more.
Important information about the Summerstage
Where: New York City Parks, especially Rumsey Playfield in Central Park
When: All summer
Price: Free admission
For more information: Central Park website
5. The best of music and art at MoMA's Warm Up PS1
MoMA is New York's Museum of Modern Art and every summer it plans a show that is one of the most anticipated by New Yorkers. You will find concerts of different musical genres and presentations of artistic pieces by emerging artists.
In this party/concert can go NY citizens, from other cities and even tourists. So you are welcome if you are visiting the Big Apple in July. The event is also held during the month of August.
Important information about MoMA PS1 Warm Up Party
Where: Backyard of the Museum of Modern Art, New York (Between 22nd and 25th Avenues, Long Island, Queens).
When: Every Saturday in July and August from 8 pm.
Price: Free.
For more information: Warm Up section of the MoMA website.
6. Celebrate music at the Panorama Music Festival
In New York in July there are many music festivals, ranging from classical to electronic music. This time, I'm talking about the Panorama Music Festival that takes place at Randall's Island Park in one of the last weeks of July.
It brings together art, music and technology, the festival lasts several days. The artists that perform are dedicated to various genres, so that people with different musical tastes are encouraged to attend.
Important information about the Panorama Music Festival
Where: Randall's Island Park.
When: Last weeks of July.
Price: Tickets start at 70 ¤.
For more information: Randall's Island Park website.
7. Attend different shows at Lincoln Center Out of Doors
Lincoln Center Out of Doors is a festival that begins in late July and runs through mid-August. It is one of the most entertaining activities you have the opportunity to participate in New York in July.
It features performances for all tastes: musical genres of different types, dances and even opera singers. The event takes place outdoors at a well-known venue in the Big Apple.
Important information about Out of Doors
Where: At Lincoln Center (between Amsterdam and Columbus Avenues).
When: Last weeks of July.
Price: Free tickets.
For more information: Lincoln Center website.
8. Listen to a prestigious orchestra at the NY Philharmonic concerts
Throughout the summer, the New York Philharmonic Orchestra performs concerts in different parks throughout the city. Here you have the opportunity to hear the wonderful music of one of the world's best-known orchestras.
This tour of New York's parks is supported by public funds and sponsors. Among the institutions that give their support are the New York City Council, the New York State Council on the Arts and the New York City Department of Cultural Affairs.
Whether there are festivals or not, one thing you should do is take advantage of the good weather in July to visit the best parks in New York.
Important information about the Philharmonic's Concerts in Parks
9. Wear pink and attend the Pinknic
No, I didn't make a mistake when writing, I did mean to write "Pinknic", this is an activity that takes place in New York. Although the date changes every year, on many occasions it has been held in the month of July. What does this event consist of?
Attendees wear pink clothing, sit on pink blankets and their drinks are pink. There are many activities at this massive event, including concerts. It should be noted that to enter the Pinknic you must be 21 years of age or older.
Important information about the Pinknic
Where: The location is announced each year, usually held at Randall's Island Park or Governors Island.
When: In the summer.
Price: ticket prices are published when the event is announced.
For more information: Pinknic website.
10. Get a taste of independent fashion at Fashion on the Hudson
Fashion on the Hudson are fashion shows that, most of the time, take place in mid-July. They present the collections of independent designers from the city and even from other places. Among the types of clothing you can see at the event are haute couture, lingerie, plus-size fashion and ready-to-wear collections.
To attend fashion shows you must have an invitation from the designers, but at Fashion on the Hudson it is not necessary. Access is free, and anyone can attend to see the creations of the most outstanding independent designers.
Important information about Fashion on the Hudson
Where: Upper East Side overlooking the Hudson River.
When: Exact dates are announced each year.
Price: free admission.
For more information: Fashion on the Hudson website.
---
What is the weather like in New York in July?
Many consider July to be the hottest month of the summer and it is not because the temperatures are too high, but because of the humidity. Although the temperature many days does not reach 29°C (maximum temperature), the wind chill can exceed 30°C.
The minimum temperature in this month is 20°C, usually decreasing to that point during the nights. Other characteristics of the New York theme in July are:
The days are longer and on average, there are 8 days in which it is likely to rain, 3 of these precipitations become significant.
Do many people visit NY during the month of July?
Summer is one of the two seasons when most tourists come to New York City. Being in the middle of summer, many of them opt for outdoor activities, as they are the ones that predominate on hot days.
Despite the large influx of tourists in the city, you will not have the feeling that the places are very crowded. Remember that in NY there are many activities and not all tourists attend the same ones.
Do prices increase or decrease during this month?
Since it is a high season, that is, when there are many tourists, it is normal for prices to increase. The first weeks of July prices go up and start to go down gradually at the end of the month.
Prices will not be excessively high, but they will be higher compared to months such as September and October.
What to bring on my trip to New York in July?
When choosing what to bring in your suitcase, keep in mind that it will be summer, so the heat will be predominant. Therefore, I encourage you to bring the following to your trip to NY in July:
Summer clothes, i.e. cool
Breathable and comfortable shoes
Items to protect you from the sun, such as hats, caps and sunglasses
Umbrellas to use when the sun is intense and if it rains during your stay in the city.
Some clothes to keep you warm in case of rain or when you enter places with air conditioners
Sarong or towel if you plan to go to an event in a park or just choose one to hang out on the lawn
Sunscreen
What to do if it rains during July in NY?
As I said before, rains are not very frequent in July, but there is a chance that they may occur. What to do if it rains in New York during your stay? My recommendations are as follows:
Coffee shops are an excellent option, there is delicious food and drinks and you can stay in them until the rain subsides.
Museums will be open, so I encourage you to check out the best museums in New York and think about one that you can go to if it rains.
Broadway musicals are very varied, there are options for everyone. Check out the best Broadway musicals here.