10 Best Parks in New York City
One of those little pleasures to enjoy in the Big Apple is strolling through its parks and gardens. What are the 10 must-see parks in New York? Read on!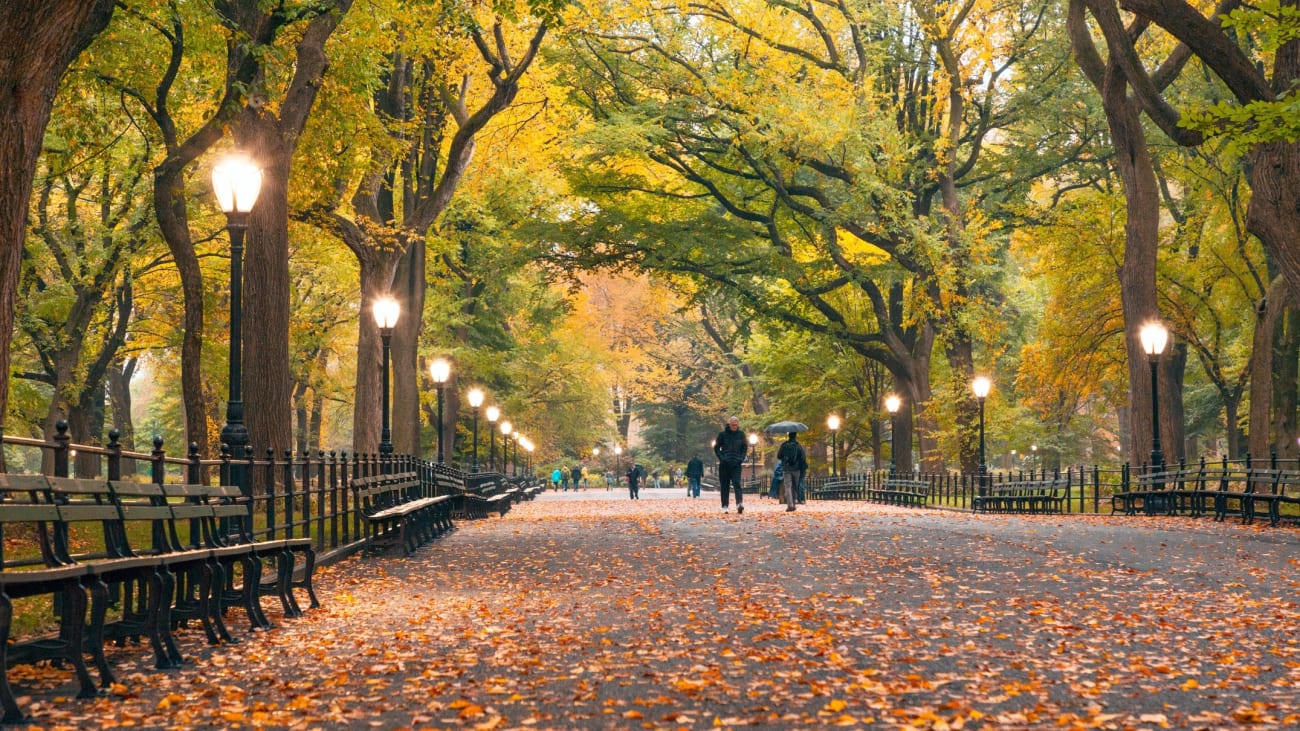 When we think of all there is to do and see in New York, we think of skyscrapers surrounded by asphalt and heavy, chaotic traffic, but nothing could be further from the truth!
Although it may not seem like it, it is also a place that hides a multitude of green parks and gardens where New Yorkers go to retire to disconnect from the worldly noise. And there are impressive places beyond the legendary Central Park!
1. Central Park, the legendary New York Park
Central Park is almost as famous as New York City itself, so it's inevitable that it opens this post. Its name will ring a bell because you've seen it reflected on many occasions in the movies, but a trip to the Big Apple is the best time to see in person if it has its well-deserved fame.
And I'll tell you that it really is! The landscapes of Central Park are beautiful and nature is shown at its best. It is the perfect place to spend a day outdoors and take the opportunity to make a nice photo shoot on foot or by taking a bike tour, which also exist.
Best time to visit
The best time for this is spring and autumn, when temperatures are milder and the flowering or changing color of the leaves of the trees takes place. However, do not rule out visiting the park in winter because it also has its charm to see it all frozen and you can also skate on Wollman Rink if you go to New York at Christmas.
Remember that we are facing the largest urban park in the city, so I advise you not to spend energy to see it completely and stay better with an overview so you can devote time to other plans.
Address: Between Fifth and Eighth avenues and 59th and 110th streets
How to get there: By subway with lines 5, 6, 7, A, B, C and D.
2. High Line, New York's hippest park
Among all the parks in New York, the High Line stands out as one of the most original and modern. For me it has become one of the essential places to explore in the city for the beautiful views it has and for its mix of art, nature and architecture.
It is one of the last tourist attractions to open to the public in the Big Apple since it was completed a short time ago on an old elevated railroad line. The area has been transformed from a dreary, industrial look to an orchard filled with plants, flowers and trees.
In addition, it is a park where there is a lot to see from the luxurious neighborhood of Hudson Yards and the art galleries of the Meatpacking District to the buildings and skyscrapers design of The Spur or the Street Art of Brazilian artist Eduardo Kobra.
Best time of year to visit
Bundle up and go for a walk any time of year, even if it's cold. It is not a park that attracts attention only for its vegetation, but for its "floating" structure and its views over the river and the Big Apple, with the new skyscrapers now rising in Manhattan.
Address: Between Gansevoort St. and 34th St.
Directions: By Subway: 34th St - Hudson Yards
3. Bring out your culture side at Bryant Park
In the heart of Manhattan's bustling Midtown you will find Bryant Park, a small oasis where New Yorkers and tourists alike flock in search of a bit of peace and nature in the middle of the asphalt jungle.
Unlike Central Park, this is one of the smallest in the Big Apple but also one of the most beloved because there is always something interesting to see and do here, no matter if it's hot or cold.
Best time to visit
For example, in summer you can visit Bryant Park to bring out your cultural and fun side with activities such as concerts and the outdoor classic film festival, the reading corner, board games or free yoga, tai-chi and dance classes.
On the other hand, in winter you can go skating at the ice skating rink or have a hot chocolate at the Christmas market.
Bryant Park has a little bit of everything to have a different and entertaining time on your trip to New York.
Address: On 42nd Street between Fifth and Sixth Avenues, near Times Square.
How to get there: By subway on the B, D, F and M lines (42nd St/Bryant Park stop) and line 7 (5th Ave stop).
4. Watch the sunset in Battery Park
A stroll through Battery Park is, without a doubt, one of the plans you must do during your trip to New York as this beautiful park located south of Lower Manhattan is very popular for its wonderful unobstructed views of the Statue of Liberty.
Most people go to the boardwalk to enjoy the sunset over New York Harbor but many also take a ferry to Liberty Island or Staten Island to see this iconic landmark up close as the boats sail from Battery Park.
I recommend you to visit it after a tour of Ground Zero or the Financial District and take the opportunity to relax a little sitting on a bench surrounded by nature or having a picnic lying on the grass. Battery Park is the ideal place to relax!
But if you are looking for a little action, you can also do other activities such as biking, take a guided tour of Castle Clinton or enter the Museum of Jewish Heritage. In the post What to see and do in Battery Park I give you more ideas to make the most of your visit.
Best time to visit
Whatever time of year it is, visit in the morning. Being close to the Financial District, this area has a lot of life during the day and also allows you to make other plans in the surroundings after touring it. At sunset or dusk it is much less crowded and being so close to the water, the humidity makes the wind chill much cooler.
Address: South of Lower Manhattan
How to get there: By subway, with lines 4 and 5 (Bowling Green)
5. Washington Square Park, a movie park
This is another of the parks in New York that will ring a bell because you have seen its famous Arc de Triomphe on different occasions in the movies. You will find it in Manhattan in Greenwich Village.
Washington Square Park is not one of the largest but it is one of the most atmospheric as it is always full of people listening to live music, relaxing on the lawn, playing chess or cooling their legs in the large fountain that adorns it.
In addition, if you are passing through the Washington Square Park area, it is also a good place to take a short lunch break as it has plenty of food carts.
Best time to visit
I recommend visiting in summer when the days are longer and you want to spend more time outdoors or in winter when during Christmas a beautiful Christmas tree is placed here and a carol concert is held on Christmas Eve.
Address: Washington Square, New York, NY 10012
How to get there: By subway on the A, B, C, E, F, M lines (W 4th Station - Wash Sq.) and on the N, Q, R, W lines (8th Street Station).
6. Governor's Island, a large park accessible by ferry
Formerly you could only visit this island in New York Bay between the months of May and October but this changed in 2021 as it is now open all year round to the delight of New Yorkers and especially tourists, who have less time to enjoy it.
Governor's Island is full of lawns and gardens, so it is another of the fantastic parks in New York to go to spend a nice and different time.
This place between Manhattan and Brooklyn is reached by ferry and when you disembark you will see that there are plenty of activities to do.
Best time to visit
If you want to make the most of all the activities it offers, go in summer or spring: you can, from photographing and contemplating the Statue of Liberty and the Manhattan skyline in The Hills to ride a bike, throw yourself down giant slides, kayaking, sunbathing in the hammocks of Hammocks Grove or feast on food from the food trucks that are installed here. You will love the experience!
Address: New York Bay
How to get there: Every day the ferry departs from the Battery Maritime Building, located at 10 South Street in Lower Manhattan.
7. Go to Prospect Park to see the native flora of old New York
On the other side of the East River you can visit Prospect Park, which is considered the Central Park of Brooklyn. Coincidentally, it was designed by the same landscapers as the famous Manhattan park but they chose to give it its own identity keeping its wild aspect and in some areas the native flora was left intact.
For this reason, if you want to see what the forests of New York looked like before becoming a big city, Prospect Park is a great place to go.
Like the other parks in the Big Apple, in this one you will also find a lot of life as it is always full of people walking, playing sports or having a picnic. Some of its most famous sites are the Long Meadow, the zoo and its large artificial lake where you can watch the time go by while watching the ducks swim.
Best time to visit
If you want to explore this park, I advise you to go in the morning to take advantage of the day and then visit other surrounding attractions such as the Brooklyn Botanic Garden, Greenwood Cemetery or the Brooklyn Museum.
Address: 95 Prospect Park West Brooklyn , NY 11215
How to get there: By subway, B and Q lines (Prospect Park Station)
8. Learn about nature at Brooklyn Botanic Garden
Brooklyn Botanic Garden is one of those places I love in New York when you're looking for a little calm and escape from the hustle and bustle of the city. It is part of the Prospect Park complex and is located just steps away from the Brooklyn Museum in the historic Park Slope neighborhood.
If you like nature, the botanical garden is a place to go to unwind. It's full of meadows where you can lie down for a while to rest, read a book or look at the plants and flowers that are grown here in the Greenhouse, the Shakespeare Garden or the Japanese Garden.
Best time to visit
Autumn and spring are good times to enter here as your senses will be filled with aromas and colors. Admission is free on Fridays before noon and in winter every weekday.
After the visit you can take a tour of Brooklyn and explore other interesting sites such as the Brooklyn Museum, the Public Library or the traditional brownstones of this neighborhood.
Address: 990 Washington Ave, Brooklyn, NY 11225
How to get there: By subway on the 2 and 3 lines (Eastern Parkway-Brooklyn Museum)
9. Columbus Park, the authentic face of Chinatown
Chinatown is an essential place to visit during a trip to New York and your first point of contact cannot be other than Columbus Park, the largest park in the neighborhood and the usual meeting point for members of the Chinese community.
Therefore, if you are looking to discover the most authentic face of Chinatown you can not skip a visit to Columbus Park. It is common to see the locals gathering there every morning to play a few games of mahjong, practice some taichi or play traditional music. The will of the community to keep their customs and culture alive is worth admiring.
In addition to seeing Columbus Park you can take the opportunity to visit other places in Chinatown such as the Kimlau War Memorial that was erected in honor of the Chinese-American soldiers killed in combat. And of course, to try the delicious Chinese cuisine at very reasonable prices.
If you want to know what other plans you can do in the neighborhood, do not miss the guide on what to see and do in Chinatown.
Best time to visit
Any time of the day or week is a good idea to stop by. The heart of Chinatown is another of those corners of the city that never sleeps.
Address: 67 Mulberry St. Manhattan, NY 10013
Directions: By subway on the 4, 5, 6, J, Z (Brooklyn Bridge - City Hall) and N, Q, R, W (Canal Street) lines.
10. Madison Square Park, an orchard in the heart of Midtown Manhattan
On your route through Midtown Manhattan you will find very close to the Flatiron Building a small and quiet oasis where to make a stop along the way: Madison Square Park. A park where you can drop in from time to time to get in touch with nature and escape from the hustle and bustle of the city, especially on hot days.
Shake Shack lovers have another good reason to visit Madison Square Park and this park has one of these famous burger joints and an area with tables and chairs where you can sit and enjoy a tasty snack before continuing your walk through the streets of the Big Apple.
Best time to visit
When the weather is nice, Madison Square Park becomes one of the most popular places to visit in New York. There are always outdoor activities such as concerts, art or photography exhibitions, as this park has an intense cultural program.
Address: The park is surrounded by Fifth Avenue and Madison Avenue and 23rd Street and 26th Street.
Directions: By subway on the R, W and 6 lines (23rd Street Station).