Things to do at Hudson Yards in New York
Hudson Yards is the newest neighborhood in Manhattan and houses, among others, one of the most spectacular observation decks in the city and The Vessel structure, the new MUST of the Big Apple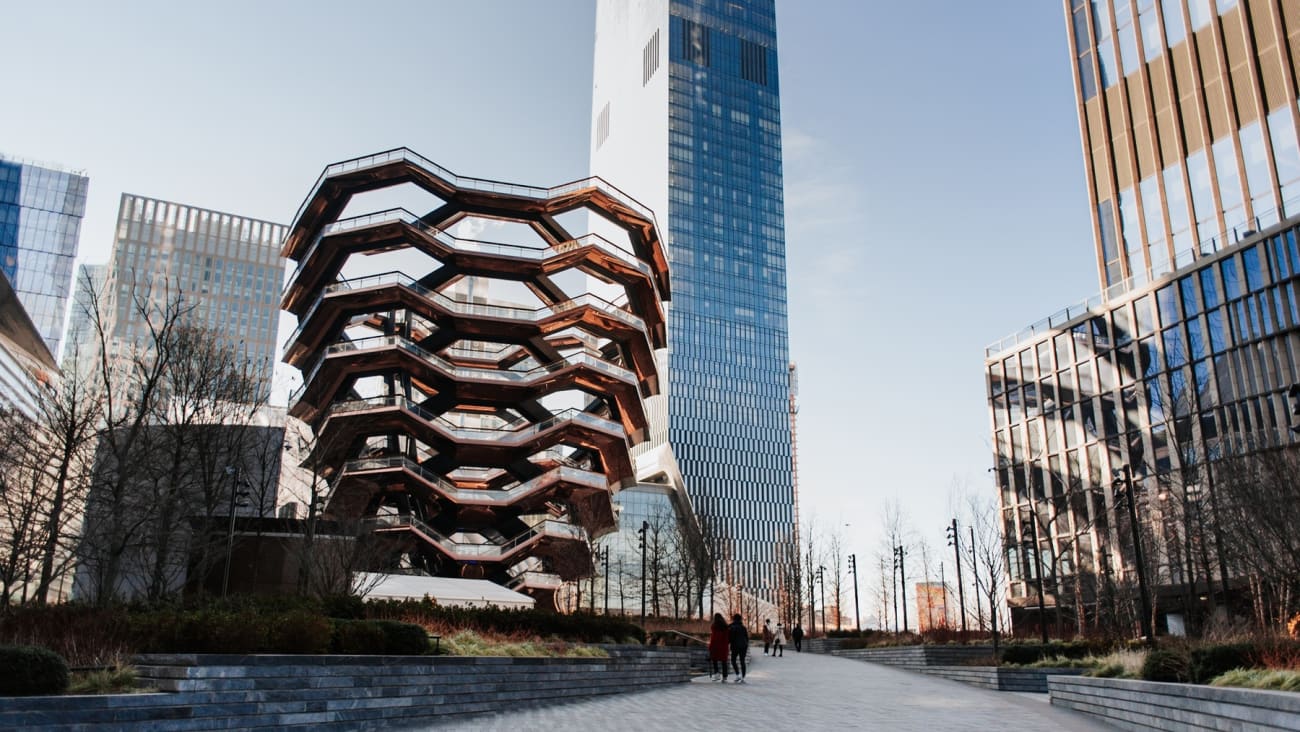 New York is a living and changing place. It's hard to imagine that there was still room to build on an island as crowded as Manhattan, but then the miracle of Hudson Yards happened.
Why go to Hudson Yards?
Whether you're visiting New York for the first time or a regular in the Big Apple, you must stop by Hudson Yards, the trendy, new construction district in Midtown built on what was once a dreary train depot at Hudson River.
This neighborhood, which you can walk to from Times Square, combines skyscrapers with super innovative design, the city's tallest observatory, luxury shopping malls, and of course, The Vessel, Manhattan's new tourist attraction. As if that wasn't enough, the High Line, the elevated park built on an old railroad track, also ends here. In short, it's a must-see.
Hudson Yards is considered the largest private real estate project in the history of the United States. This new neighborhood, built over an industrial area, was too centrally located to be so underused. In a city like New York, where square footage is highly valued, many set their eyes on this area for revitalization.
What is there to see in Hudson Yards?
Expect to spend more or less half a day touring this neighborhood (depending on how much time you want to spend shopping or having lunch or dinner at its restaurants). To make the most of your time, here's my suggested itinerary:
2. Start with a walk on the High Line
At Hudson Yards begins (or ends) one of Manhattan's greenest promenades, the High Line. The High Line is basically a linear park of about 1.5 miles, built on an old railroad track that runs on the Manhattan side of the Hudson. My advice is to enter the High Line from Chelsea Market (Gansevoort St. subway: 14th St - 8th Ave) to gradually approach Hudson Yards and immerse yourself in its skyscrapers.
Start the walk after lunch: it will take you about an hour to walk the High Line, although it will take a bit longer if you stop to soak in the views, take photos, or rest on one of the benches or loungers. The High Line also organizes astronomy events, Pilates or free guided tours (check their calendar at official website).
Don't let the cold get the best of you if you go in winter, the walk along the High Line is worthwhile any time of year (although you'll see it most lush in spring and summer).
Useful information
Start: Gansevoort St (Subway: 14th St - 8th Ave)
End: 34th St (Subway: 34th St - Hudson Yards)
Access via stairs: Gansevoort St, 14th St, 16th St, 18th St, 20th St, 23rd St, 26th St, 28th St, 30th St and 34th St (Subway: 34th St - Hudson Yards)
Where to take the elevator: Gansevoort St, 14th St, 16th St, 23rd St and 30th St
Price: Free
More info: Guide to the High Line in New York City
3. Have fun at The Vessel
Already surrounded by skyscrapers and luxury apartments, you will notice that the environment is completely different: Welcome to the future! The end of the High Line leads you, with no margin for error, to The Vessel, a kind of giant beehive that has become the symbol of the Hudson Yards.
The Vessel is a futuristic 45-meter structure that gives you great views of the city from different heights, accesses and angles (don't forget to bring your phone or camera with enough battery). You can climb this maze via four different staircases that will take you to the top: My advice is to spend some time there, enjoying the view of the city and the structure itself, and playing with your camera.
Buy your tickets for The Vessel well in advance (they sell out quick) and look out at the Hudson River, the cultural center The Shed, the High Line Park and the surrounding skyscrapers. If you look closely, you'll even see One World Trade Center and the Empire State Building on the skyline.
Useful Information
Address: 20 Hudson Yards, New York, NY 10001
Directions: 34th Street-Hudson Yards Station subway station (line 7)
Opening Hours: Daily, 11:00 a.m. - 7:00 p.m.
4. Blow your mind up The Edge
Now the sun is starting to set, it's time to test your fear of heights. The Edge is one of the most spectacular viewpoints in New York thanks to its impressive glass floor. The skyscraper from which it hangs is called 30 Hudson Yards and its silhouette has changed the Manhattan skyline.
This futuristic, arrow-shaped, open-air observatory on the 100th floor of a 1,131 feet high building is the tallest open-air observatory in the Western Hemisphere. Going up The Edge is a truly exhilarating experience. From its 7534-square-feet glass rooftop terrace, you'll feel the impact of the wind and get unprecedented 360-degree panoramic views of New York.
As with The Vessel, I recommend that you buy your tickets for The Edge in advance to make sure you can get in at the time you want, on the day you plan.
Useful Information
Address: 30 Hudson Yards (North Tower), New York City, NY
Directions: 34th Street-Hudson Yards Station subway station (line 7)
Hours: Daily, 12:00 noon to 8:00 p.m.
5. Go shopping at Hudson Yards' The Shops
To go up to The Edge, go to the fourth floor of the luxury mall The Shops. Shopaholics will go crazy in this seven-story, state-of-the-art shopping mall in the 20 Hudson Yards building, where high-end luxury brands have set up exclusive stores.
You can shop more than 100 luxury brands such as Dior, Fendi, or Kenzo, along with brands such as Zara, H&M, or Uniqlo.
Useful information
Address: 20 Hudson Yards, New York City, NY
Directions: 34th Street-Hudson Yards Station subway station (line 7)
Hours: Monday-Saturday 11:00 a.m. - 7:00 p.m. and Sunday 11:00 a.m. - 7:00 p.m.
6. Dinner at Hudson Yards
After shopping and feeling the high of adrenaline at The Edge, you'll surely have an appetite for dinner. Hudson Yards also offers some very tasty dining options in New York.
Grab a bite in Little Spain
You are sure to be drawn to Little Spain market, a gastronomic space located in the 10 Hudson Yards building, dedicated to the flavors of traditional Spanish cuisine by the prestigious chef José Andrés in collaboration with the brothers Ferrán and Albert Adriá.
Bravas, potato omelets, pintxos, and churros have come to New York to stay. Little Spain has a dozen stalls where you can try delicious staples of Spanish gastronomy such as tapas, sandwiches, bread, all kinds of fried food, and, of course, Spanish cheeses, charcuterie, and wines.
Shake Shack
Located in The Shops and Restaurants at Hudson Yards, Shake Shack began as a hot dog cart in Madison Square Park that became a success. In 2004 they opened their first location and have been making thousands of people happy with their burgers, hot dogs, shakes, and wavy fries ever since.
Kawi
This is a restaurant specializing in Korean food located on the fifth floor of The Shops and Restaurants at 20 Hudson Yards. It's the perfect place to eat if you're looking for a slightly more upscale experience. Don't miss their clam dish with spicy sauce and wagyu rice cakes. If this sounds good, you should book a table at their website.
Peach Mart
This Japanese food takeaway stand located on the fifth floor of The Shops and Restaurants at 20 Hudson Yards sells delicious spicy chicken kimbap, panko-covered pork, and saucy katsu sandwiches that will transport you to the Far East without leaving Manhattan. You can check out their menu here: Peach Mart.
Other restaurants
In addition to these places to snack, the restaurants Mar, Leña and Spanish Diner round out the gastronomic offer with outdoor tables to dine al fresco and a grocery store where you can buy all kinds of typical products of Spanish cuisine such as olive oil, canned food or Valencian rice, among many others. Without a doubt, eating at the Little Spain Market is one of the best things to do at Hudson Yards.
7. Check out the program at The Shed
The Shed is another ultra-modern building that will catch your eye as soon as it's in front of you. This cultural center gathers all kinds of artistic experiences (theater, dance, music, technology...) and brings together the brightest national and international talents of the moment. For this purpose, they have designed a daring, interesting, and original program. You can check it out at official website.
An interesting fact is that its roof is retractable and that it can adopt a position or another depending on the exhibitions taking place at the moment, creating an open space. I wasn't joking around when I told you that a visit to Hudson Yards would be a trip to the future!
8. Where exactly is Hudson Yards?
Hudson Yards is the area between 10th and 11th Avenues and 30th and 34th Streets next to the Hudson River (Check this out: this entire area cost a whopping $ 25 billion to develop!).
How to get to Hudson Yards?
To go to the Hudson Yards neighborhood, I 100% recommend using public transportation; in New York, the fastest way to move around is usually the subway. The closest station is 34th Street - Hudson Yards Station (line 7, color purple). You can also walk to Hudson Yards if you are in Midtown.
Another option to get to Hudson Yards is to use a cab or Uber, a very comfortable way, but depending on rush hours, maybe not so fast. If you're in Midtown, you can probably get there walking.
Is it worth going to Hudson Yards with kids?
The answer is yes. They will have a blast exploring its beautiful green spaces and looking up to its spectacular buildings. In addition, The Vessel, for example, has elevators that let you take strollers in and The High Line also has access ramps and elevators.
In addition, you will see many New York families strolling on the weekend. If you're looking for fun plans to do with your kids in Manhattan, don't think twice and take them to the hip, cutting-edge streets of Hudson Yards.