10 things to do in Chinatown in New York
Chinatown is home to one of the largest Chinese communities in the world: here you can immerse yourself 100% in their culture: I'll tell you how and where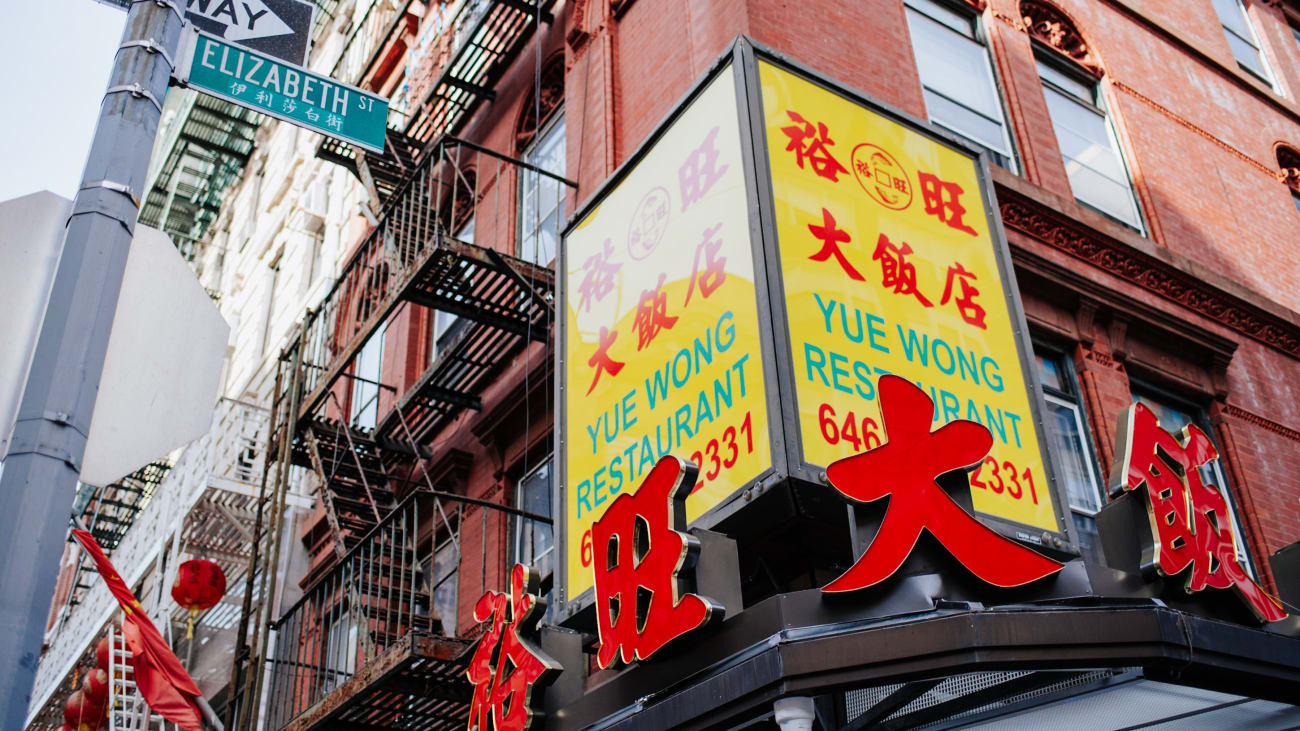 Strolling aimlessly through the streets of Chinatown is one of my favorite things to do in NYC: in every street or square you can find a surprise that makes you think you are in China for a moment: a restaurant, a market, a souvenir store, a temple, stores, and signs in Chinese ... There is a very unique atmosphere here that is a delight for the traveler. Here are the must-sees and things to do in the area so you don't leave anything undiscovered:
1. Discover Columbus Park
The first contact with Chinatown should definitely be Columbus Park. It is the largest park in the neighborhood and the usual meeting point for the older members of the Chinese community.
It is very common to see them every morning on the benches reading the newspaper, getting together to keep fit practicing taichi, playing a few games of mahjong, and even playing musical instruments and sing. There you will see that the ability of the Chinese to keep their traditions alive wherever they go is immense and admirable.
Very close to Columbus Park is the Kimlau War Memorial, erected in honor of Chinese-Americans who fell in combat in defense of freedom and democracy.
2. Visit the Mahayana Buddhist Temple
New York is a multicultural city where different religions coexist. In this sense, there are many temples to see such as St. Patrick's Cathedral, the Eldridge Street Synagogue, the Cathedral of St. John the Divine or attend a Gospel Mass in Harlem.
But if you want to complete this mystical experience in the Big Apple you should head to 133 Canal Street in Chinatown, where the Mahayana Buddhist temple is located, which houses the largest Buddha in the city with 5 meters high. It dates from 1962 and became the first Buddhist temple on the East Coast.
It is not easy to find it, to tell the truth, because its facade does not look like that of a typical Buddhist temple. That's why you have to pay close attention not to pass it by. Normally to gain access they usually ask for a donation and in return, they offer you a fortune paper or incense.
When you go through the doors of the Mahayana Buddhist temple you will see that it is a true oasis of calm in the middle of Chinatown where you can escape the noise of this big city for a few moments, meditate and relax with the music in the background.
3. Get the best Chinese products in Chinatown
One of the things to do in Chinatown that I like the most is to peruse its bazaars and markets. They sell all kinds of products at very cheap prices. For example, if you walk around the Canal and Mott Street area you will feel as if you were in a real bazaar in China.
It could be said that Canal Street is the entrance to Chinatown although no arch indicates it. It is the main street of the neighborhood and is somewhat chaotic and noisy by the large volume of people passing through it to find here the famous fashion knockoff stores.
However, if you want to take a break and get away from the turmoil I advise you to go to Canal Street Market (265 Canal St), a modern and orderly market that contrasts with the bustling environment that surrounds it. This market is divided into two spaces: on the right, a food hall with Asian food stalls, and on the left artisan stores where they sell from natural cosmetics and jewelry to decorative objects and handmade chocolate, among other products.
On Mott Street, on the other hand, there are plenty of stores selling vegetables, fruits, spices, mushrooms, and exotic foods. In fact, many New York restaurants source fresh produce from Chinatown. You'll also find the best Chinatown souvenirs here at a cheaper price than in downtown Manhattan stores.
4. Celebrate the Chinese New Year
A very special time to visit Chinatown is during the Chinese New Year celebrations, the most important holiday in Chinese culture. The date depends on the lunar calendar but usually takes place in February and is celebrated in style.
I have been lucky enough to see it on one occasion and it is very worthwhile. Each year a different animal is welcomed and thousands of people participate in a parade of floats, dances, music, and dragons.
It is an event for all ages full of fun and attended by many people. That's why I recommend that if you go to see the parade, look for a street crossing from where you can watch it well and experience the atmosphere. When it ends, do not hesitate and go to a restaurant or food stall to enjoy the best Asian cuisine in the heart of Chinatown.
5. Visit the Church of the Transfiguration
Speaking of temples in Chinatown, if you are interested you can visit the Catholic Church of the Transfiguration at 29 Mott Street, which is much older than the Buddhist temple as it dates back to 1801. It is attended by Chinese parishioners from the neighborhood as mass is offered in Mandarin, Cantonese, and English.
6. Enter the Museum of Chinese in America
In addition, you can take advantage of your visit to Chinatown to visit the Museum of Chinese in America to learn about the history of this community in the United States since its beginnings. Inaugurated in 1980, this museum offers a journey through the life of its members since they landed in America through testimonies, images, and videos.
An interesting retrospective that helps us to understand the most particular aspects of Chinese culture and the resulting cultural exchange between two worlds, Chinese and American, apparently so different.
The Museum of Chinese in America or MOCA is located at 215 Centre Street. Admission is $ 12 and they are open Tuesday through Sunday from 11AM to 6PM. However, on the first Thursday of each month access is free.
7. Stop by the Confucius Plaza
One of the most striking buildings in Chinatown, especially for its height and color is the historic Confucius Plaza (1975) in front of which stands a Statue of Confucius, the famous Chinese philosopher of the 5th century BC.
8. Taste the best of Chinese food
Chinese cuisine is one of the most appreciated in the world for its variety of ingredients, flavors, and textures. Beyond the spring rolls and the three delights rice we are used to, in Chinatown you will have the opportunity to taste authentic Chinese food at very reasonable prices.
If you love to eat and you are a foodie, in this neighborhood of New York you will enjoy a lot because you will find numerous restaurants and bars where you can try some of the best Asian specialties in Manhattan:
Xi'an Famous Food: If you like spicy food, you'll love this place. The lamb and cumin burger is spectacular as are the handmade noodles. Plus, the service is lightning fast. It's at 45 Bayard Street.

Big Wing Wong: This is an old-school Cantonese restaurant. The portions here are large and the service is efficient. The roast duck, wontons, and fried rice are excellent although their menu is more extensive. The dim sum is among the best in town in my opinion. Prices? Pretty cheap. You will find this restaurant at 102 Mott Street

Buddha Bodai: A good option for vegetarians where most dishes cost less than $ 15. I love it because there is an extensive menu with delicious dishes such as dumplings, spring rolls, and different noodle recipes. Also, the vegetarian versions of chicken, lamb, or duck are very accomplished and tasty. And if you are looking for a dim sum, this is a good place. It's at 5 Mott Street, near Columbus Park.

Canal Street Market: This food hall specializing in Asian food is perfect to eat if you are visiting Chinatown in a group and everyone wants to order something different. It has several food stalls that offer very diverse proposals for less than $ 15. You can taste the dishes right there or order a takeaway for a picnic in Columbus Park. I recommend you to visit Boba Guys, a coffee shop where they prepare a fantastic bubble tea with very original flavors. Canal Street Market is located at 265 Canal Street.
9. Learn to bargain, but don't fall for fakes
In local stores, it is quite common that you can negotiate prices, especially if you are willing to take several products. Always try to set a maximum price that you are willing to pay and be patient to get what you want.
On the other hand, it is well known that in Chinatown you can find counterfeit luxury goods. Honestly, I do not love this practice (first because, of course, it is not legal) but mostly because of the products they offer you have no guarantee.
Surely during your walk, you will be approached by different street vendors with a catalog (usually they do not carry the products on them to avoid problems with the police) and they will offer you bags, watches, belts, and wallets of big brands.
If you expect to find bargains, you are wrong: a luxury handbag can cost up to 300 dollars. Therefore, I do not recommend that you invest your money (especially so much money) in places with zero guarantees where you can also have problems with the authorities.
Take the opportunity to get to know the surroundings: take a walk through Tribeca or Little Italy
If you have enough time, I recommend that you take advantage of your walk through Chinatown to get to know the surrounding streets and neighborhoods: Little Italy. You will realize that you have crossed the "border" between Chinatown and Little Italy when you start seeing coffee shops, checkered tablecloths, and a delicious smell of freshly made pizza.
You will also find Tribeca: like so many other areas of New York, it started as an industrial area and later became a bohemian neighborhood, with buildings that have their typical emergency staircase on the facade and alternative storefronts and small cafes where you can stop for a break.
You will also find small art galleries where you can go in and browse and if you stumble upon a fire station that looks familiar? That's right! It's the one from Ghostbusters. New York is full of film locations and if you want to see the best ones, I tell you about them in my article on the best movie and series locations in New York.
Where is Chinatown and how to get there?
Chinatown is located in southeast Manhattan. It is surrounded by the neighborhoods of Lower East Side (to the east), Tribeca (to the west), Civic Center (to the south), and Little Italy (to the north). However, its borders are blurred as Chinatown has grown so much in recent times that it has almost absorbed Little Italy and much of the Lower East Side.
The easiest way to get to Chinatown is to take the subway although it can also be reached by bus.
Subway: Canal Street stop (lines 6, J, M, Z, N, Q, R and W) or Grand Street station (lines B and D).
Bus: M01, M103 and B51 lines.
How was this neighborhood born?
Lured by the gold rush, thousands of immigrants from China came to the United States in the mid-19th century. Most settled in California but some moved to the East Coast, specifically New York.
Historically, the Chinese community has been very hermetic and these immigrants from the beginning sought to settle in areas where their compatriots already lived. The great growth of this New York neighborhood occurred in 1960 when the restrictions on immigration, which had been applied a few decades earlier due to the economic recession of 1873, were no longer so strict and people from Hong Kong and other Cantonese-speaking regions began to arrive.
Chinatown then began to grow and massify until it became a world apart within the Big Apple, with its own internal organization both socially and culturally. In fact, many of its inhabitants barely speak English despite living in New York.
And in a way that is part of its charm, that is, the feeling that you travel from one world to another just by crossing a street. For many, it is a culture shock to suddenly see all the stores labeled in Chinese just by taking a few steps.
Other "Chinatowns" in New York City
If after exploring Manhattan's Chinatown you want to discover more about Chinese culture, you can visit the Chinatowns of Queens and Brooklyn.
Gentrification has displaced many Manhattan borough dwellers to the other two boroughs of New York. Many people say the vibe here is more genuine than the Lower East Side but, to me, it's just different. It's a matter of taste, really.