Where to Eat in Chinatown NY: 10 best restaurants
Good, tasty and cheap. That sums up the food in Chinatown restaurants. If you are passionate about Asian food, take note of these 10 places.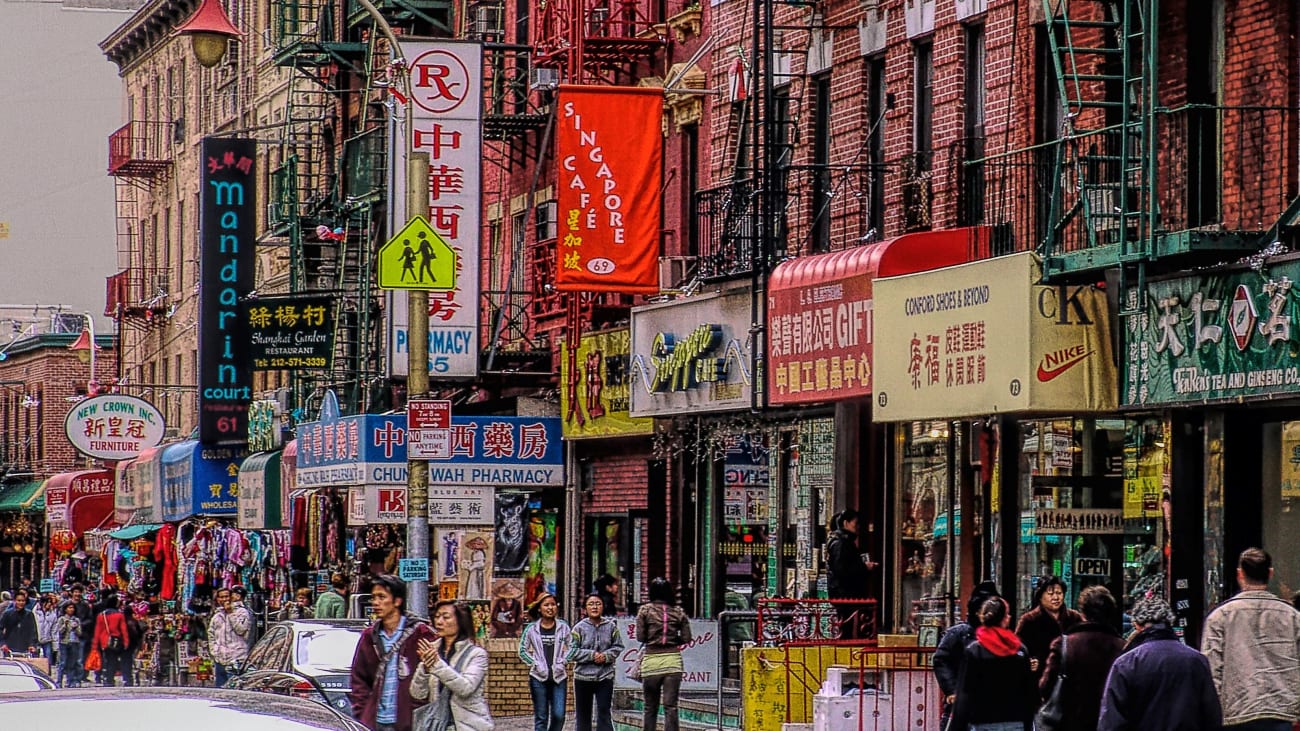 There is no other place like Chinatown to enjoy eating in New York, especially if you like Asian food. On every street there is a restaurant where you can get a glimpse of oriental culture and taste the best of the most authentic Chinese cuisine.
I leave you with a list of the 10 best restaurants for you to consider after the tour of Chinatown so you can eat like an emperor and the best: at very affordable prices! Are you in?
1. The homemade noodles from Xi's an Famous Food
If you are a fan of spicy food, one of the mandatory stops after the Chinatown tour is Xi'an Famous Foods. This is a restaurant dedicated to the traditional cuisine of Xi'an, an ancient city in central China that played a major role in the famous Silk Road.
With its dishes, Xi'an Famous Foods transports you to the Far East in a single bite. In its menu you will find a wide variety of options to choose from, but the lamb and cumin burger, dumplings, dumplings or handmade noodles are spectacular. I recommend accompanying it with a delicious cold jasmine tea.
This place located at 45 Bayard Street is a perfect place to make a quick stop for a tasty and cheap meal. The service is very fast, so if you are very hungry, you will be served right away.
Useful information
Address: 45 Bayard St., New York, NY 10013.
Recommended dish: Lamb and cumin burger.
Ideal for: Friends and couples.
2. Big Wing Wong's dim sum, the best in New York City
If you are looking for an old school Cantonese restaurant, Big Wing Wong is the place for you. This is not your typical Chinese restaurant for tourists but a place where locals also come to enjoy delicious food and a very suitable choice after enjoying the tour of Chinatown.
Big Wing Wong 's menu is quite extensive and the portions are plentiful. You will not leave here hungry. The wontons, roast duck and fried rice are great, but at this restaurant I recommend you try the dim sum, as it is one of the best in New York.
This place is a very busy place in Chinatown, but the service is efficient and the prices are affordable. By the way, if you want to know more about how the pricing and tipping system works, this article has more details (plus a long list of great places to eat in New York).
Some useful information
Address: 67 Mott St, New York, NY 10013.
Recommended dish: Dim Sum.
Ideal for: Friends and family.
3. Buddha Bodai's Vegetarian Dishes
If you are vegetarian and you are doing a tour of Chinatown, I recommend you to go to Buddha Bodai at lunchtime, as you will find an extensive menu full of delicious dishes with all the essence of traditional Chinese cuisine. Even if you do not follow this diet you will also love it because their food is very tasty.
Most dishes cost less than $15, so you can eat in the heart of the neighborhood without spending too much money. I recommend you try the spring rolls, dumplings, dim sum or the different noodle recipes. Oh, and the vegetarian versions of chicken, lamb or duck are very good.
Buddha Bodai is a very popular place and it is common to find people queuing on the street to get in. Fortunately, the service is efficient and they are quick to give you a table. You will find it at 5 Mott Street, near Columbus Park.
Useful information
Address: 5 Mott St. New York NY, 10013.
Recommended dish: Dim Sum and lamb.
Ideal for: Friends and family.
4. Ramen and bubble tea at Canal Street Market
Have you ever had the problem of not being able to agree on where to eat when traveling with friends? Food halls are an excellent solution to this problem, and fortunately, in New York there are many restaurants where you can enjoy the food after your tour of Chinatown.
Located at 265 Canal Street, Canal Street Market is a food hall specializing in Asian food, ideal for a meal if you are visiting the city with your family, or with a large group of friends and everyone wants to order a different dish.
This place has several Japanese, Korean or Chinese style food stalls that offer a wide variety of proposals for less than $15. You will want to try a lot of things, so go with an empty stomach! Plus, at Canal Street Market you have the option of sampling the dishes on the spot if it's a rainy day or ordering a take away for a picnic in Columbus Park if it's a sunny day.
Useful information
Address: 265 Canal Street.
Recommended dish: Ramen and the bubble tea from Boba Guys.
Ideal for: Friends and family.
5. Taiwan Pork Chop House hot soup
To enjoy the authentic flavors of Taiwanese food after taking the Chinatown tour, nothing better than going to Taiwan Pork Chop House. A restaurant located at 3 Doyers St. and known for its friendly atmosphere and the huge variety of flavors in its dishes.
The menu of Pork Chop House is quite extensive and you can try a good number of specialties. I recommend the chicken curry noodle soup, the Shanghai-style fried rice and the Taiwanese kimchee. And if you have room for dessert, try the Taiwanese ice cream!
Prices are affordable (many of the dishes are less than $10) and the restaurant staff is friendly and efficient. Definitely a good place to go to enjoy Taiwanese cuisine during a visit to Chinatown.
Useful information
Address: 3 Doyers St.
Recommended dish: Chicken Curry Noodle Soup
Ideal for: Couple and friends
6. Fried Dumpling's dumplings, the cheapest in Chinatown
This small and simple restaurant is perfect if you want to take a break after the Chinatown tour to eat something quick, as a snack, without giving up tasting the specialties of Chinese cuisine. In fact, Fried Dumpling is famous for its delicious homemade dumplings at reduced prices (6 pieces for $2). Possibly the cheapest place you will find in this area of the city.
As the Fried Dumplings place is quite small, I advise you to order some dumplings to take away and eat them in Columbus Park while sunbathing, but if you prefer to eat them there you can do it at the bar.
They prepare them facing the public and although some employees do not speak English just point out the flavors you want and they will understand you and, in addition, they serve fast.
Useful information
Address: 106 Mosco St.
Recommended dish: Pork dumplings.
Ideal for: Friends.
7. Bo Ky's fusion cuisine
Bo Ky restaurant is synonymous with delicious soups, but it is also a good place to try different dishes from Teochew, Chinese and Vietnamese cuisine that will leave you smiling from ear to ear.
Everything is delicious! The gyozas, the spring rolls, the duck soup, the vegetables... and the best thing is that most of these dishes cost less than $10 each. The service is also fast, what more could you ask for?
Bo Ky is another one of the most frequented restaurants by the locals that you can incorporate in your route through Chinatown. It is common to share a table at lunchtime, so don't be surprised if a stranger sits next to you.
Useful information
Address: 80 Bayard St.
Recommended dish: Duck soup.
Ideal for: Family and friends.
8. Spice Village spicy chicken
This Chinatown restaurant is another one of those places where you won't have to empty your wallet to eat like a king. On the contrary! At Spice Village you can enjoy eating tasty Chinese food to your heart's content without spending more than $10 per person.
A tip? Order several dishes to share if you go in a group. This way, you can try a variety of recipes such as spicy chicken platter, spicy lamb Hu Mei, dumpling soup with pork or pancakes with beef.
The restaurant is small and cozy. Both for the flavors and the location, Spice Village makes you travel with your senses for a moment to Asia. A must!
Useful information
Address: 68B Forsyth St, New York, 10002.
Recommended dish: Spicy chicken.
Ideal for: Friends and family.
9. The best Peking Duck at Peking Duck House
Lest anyone should be in any doubt, this restaurant's specialty is in its name: a tasty, juicy and crispy Peking duck that will make your mouth water. However, in its menu there are also many other dishes of Chinese cuisine such as sweet and sour pork, three-delicious rice, shrimp, dim sum and so on if you want to try a little bit of everything.
The portions at Peking Duck House are plentiful and the price is a bit higher compared to other restaurants in Chinatown but it is worth it. The place is big, the staff's attention is good and the atmosphere is familiar.
In short, you have to incorporate it before or after the Chinatown tour. When you finish you will leave happy and with your batteries recharged to continue your route through New York.
Useful information
Address: 28 Mott St. #A New York, NY 10013.
Recommended dish: Peking duck.
Ideal for: Friends, couples and family.
10. The tasty dumplings of Shanghai 21
Don't be surprised if you walk down Mott Street and find a long line of people waiting to get into this restaurant, because Shanghai 21 is one of the best in Chinatown for both the taste and the presentation of the dishes.
Don't be discouraged by the line because the staff is fast. The wait will be worth it when you have their famous dumplings in front of you, you will forget everything! The menu is quite extensive and they have a wide variety of dishes such as spicy chicken, fried noodles, Shanghai-style spring rolls or fried rice with beef, among many others.
The quality of the dishes is very good and the portions are plentiful, so during your visit to Chinatown I recommend you to include the Shanghai 21 restaurant in your route through Chinatown, you will not regret it!
Useful information
Address: 21 Mott St New York, NY 10013.
Recommended dish: Pork dumplings.
Ideal for: Family, friends and couples.