Things to Do in Brooklyn NYC
If you travel to New York you can't miss Brooklyn, the coolest alternative area of the city. Take note of what you have to do, see (and eat) there!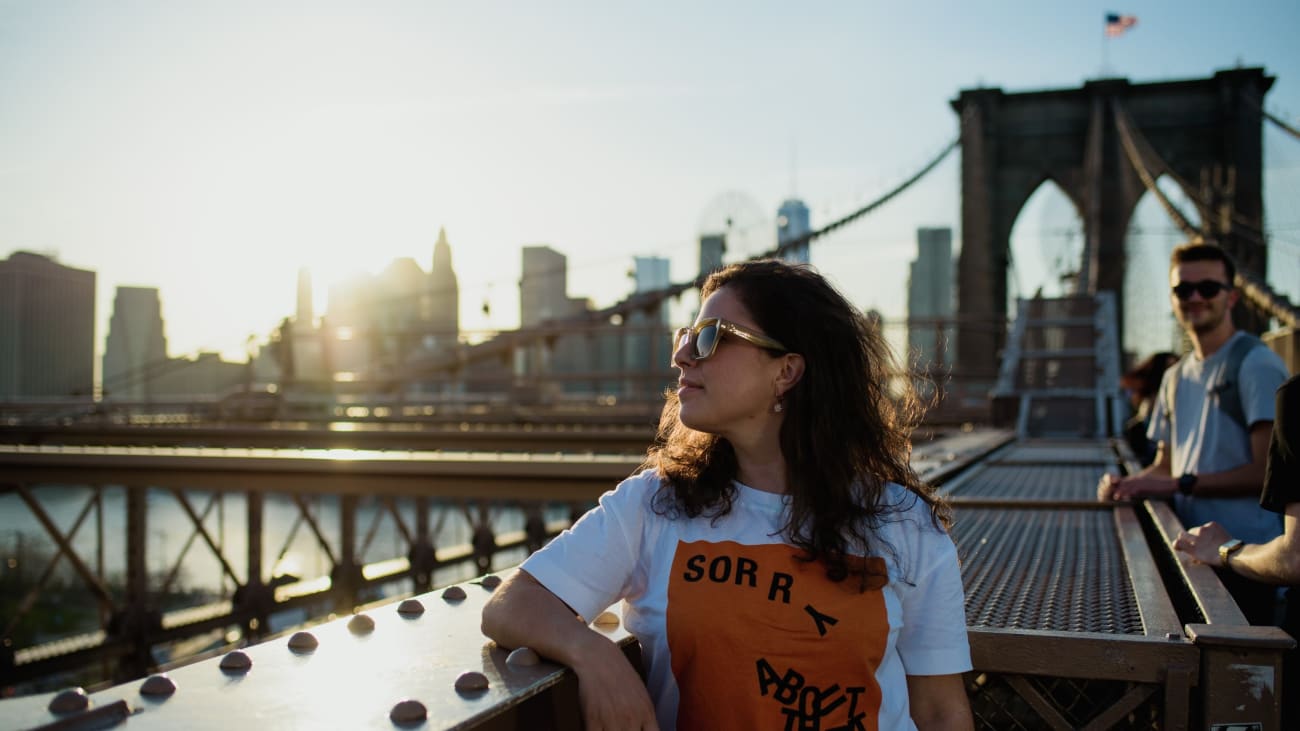 On your list of things to see and do in New York you can't miss the borough of Brooklyn. It has been the hipster capital of the world for decades: it is full of cafes, stores and restaurants that were once former factories and today represent the gastronomic epicenter of New York.
Brooklyn is one of New York 's trendiest neighborhoods. A borough with an industrial past and a strong cultural identity that is well worth a visit. Here are the must-see places in the area: Welcome to Brooklyn!
1. Cross the Brooklyn Bridge
In a city like New York there is no shortage of great tourist landmarks such as the Statue of Liberty, the Empire State Building, Central Park or Times Square. And one of the first places to visit when visiting the Big Apple is the famous Brooklyn Bridge.
You will have seen it countless times on television and in the movies but crossing it is one of the best experiences you will have on your trip because it is truly impressive and its views over the East River of the New York skyline are fascinating. From here, you will also have one of the best views of the Statue of Liberty. You can walk across or take a bike tour from Manhattan.
Opened in 1883, this engineering marvel rises over the river connecting Brooklyn and Manhattan from the Brooklyn neighborhoods of DUMBO and Brooklyn Heights in Brooklyn to the Civic Center neighborhood in Manhattan. Its stone towers with pointed arches are a symbol and one of the most photographed sites on the Brooklyn Bridge although the whole bridge is a marvel. From here you will have the best views of the Manhattan Skyline.
Tips for crossing the bridge
How long does it take to cross it? Taking into account that you will stop to take pictures and look at the views, it will take you about 45 minutes. It is only 1.8 kilometers long.
From Manhattan to Brooklyn or vice versa? Choose the direction that suits you best depending on what you want to do next. Although most people cross from Manhattan, I like to cross from Brooklyn because you can see the views of the island's skyline all the way across.
When to visit? The ideal time is early in the morning to take pictures without too many tourists around. However, another very nice time that I love is at sunset as the sun slowly goes down and New York begins to light up.
Go in your lane: at the beginning of the walk, to avoid accidents, do not move from the pedestrian lane, as it is only separated from the bike lane by a line painted on the ground and both are very narrow. Do not get lost taking pictures, be careful!
2. Marvel at the views from DUMBO
What was once an industrial area full of factories and warehouses rather dreary, today is one of the trendiest areas of New York. Towards the end of the 70's, bohemians and artists settled in DUMBO and changed the soul of the neighborhood, which became the epicenter of new artistic movements that attracted new wealthy neighbors due to its proximity to Manhattan.
When you arrive in DUMBO, the first thing you want to do is take a long walk and get lost in its streets. It is striking how it has maintained that perfect combination of old industrial architecture and cobblestone floors, where the old train tracks are still visible, with the most modern design and luxury spaces that can be seen in the neighborhood. DUMBO gives off a special charm that you will not be able to stop photographing.
What to see in DUMBO?
Washington Street: Next to the Brooklyn Bridge is located this street from where you can photograph the wonderful Manhattan Bridge with New York in the background.
Order a pizza at Grimaldi's: Try the pizzas at the legendary Grimaldi's at 1 Front Street, just under the Brooklyn Bridge. The lines at the entrance are worth it to eat their delicious pepperoni pizza - a tip: bring cash because they don't accept cards!
Plymouth Street: Walking down this street you will see that it is crossed by the old tracks where the freight trains used to run to the Big Apple.
Admire its Street Art: Sculptures, graffiti and murals scattered along the streets of DUMBO show the bohemian and artistic soul of Brooklyn. You can join a graffiti workshop in Brooklyn to learn how to make your own!
Movie Nights: During July and August, Thursday nights are open-air classic movies at Pier 1 Harbor View Lawn. Grab your popcorn and enjoy the summer breeze off the East River with the Manhattan skyline in the background.
3. Stroll through Main Street Park
One of my favorite places in DUMBO for its breathtaking views is Main Street Park, one of the best parks in New York. With the Brooklyn Bridge on one side, the Manhattan Bridge on the other and the East River and the Financial District skyline in front, you won't be able to stop taking pictures!
But, to tell the truth, I not only like it for this reason but also because here is Jane's Carousel, an authentic 1920's carousel that was restored to its original splendor and has been part of the Brooklyn landscape since the 80's when it was brought from Ohio.
Main Street Park with kids
If you' re visiting New York with the family, it's a perfect place to take the kids to have fun and you can ride it too. Jane's Carousel is for all ages so don't be shy and ride one of their cute little horses for only $2. It is also a perfect plan if you are traveling as a couple and want to surprise them with a romantic evening.
Brooklyn Beach
On the other hand, in Main Street Park there is a tiny rocky beach known as Pebble Beach. There is a kind of bleachers where you can sit for a while to rest, to see the pictures you have taken so far and also enjoy the panoramic view of the city. If you travel to New York in summer, this place will be key for the hottest days of July and August in New York.
Another plan to do in Brooklyn during your visit, especially between August and October, is to rent a kayak to navigate the East River. You can find more information on the official website. If you are looking for more special plans like this one, don't miss this list with the must-do experiences in New York.
4. Check out the Brooklyn Flea Market
One of the best things to do in Brooklyn is to go to the Brooklyn Flea Market inDUMBO on Saturdays from 10AM to 5PM from April to October. It is a vintage flea market that offers a wide variety of products (clothing, furniture, books, jewelry and crafts) displayed with care by more than 150 local vendors and artisans.
If you love flea markets but travel to New York in winter, at this time of year this space is transformed into Winter Flea, a flea market of antiques, crafts and food that opens between November and March. Shopaholics, here you will find the best things to buy in New York.
Why I like this flea market
This is not your typical flea market where objects are piled up without rhyme or reason, but there is a careful presentation that attracts the eye to the stalls to tempt you to take a unique souvenir home, either for you or for your family. There are unique things!
If you don't leave here with a super cool vintage jacket, you'll leave with a full stomach. Here you'll sample some of the best tacos, hot dogs, lobster rolls and Sicilian cannoli in New York. It's one of the best places to eat in Brooklyn.
Practical info
Hours: Brooklyn Flea Market from 10AM to 5PM. Winter Brooklyn Flea from 10AM to 6PM.
Location: Brooklyn Flea Market at Manhattan Bridge Archway - 80 Pearl St. Winter Brooklyn Flea at 25 Kent Ave (8th fl.) Williamsburg.
Access: Free.
5. Eat at Time Out Market
In DUMBO there is no shortage of restaurants where you can take a lunch break. Next to the aforementioned Grimaldi's Pizzeria, famous throughout New York for its pepperoni pizza, in this neighborhood is located the Time Out Market, a food hall with more than twenty food stalls where you can try different dishes without leaving Empire Stores, the picturesque building in which it is located and that testifies to the industrial past of Brooklyn in the nineteenth century.
This is a perfect option if you are traveling in a group and want to avoid the typical eternal debate about where everyone wants to go to eat. There's a little bit of everything here: Italian, Japanese, Thai, Lebanese, bagels, burgers, vegetarian food, sweets, etc. Some of the best chefs in the city, chosen by the editorial staff of Time Out New York magazine, share this space of more than 2,400 m2.
The Time Out Market at 55 Water Street also brings together in three bars some of the most experienced bartenders in New York who will prepare delicious cocktails to toast your trip. If, in addition to filling your stomach, you feel like having a drink with a view, make a note of the best rooftops in New York.
Practical Info
Address: 55 Water Street, Brooklyn.
Hours: Open Fridays from 11AM to 21PM and weekends from 9AM to 21PM.
Payments: Time Out Market does not accept cash in its restaurants, only the bars. You will have to pay by credit card.
Isabel's Traveller Tip

From the rooftop of Time Out Market, on the 5th floor, you will be amazed by the breathtaking views of the Brooklyn Bridge, the East River and the Manhattan skyline.
6. A night at BAM
Another thing to do in Brooklyn is to spend an evening at the BAM (Brooklyn Academy of Music), the equivalent of Manhattan's Lincoln Center that houses the New York Ballet, Opera and Philharmonic.
BAM is a multi-arts center that for more than a century has been home to adventurous artists with risky ideas that have surprised audiences. They work especially with emerging artists but also with innovative artists who have already made a name for themselves. Even actors such as Cate Blanchett, Jeremy Irons and John Malkovich have graced the stages of BAM.
The main building, located near the Atlantic Avenue - Barclays Center subway stop, is shared by Rose Cinemas, which specializes in auteur films, the Howard Gilman Opera House and Lepercq Space, a multi-purpose performance space.
If you like innovative and alternative art, take a look at its official website because you will find the coolest and most different cultural proposals. And if you prefer to continue your itinerary seeing one of the best museums in New York, do not miss the Brooklyn Museum.
If you also like street art, there are specialized tours like this Brooklyn Street Art Tour that will take you to see the best graffiti and works of art in the streets of the hipster neighborhood of the city.
7. The NBA at the Barclays Center
The Barclays Center is a huge arena in the heart of Brooklyn just around the corner from the BAM. With a capacity of over 17,000 spectators, it is famous for being the "home" stadium of the Brooklyn Nets (NBA) and the New York Islanders (NHL) since 2012.
The Barclays Center has also hosted boxing championships and musical events (in fact several of the best artists on the planet such as Celine Dion, Ariana Grande or Marc Anthony have performed here). If during your visit to New York you want to attend an NBA game, you can't miss the Brooklyn Nets. The season starts at the end of October and ends in mid-April.
Why I recommend going to the Barclays Center
You come to New York to have a great time and even if you don't like sports, watching an NBA game in the United States is a real show of music, partying, dancing and above all, basketball. Are you ready to see the best players in the world up close? Here's how to get NBA tickets in New York.
8. Stroll through Williamsburg's Jewish Quarter
Hipsters and New York's more conservative Jewish community live side by side in Williamsburg, this Jewish neighborhood in Brooklyn. However, each has its own space and lives in its own way: the hipsters in Williamsburg and the Orthodox Jews in the South Williamsburg area, which is reached by crossing under the Williamsburg Bridge.
This place is like walking through a different world, austere and simple. There are not so many charming shops and its buildings seem a bit more neglected compared to the other part of the neighborhood. Here inhabit the Hasidic Jews (a branch within Orthodox Judaism) who came from Hungary fleeing the Second World War.
During the walk through South Williamsburg you will see that its restaurants and stores have signs in Hebrew as well as the typical yellow school buses. If you can, I recommend that you go into a kosher store and buy some sweets or rolls, they are quite tasty!
It is always said that New York is a city of contrasts, and to experience that you have to get out of Manhattan. One of the best ways to do that is with the famous "Contrasts Tour", as it takes you to visit its different boroughs in one day. I tell you more about it here: New York Contrasts Tour.
Travel responsibly
It is a very closed community that respects their way of life and traditions. Visitors do not pay too much attention to them and are accustomed to see them passing through the neighborhood, but it is advisable that during the route through South Williamsburg you act with consideration (especially when taking pictures in which the neighbors may appear).
The contrast between the different ways of life can be shocking, but even if their clothing, hairstyles or any other detail catches your attention, try not to make them feel uncomfortable by staring at them with curiosity or following them to take pictures. Being respectful of others is also part of traveling responsibly.
9. Get in the holiday spirit at Dyker Heights
Dyker Heights is a residential neighborhood in Brooklyn that would be nothing special if it weren't for the fact that its neighbors go all out when it comes to celebrating Christmas by decorating their homes and gardens with hundreds of garlands, balls, colored lights and other decorations. And when I say all out, I mean all out!
Some opt for elegant and discreet lights while others recharge their gardens to no end with all kinds of lights, inflatables and Christmas figures that sing carols and move.
A real competition that began in the 80s and has become an annual event for which some families even pay decoration companies to surprise the curious. A tradition that you can not miss in Brooklyn if you travel to New York at Christmas.
Practical information about Dyker Heights
10. Have a blast at Coney Island
One of the best things to do in Brooklyn especially if you are traveling to New York in summer and with children is to go to Coney Island, the neighborhood where New Yorkers go to relax outdoors and enjoy the beach in good weather.
Stroll along the boardwalk
One of the things I like the most about Coney Island is walking along the boardwalk feeling the Atlantic breeze on your face and the smell of the ocean, it's a fantastic feeling!
Luna Park
The other great attraction in the area is Luna Park, a mix between old fair and amusement park that retains much of its original attractions like the Wonder Wheel or the roller coaster Cyclone and that vintage charm that is so special. Consider it an essential plan if you go to New York with children.
Nearby is a freak show so typical of the 20s and 30s. The show is different every season and, although some tricks are repeated, you will have the feeling of reliving past times among bearded women, dwarfs and other typical characters.
Visit the New York Aquarium
Last but not least, a fun attraction to see in Coney Island is the New York Aquarium, the only aquarium in the city located on the boardwalk. Its purpose is to show visitors the importance of preserving aquatic ecosystems. Here you can see sea otters, sharks and penguins, among many other species. Check when you enter to see when the animals eat and don't miss it if it coincides with your visit - the kids will love to see it!
Isabel's Traveller Tip

At Coney Island combine a stroll along the boardwalk, a visit to the New York Aquarium and the Luna Park Fair with one of Nathan's famous hot dogs. You'll want to do it all over again!
Frequently asked questions
Is it safe to visit Brooklyn?

Many of Brooklyn's neighborhoods have undergone recent gentrification, spurred by young professionals moving into the area. Despite this, there are still some areas that are perhaps best avoided such as Brownsville and East New York.

What is Brooklyn famous for and what can I see there?

Brooklyn occupies a prominent place in pop culture, as it is the birthplace of many celebrities, including Jerry Seinfeld, Jay-Z, Anne Hathaway and Eddie Murphy. The borough owes its fame to Coney Island, Brooklyn Bridge and its picturesque streets and delicious food.

What areas of Brooklyn should I visit?

Both Williamsburg and Bushwick have become the trendiest places to visit. While Williamsburg has the trendiest restaurants, bars and stores, Bushwick has become famous for its art scene, earning the nickname "the new hipster spot". Redhook, which offers spectacular views of the Manhattan skyline, is also worth a visit.