10 New York City unique experiences
Besides being the city that never sleeps, New York has plenty of experiences to enjoy during your trip. I'll tell you the best ones so that you have an unforgettable memory of your stay in the Big Apple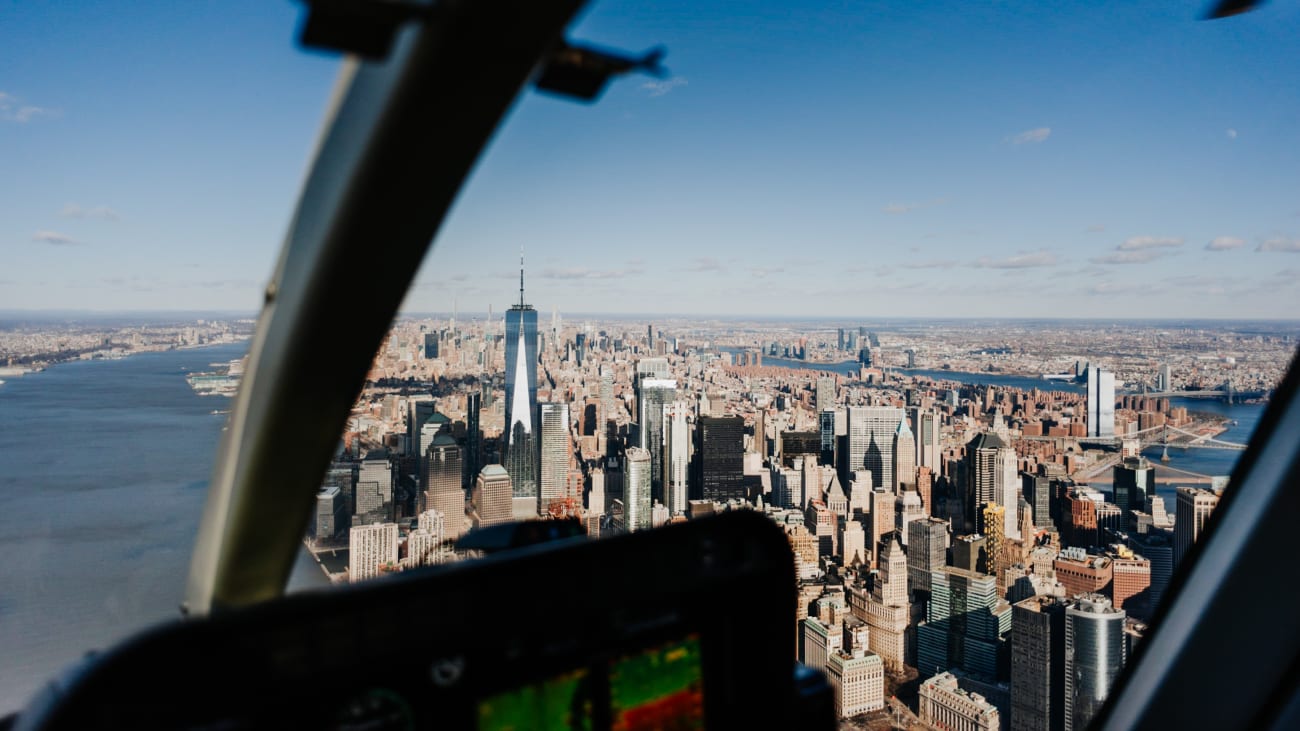 New York is a cosmopolitan and vibrant city where you will never get bored. It has a lot of very original experiences to discover the unknown side of the city during your trip. So much so that for many it is the best city to travel to. The kind that embraces you when you arrive and makes you feel like a New Yorker.
1. Soar over the sky of New York
Can you imagine crossing the sky in a helicopter at over 200 kilometers per hour? If you have fear of heights, maybe this plan is not a priority in your vacation agenda but to contemplate the immensity of this city from a bird's eye view is one of the experiences that you should live at least once in your life.
Why should you take a helicopter tour over New York?
We all know that the city skyline is a spectacle in itself that can be discovered in different ways but to do it aboard a helicopter is to elevate the experience to another level. It's a unique moment where the adrenaline rush of traveling at such a high altitude and speed is added to the beautiful views of New York. You'll feel your skin crawl and you'll be overcome with emotion!
What are the helicopter flights like?
Flights are short and most tours last approximately 15 minutes. All routes follow the Hudson River and some follow the East River, giving you great panoramic views of New York, but in no case will the aircraft pass over the skyscrapers.
What is the best helicopter tour?
If you ask me what is the best time to take a helicopter tour in New York, I think it depends on the views you want to have during the flight.
For example, if you want to see the city expand to the horizon and observe the Big Apple buildings in all their splendor, I advise you to try to get a time close to noon while if you want to see the Big Apple as the sun sets and witness the first night lights sprout, then pick a time at the end of the day. Normally, after 8 PM there are no tours offered for a helicopter flight in New York.
This is a highly recommended experience to have during your New York City getaway, without a doubt. If you want to know more about helicopter flights over Manhattan, take a look at the article on Helicopter rides in New York where you will discover all the details to enjoy this unique activity on your trip.
2. Have a coffee at a secret waterfall among skyscrapers
New York is a bustling city at any time of the day, where it is a constant sight to see the incessant traffic on the streets and people in a hurry everywhere, not for nothing is it also known as "the city that never sleeps"!
That's why discovering little treasures that are not normally listed in travel guides on the way to any of the tourist attractions in downtown New York is always a joy.
Especially when it comes to gardens. **It is wonderful to come across small oases in the middle of the asphalt where you can take a break surrounded by water and vegetation. Such is the case of Greenacre Park and Paley Park, both in Midtown Manhattan.
Why go to these parks?
In New York, there are many parks, the most popular of which is Central Park, the green lung of Manhattan, and the largest urban park in the city that you may have seen in countless movies and series.
However, what makes Greenacre Park and Paley Park different from other parks are two beautiful waterfalls that adorn the environment and whose sound of water transports you to a quiet place where you can get away from the hustle and bustle of the city while sipping a coffee or reading a book at one of the cozy tables available to visitors. The trees in both parks manage to create that feeling of intimacy and serenity that I love about this place.
My favorite time to visit is in spring and fall, when the flora is at its peak. For example, in the fall the trees looked beautiful and were decorated with the pumpkins so typical of Halloween and Thanksgiving. You can take some very cool, out-of-the-ordinary photographs here.
Where are they?
Greenacre Park: Located in Midtown East at 217 E 51st Street.
Paley Park: It is located between 3 East 53rd Street and Fifth Avenue.
3. Kayak the Hudson River
During a trip to New York, you will most likely have a busy schedule with visits to museums, monuments, or markets, among many other sites.
However, if you are a sporty person who likes to spend time outdoors, my advice is to take advantage of your getaway to New York to live a unique experience while doing something different that was not originally in your itinerary. For example, go out and play sports while admiring the city skyline from the water and without spending a single penny.
How to do it? Head down to Pier 96 on the Hudson River, next to the Intrepid Air and Space Museum! From late May through October you can kayak and enjoy the Manhattan skyline aboard one of these boats. The company offering this free activity is Manhattan Community Boathouse.
How to participate?
It's easy. You don't have to make any kind of reservation, just go to the dock where the company operates and sign a waiver stating that you know how to swim. After storing your belongings in a locker, all you have to do is wait for a kayak and paddle to be assigned to you so you can dive into the water.
If it's your first time doing this sporting activity as it happened to me, don't worry because there are monitors at each dock who will teach you how to get in and paddle. They will also provide you with a life jacket for safety.
Although the kayak tours on the Hudson River are 20 minutes long, you will enjoy them a lot because it is a lot of fun. The area where you can kayak is delimited by buoys and you are not allowed to leave, it's one of the New York experiences you can't miss!
Isabel's Traveller Tip

Wear summer clothes, even a swimsuit if you have one. Swimming is not allowed, but during the kayak ride you will end up with a bathing suit. If you want to bring a change of clothes, there are usually changing rooms in the area.
4. Celebrate Chinese New Year eating in Chinatown
In many cities around the world where the Chinese community is present, the Chinese New Year, the most important festival of this culture, is celebrated. The date depends on the lunar calendar but usually takes place in February and is celebrated in style.
In New York it is experienced in a special way and I have been lucky enough to witness it on one occasion. It is very worthwhile because each year a different animal is welcomed and thousands of people participate in a parade of floats, dances, music, and dragons. It is a display of color, joy, dance, and fantasy that is palpable in the atmosphere.
It is an event for all ages that is attended by many people, both New Yorkers and tourists. I recommend that if you go to see the parade look for a street crossing from which you can observe it well and experience the atmosphere. When the parade is over, don't hesitate and go to a restaurant or food stall in Chinatown to enjoy authentic Asian cuisine at very reasonable prices.
Where to eat in Chinatown?
Chinese cuisine is one of the most appreciated in the world for its variety of ingredients, flavors, and textures. If you consider yourself a foodie, in this neighborhood of New York you will have a great time because you will find numerous restaurants and bars where you can try some of the best Asian specialties in Manhattan.
I recommend places like Xi's an Famous Food at 45 Bayard Street, Big Wing Wong at 102 Mott Street or Buddha Bodai at 5 Mott Street (near Columbus Park and with very good vegetarian options).
If you have time and want to take a walk around Chinatown, in my article 10 things to see and do in Chinatown in New York I tell you everything you can visit in this picturesque New York neighborhood.
5. Experience a movie night in Bryant Park!
One of the experiences I enjoyed the most during one of my New York City getaways was attending the Bryant Park Film Festival during the summer.
This small oasis in the middle of bustling Midtown Manhattan is one of the most beloved gardens by New Yorkers and when temperatures rise, it becomes a refuge to combat the intense heat under the shade of its lush trees.
If there is one thing Bryant Park is known for, it is its great cultural agenda: from writing workshops and film gatherings to musical concerts and a long etcetera.
Why not dedicate an afternoon to go to the movies in New York during your trip? A good plan for Monday nights during the summer in the city is to go to Bryant Park to enjoy its outdoor Film Festival. In front of the park's famous fountain, a giant screen is set up where classic movies are shown while the audience picnics on the lawn and enjoys the evening lying on the grass.
When does the curtain open?
The movie viewing area opens at 5 PM so that the audience can take their seats even though the movie starts between 8 PM and 9 PM. From experience I advise you to get there early to get a good spot on the lawn and a popcorn cone, which they give you at the entrance for free if you arrive early.
While you wait for the movie to start you can relax on the grass, chat, read, review what you have left to see of New York, or have a picnic while enjoying the festive atmosphere in Bryant Park.
Isabel's Traveller Tip

Did you know that the public chooses the film of the night at this festival? To participate follow the @vultur Twitter account, which proposes several options and the one with the most votes will be screened.
6. Vibrate with the NBA, the best league in the world!
One of the most fascinating spectacles you can attend in New York is an NBA game. Whether it is because basketball is your passion or because you want to experience the madness and the atmosphere that this sport awakens in this city, it is a unique experience that you have to live at least once in your life.
There are two NBA teams in New York fighting for the title and competing from October to April in the National Basketball League:
:The New York Knicks play at the legendary Madison Square Garden, located in midtown Manhattan.

The Brooklyn Nets play at the modern Barclays Center in Brooklyn, which they moved to a few years ago.
When to travel to New York to enjoy the NBA?
If you're traveling to the city during the preseason, that is, before the official season starts, I recommend you keep an eye on the teams' preseason schedule because they usually play friendly games in early October.
But the NBA games that will take place in New York are only guaranteed from October to April. From there, it will all depend on whether the New York Knicks or the Brooklyn Nets manage to qualify for the Playoffs and ultimately the NBA Finals.
If you are an NBA fan and would like to include a basketball game in your trip to New York, in my article How to buy tickets to watch NBA games in New York I tell you everything you need to know about the local teams and how to get your tickets, among other things.
7. Toast to your trip on a rooftop in New York City
After a long day of sightseeing around the city, nothing better than going up to one of the wonderful rooftops in the city to contemplate the New York skyline at sunset, watching with a drink in your hand how the sun fades and little by little thousands of light bulbs light up to illuminate the New York night. It is one of the most unforgettable experiences I have lived there!
The essential thing is to get to the bar, sit at the table and order your favorite drink to enjoy the panoramic views from any of the rooftops in New York. If you have the opportunity, try to visit several rooftops in completely different areas of the city: the perspectives will be unique in each and you will be surprised by the different facets of the Big Apple.
Almost all rooftops have Happy Hour. If you have planned to go to several, it is best to do it during Happy Hour to save money that you can spend on other things during your trip. Finally, remember that to access a rooftop you will have to bring your passport or an ID, because if you are under 21 years old you will not be allowed to enter.
In my article The 10 best rooftops in New York I give you some ideas to go for a cocktail in the best company.
8. Feel the magic of Broadway!
You go to New York to be amazed at every corner, to have fun, and even to daydream. That's what Broadway musicals are for, where you can let your imagination fly into fantasy worlds that will make you enjoy yourself like a child, no matter how old you are!
Whatever time of year you visit New York, one of the must-do plans is to attend a musical on Broadway, the famous theater-lined boulevard that runs through the center of Manhattan including Times Square.
You can't miss the magic of Broadway. Its musical numbers are legendary and its majestic staging transports you to a dream world. These shows are simply jaw-dropping.
With hundreds of annual performances, Broadway is the mecca of New York theater. Here you can see such prestigious plays as The Lion King, Moulin Rouge, Wicked, The Phantom of the Opera, Chicago, Aladdin's Musical or Frozen, among many others.
How to get your Broadway tickets?
Broadway musicals are one of the most demanded shows by the public in New York, so tickets are sold out very quickly. If you want to know how to buy tickets for a Broadway musical, I recommend you to read the article The 10 best Broadway musicals in New York where I tell you how to get your tickets and which are the best musicals that are playing this season.
9. Take a picnic in Central Park
Fancy a picnic on a sunny day surrounded by nature? Set aside some time in your busy schedule to enjoy a relaxing moment in Central Park, New York's largest and most famous park.
Any day is an ideal day to visit but Sundays indeed have a special magic because it is a holiday and many New Yorkers take the opportunity to go to Central Park and spend a day outdoors doing a photo tour, playing sports, or just relaxing and having a picnic in its meadows.
The Great Lawn is Central Park's largest meadow, where people gather to sunbathe, read a book or chat when the weather is nice. Here you can spread out a blanket and enjoy a fantastic picnic in this beautiful corner of Manhattan. It is one of the most pleasant and recommended experiences to live in New York.
After the picnic, I recommend a tour of Central Park to visit iconic places such as Bethesda Terrace, Strawberry Fields, Belvedere Castle, or the statue of Alice in Wonderland.
If you want to know more about Central Park in the post 10 things to see and do in Central Park in New York I tell you all about this wonderful park of international fame.
Where to buy take-out food?
Central Park food trucks and stalls: There are several food stands scattered throughout Central Park where you can buy hot dogs, sandwiches, waffles, ice cream, and drinks.
Whole Foods Market: Located at 10 Columbus Circle, this supermarket has a varied buffet of salads, sandwiches, burgers, prepared dishes, organic products, and juices.
The Plaza Food Hall: This is a food market on the subway floor of the Plaza Hotel (1 W 59th St.) with a bakery, pastry shop, and bar/restaurant where you can buy a variety of picnic foods. You can order a takeaway to go to Central Park.
Isabel's Traveller Tip

If you visit Central Park with your family you can't miss the Central Park Zoo, the old merry-go-round, or The Pond lake full of toy boats, the kids will love it!
10. Get Married in Times Square for Valentine's Day
Many couples head to New York in February to celebrate in a different way Valentine's Day. There are many romantic plans to do in the city but, without a doubt, getting married in Times Square is one of the most unforgettable experiences to live in the Big Apple.
Under the slogan "Love in Times Square", several couples in love swear eternal love to each other either committing, getting married or renewing their vows with New York as a witness. Can you imagine surprising your partner by being one of them?
To be among the lucky ones on February 14, you must register in advance online. Sweepstakes will determine who will experience a very original Valentine's Day. What a special anecdote to tell the grandchildren, right?
Other Valentine's Day plans
But this is not the only way to celebrate Valentine's Day in New York, there are so many! Here are just a few of them:
Times Square love tribute: Every year an interactive sculpture with a love theme is installed so people can take some romantic photos of their trip to New York with lots of passion in the background.
Ice skating at Wollman Rink: Located in Central Park, the sensation of skating on this rink is unparalleled as we have the beautiful winter landscape of the park on one side and the views of the mythical skyscrapers in the background - it looks like something out of a movie!
Night cruise in the south of Manhattan: Another great plan to do in New York for Valentine's Day is to sail on a beautiful sailboat through the south of Manhattan at dusk. The views of the city's illuminated skyline are spectacular and very romantic for such a memorable day.
11. Take the cable car to Roosevelt Island
Although not one of the most popular tourist attractions among those visiting New York, the Roosevelt cable car offers some very nice views of Manhattan and is well worth a visit.
Not only because it's not the typical crowded tourist site, which is appreciated during the trip sometimes, but also because of its special charm and because it connects, in addition, to Roosevelt Island, a very quiet place to go to enjoy a nice walk.
Why do I like Roosevelt Island?
I love taking the cable car to Roosevelt Island because in springtime, the East Riverbank is a great place to enjoy the cherry blossoms with the New York skyline in the background. Here you will have the opportunity to make a nice photo report of the trip!
There are also several waterfront gazebos and playgrounds to let the kids play outdoors for a while if you are traveling to New York as a family. You can even visit a cat sanctuary during the ride.
How to take the Roosevelt Cable Car?
It is a very economical ride because you only need a Metrocard to travel, the same card to travel by bus or subway in the Big Apple. If you want to know more about this activity, I recommend you to take a look at my article about How to ride the Roosevelt Island cable car in New York and everything you can see in Roosevelt Island.
12. Shopping in New York City
How many times have you dreamed of shopping in New York? This city is the mecca of shopping and offers all kinds of possibilities for all tastes: from department stores and outlets, to luxury and design boutiques without forgetting the famous flea markets or neighborhood stores where you can find a special souvenir.
Walking through its streets you will always see a store that catches your attention and invites you to enter to browse their products. Shopping in New York is an experience not to be missed.
Strolling down Fifth Avenue
How about a stroll along the famous Fifth Avenue? This is one of the most important arteries of the city and where are located some of the most exclusive stores in the Big Apple as Saks Fifth Avenue (611 5th Ave), the Apple Store (767 5th Ave), the iconic Tiffany's (610 5th Ave), Nike (650 5th Ave), the NBA Store (545 5th Ave) or Armani (717 5th Avenue), among many others.
Route through the New York malls
If you like shopping malls you must visit The Shops at Hudson Yards (20 Hudson Yards) in the trendy new neighborhood west of Manhattan, Westfield World Trade Center Mall (185 Greenwich St.) in Lower Manhattan just below the impressive The Oculus or Macy's the most popular mall of the city in Midtown Manhattan (151 W 34th St.).
Unique Markets and Shops
One of the best things to do in New York is to browse its flea markets. In any of them, you will be tempted to take a unique souvenir home.
Such is the case at Brooklyn Flea Market (at Manhattan Bridge Archway - 80 Pearl St. Winter Brooklyn Flea at 25 Kent Ave. 8th fl.) in Williamsburg, Artists and Fleas inside Chelsea Market in the Meatpacking District next to High Line Park (88 Tenth Avenue), Grand Bazaar on the Upper West Side (100 W 77th St.) or Canal Street Market in Chinatown (265 Canal St),
On the other hand, the city is full of tourist souvenir stores where you can buy a gift for your family or friends but if you are looking for something different, in this post I tell you 10 things to buy in New York in unique and original places.