10 Things to do in New York City in the Winter
If you visit New York in winter make sure you take advantage of the unique experiences the city has to offer in the cold months - here's a list of my favorites so you don't miss out!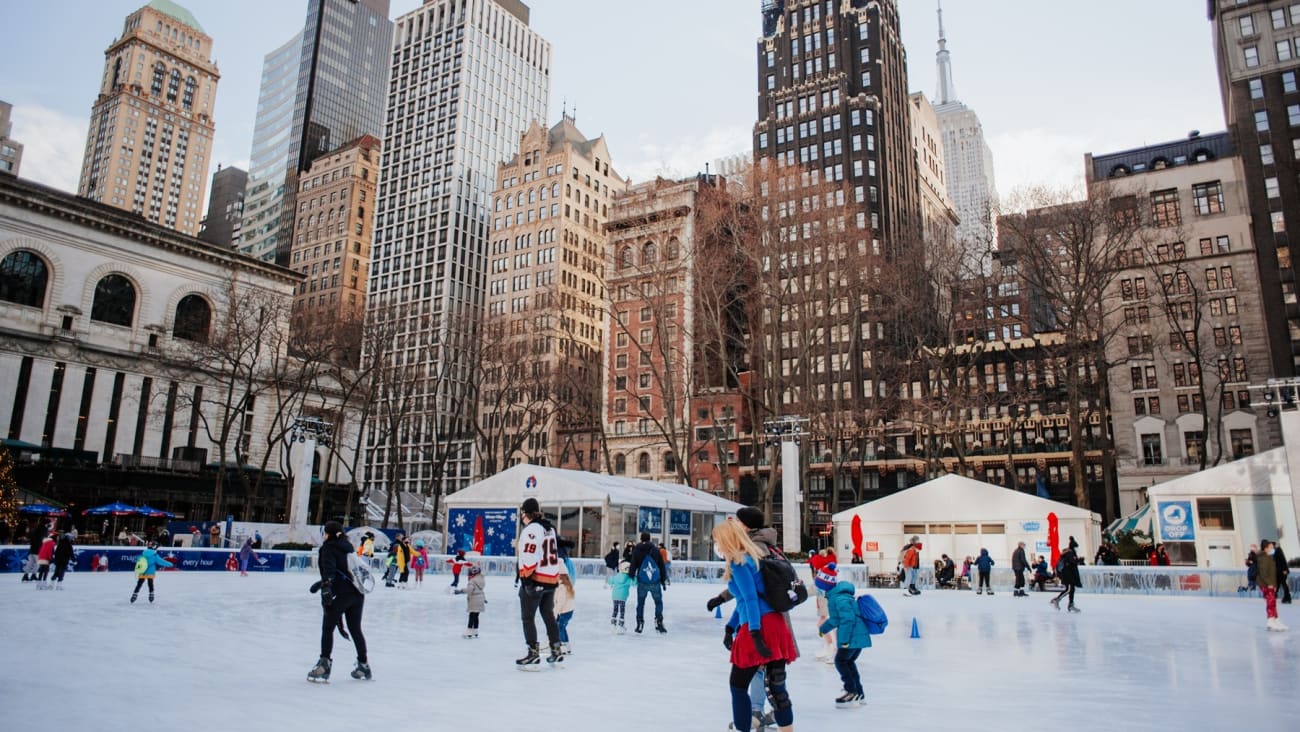 Are you traveling to New York in winter? It's a very special season when you can do a lot of great things both indoors and outdoors. Check out these 10 things to do in winter in New York and don't miss these tips to avoid freezing.
1. Vibrate with excitement with the NBA
Whether it's because basketball is your passion or because you want to experience the atmosphere and the madness that this sport awakens in New York, you can't leave without enjoying in person the best basketball league in the world.
Even if you don't like the sport! Attending an NBA game at Madison Square Garden is one of the most fascinating experiences you have to have in the United States. And if you travel to New York in the winter, you'll be sure to see a game in the middle of the season- you'll have a blast! It's a true spectacle of music, dancing, partying and above all, sports, of course.
Nicknamed "The World's Most Famous Coliseum", Madison Square Garden is located in the heart of Midtown Manhattan. It is a colossal indoor arena known for being the home of the New York Knicks (NBA) and the New York Rangers (NHL). Do you want to experience the magic of the mythical MSG? Here's how to get tickets in a jiffy.
How to buy NBA tickets?
If you have already planned your winter getaway to New York and want to include an NBA game in your agenda, my advice is to buy tickets online from home before crossing the pond. Demand is extremely high so it is normal that tickets will sell out quickly. The key is to buy them as soon as possible to get the best seat at the cheapest price.
The American ticket market is dynamic, which means that prices go up as the date of the game approaches and the supply decreases, just like flights for example. If you wait too long you run the risk of running out of tickets or that there will be few tickets at a high price and in sectors with less spectacular visibility. In addition, when you book online you can choose your own seat in the stadium.
Where to buy NBA tickets? 4 Pennsylvania Plaza (Seventh Avenue between W. 31st and W. 33rd Streets)
How to get there? You can go by subway getting off at 34th St. Penn Station (lines A, B, C, 1, 2 and 3) and by bus on lines M4, M10, M16, M34 and Q32.
2. Free admission to MoMA on Fridays
If your travel plan did not include seeing a museum but the weather during the winter is against you, I recommend that you do not get cold and take advantage of MoMA's Free Friday Nights to visit the most important art gallery in the world of modern and contemporary art for free.
If you are trying to adjust your budget during your trip, this is a good opportunity to take a tour of this museum without costing you a dollar. You will also get to know a space of cultural identity and great prestige for Americans.
Where to get tickets for MoMA's Free Friday Nights?
The line for these free tickets is located at the 54th Street entrance of the museum. With it you can access all of MoMA's exhibitions and galleries.
During Free Friday Nights, MoMA is open from 4PM to 8PM. Since the time for this visit is limited, my advice is to focus on the fourth and fifth floors, which is where the works of the most famous artists such as Pollock, Cézanne, Warhol or Matisse are located.
If you are enthusiastic about art, perhaps these four hours of free access are not enough to calmly see its vast collection of works of art signed by artists such as Pablo Picasso, Salvador Dali, Vincent Van Gogh and Andy Warhol, among many others.
In case you are still hungry for more modern art and want to recreate yourself in its halls for hours and hours, I recommend you to get a skip-the-line ticket to MoMA where you will get immediate access to the museum and its more than one hundred thousand pieces on painting, prints, sculpture, photography, drawings, design, film, architecture and prints.
In addition, with this skip-the-line ticket to MoMA you will also be able to enter MoMA PS1, the contemporary art center in Long Island City, for 14 days following your visit to the Manhattan location.
Where? MoMA is located on 53rd Street between 5th and 6th Avenue.
When is it open? Open from 10:30 AM to 5:30 PM daily. Fridays from 10:30 AM to 8 PM with Free Friday Nights from 4 PM to 8 PM.
To learn more: check out this article on how to visit the MoMA.
Isabel's Traveller Tip

In New York there are many different museums but MoMA is one of the few that really connects with the public because its tour is very pleasant and enjoyable even for children.
3. Climb the One World Observatory
If you are not afraid of heights and you want to see the city from a bird's eye view, you should climb the One World Observatory, the highest observation deck in New York with a height of 386.5 meters.
Unlike other viewpoints such as the Top of the Rock or The Edge, this observatory does not have an outdoor area from which to contemplate the city, which in the middle of the freezing winter in New York is an advantage because you will enjoy the beautiful views of the Empire State, Brooklyn Bridge or the Statue of Liberty without the freezing wind freezing your eyelashes and you leave there freezing cold.
One World Observatory is located on the top floors of the One World Trade Center skyscraper, specifically from 100 to 102. The modern design of this Ground Zero observation deck allows you to see up to 80 kilometers of the city in all directions and from here you will have 360º views to enjoy New York in all its splendor.
If you like modern architecture and skyscrapers like me, you will love this experience. It starts from the very moment you enter the elevator, which is covered with LED panels that enliven the ascent to the observation deck with the development of New York from its origins, in just 47 seconds!
Where is it located? Located at 285 Fulton Street.
Hours: One World Observatory is open daily from 9AM to 8PM.
4. Ice skating in New York
What to do outdoors when the temperatures drop in the Big Apple?Go ice skating, of course! Whether as a couple, with friends or as a family, it's an unforgettable experience to do in New York in winter and an ideal setting to take fun pictures.Which ice rinks do I recommend you visit in New York?
Wollman Rink in Central Park
This ice rink located in the southeast corner of Central Park is the most famous and cinematic of all the rinks in the city. In my opinion, the sensation of skating at Wollman Rink is unmatched as we have the beautiful winter landscape of the park on one side and the views of the mythical skyscrapers in the background. In fact, sliding down the ice will make you feel like you are part of one of the many Christmas movies that have been filmed here.
Where? You'll find it just a two-minute walk from the entrance to Central Park South, between 59th Street and Sixth Avenue.
When. Normally open from late November through March or even April.
Price? Depending on the day of the week, between $12 and $19. Skate rental is paid separately if you need them.
The Rink at Bryant Park
Don't let the cold weather get you down! Head to the Bank of America Winter Village for ice skating at The Rink, a large, free ice skating rink open from late October through early January, which also hosts an iconic holiday market filled with decorative items, souvenirs and culinary delights. There's also an iconic holiday market filled with decorative items, souvenirs and culinary delights. How can you resist the hot chocolate from Ice Bites? Yum!
In addition, if you travel to New York in winter you will have the opportunity to attend the Bryant Park Christmas tree lighting ceremony and the acrobatic show of skaters to the rhythm of the music. Afterwards, The Rink opens to the public while Lincoln Center musicians play live jazz.
Where is it located? It is located on 42nd Street, between Fifth and Sixth Avenues.
When. The Rink is open from 8AM to 10PM from late October to early March. / The flea market is open Monday through Friday from 11AM to 8PM and weekends from 10AM to 8PM.
Price?: Admission is free (you will have to pay to rent skates, if you don't bring them yourself).
Rockefeller Rink at Rockefeller Plaza
When winter arrives in New York, one of the most traditional plans is to go ice skating at Rockefeller Rink in Rockefeller Plaza.
In New York there are many options and this may be one of the most typical but because of the long lines that form to access it and its small size, it is not one of my favorites. However if you want to live this experience so typical of winter in New York during Christmas, in a track as emblematic as Rockefeller Rink you can check all the information on the Rockefeller Center page.
Where: At Rockefeller Plaza, 45 Rockefeller Plaza. At 45 Rockefeller Plaza.
When. Normally open from the end of November to March.
Price? Depending on the season, between $25 and $35. Skate rental, if you need it, is extra.
To know more: Rockefeller Center has a lot to offer to the visitor. Read this article about Top of the Rock
5. Marvel at New York's Christmas window displays
New York is one of the dream shopping destinations for many travelers -it's the shopping mecca of the United States! If throughout the year the city is a real magnet for fashion lovers for the bargains to be found, at Christmas the shopping experience is elevated to another level because the stores decorate their windows with beautiful Christmas motifs to attract all eyes. And what a success!
For several decades, New York department stores have been pulling out all the stops to attract our attention and surprise us with their creative proposals. For example, during the Christmas season at Macy's, you can visit the North Pole without leaving the mall. At this time of the year they recreate a winter village known as Santaland, where the kids can meet and chat with Santa Claus himself. Although this activity is free, reservations are required.
To tell the truth, all stores in New York in winter are decorated to live the Christmas spirit so if you love shopping I recommend you to prepare a route through the windows of the city with special stops at Bloomingdale's, Tiffany & Co, Lord & Taylor, Saks Fith Ave, Bergdorf Goodman and Barneys or Macy's, among others. You will be amazed! You can read more here: what to do in New York at Christmas.
6. Welcome the Chinese New Year in Chinatown
A very special time to visit Chinatown is precisely in winter when the Chinese New Year, the most important holiday in Chinese culture, is celebrated. Although it usually takes place in February, the date depends on the lunar calendar.
I have been lucky enough to see it on one occasion and it is very worthwhile because it is celebrated in style. Every year the streets of Chinatown are decorated with lanterns to welcome a different animal and thousands of people participate in an impressive parade of floats, dragons, dances and music.
It'sa fun, all-ages event attended by New Yorkers and tourists alike. So if you're going to see the New Year's Day parade, I recommend finding a cross street location where you can soak up the atmosphere and get a good view at the same time.
Where to eat?
When it's over, don't hesitate and go to a restaurant or food stall to enjoy the best Asian cuisine in the heart of Chinatown. If you are a foodie who loves to eat, you will have a great time in this neighborhood.
Isabel's Traveller Tip

If you go to the Chinese New Year parade you will have a great time outdoors. Wrap up warm and bring an electric hand warmer or a thermos with coffee to better withstand the low temperatures. It gave me life!
7. Celebrate Valentine's Day in New York
February is one of the coldest months in New York, but having the opportunity to experience Valentine's Day in a different and unforgettable way is reason enough to travel to the city with your sweetheart - there are plenty of romantic plans to do!
One of them has been organized for several years in Times Square under the slogan "Love in Times Square", where several couples in love swear eternal love either by getting engaged, getting married or renewing their vows withNew York as a witness. Can you imagine being one of them?
To be among the lucky couples on February 14, you must register online in advance. A sweepstakes will determine who will live a very original Valentine's Day, an unforgettable anecdote to tell the grandchildren!
Tribute to love in Times Square
But this is not the only way to celebrate Valentine's Day in Times Square, because every year an interactive sculpture with a love theme is installed so that people can take some romantic photos of their trip to New York with lots of hearts in the background.
8. Feel the magic of Broadway
During a stay in New York, whatever the time of year, a must-do is to attend a musical on Broadway, the famous boulevard lined with theaters that runs through the center of Manhattan including Times Square.
Here you can see prestigious shows such as "The Lion King", "Chicago", "Les Miserables", "The Phantom of the Opera", "Wicked", "Aladdin" or "Frozen", whose theme is very appropriate if you travel in winter to New York, right? In this season the snow-white city almost looks like Arendelle, the home of Elsa and Anna.
What if I don't speak English?
Some people are hesitant to go to the theater in the United States because they do not speak English but this is not a problem on Broadway because the storyline is full of musical numbers that will help you follow the plot.
In any case, if you continue to doubt about it, my advice is to opt for a musical that has been made into a movie such as "Chicago", "The Lion King", "Frozen" or "Aladdin". If you review the movie before traveling, it will be much easier to follow because they usually have the same script.
Besides, I promise you that their majestic staging and musical numbers will leave you speechless. You will love going to Broadway!
How to buy Broadway tickets?
If you want to enjoy the experience of going to a Broadway musical, the best thing to do is to buy your tickets online because the theaters fill up and the box offices immediately hang the Sold Out sign at Christmas.
From experience I advise you to buy tickets online as far in advance as possible to ensure the best seats on the date you want and at a better price than at the box office, where you will also save having to wait in endless lines.
If you wait to buy them when you are in New York you run the risk of running out of tickets for the day you would like to go to the show because of the high demand. Don't hesitate, buying your tickets online is easy, safe and fast.
9. Toast to your trip to New York from a rooftop
You go to New York to have fun and after a long day of sightseeing there is nothing better than going up to one of the wonderful rooftops of the city to enjoy a drink and the sunset in the best company.
One of the most glamorous rooftops in New York is 230 Fifth located on Fifth Avenue. It is a spectacular place with the typical modern atmosphere of the Big Apple. Outdoors it has the largest rooftop garden in the city but inside there is a large glassed-in lounge ideal for when temperatures are low.
The views of the Empire State illuminated are magnificent from here so if you do not want to give up being on the terrace even in winter, my advice is to book a place in one of their igloos to be warmer and not miss the views of Manhattan. In addition, at night at 230 Fifth they project a beautiful light show that enlivens the magic of the moment and make available to customers comfortable robes to keep warm.
Where is it located? 230 Fifth Avenue, New York, NY 10001
Hours: Monday through Thursday from 2 PM to 2 AM; Friday from 4 PM to 4 AM; Saturday and Sunday from 10 AM to 2 AM.
Want to know more about rooftops in the Big Apple? Take a look at the post of the 10 best rooftops in New York.
10. Live St. Patrick's Day like an Irishman!
Don't forget to include a green garment in your suitcase if you are going to be in New York on March 17 because on that day St. Patrick's Day is celebrated in style. In the city the Irish community is very large and the St. Patrick's Day parade is one of the oldest traditions in the United States since 1762.
Although it is not a holiday as such, New York is a big party during St. Patrick's Day. People take to the streets to enjoy a big parade down Fifth Avenue with police, firefighters and marching bands from 11 AM until it ends around 5 PM.
Where to go out on St. Patrick's Day?
Hours after the St. Patrick's Day parade, the party continues in the bars of New York, where people come to have a good beer in honor of the patron saint of Ireland and to have a good time.
I suggest McSorley's Old Ale House, one of the oldest Irish pubs in the city dating back to 1854. Also Peter McManus Café, another Irish pub with a lot of history that has appeared in series such as "Law and Order" or "Seinfeld". And remember to wear something green!
What else to see on this day?
On St. Patrick's Day you can also take the opportunity to visit the Empire State Building illuminated with the color of the patron saint and St. Patrick's Cathedral, located in front of Rockefeller Center on Fifth Avenue. Admission to the temple is free!
What is the weather like in New York in winter?
During this season, temperatures in New York are usually very low and it gets really cold. So much so that it can even snow in the early months of the year and the thermometer drops below freezing.
Winter occurs between December 21 and March 21. Average temperatures range between 2ºC and -6ºC, although the coldest days can reach -10ºC. Temperatures begin to rise in March but remain low: the minimum is around 2ºC and the maximum 10ºC.
Many people are afraid to travel to New York in winter because it is too cold outside for most of the interesting activities. However, I think it is a great time to enjoy a different side of the city than what we are used to.
Youjust have to adapt to the circumstances of the trip to live an unforgettable adventure. For example, seeing New York covered by snow is a magical experience and since it gets dark earlier you will enjoy the Big Apple illuminated for much longer. The city at night is spectacular! We should always try to see the glass as half full.
Advantages of traveling to New York in winter
If you want to travel to New York with all your might but I still haven't convinced you to do it in winter let me tell you some of the advantages of visiting the Big Apple in this season of the year.
After Christmas and until Easter is the time of the year when there is less tourism in the Big Apple. That is, from mid-January to early March. This does not mean that the city is empty during these months, but there are fewer people in the queues of the main tourist attractions. Which is a very good thing.
In addition, being low season New York in winter becomes easier to find cheap flights to New York and also accommodation.
And not only that! Many tourist attractions, monuments and museums lower their prices to get more visitors during the winter. Even most New York tourist cards launch special offers that you can take advantage of during the rest of the year.
If you travel to New York in winter, from late January to early February, don't miss NYC Restaurant Week, an event that allows you to eat in New York restaurants at a lower price than usual. A great opportunity to get to know new places and sink your teeth into the varied New York cuisine.
What to wear to New York in winter?
Before packing your luggage for your winter trip to New York I recommend you to check the weather forecast for the days that coincide with your stay. That way you can pack the clothes you will really need and wear.
Winter in New York is harsh, with low temperatures and snowfall, it is very cold so you have to wrap up warm! However, on the street it is inversely proportional to how warm it is inside its museums, restaurants and tourist attractions.
So how do you choose what to wear in winter in New York? The key is to dress in layers, that is, like an onion. This way, you can easily put on and take off clothes depending on the temperature of the place you are in.
What to wear in New York in winter
In any case, the essential attire for walking the icy streets of New York in winter I suggest is formed by:
Wool hat.
Thermal wool or fleece scarf.
Thermal and tactile gloves, so you can use your cell phone without taking them off and your hands won't freeze.
Wool sweater, sweatshirt or polar fleece.
T-shirt, in case you go somewhere where it is hot and you want to take off your sweater.
Undershirt and if you are very cold, choose a thermal type.
Thick pants or leggings.
Thermal socks or chubby socks to keep your feet warm.
A coat that protects you from the cold, like an anorak or a down jacket. If possible, it should be long so that it also covers the back area. If the coat is waterproof and hooded better, in case of rain or snow you will be better protected.
Boots that are comfortable for walking and warm. Choose boots with embossed soles because in winter it is common to walk on melted snow and ice debris.
Gadgets to combat New York's winter cold
In addition to clothing, there are certain gadgets that you can include in your luggage to resist the low temperatures during your stay in the city.
Hand warmer: Very useful when you're walking the streets of New York and it's freezing cold. It is similar to a power bank that uses all its energy to provide heat wherever you are. They can also be used to charge your cell phone, essential for not running out of battery when you're doing one of the best tours in New York.
Ear muffs with headphones: Another gadget to combat the cold are ear muffs. Not only does it keep your ears warm, but it also allows you to listen to music with headphones while you go for a walk.
Thermos: A trick to warm up when it is very cold is to drink a hot coffee or tea. In New York it is very common to ask a coffee shop to serve you a hot drink in your own thermos to take care of the environment. Besides, by carrying it in your hands, you will keep them warm for a long time.