10 Things to Do in New York in August
In August, there are hundreds of things to do in New York: from going to a park to enjoy great music to attending sporting events, check out all the options!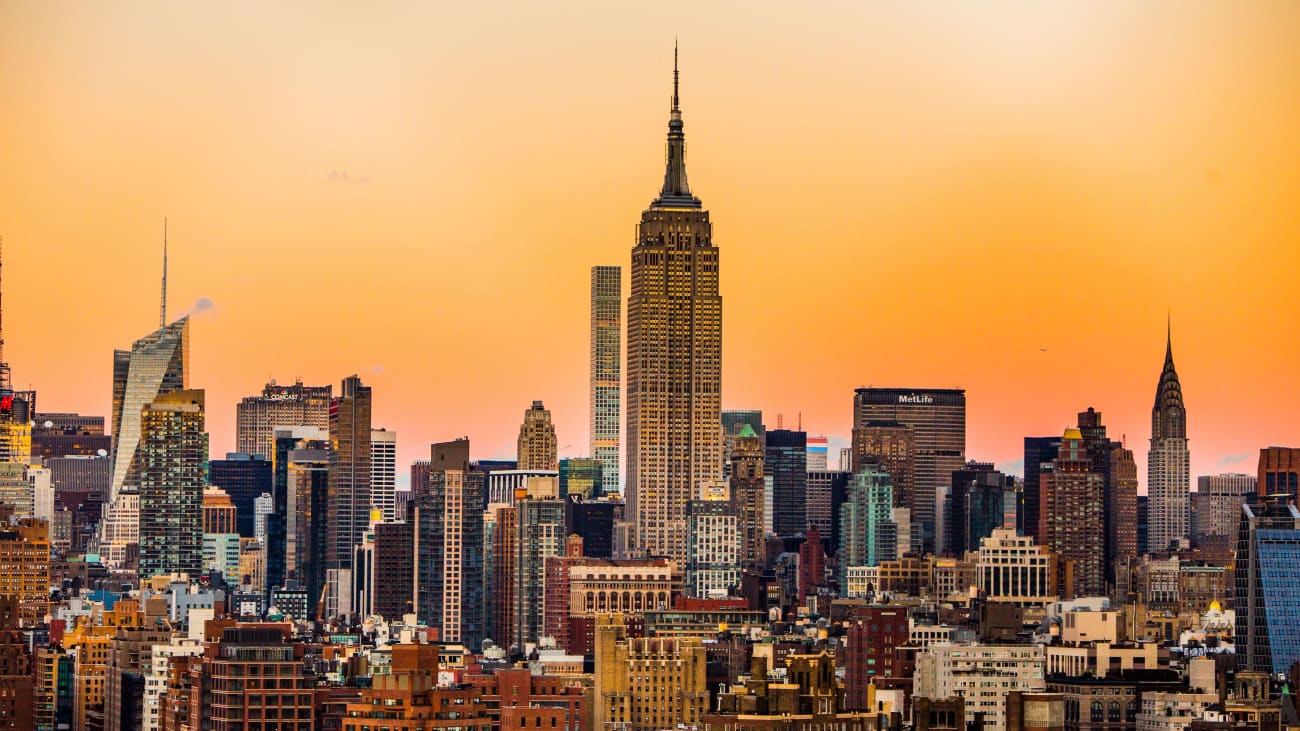 New York in August presents a great opportunity to do things outdoors. During that month, temperatures rise and everyone wants to cool off while having a good time. That's why many of the events take place in parks or any other outdoor location. In this way, people enjoy the surrounding environment to the fullest and get to know the most natural side of the city.
For the above, and many other reasons, I dedicate this article to inform you of all the activities it is possible to go to in The Big Apple during the month of August.
1. Attend an exciting game of the baseball season
August is one of the months when baseball games are held for teams from all over the United States. Many of the games are in New York, you can go see the Mets or the Yankees, which one is your favorite team? Here are both options:
Buy your ticket to see theMets.
Baseball season games are just like you see them on TV, so they're full of excitement, screaming fans and more. At them you can enjoy fast food, this is part of the experience. If you are a fan of this sport, this option is ideal for you.
2. Get to know one of the most famous neighborhoods in New York during Harlem Week
During one of the first two weeks of August, the citizens of New York's Harlem neighborhood organize a big event. The following activities take place:
Street fairs.
Performances.
Activities in which they show their way of living and having fun.
Harlem Week is a celebration of cultural diversity and other characteristics of the iconic neighborhood. If you visit New York in August, close to the dates when this event takes place, attending is a great choice.
An event for kids too
In case you are traveling to New York with children, this is a good place to go with them, there are special events planned for children. What I recommend is that you go in cool clothes and enjoy the walking tour of the Harlem neighborhood. Even if you visit the city during another week in August, you have the opportunity to tour Harlem.
To learn more about Harlem Week and the dates you can attend, visit their website. You can also book a tour of Harlem and soak up the neighborhood beforehand.
3. Have a blast at the Jazz Age Lawn Party
The Jazz Age Lawn Party, what is it all about and what can you expect? This party is planned for a few days that fall between the first two weeks of August, it is one of the most anticipated events in The Big Apple, why?
It is inspired by the 1920's, so it is centered around the time when there was Prohibition. Even though you have the opportunity to drink alcohol, since it is legal, the experience you live at the Jazz Age Lawn Party is unique.
Don't think that the only thing you do at this festival is drink, those who organize it make sure there are activities for everyone. The party also features performances and you'll even see many people dressed in 1920's American costumes.
How to get to the Jazz Age Lawn Party
The event is held on Governors Island, so you'll have to take the ferry to disembark on the island and start having fun. As with the Subway, I have prepared a guide for the New York ferry.
The party has a website where the dates and planned activities are announced and if you are left wanting more after attending this event my advice is to check out this article on the best places to hear music in Harlem.
4. Get acquainted with Asian culture at the Hong Kong Dragon Boat Festival
The Hong Kong Dragon Boat Festival kicks off in mid-August and is one of the activities that many people attend in New York in August. Admission is free and the aim is to raise awareness of Hong Kong culture. Boat competitions are the main attraction of the festival.
In addition to the sporting event, the following performancesare held at the annual event:
Dance.
Music.
Martial arts.
The annual event takes place in Flushing - Meadows Corona Park, which is located in northern Queens. When you attend you will find food stalls selling delicious Asian dishes. And if this experience appeals to you, don't hesitate to visit this article on where to eat in Chinatown, an ideal plan after taking a Chinatown tour.
5. Visit the beaches of Coney Island and Boardwalk
The best season to go to New York's beaches is summer, in August the weather is perfect to enjoy the sun, water and sand. Coney Island and Boardwalk have more than 5 kilometers of beaches.
When you want to get away from the heat of the city, going to one of these beaches is the best option. There are boardwalks, amusement rides and much more. To get to these beaches you can take a cab or you can book a Coney Island tour from Manhattan.
6. Participate in one of the activities at Summer on the Hudson
Throughout the summer people have the opportunity to attend Summer on the Hudson. This is a festival that features activities and performances of all kinds, some of which are:
Concerts.
Dance.
Dance parties with DJ music.
Movies under the stars.
Children's shows.
Pilates.
Karaoke.
Yoga.
Many more.
The location of the festival is Riverside Park, which runs from 59th Street to 153rd Street. Access is free and you do not need to register to attend the events, the only exception to this is if otherwise indicated. Find more information on the Summer on the Hudson website.
7. Famous free plays at Shakespeare in the Park
Shakespeare in the Park is one of the most anticipated events in the Big Apple during the summer, which obviously includes August. It features plays from well-known theaters, but what's so special about it? The tickets are free and the plays are staged in a wonderful location.
How much do you love New York? I'm sure if you're looking forward to your trip to the city, you've done a lot of research on the best venues. Have you already seen pictures of the Delacorte Theater or had the opportunity to attend? In case you have, I have no hesitation in saying that you were impressed.
It is at the Delacorte Theater that Shakespeare in the Park is held outdoors. Tickets to the plays are given out at the box office the same day you see them.
Shakespeare in the Park Schedule
Tickets to the plays are very popular in August, so the lines are long. So if you want to get one or more, keep in mind thatthe box office opens at 12 noon, but the lines start earlier.
If you want to make sure you get your free ticket, you should go at 9 or 10 am. On the Central Park website you can find the schedule of the plays and the theme of the plays.
And if you like these shows, get ready to be blown away by the best Broadway musicals during your visit to New York. Don't hesitate to book your ticket for a Broadway musical, it's a unique experience.
8. Tour New York without cars around in NYC Summer Streets
Can you imagine having the streets of The Big Apple free of cars, vans, cabs or public transportation? This is possible thanks to NYC Summer Streets, this original activity closes the streets to vehicles on three Saturdays in August and encourages New Yorkers and tourists to make the most of them. It is an ideal time to book a tour of New York.
One of the things that most characterizes New York is the traffic, whenever we see movies set in the city, the streets are full of cars. It is normal to assume that the level of traffic increases when there are more tourists in the city and that is completely true. Summer Streets has the following benefits:
It allows visitors to enjoy the city to the fullest.
The environment is freed for a few hours from the pollution caused by the large number of vehicles in the city.
The streets that are free of vehicles are those between the Brooklyn Bridge and Central Park, more than 11 kilometers where you won't find any cars walking! It's definitely worth participating if you have the opportunity.
NYC Summer Streets Schedule
Traffic stops from 7 a.m. to 1 p.m., what do you do during that time? Citizens take the opportunity to play in the streets and even eat, anyone can ride a bike, walk and take advantage of all the free space.
A trick! During the days of this activity it will be even more comfortable to take a walking tour of New York, take advantage of it!
9. Attend open-air concerts with SummerStage
During the summer in New York City there are many free concerts, one of them is SummerStage. It starts in August and ends in early September, so there are a lot of shows that you have the opportunity to attend.
Although the main stage is in Central Park, exactly at Rumsey Playfield, there are performances in other New York parks. In addition to bands or soloists, there are dancers, actors for plays and even poets. It all makes this a great show available to everyone in New York.
SummerStage Location
As I mentioned before, this one takes place at Rumsey Playfield, how can you get there? The area is located just off 72nd Street, on the famous Fifth Avenue. Surely before attending you want to know who will be performing, get this information on the SummerStage website.
In case you want to do other things in this park while the show starts, in another article I tell you what to see and do in Central Park. My favorite plan is to rent a bike in Central Park and ride around the park at my own pace while enjoying nature.
10. Quality entertainment at Lincoln Center at Home: Restart Stages
During the summer, specifically the first two weeks of August, Lincoln Center hosts free performances. They are centered around music, dance and theater. Everything is done outdoors and the facility takes care to create a welcoming and safe environment for each attendee.
The performances are put on by various New York organizations, such as community arts venues and more. How can you purchase tickets? These are given out at the lottery, once you have them you head to Lincoln Center and find a perfect spot to see each performance.
How and when to get to Restart Stages at Lincoln Center
On the ticket you'll see when the show is at Lincoln Center, want to make sure you find a good spot? In that case, I recommend you arrive a little early, because access to the area where the event takes place is on a first come, first served basis.
Lincoln Center is located between Amsterdam and Columbus Avenues, if you are taking the subway around the city, how to get there? Ideally, take Line 1 to 66th Street Station. In case you still don't know how to use this type of transportation, here is a guide to the New York Subway.
To learn more about this event, I encourage you to visit the Lincoln Center website.
What is the temperature in New York during August?
August days are some of the hottest days of the New York summer. The minimum is 19°C (can occur in the evenings) and the maximum is 28°C, on very few occasions it has exceeded 30°C. The weather this month has the following characteristics:
It is hot and humid.
There are 7 to 10 rains.
On average, only 3 rains are significant.
The weather is hot most of the time, hence the citizens of La Gran Manzana prefer outdoor activities.
Are there many tourists in New York City in August?
All the things to see and things to do in New York make it a city with many visitors throughout the year. One of the biggest tourist influxes is experienced in the month of August and, in fact, is that for many, summer is the best time to visit New York, so if you go during these dates, you will see a lot of tourists.
However, don't worry about the hotels or restaurants, as places like these are used to serving large numbers of people. And although many citizens of the city choose to travel elsewhere in August, you won't get the feeling that the streets are empty. So you'll still have the opportunity to see the life of a New Yorker.
Do prices in New York go up in August?
It is true that in summer prices tend to rise in the city due to the influx of tourists. However, compared to July, August prices are lower, and as the end of the month approaches, prices will go down more and more.
Therefore, it will be possible to find good places to stay, restaurants, tickets and tours with reasonable prices.
What to bring on your trip to New York in August
Packing is an important time, you need to make sure you bring what you need and what's right for you. You don't want to bring clothes or items that you later discover you don't need. To avoid that, here are the most important things to pack for a trip to New York in August:
Comfortable, lightweight clothing and footwear.
Sun protection: sunglasses, hat and, most importantly, sunscreen.
Water bottle to carry water wherever you go.
Umbrella to protect you from the sun or, in case it rains.
Light jacket, due to the heat, inside some places, air conditioners have low temperatures.
What to do if it rains in New York or it's hotter than you can handle
The plans I'm about to tell you about are ideal if it's too hot, the sun is too intense or it rains during your trip to The Big Apple:
Friends The Experience: New York exhibition where you see iconic places of the "Friends" series, from Monica and Rachel's apartment to Central Perk.
Visit some of New York's best museums.
See the New York Public Library.
Spend hours in one of the coffee shops.
Buy tickets to a Broadway musical.