9 Best Places for Jazz Music in Harlem
If you are passionate about jazz music you have to go to Harlem to enjoy the best sound of the genre, find out in which nightclubs you can enjoy the best live show!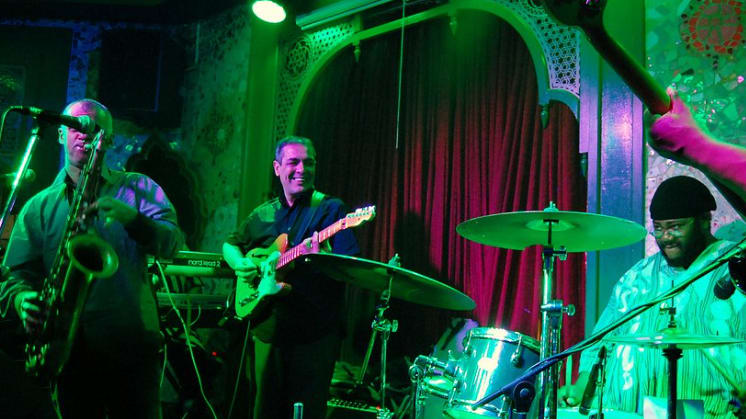 With permission of New Orleans, New York is the best place to go to enjoy an unforgettable live jazz show, especially in the neighborhood of Harlem. If during your stay in the Big Apple you want to live this experience, here are several clubs and halls where every night the magic happens.
Get your tickets for Jazz Series concerts in Harlem without fail if you want to go on your own to a live show. Or if you want an expert to tell you all about jazz and take you around Harlem like a local, you can join a tour of jazz venues. Ready for an unforgettable experience?
1. Bill's Place
If you want to spend a fun evening in Harlem listening to authentic jazz, you won't find a more authentic place than Bill's Place. This is not a trendy bar where you can listen to music while you have a few drinks, but a simple lounge where small groups congregate to hear the founder Bill Saxton play.
The curious thing about Bill's Place is the size of the room, so tiny that all the seats are in the front row facing the stage, making this an exclusive and almost private experience.
Bill's Place is located in the area known as Swing Street in the Prohibition era because of the speakeasies and jazz clubs that opened here at night. Interestingly, alcohol is not currently allowed in the club but you can bring your own drinks.
Information of interest
Address: 148 W.133rd St.
Open: Fridays and Saturdays.
2. Jazzmobile
Jazzmobile is the first non-profit cultural and artistic organization created to promote and preserve jazz. They offer high quality jazz performances and have already reached more than 4,000,000 people who visit or live in New York.
Jazzmobile organizes performances during the summer in concert halls, in a park or on the street. On this page of their website you can see their calendar of performances. Check it out if you are interested, to include the ones that interest you the most in your travel itinerary.
Useful information
Price: the performances are completely free, as it is a non-profit organization.
3. Ginny's Supper Club
Ginny's Supper Club is the modern reincarnation of those glamorous and clandestine locals of the neighborhood that in the 20s skipped the prohibitions of Prohibition to give a joy at night to their customers.
Its owner is chef Marcus Samuelsson (the owner of the famous Red Rooster Harlem restaurant mentioned in the post Where to eat in Harlem) who came up with the idea of opening a second restaurant in the basement of the Red Rooster Harlem with a secret entrance for dinners with live music.
And what a success! At Ginny's Supper Club you will enjoy a casual atmosphere with great live music, the best Southern food and delicious Harlem-inspired creative cocktails such as the "Harlem Mule" or the "Brownstoner".
Useful Information
Address: 310 Malcolm X Blvd, New York, NY 10027
Open: Thursdays, Fridays, Saturdays and Sundays.
4. Marjorie Eliot's Parlor
There will be no other place in Harlem where you can have a more intimate experience listening to jazz than in the living room of pianist Marjorie Eliot' s Sugar Hill apartment.
For more than 10 years since she lost her son, every Sunday at 3:30 PM the lovely Ms. Eliot delights audiences with a free, informal concert accompanied by talented musicians who mingle with the audience in her living room.
These concerts are exciting because more than a show, they are more like gatherings of friends who come together to enjoy music and have a good time. During the breaks, the musician serves some snacks and even stops with people to chat for a while before resuming the performance. Remember to bring some loose change for the performers' tips.
Information of interest
Address: 555 Edgecombe Ave, Apt. 3F at 160th St, Washington Heights.
Open: Sundays.
5. Harlem Nights
Located in the heart of Harlem, Harlem Nights is a homey bar that offers all visitors a relaxed atmosphere, both indoors, outdoors and on the summer terrace.
On Mondays they host open mic sessions where you can sometimes find jazz bands playing and delighting diners who can enjoy an extensive menu.
Information of interest
Location: 2361 Adam Clayton Powell Jr Blvd, New York City
Hours: Monday through Friday from 5 p.m. to 2 a.m., and weekends from 5 p.m. to 4 a.m.
6. St. Patrick's Place
Patrick's Place is one of those places you go to when you want to feed your senses, specifically the senses of hearing and taste, as it is a fabulous Jamaican food restaurant that on Friday and Saturday nights offers live jazz shows for those who are in the mood for a good time in Harlem.
If your two passions are music and food, don't hesitate to visit Patrick's Place and let yourself be carried away by its relaxed atmosphere listening to the best sounds of jazz and, of course, the best Caribbean food. You'll feel right at home!
Interesting information
Address: 2835 Frederick Douglass Blvd (8th Ave and 151st )
Open: Fridays and Saturdays.
7. Shrine
If you'd like to hear an independent jazz sound from new talents in a creative atmosphere, the Shrine in Harlem is the best place to go.
Founded in 2007 by music lovers in the artistic epicenter of New York, Shrine will surprise you with the most modern and innovative musical and artistic proposals of the present.
Shrine's programming includes several genres besides jazz, such as indie-rock, R & B, Gospel (did you know that you can attend a Gospel mass in Harlem as an audience?), funk, etc. So if what interests you most is jazz, before going to the room I recommend you take a look at their calendar.
Interesting information
Address: 2271 Adam Clayton Powell Jr Blvd, New York, NY 10030,
Open: Thursday, Friday, Saturday, Sunday and Monday.
8. Silvana
Although it is not a jazz club per se, the Silvana coffeehouse has that speakeasy atmosphere in whose basement you can attend live music shows where you can let yourself be carried away by the jazz sound and other very interesting musical proposals such as reggae, funk, house, hip-hop or African music.
The room has cabaret-style tables near the stage where you can sit and listen to the concert while sipping a delicious cocktail or a glass of Italian or French wine. Complete the experience by ordering a dish from their menu inspired by Middle Eastern flavors such as hummus, falafel or shawarma.
East and West mix in the basement of Silvana with the best jazz music in the background. To find out for sure when they play jazz music at the place, I recommend you take a look at their schedule before you go.
Information of interest
Address: 300 W. 116th Street (SW corner of Frederick Douglass Blvd/8th Ave)
Open: Thursday, Friday, Saturday, Sunday.
9. Smoke
The Smoke is one of those New York Jazz & Supper Clubs where you go looking for good music and at the end you also stay for the tasty food. A double joy!
The place is famous for having a program of world-renowned jazz artists that competes with the excellent American bistro-style food prepared in their kitchens by the prestigious chef Patricia Williams.
A highly recommended place to enjoy an unforgettable evening in New York to the sound of the best music of the genre.
Information of interest
Address: 2751 Broadway (between 105th / 106th St.)
Open: Tuesday to Sunday.