Wicked Musical in Broadway NYC: everything you need to know about the show
If one of your plans in New York is to go to Broadway, one of the best musicals you can see is Wicked. A fascinating story that will take you to the land of the wizard of Oz in its origins. I'll tell you everything you need to know so you don't miss this wonderful and popular musical.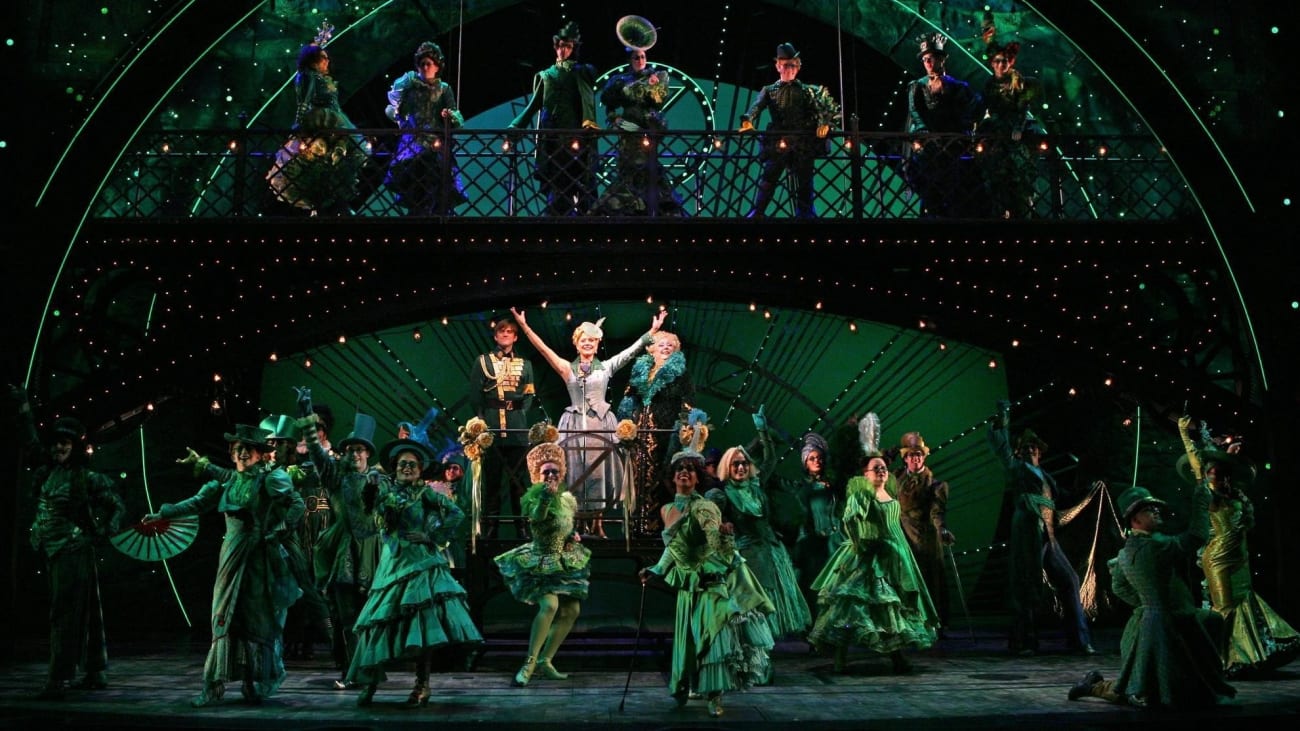 Premiered in 2003, Wicked is already considered a legend and one of the best musicals in history and, of course, on Broadway. It is based on Gregory Maguire's novel "Wicked: Memoirs of a Witch" and is the prequel to the famous Wizard of Oz story.
This musical is a complete work of art. Not only is the story engaging, but the songs are gripping, the costumes are a marvel, and the set design is wordless - Wicked will cast a spell on you as soon as the curtain opens!
How to get tickets to see Wicked on Broadway
The best (and almost the only) way to get tickets to see Wicked is online and in advance. If you wait to buy them at the box office, I'll be honest, it's difficult to get a seat and much less, from a good location.
Wicked, is one of the most watched musicals in the Big Apple, with box office records. And despite the fact that it is performed 8 times a week and in the largest theater on Broadway, getting tickets is not something you can leave to improvisation. You only need to take a walk around the New York subway to see it full of posters advertising Wicked as one of the main musicals that can be seen in the Big Apple and that after years in play.
If you are already planning what to see and do in New York and do not want to miss the opportunity to see this musical, I recommend you to secure your advance tickets online.
How much do tickets for Wicked on Broadway cost?
If you want to buy tickets to see Wicked, the cheapest tickets are around 100 € approximately and from there on. Depending on the location of course, you can get to pay the most expensive between about 150 € to 230 €. In any case, I want you to keep in mind that these are the usual prices you will find for any Broadway musical, but the experience is worth it.
Estimated prices according to location
To keep you in mind, the Gershwin Theatre is divided into the following zones and approximate price ranges:
Orchestra: this is like the stalls, the area where the best seats are (including premium seats) | 130 € to 250 €.
Orchestra Stadium: 110 € to 130 €.
Front Mezzanine: 130 € to 150 €.
Middle Mezzanine | 100 € to 120 €
Rear Mezzanine | 100 € to 120 €
Interesting information:
There are no reduced prices for minors or seniors. There are tickets for students with a price around 60 €, but they can only be purchased at the box office, presenting the relevant documentation and will be subject to availability and are not valid for any performance.
In relation to other popular Broadway musicals such as Hamilton or The Lion King, Wicked has quite reasonable prices. So if you want to treat yourself and enjoy Broadway at its best, Wicked is a good option for you to choose a good location.
Ceci's Traveller Tip

The Gershwin Theatre is one of the largest on Broadway. So if you don't want to spend a lot on front row tickets, I suggest you look in the center Mezzanine section, so you'll have assured visibility of the show, at an affordable price.
What to expect at Wicked on Broadway
Wicked is a musical that appeals to all audiences. It tells the story of two apprentice witches, very different from each other. Elphaba, green-skinned, temperamental and intelligent, but marginalized and looking for her place in the world. And Glinda, a striking blonde, charismatic and above all, very popular.
The story focuses on the differences that condition them so much and at the same time, lead them to a beautiful and fraternal friendship. However, a series of events will turn one into the Wicked Witch of the West (Elphaba) and the other into the Good Witch (Glinda).
It is true that the story is gripping, but the truth is that it would be nothing without the staging that recreates the spectacular world of Oz and the beautifully designed and crafted costumes. Well, well...and what about the music and the voices of the cast, which will give you goose bumps and leave you singing the songs for a long time afterwards.
Wicked is a musical that lives up to its theme, as it is pure magic. And that led it to win three Tony Awards, seven Drama Desk Awards and no less than a Grammy for Best Musical Theatre Album, for its album produced in 2003.
Still wondering what to expect from Wicked - pure excitement!
Wicked on Broadway showtimes and runtimes
Wicked has 8 performances per week, but be aware that there is one day a week when there is no performance (a well-deserved break for the actors!). Check that it doesn't coincide with when you want to go. The days off on Broadway are usually Mondays, but depending on the week it may also be another day.
The times of the performances also depend on the day and can be:
14:00 hours
15:00 hours
19:00 hours
20:00 hours
Some days there are two performances per day, others only one performance.
How long is the show?
The musical lasts 2 hours 45 minutes, with a 15-minute intermission. Please note that once the show begins, no one is allowed to enter the theater. Therefore, doors open 45 minutes before the show and the audience is asked to arrive 15 minutes before the show.
What theater is Wicked on Broadway playing at?
Wicked plays at the Gershwin Theatrer, located at 222 West 51st Street, New York City.
The Gershwin Theatrer seats 1933 people and is the largest capacity theater on Broadway, hosting Wicked continuously since 2003.
How do I get to the Gershwin Theater?
You can take the subway lines 1 and 2 or lines A, C and E (50 St. Station) and you will be about 2 minutes away from the theater. Or you can also walk from Times Square, as it is only 5 minutes away.
Can I see Wicked on Broadway with children and is it recommended for children?
The recommended age to see Wicked is from 8 years old and of course, with a ticket. In fact, the theater does not allow children under 5 years old. It is possible that if you remember the movie The Wizard of Oz this may surprise you, but keep in mind that the main character of the musical is the wicked witch and this, added to the sound effects of the theater, could scare the little ones of the house.
So if you were thinking of bringing a little one, take note of this information so you are not caught off guard when you arrive. But don't worry, there are plenty of other things to do in New York City with kids.
What level of English do I need to see Wicked on Broadway?
Wicked is performed entirely in English. But you can rent audio guides in Spanish, directly at the theater box office for 9 €.
You should keep in mind that this audio guide service does not translate exactly the musical, but will guide you through the plot with phrases and observations of the show. So, in all honesty, it is not essential. It is possible to enjoy the musical perfectly, understand the plot and follow the magic through the songs, regardless of the language.
What is the dress code for this Broadway musical?
In the case of Wicked, no specific attire is necessary when attending. Just something comfortable and appropriate for the occasion. However, if you go in the summer, I recommend you bring something warm as the air conditioning and ventilation are on full blast.
Warning! If your visit to New York coincides with a special performance of this musical you may find people in costume coming to see the show, so come and be part of this initiative!
Should I have dinner before or after the show? Will the restaurants be open?
If you are going to one of the afternoon performances (2:00 or 3:00 pm), you will have no problem eating lunch, snacks, appetizers or dinner, either before or after the show.
But if your performance time is 7:00 or 8:00 pm, you may have a harder time finding a place to grab a bite to eat after you leave the theater. Most restaurants are open until 21:00, 22:00 or 23:00.
Anyway, it's New York City, baby! If you have time, if you wander around a bit, you're bound to find some place open. In fact, and as it could not be otherwise in the Big Apple, in front of the theater, there is a McDonald's open until midnight. Any more questions? I leave you this article on Where to eat in New York that will surely be useful.
Why do we recommend this musical?
If you've made it this far, it's because you've read all that Wicked has to offer as a show. It is an ideal musical for the whole family, with a story that makes you fall in love and a production and cast that do nothing but honor the art and greatness of Broadway.
The fact that it is one of the most watched musical shows says it all. Wicked is art, it's magic, it's work and it's emotion. The New York Times claims it is "the defining musical of this decade." So I recommend you secure your spot at this spellbinding experience.
Other similar musicals you might be interested in
If you got hooked on the plan to see musicals on Broadway, here are some recommendations:
Hamilton
Harry Potter
Come From Away
To Kill a Mockingbird
Ain't Too Proud
The Life and Times of The Temptations