New York CityPASS
With the New York CITYPass you can have an 'open bar' and explore New York's best attractions without worrying about your budget.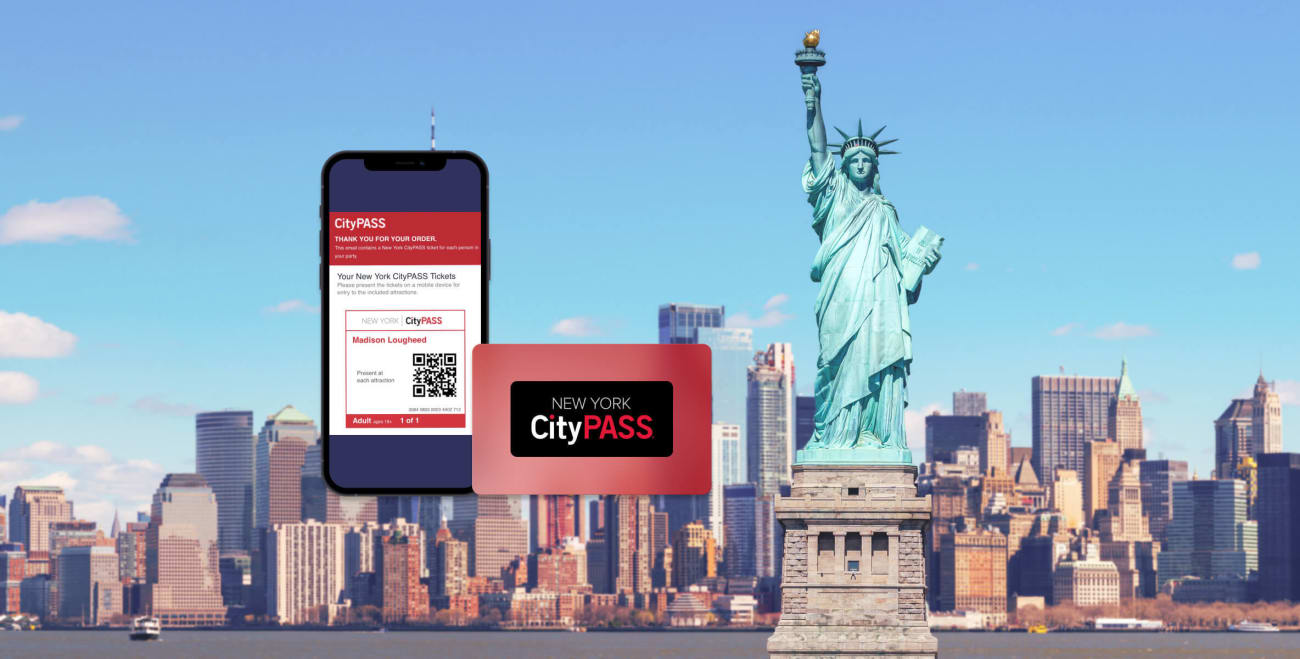 The New York City Pass is a tourist card to make organizing your trip to New York City easier and more convenient, and a way to get discounted admission to the city's main attractions.
Tourist Card
When you book the New York CityPass starting at $ 135, you pay for the number of attractions you want to visit. The pass includes three fixed attractions and three attractions of your choice, for a total of six attractions, which you can visit in a maximum of 9 days from the first use.
When you purchase the New York CityPass, you will receive individual tickets for each attraction that you must present at the ticket office of each site. You can choose to receive these tickets on paper or have them sent to your email, print them out or take them with you on your cell phone and scan them at the entrance to each attraction. Once you use the New York CityPass for the first time, you have 9 days to use your tourist pass before the end of its validity period.
In case you choose the option to receive your New York CityPass in physical format, you will receive a kind of ticket booklet with your tickets. You will have to be careful not to tear off any of the tickets, as they will be considered invalid. Instead, you will have to find a ticket agent and hand over the booklet - one of the disadvantages of old school travel!
Why I like this option: you will be pleased to know that compared to buying individual tickets to each attraction, you can save up to 72€ with this pass, as well as skip the line to buy a ticket at each site you visit.
---
What's included in the New York CITYPass
Empire State Building tickets with audio guide
The Empire State Building is one of the icons of the New York skyline, with an emblematic architecture and design that will take you back to the 1930's. However, the great attraction of the Empire State Building are the views from its observatory, undoubtedly one of the most impressive ways to see the city. Put this visit at the top of your list of things to see in the Big Apple!
Address: 5th Avenue, between 33rd and 34th Streets.
Closest subway stop is 34 St. - Herald Square, with which most lines connect.
Ticket price if purchased outside the pass: about 35 Euros.
Queue time to buy: Between 45 and 60 minutes.
How the pass works: Skip the queue to buy tickets and go directly to the queue for the security check, where you can show your pass and they will let you through. Please note that the CityPass includes two entrances at different times to the Empire State Building.
About the attraction: Open from 8:00 to 2:00, and a typical visit lasts 2 hours.
Natural History Museum tickets
This museum is one of the perfect New York attractions to visit with the family. Its permanent exhibition is dedicated to the history of Planet Earth, with very interesting spaces dedicated to marine life, fossils and meteorites.
Metropolitan Museum of Art tickets
MoMA is a must-see museum in New York if you want to see with your own eyes an extraordinary exhibition of works of art that have defined the last century. You can enjoy works of art such as the famous 'Starry Night' by Van Gogh, as well as paintings by Monet, Pollock, Mondrian, Hellen Frankenthaler and Andy Warhol among others.
Remember that the MoMa is free on Fridays, but I advise you to avoid this day if you do not want to find the museum crowded.
Address: Between 5th and 6th Avenues and 53rd and 54th Streets. The nearest subway is 5th Avenue-53rd St.
Price buying tickets outside the pass: From 23 Euros.
Queue time to buy tickets: The queues to buy tickets are not usually very long, but those for the security check can be up to 30 minutes, and more if you visit the museum on Friday, when it is free for everyone.
How the pass works: Simply present your pass at the security line and you can enter the museum.
About the attraction: It is open from 12:00 to 18:00 every day, and as for visiting time it is usually two and a half hours on average (although this depends entirely on what kind of visit you want to do).
Tickets for the 9/11 Memorial and 9/11 Museum (optional)
The 9/11 memorial and museum tells the story of the 9/11 World Trade Center attacks. This is a very sensitive visit that will give you a very intimate view of what happened during the attacks. While this experience is not for everyone, it will give you a context about the terrorist attacks on the World Trade Center that you may not otherwise have, changing your perspective on New York City.
Address: Between Liberty St. and Fulton St., near West St. The nearest subway stops are WTC-Cortland, Cortland St. Station and Fulton St. Station.
Price buying tickets to the museum outside the pass: from 24 Euros.
Queue time to buy tickets: Between 10 and 90 minutes.
How the pass works: Skip the line to buy tickets, go directly to the security checkpoint and present your pass for direct access to the 9/11 Museum.
About the attraction: Open from 9:00 a.m. to 8:00 p.m. and until 9:00 p.m. on Fridays and Saturdays. Most people take a 2-hour tour.
Intrepid Sea, Air & Space Museum (optional)
This museum is the fantasy of any engineering fan, offering the unique opportunity to see inside the aircraft carrier Intrepid, whose deck features a variety of aircraft and helicopters from various eras; the Growler submarine, which can be explored in its entirety; and the supersonic Concorde aircraft.
Top of the Rock tickets (optional)
The Top of the Rock (the name given to the observatory of the Comcast Building in Rockefeller Plaza) offers the best views of New York from a skyscraper: it is from here that all those wonderful postcards of the Empire State have been taken. If you're passionate about photography, you'll be amazed by the photos you can take of this icon of New York architecture, especially if you climb to the Top of the Rock at sunset or on a foggy morning.
Address: Between 5th and 6th avenues and 49th and 50th streets. The nearest subway station is the Rockefeller Center Subway Station.
Price buying tickets outside the pass: from 35 Euros.
Queue time to buy tickets: Between 15 and 20 minutes.
How the pass works: You can use your pass to get an online ticket with a set schedule, or present the pass at the box office to have your ticket validated.
About the attraction: Opening hours are from 8:00 until midnight (last elevator up is at 23:00). The average visit is usually one hour, but how long you want to stay on the observation deck is up to you.
Guggenheim Museum (optional)
Every Guggenheim in the world is famous for being a blast inside and out, and the New York Guggenheim is no exception. Its modern art collection features works by artists such as Van Gogh, Gaugin, Picasso and Malevich among others, and its gift store is the perfect place to pick up a souvenir of the city.
Ferry to the Statue of Liberty (optional)
The Statue of Liberty represents New York City like no other city monument in the world. Seeing it up close is breathtaking, and almost even more impressive are the views of Manhattan from Liberty Island. To visit it, you'll need to take a ferry from Battery Park and with the New York Pass you won't have to worry about the ticket, because it's included.
In addition, it also includes the ferry to Ellis Island, where you can visit the Immigration Museum and explore an exhibition about the times when New York became a place of welcome for immigrants from all over the world in search of a better future.
Address: Liberty Island.
How to get there: The only way to get to the Statue of Liberty is by ferry or boat, and all depart from Battery Park.
Price buying tickets off the pass: from 24 Euros.
Queue time: There is a ferry to the Statue of Liberty every 90 minutes, so depending on the time you arrive, you will have to wait more or less.
How the pass works: You don't need to buy a ticket, so head straight to the security checkpoint and wait for the ferry to arrive.
About the attraction: You can go to the Statue of Liberty from 9:30 a.m. to 5:25 p.m. The typical visit lasts about 4 to 5 hours.
Manhattan Cruise (optional)
Circle Line cruises are one of the New York attractions I always recommend for one simple reason: seeing Manhattan from the outside is just as impressive as seeing it from the inside. Besides being a way to see New York from another perspective, it's a very relaxing activity that will give you a break from the hustle and bustle of Times Square.
The Ride (optional)
The Ride is a 75-minute bus tour of Manhattan with an interactive experience and a panoramic window to experience the city in a different way, where comedy, dance and music accompany you throughout the tour. It's like stepping into a Broadway musical set on the streets of New York.
Before purchasing a New York CityPass
Too much information! I know: choosing your New York sightseeing pass is not easy. In case you're not entirely clear, here's the rundown to help you make a decision. The New York CityPass is for you if:
You will be in New York for a week
You want to see the most "typical" of New York City
You have little time to organize your trip
You like to explore a new city at your own pace
You have a tight budget for your trip
Recommendations
Keep in mind that the New York CityPass lasts 9 days from your first use, so you don't need to do it all in your first two or three days in New York. The best use of your pass is to spread out your visits and use it at least two or three times a day.
Other passes available
In case the New York CityPass doesn't quite convince you, keep in mind that you have three other types of New York City Passes, so there may be another one that better fits the trip you're planning.