New York Explorer Pass
If you're thinking of buying the Explorer Pass, I'll tell you how to use it, how much it costs and whether it's worth it or not. Read on!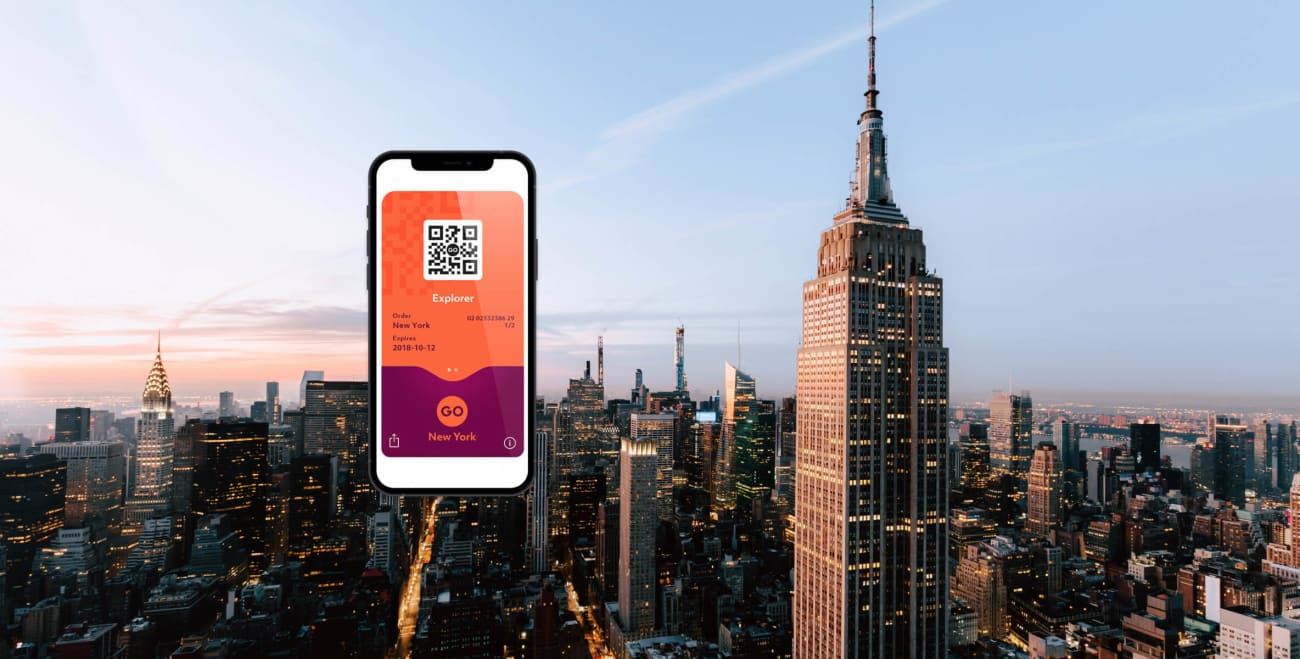 In case you're planning a trip to New York, the Explorer Pass is an option you should definitely consider to save a lot on your visit so you can do more, read on and I'll tell you why!
Tourist Card
The Explorer Pass, From $ 76, is a tourist card that, when purchased, gives you access to the number of attractions you choose at a reduced price. In addition to the money savings, you also save time during your trip, since you do not have to buy tickets at the ticket office for each place you visit.
The Explorer Pass is a pass that you pay for based on the number of attractions you want to visit. This means that it is perfect to personalize your New York experience to the maximum, as you can choose 3, 4, 5, 7, or 10 attractions and pay according to the amount you choose. From the moment you activate your pass, you have a full month to visit the attractions of your choice, so you can take your trip at your leisure.
You can choose to receive it in your email or directly on your smartphone (the most convenient way), have it delivered to your home, or pick it up at one of the distribution points around New York. In addition, with your New York Explorer Pass, you will receive a New York City Guide to show you the most efficient way to visit the attractions you have selected.
When you use it for the first time, the pass will start counting and will be valid for 30 days, an advantage over other passes that are usually valid for much less time. If you want to get the most value out of the New York Explorer Pass, I recommend that you choose the most expensive attractions to maximize savings (avoid attractions under $ 20-25). Make a list of the places you want to visit and compare if you are better off buying tickets separately.
Why I like this option: besides allowing you to pay only for the number of attractions you want to visit, it gives you up to 30 days to do so, which makes it the perfect pass if your trip is going to be a long one.
---
What's included in the Explorer Pass
Free choice of 3, 4, 5, 5, 7, or 10 products from over 100 activities and attractions
Valid for 30 days
Skip-the-line tickets at some attractions
New York travel guide to your selected attractions
Discounts at stores, restaurants, and shows
Recommended activities
The New York Explorer Pass is perfect for a comprehensive tour of New York, as it allows you to save the most on the most expensive attractions so you can do the rest on your own. So, I've done the math for you and found the two best combinations of attractions for the Explorer Pass to make it as cost-effective as possible. As a general rule, if with the pass you can get each ticket for $ 30, you are on the right track.
The best combination if you want 3 activities
Top of the Rock - single ticket costs $ 44
Ripley's Believe or Not - single ticket costs $ 35
NYC TV & Movie Sites - single ticket costs $ 50
The best combination if you want 7 activities
Hop On Hop Off Big Bus Tour Bus: Classic New York Tour - single ticket costs $ 53
Night Bus Big Bus Night Tour - single ticket costs $ 55
Top of the Rock - single ticket costs $ 45
Empire State Building - single ticket costs $ 41
NYC TV & Movie Bus Tour - single ticket costs $ 59
Luna Park 24 Ride Pass - single ticket costs $ 68
Clipper City Sailing Cruise - single ticket for $ 50
Attractions included
Classic Sightseeing Bus
The Big Bus Classic Hop On Hop Off bus tour lasts one day and is a perfect way to explore Manhattan in full. With stops from Battery Park (south of the island) to Central Park, you can ride the bus and use it as a form of transportation to visit New York's main sights, or hop on at the end of your trip to see it all one last time.
Night Sightseeing Bus
Exploring the City That Never Sleeps at night is an experience that, as you can imagine, is not to be missed. What makes this tour so special is that you'll get to walk through Times Square when all the displays are lit up, plus freak out at the Empire State Building and One World Observatory all lit up.
Top of the Rock
The Top of the Rock has for me the best views of New York: not only will you see the most famous skyscrapers of Manhattan, but you will see from the heights a wonderful panoramic view of Central Park guarded by the new skyscrapers being built in the Big Apple.
Address: Between 5th and 6th avenues and 49th and 50th streets.
Nearest subway station: Rockefeller Center Subway Station, so you can't miss it.
Price buying it separately: The entrance to the Top of the Rock costs $ 41 (adults) and $ 35 (children). Children under 6 years old get in for free.
Queue time to buy tickets: Between 15 and 20 minutes.
How the pass works: You can use your pass to get an online ticket at a set time or present your pass at the ticket office to have your ticket validated.
About the attraction: Opening hours are from 8:00 AM to midnight (the last elevator up is at 11:00 PM). The average visit is usually about an hour, but how long you want to stay on the observation deck is up to you.
Empire State Building
The Empire State Building is one of the icons of the New York skyline and a true time capsule, with its stunning art deco interior and museum dedicated to the building's construction that will transport you back to the 1930s. However, the main reason all visitors to New York go to the Empire State is for the views from its observatory, which are undoubtedly one of the most impressive ways to see the city. Put this visit at the top of your list of things to see in the Big Apple!
Address: 5th Avenue, between 33rd and 34th Streets.
Nearest subway stop: 34 St. - Herald Square, which connects to most lines, and 33 St. - Herald Square.
Price buying it separately: There are two types of tickets, the one that allows you double access for day and night and a visit to the museum on the second floor ($ 67 adult / $ 56 child), and the single ticket with access to the observation deck and the museum on the second floor ($ 45 adult / $ 39 child).
Queuing time to buy tickets: Between 45 and 60 minutes.
How the pass works: Skip the line to buy tickets and go directly to the queue for the security check, where you can show your pass and they will let you through. Please note that the CityPass includes two entrances at different times to the Empire State Building.
About the attraction: Open from 8:00 AM to 2:00 AM, and a typical visit lasts 2 hours.
NYC TV & Movie Bus Tour
It's no wonder that New York has served as a ** filming set** for a million movies and series, and on this tour, you'll visit more than 60 locations that have served as the setting for them. To name a few, you'll see the apartment from 'Friends', Washington Square Park (you'll know it if you're a fan of 'Girls'), the hotels from 'Home Alone 2' and 'Ocean's 8', and filming locations from 'Avengers: Endgame', 'Mr. Robot', and 'Modern Family'. I'll summarize the itinerary for you:
Times Square
Columbus Circle
Central Park
Upper East Side
Fifth Avenue
Trump Tower
Flatiron Building
Washington Square Park
Tribeca
Greenwich Village
Chelsea
Midtown
Luna Park 24 Ride Pass
Luna Park is an amusement park located on the waterfront in Coney Island, south of Brooklyn, with a somewhat decadent and vintage, fairground-like style. With this pass, you can access 24 different rides such as a roller coaster or a merry-go-round. In my opinion, the rides are not impressive at all, so visiting Luna Park is more worthwhile for its retro atmosphere.
Clipper City Sailing Cruise
This is a cruise around Manhattan...but on a sailboat! It's a great way to do an activity that I highly recommend taking advantage of your New York Explorer Pass. Don't be fooled by how tacky it may seem to ride a sailboat when you could do a normal cruise, because it has a huge advantage: you will enjoy a much quieter experience, without crowds, avoiding most tourists.
Ripley's Believe it or Not
This famous museum with locations all over the world is a must-see if you're visiting New York with kids. You'll find rare artifacts and devices, and curiosities, plus interactive experiences like a medieval torture chamber or a black hole simulation.
Before you buy
After this welter of information, you're bound to be a little dazed. Choosing the perfect sightseeing pass for your trip to New York isn't easy, but in a nutshell, here's what you need to keep in mind. The New York Explorer Pass is for you if:
You plan your trips well in advance.
You want to go to New York's top attractions.
You don't mind seeing a lot of things in one day
You have a tight budget for your trip
You are going on a long trip to New York
What if I don't want to have to choose?
You may already know that New York is one of the most demanded cities by tourists around the world, and as such, there are quite a few types of passes available for all kinds of tastes. If what you prefer is to have unlimited access to all possible attractions (an open bar of attractions), I recommend the New York Pass (you can read my practical guide about the card here: New York Pass).
The New York Pass is booked (and paid for) based on the days you want to use it and as long as the card is active, you can visit as many attractions as you want within the list of 100 attractions available.
Last tips
The good thing about the New York Explorer Pass, as you know, is that it has 30 days of validity from its first use, so if you are going to make a long trip to New York you can take it easy...as long as you do not choose 10 attractions and you are going to be 3 days in the city, in that case, you will have to run!
Finally, I would like to remind you of my most important recommendation: Enjoy your visit to New York! Although the New York Explorer Pass requires you to visit as many attractions as possible to maximize savings, remember to leave a little time each day of your trip to get lost in the streets of the Big Apple and see what you discover on your own.
Other sightseeing cards available
In case the New York Explorer Pass doesn't convince you, don't worry because there are other passes available for New York and maybe one of them will fit better to the trip you are planning. To make it easier for you to choose, here are the practical guides I have written about other passes available and a comparative compilation of all of them: