NYC One World Observatory Tickets: how to buy, prices and discounts
It is undoubtedly the best viewpoint in southern Manhattan: I tell you what you will see from here, how much it costs to get in and how to get tickets.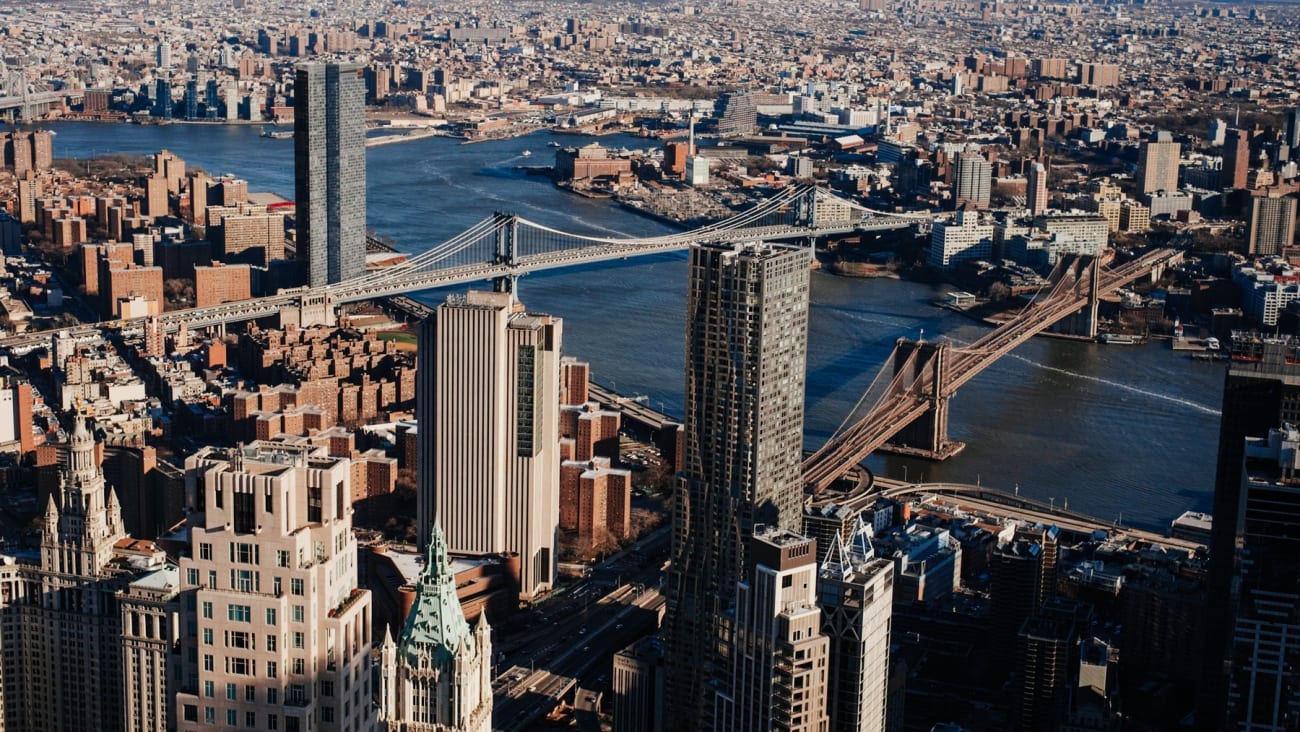 One World Observatory is located at One World Trade Center and is the tallest skyscraper in New York (and the United States) that pays homage to the Twin Towers.
Being one of the most popular attractions in New York, buying your ticket in advance will save you quite a few lines. If you don't know how to do it or how to choose among the options, here's a hint about my favorites:
The best option
Access to One World Observatory at the best price
The general admission ticket to One World Observatory is the most popular among visitors from all over the world who climb this impressive skyscraper, or you can upgrade and select VIP access.
Located in Downtown, the One World Observatory has one of the most spectacular observation decks in the city right now. With a general admission ticket to One World Trade Center you will have access to the observatory located between the 100th and 102nd floors.
My recommendation is to buy thegeneral admission ticket in advance, as it also allows you to enter without waiting in line, directly accessing the building.
Why I like this option: if you want to enjoy the views of southern Manhattan from one of the most imposing skyscrapers in the city, this is the cheapest way to do it (and it will save you a long queue at the ticket office).
Recommended if... you don't have much time to tour the area or simply prefer to see Ground Zero on your own and pay only for the observatory access.
---
How to buy tickets for the One World Observatory at the box office
You can buy your tickets for the One World Observatory at the building's box office, which opens at 9 am. In general, in New York, I do not recommend buying tickets at the box office, as you will face long lines and you will probably enter One World already exhausted from waiting on your feet.
The best way to buy tickets online is that, instead of waiting to buy your ticket at that time, you can go straight up and see life begin in New York with the start of the day. In addition, you can compare prices and rates for tickets to the One World Observatory and check if there is a discount for your visit.
New York Pass and other passes including admission to One World Trade Center
If you want to do a complete tour of New York, a great option is to purchase a tourist pass. The New York Pass includes entrance to the One World Observatory among many other activities.
With this particular pass, you can choose between 1 and 10 days of validity to have an "open bar" of activities. I recommend it if you are one of those people who when traveling want to squeeze the destination to the maximum and not miss absolutely nothing. Anyway, there are also other passes and if you are considering buying one to complete your visit, I recommend you to consult my article in which I compare each of them: New York Pass and other passes
Where the One World Observatory is and how to get there
Most visitors usually stay at One World Observatory for about an hour. Tickets do not limit how long you can stay at the observatory, so you can stay as long as you like. If you are visiting with children, it may take a little longer as the interactive displays will keep them busy for a while.
One World Trade Center is visible from almost anywhere in Manhattan. Its height, its reflective glass windows and its already mythical silhouette make it unmistakable, so getting to it on foot or by public transportation will be very easy. Located at Ground Zero, very close to Wall Street, you can walk from almost anywhere in southern Manhattan.
If you are staying a little further away, the fastest way to get there is by subway or even by city bus (note that the New York tourist bus also has a stop very close to One World Observatory). To better organize your itinerary and know the distances, prices and maps of public transportation, you can take a look at this article on How to get to One World Observatory in New York.
One World Observatory Hours
To help you plan your visit, please note that the One World Observatory is open from 9 am to 9 pm except during the summer, when the skyscraper is open from 8 am to 10 pm. Throughout the year, you can climb One World Trade Center every day of the week.
Visit One World Observatory with children
Going up to One World Observatory with the little ones is a plan that you will not regret, as there are activities planned specifically for them.
In fact, for your visit with children I recommend that you let them play for a while in the Sky Portal, interactive screens located on the floor that project images of life in New York under the One World Trade Center and give the impression of floating in the air, and the City Pulse, interactive screens that show presentations on icons of New York culture as its famous cheesecake or various sports teams.
Check out this article if you want to know more things to do in New York with kids to make your family visit to the Big Apple a success.
Inside the One World Observatory
After entering One World Trade Center, you will begin your ascent to the 102nd floor (where the observation deck is located) in an elevator covered entirely by screens that will show you a spectacular time-lapse of the evolution of New York from its founding as a Dutch colony in the 17th century to the present day.
Upon reaching the top of the skyscraper, you will enter the One World Observatory through the See Forever Theater walkway, with another show of stunning visuals of everyday New York.
The Observatory
And now, finally, you can enjoy what you came all this way for: breathtaking views of New York City from the top. The observation deck is enclosed unlike the Empire State and Top of the Rock, giving you a sense of greater distance from the city. Plus, One World Trade Center is the tallest skyscraper in the city, so you'll be able to see New York stretching for miles and miles in the distance.
The views
Before you head up to the observation deck, make a mental list of the sights from One World. In a city as big as New York, and especially on a first visit, it's easy to forget all those famous landmarks you'll love to see in miniature and then recognize on your walks around the Big Apple.
In case you're not into doing the typical tourist activities, there are many more buildings in New York that you can visit, even if they don't have an observatory. Woolworth Building, Chrysler Building, Flatiron Building and many others will delight anyone with a passion for architecture.
Empire State Building
Hudson River
East River
Statue of Liberty
Brooklyn Bridge
Manhattan Bridge
Downtown Manhattan Skyline
Practical information to go up to the One World Observatory
Best time to go up to One World
Thanks to its glassed-in observation decks, any time of the day (and even of the year) is a good time to visit. Sunset will give you spectacular colors in the sky, morning will offer you a clear, unobstructed view of the skyscrapers and the Hudson, and nighttime in New York is always special, with millions of lights on the Skyline.
If you can't make up your mind, check out this handy guide on the best time to go up to One World Observatory and choose the time that suits you best.
How to avoid crowds
The busiest times at One World Observatory are around 4 p.m. and 5 p.m., when visitors are preparing to watch the sunset. For similar afternoon views and a less crowded experience, I recommend going at 9am (or 8am in summer), which will give you the whole day to explore the city you've just seen from above.
What services does the building offer
One World Observatory has a gift store on the 100th floor and a restaurant, coffee shop and ice cream parlor on the 101st floor to end your visit with a break.
Watch out for prices
Be aware that the One World Observatory is full of "traps" to attract tourists and make them spend a little extra on interactive tablets for the visit, souvenir photographs, and the like.
What happens if the weather is bad
By buying your tickets well in advance you run the risk of going to One World Observatory on a cloudy day. The trick is to buy them a week or two before your trip to New York, when you can check the weather relatively reliably and choose the best day accordingly. Needless to say, if you go up to the skyscraper on a clear day you will have spectacular views of New York.
If you go up on a day when it rains a little, the good thing is that the observation deck at One World Trade Center is covered. This can also be an advantage if you visit New York during a very cold or very hot season.
Alex's Traveller Tip

There are a lot of tourist "traps" at One World Observatory, so be careful if you don't want to end up with a hole in your wallet!
Another way to enjoy the views: the helicopter tour
And if going up a skyscraper doesn't really appeal to you but you want to enjoy the views of New York from above, you have other options like taking a helicopter tour of Manhattan or visiting one of the many rooftop bars in the city. But in my opinion, climbing a skyscraper is a breathtaking experience that you can't miss, especially on your first time in New York.
Where to eat near One World Observatory
If the heights have given you an appetite, you're in luck: an area as busy as Downtown Manhattan is packed with places to eat, from the most luxurious and exclusive to the quickest and cheapest. The only doubt you'll have is which one to choose, so I've prepared a list of the best places to eat near One World Observatory so you can plan your visit without having to improvise on the fly.
Take advantage of the fact that you are in the area to take a break, recharge your batteries and take shelter from the cold or heat whether you go to New York in winter or summer and then continue discovering this area that has so much to offer.
Other recommended experiences in the area
Inescapably, One World Trade Center is part of Ground Zero and is linked to the 9/11 Memorial and Museum. Combining visits to both is very interesting for someone traveling to New York, as you will be able to explore in depth an event in recent history that has marked the city like no other.
Therefore, I recommend that you stop by the 9/11 Memorial and if you can enter the Museum to explore one of the most interesting and unique exhibitions in the world, telling the story of the Twin Towers attacks with objects directly rescued from the rubble. You can read the chronicle of my experience here: 9/11 Memorial Tickets and Tours in NYC.
You can also book a guided tour of New York with entrance to the One World observatory: you will learn from an expert guide the history of the city and then you will contemplate it from above.
Organize your visit to other skyscrapers
In addition, in New York you have two other skyscrapers to see the city from above. Climbing the Empire State Building, an icon of the New York skyline, is a must on any first visit to New York, containing a fragment of the history of the city within its walls.
And of course the Rockefeller Center, whose observation deck known as the Top of the Rock will give you the best views of the city including a spectacular close-up of the Empire State. In my experience, the best skyscraper in New York.
The Edge has recently opened its doors, an innovative building with a spectacular observatory whose glass floor will let you see New York from a bird's eye view (literally). Made to test anyone's vertigo, be sure to read how to organize your visit here: The Edge New York Tickets: how to buy, prices and schedules.
If you're looking to be on the cutting edge and visit the hippest skyscraper in the city, then consider going up to the new SUMMIT observation deck in New York: its architecture, innovative observation deck and incredible location have already made it a favorite of many New Yorkers and visitors alike.