Hop on Hop off Bus Tours in New York
If you are looking for a fast and very comfortable way to tour the city, here is everything you need to know to get on the tourist bus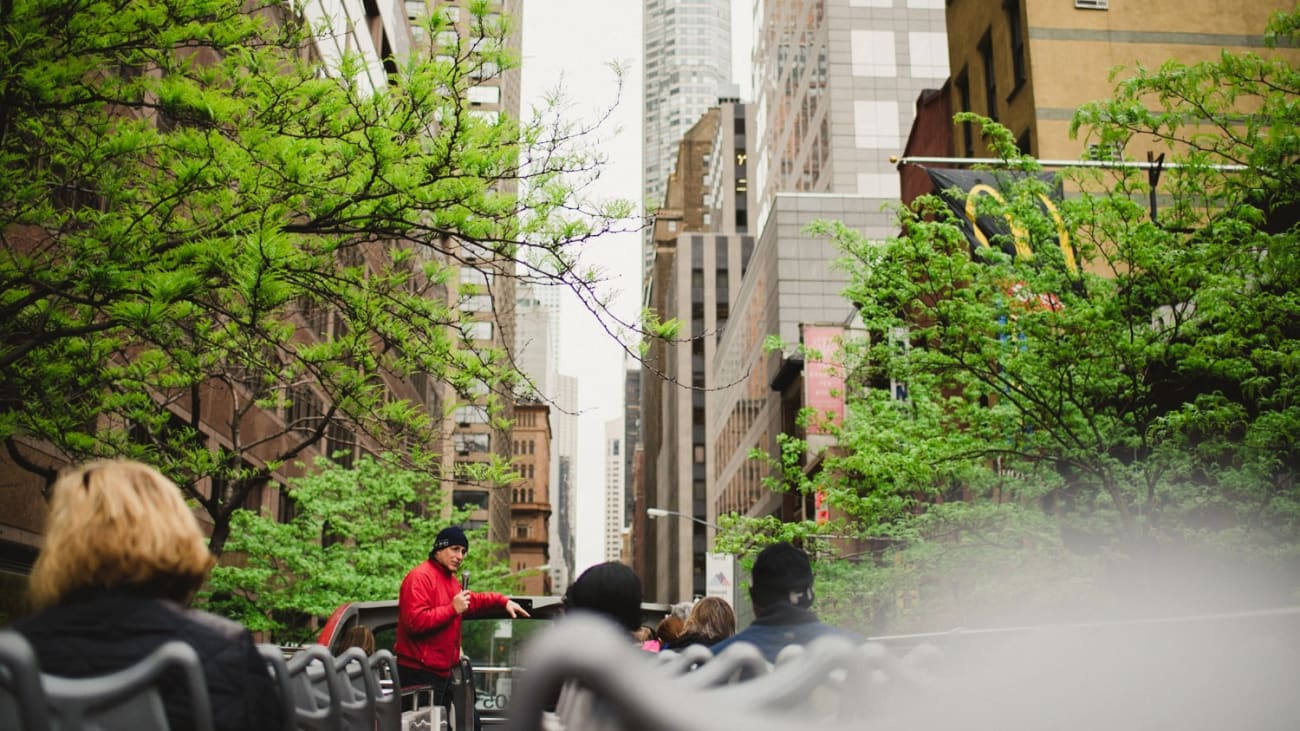 Visiting New York by tour bus is a very practical idea, as it allows you to get to know the most important areas of the city in a quick way while you travel comfortably seated. It is a great option to visit the Big Apple in a short time. Here are the best options:
The best option
Bus Tours: 2-3 Day Passes
Choose between the two and three-day pass
Perfect if you want to enjoy the city while taking a break from intense walking and get around New York while still taking in the sights of its streets and skyline. Includes a one-hour cruise
Duration: 60 to 120 minutes
From $ 45 at Hellotickets
This two or three-day New York City sightseeing bus pass allows you to see New York's most famous sights such as Times Square, Central Park, the Empire State Building, Rockefeller Center, etc., by following the guided commentary on board. The bus is from the famous Big Bus company and has two floors with an open top to take all the pictures you want from the best angles.
You can choose a Classic ticket for the Downtown and Uptown tours of Manhattan or opt for a 2 day Premium pass with Brooklyn tour, Harlem tour, the panoramic night tour, and a Circle Line sightseeing cruise of 1-hour duration.
Another possibility is to choose the 3-day deluxe pass that includes all tours, even the night tour and the one-hour Circle Line sightseeing cruise. You have several different routes and passes to choose from so you can explore New York freely using the bus as transportation, hopping on and off at over 30 stops throughout the city.
This option also includes a 1-hour cruise on the Statue of Liberty Circle Line and a nighttime sightseeing tour with a Premium or Deluxe pass.
Why I like this option: This is the most economical and most complete option to enjoy the New York sightseeing bus. You can hop on and off as many times as you like during the tour and you can also enjoy a cruise on the Hudson.
---
Night Option
New York, the city that never sleeps. Twenty-four hours a day it is on the move and if when the sun rises it is vibrant and amazing when it sets it is magical and fascinating. Watching it sparkle during a night tour bus excursion that starts at 5:30 PM is an absolutely wonderful experience. Even more so if you do it aboard a comfortable bus accompanied by a local guide who will show you a different side of the city.
With this tour, you will also have a guided walking tour of the city included. During the tour, you will see the most relevant points of interest and the most iconic places in New York, such as Times Square and Broadway, Grand Central Terminal, the Chrysler Building, and the Empire State Building, Rockefeller Center, Fifth Avenue, and the Brooklyn Bridge, among others.
Why I like this option: this is the most complete night tour if you want to enjoy a sightseeing bus ride as the sun goes down in a city that never sleeps.
---
Big Bus routes
Downtown - Red Route
The Red Route lasts two hours and operates between 8AM and 5PM. This guided tour of downtown New York City can begin at any of the 17 stops on this route. Sightseeing attractions on the Red Route are:
Empire State Building
Rockefeller Center
Times Square
Flatiron Building
Battery Park
Charging Bull (Wall Street Bull)
SoHo
Greenwich Village
Little Italy
Union Square Green Market
Herald Square
High Line
Uptown - Blue Route
The Blue Route operates between 9 AM and 5 PM. This guided tour of Uptown New York lasts 2 hours and can be started at any of its 10 stops. The tourist attractions that are part of the Blue Route are:
Carnegie Hall
Columbus Circle
Central Park Zoo
Frick Collection
The Metropolitan Museum of Art
Grand Central Terminal
Bryant Park
Times Square
Central Park
Brooklyn - Purple Route
The Purple Route is 1 hour long and runs at 10 AM, 12 PM, and 3 PM. This guided tour of Brooklyn can be started at any of the 4 stops that make up the route. Sightseeing attractions on the Purple Route are:
Grand Army Plaza
Barclays Center
Harlem - Green Route
The Green Route operates at 10 AM, 12 PM, and 3 PM. This guided tour of Harlem lasts 1 hour and can be started at any of its 4 stops. The tourist attractions that are part of the Green Route are:
Apollo Theater
Cathedral Church of Saint John the Divine
NYC by night - Yellow Route
The Yellow Route is 1 hour long and operates from 6 PM to 8 PM. This night tour is non hop-on hop-off, meaning you do not have the option to get off and get back on at any part of the tour. It has one stop and the tourist attractions that can be seen on the Yellow Route are:
Times Square
Statue of Liberty
Wall Street
Brooklyn Bridge
Empire State Building
Manhattan Bridge
Other interesting activities in New York
If you're considering booking a sightseeing bus pass, you've realized that the sheer size of New York City is often beyond the walking ability of travelers. If you want to delve a little deeper into all the areas and neighborhoods of the city, I have created this guide on 20 best New York City Neighborhoods so you can orient yourself and start organizing your itinerary.
And if you want to discover the most interesting points of the city with a guided tour, my favorites are the Contrasts Tour and the Upper and Lower Manhattan Tour. Here are the details of both tours: New York Contrasts Tour and Upper and Lower Manhattan Tour.
Frequently asked questions
What are Hop-on Hop-off Bus Tours?

Around many major cities, you may have noticed certain tour services offering "Hop-on Hop-off", these bus tours allow you to decide your itinerary by embarking and disembarking at certain points of the tour.

How long does a New York Hop-on Hop-off Bus Tour last?

The length of the entire tour depends on the route/line you take, and the service offered. Most tours range between 2-3 hrs, while some can be as short as 90 min. Fortunately most Hop-on Hop-off tours remain valid for at least 1 day.

What can I see on a Hop-on Hop-off Bus Tour?

Most Downtown bus tours give you a general overview of New York, meaning you'll see many of the top landmarks such as the Statue of Liberty, the 9/11 Memorial and its many skyscrapers. There are also other lines, which let you see places such as Brooklyn and Uptown in more detail.