New York Contrasts Tour
The contrasts tour has become one of the most popular tours in the city: here's what you'll see and why it's worth it.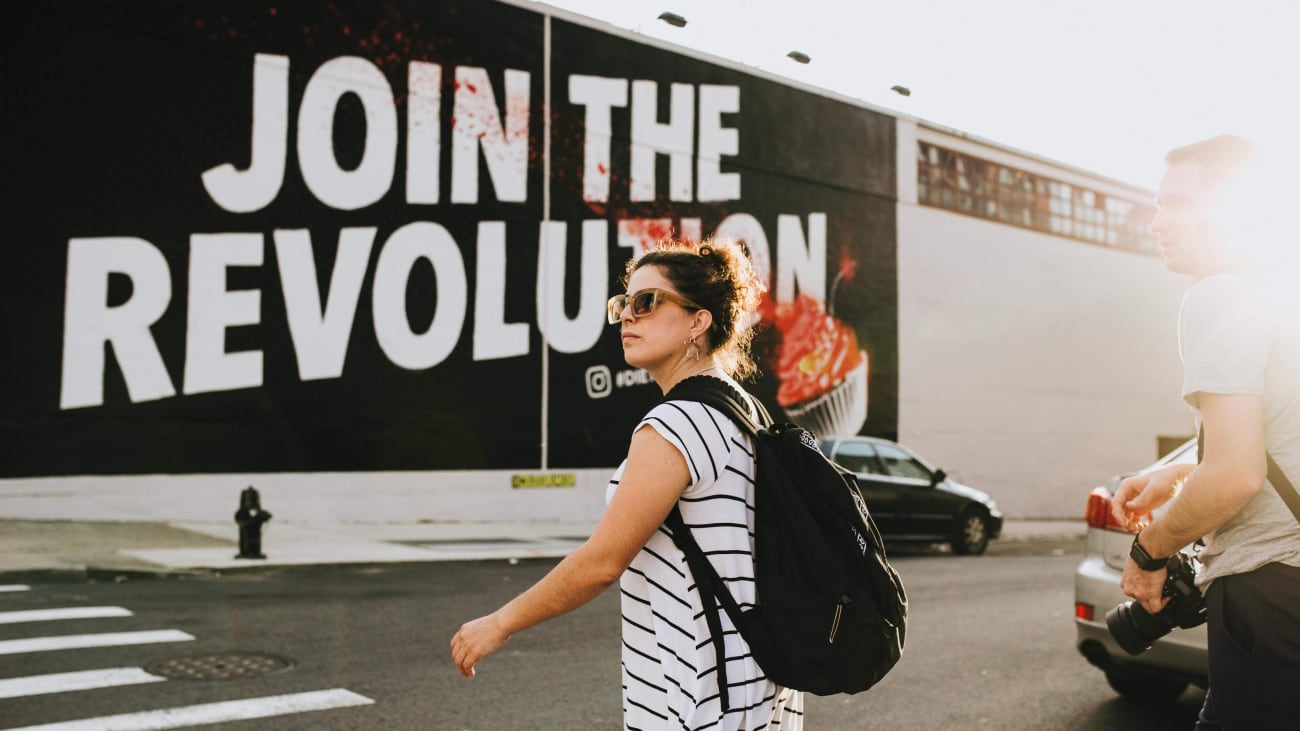 This well-known New York Contrasts tour takes you to discover the five great boroughs of New York: Manhattan, Harlem, the Bronx, Queens and Brooklyn.
By taking this Contrasts Tour, you will also be avoiding the number one mistake of many people who travel to New York: not leaving Manhattan. Want to know what awaits you outside the jungle of skyscrapers beyond Central Park? Read on!
The best tour
Discover the best kept secrets of the city with a local guide
New York is much more than Manhattan: the city is home to many different cultures, architectural styles and customs. Tour the highlights of the city by bus accompanied by a specialized guide.
Duration: 5 horas
The Contrasts Tour will take you, in its nearly 5 hours of duration, all over New York in a minivan discovering every corner of its most iconic neighborhoods.
There are hundreds of these tours and although they all look very similar, it is important to choose the right one. What I would highlight about this Contrasts tour over others is the professionalism of their local guides, which in the end is what makes a tour an interesting experience compared to doing it on your own.
It's also a bit cheaper than the average tour and, considering everything you'll see in 5 hours, it's a very worthwhile way to explore the city.
In fact, I recommend that you do this tour as early as possible in your visit to New York, as it will give you a varied taste of the Big Apple and you can go back to the neighborhood or area that caught your attention to explore it in detail.
Why I like this tour: in one morning you can visit many different parts of New York that, if you visit on your own, would take a day or two. This does not mean that, at another point in your trip, you can revisit the main neighborhoods of each borough on your own after taking the Contrasts Tour. In this way, you will discover the true essence of each district.
Recommended if... you want to get a good understanding of the main districts of the city, understanding the diverse cultures and customs that coexist in New York.
---
Useful information about the tour
Getting around
The Contrasts Tour takes place by minivan or air-conditioned bus so that, in the 5 hours of the tour, you can visit New York in a big way. The maximum group size for this tour is 50 people.
Best day of the week to do it
However, if you want to avoid the big crowds, it is best to go during the week on a Tuesday or Thursday. Weekends tend to be the most popular days, but paradoxically, Saturdays are the day of religious rest for Jews, so the visit to Williamsburg tends to be a little weaker, as you will not see any stores or so much activity on the street. Therefore, if you have to choose one of the two days of the weekend, I recommend that you go on Sunday.
Pick up at your hotel
This tour has pick-up at several different hotels in New York, so if you are lucky enough to be staying at one of them you will just have to go downstairs and wait to be picked up. Otherwise, you can simply go to one of the hotels listed at the departure time to start your tour.
Choose the end of the tour
Something important is that you can choose between two places in Brooklyn to end your Tour of Contrasts: under the Brooklyn Bridge, in the neighborhood of DUMBO, or in Chinatown. My recommendation is to end in DUMBO instead of crossing the bridge back to Manhattan, read on and below I'll tell you the best things to do after your tour!
The tour on your own
As you'd imagine, you'll be doing quite a bit of walking on this tour but I'd say it's suitable for just about anyone. Part of the tour will be done by transportation, to move between the different districts you will visit. Remember that you always have the option to go on your own to the sites and monuments by choosing one of the different New York City sightseeing passes that exist or by going on the typical red bus that goes around the city.
Alex's Tip

Keep the neighborhood you like the most from this tour to come back and explore it in more detail after the tour.
Plan your trip for the Contrasts Tour
Schedule
The Contrasts Tours usually start early each morning (around 8am) to make the most of the day before lunchtime, so you will have to get up a little early but it will be a perfect way to squeeze every last drop out of your trip to New York.
Duration
Between 4 and 5 hours will be the duration of your tour, so you can expect to spend about an hour in each district. Is this enough to get to know in detail all the neighborhoods you are going to see? No, but as you know, it's all about nibbling a little bit of each dish to show you what awaits you in each area of New York.
Practical information about the Contrasts Tour
Since the Contrasts Tour ends in Brooklyn, I suggest you spend the afternoon exploring some of the main neighborhoods. If you feel like it, you can book another tour of New York's neighborhoods but this time in a comfortable bus.
My recommendation would be to take a stroll through DUMBO and Chinatown to get to know these places in depth, and end the day as a local would: having a drink al fresco at the Brooklyn Barge in Greenpoint, or in case it's cold, tasting craft beers at Dekalb Market.
On your visit to Williamsburg, Brooklyn's Jewish neighborhood, you will see many Jewish people wearing their typical attire which will probably surprise you. Be careful when taking photos as they may feel uncomfortable if you get them in your picture.
Don't be afraid to go to the Bronx, as much of the tour will be done in your vehicle and the places you will stop are perfectly safe. Although there are still troubled neighborhoods in this area, you will only see the touristy parts so you have nothing to worry about. That said, another added advantage of the Contrasts Tour is that you will be able to visit the Bronx with peace of mind, as going on your own can be really dangerous.
The stop in Harlem
You will stroll through the streets while your guide tells you the story about the typical Harlem brick apartments, and the illustrious people who have stayed there. You will also see the illustrious Apollo Theater and the Cotton Club, two institutions of New York jazz music that were key to Harlem's cultural development in the 1920s.
If you take a tour of Harlem on a Wednesday you will see the neighborhood in all its glory as religious congregations will be giving their gospel mass service and you can listen to them inside the churches as you stroll around. In fact, there is also a tour of Harlem exclusively that allows you entrance to a gospel mass. You can read more about that tour in my article from How to go to a Gospel Mass in Harlem, New York City.
In any case, Harlem is a district that is well worth an individual visit, so I'm sure it's going to be a place you're going to want to return to explore in more depth at the end of the Contrasts Tour.
The stop at Yankee Stadium
You'll get to see the legendary Yankee Stadium, one of New York's baseball teams where you'll have a photo opportunity. Although the tour does not include entrance to the stadium so as not to stop too much, you will be able to compare the stadiums of New York's two rival baseball teams, the Yankees and the Mets.
Of course, if you are a die-hard fan of either team, I recommend that you return to your favorite team's stadium once you have finished the Contrasts Tour to go inside and explore the inside of the stadium. What's more, if you're a baseball fan, you're sure to already have your ticket for a game of either New York team!
Stop in the Bronx
This stop will take you on a tour of iconic Bronx landmarks, including movie locations and some of New York's most famous street art. On your tour, you'll see hip hop on every corner, and you'll understand why the Bronx is as much a mecca for this culture as Harlem is a mecca for jazz.
In fact, you'll visit an entire outdoor art gallery, known as the Graffiti Universe. Street art is an indivisible part of hip hop culture along with music, rap and breakdancing, so this visit will place you squarely in the history of the Bronx and its art movement.
The Queens stop
You will visit New York's largest borough, known for its multiculturalism and for being the hub of commerce and business in the city. You will see the Mets stadium, the Yankees' rival stadium, the stadium where the US Open tennis tournament is held, and the 'Men In Black' globe at Flushing Meadows Corona Park. Among other points of interest, you will also explore the Little India neighborhood.
You will also visit the Malba neighborhood, one of the wealthiest in New York. If you keep your eyes open, you will appreciate the huge difference between this neighborhood and the rest of Queens, which makes the district an amalgam of contrasts in itself. By the way, don't miss the Queens Museum and its giant model of New York! It won't take you too long to visit and it's truly impressive.
The stop in Brooklyn
Brooklyn is undoubtedly the borough with the most identity in New York, with its brick houses with trees on each side of the street and the very famous instagrammer hot spot overlooking the Brooklyn Bridge. To top it off, the food in Brooklyn is spectacular (especially if you love pizza) and every store and bar has a converted industrial warehouse vibe that is simply irresistible.
Now that I'm done making it clear that Brooklyn is my favorite borough in New York, I can continue to tell you about this stop on the Tour of Contrasts, where you can explore the Jewish neighborhood of Williamsburg, the industrial charm of DUMBO under the Brooklyn Bridge, and discover the tastes and smells of Chinatown and Little Italy.
Meals
The Contrasts Tour does not include food, but luckily your itinerary ends in Brooklyn where you'll find the best pizza in New York. If you weren't planning to leave the city without trying the classic New York slice, this is the place to sample all the goodness of the Big Apple's Italian heritage. To give you some references, here are some restaurants where you can enjoy a well-deserved meal after a morning of sightseeing.
No matter what anyone tells you, these are the top places in Brooklyn:
Speedy Romeo - this car repair shop turned pizzeria named after a car from 'Grand Theft Auto' is a culinary tribute to traditional Italian pizza, thin crust and cooked in a wood-fired oven. Don't miss it!
Vinnie's Pizzeria - here you'll find the typical $1 New York slice in a place that doesn't want to impress anyone. The surprise is in the pizza and its taste, which you can enjoy to go, which is a good idea if you do the Contrasts Tour on the weekend so you don't have to find a table in a restaurant.
Totonno's - a pizzeria famous all over New York, whose star dish is a simple but delicious margherita. Because it is so popular, you may have some difficulty finding a table, so I recommend this option if you do the Contrasts Tour during the week.
Other interesting experiences in New York
If you have already satisfied your hunger for travel in the Big Apple and you want to complete your trip to New York with some of the organized tours that can be done in one day, I recommend that you consult my practical guide on 5 Day Trips from New Yorkwhere you can see which are the most interesting ones.
I can already tell you that Niagara Falls and the excursion to Washington DC are among my favorites.
Frequently asked questions
How long does the contrasts tour last?

The contrast tour has an approximate duration of 5 hours.

What am I going to see in the Tour de Contrastes?

The tour makes several stops including: Bronx,Harlem, Yankee Stadium, Queens and Brooklyn.

Is the Tour of Contrasts walking?

Although it makes several stops to walk through some areas, the major parts of the tour are done by bus.

Where does the Tour of Contrasts end?

You can choose whether to end it on the Brooklyn Bridge, in the DUMBO neighborhood, or in Chinatown (Manhattan).