Moma New York Ticket Price and Free Entry
The MoMa is an indisputable visit if you travel to New York. I tell you all about the prices and discounts of this temple of modern art so you can choose the option that best suits your budget.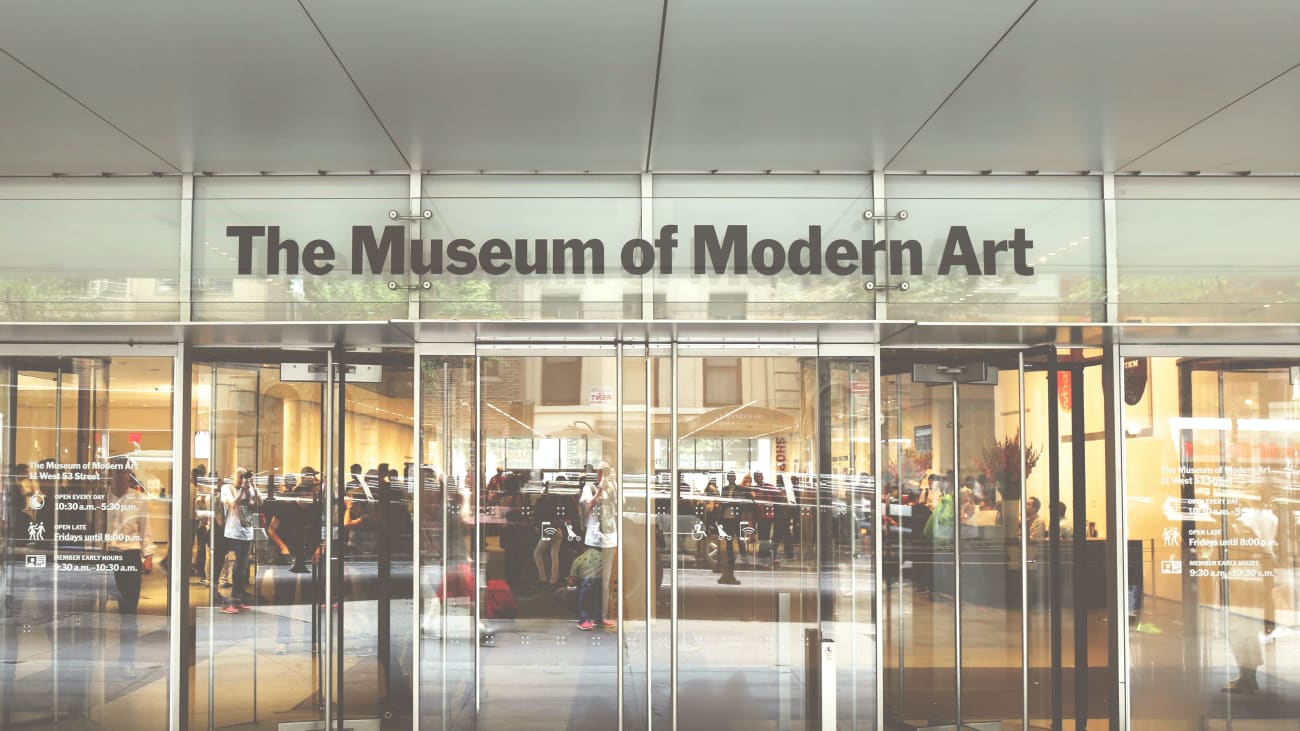 The Museum of Modern Art (MoMA) is one of those essential visits when visiting New York. In the post about MoMA tickets you will find the main points you need for your visit, but now it's time to delve even deeper into the information about all the prices, possible discounts and free tickets.
In this way, you will be aware of all the details to save a few euros and, thus, you can enjoy more willingly this temple of modern art, whatever the budget you have.
How much do MoMa tickets cost?
The cheapest tickets for the MoMa are priced from 20 euros at Hellotickets and it is a perfect option if you want to avoid wasting time at the ticket office. Something you won't regret, because the MoMa's collection comprises almost 200,000 pieces and every minute is gold!
This price is indicative as it may suffer alterations if it is a weekend, in high season or depending on demand.
Ticket prices at the box office
Admission fee for adults: From 21€ ($25).
Adults over 65 years old (ID required): From 15€ ($18).
Visitors with disabilities: From 15€ ($18).
Caregiver accompanying a visitor with a disability: Free admission.
Students (ID required): From 12€ ($14).
Children under 16: Free admission.
MoMA members: Free admission.
What's included with MoMa tickets
Free audio guide.
Special exhibitions.
Films and gallery talks.
Admission to the Museum of Contemporary Art PS1, Long Island City's contemporary art center, for up to 14 days after the visit. Specifically, admission to MoMA PS1 must be scheduled in advance and space is limited.
Save on MoMa tickets with one of the city's sightseeing passes
Admission to MoMA is included in certain tourist passes such as the New York Pass, the Sightseeing Pass and the Explorer Pass.
Explorer Pass: Offers free access to 2, 3, 4, 4, 5, 6, 7 or 10 attractions, including MoMA. Depending on the number of days for which you purchase it, the pass will have a different cost.

The New York Pass: Allows free access to more than 10 attractions including MoMA, plus discounts on tickets to restaurants, stores and Broadway shows for a specific number of days. The higher the number of days, the higher the cost of the tourist card.

The Sightseeing Pass: This card allows you to choose from more than 150 attractions and offers including the MoMa, as well as get a sightseeing bus ticket that matches the duration of your pass. Likewise, the more days, the higher the cost.
In addition, there are other tourist cards that offer discounts on admission to MoMa: FreeStyle Pass (40% discount) and New York C3 CityPASS (30% savings).
If you have doubts about which pass to choose or even if it is really profitable or not, do not hesitate to visit the post about the comparison of tourist cards in New York where I break down all the details so you do not have any doubts about what to do.
Free admission to MoMa
The MoMa offers free admission for certain segments of the population. Here are all the details:
MoMa members and partners: Members and partners will enjoy free and unlimited access to MoMA, subject to capacity restrictions. Tickets must be reserved in advance, indicating the time of access. And on Monday mornings from 10:30 a.m. to 1:00 p.m., access to the museum is limited to members, so that they can comfortably visit the collection.
Student or artistgroups and associations
Schools and universities, including teaching staff
Children under 16 years of age
Staff of other museums, the American Association of Museums (AAM) and the International Council of Museums (ICOM)
Government employees, United Nations, active duty U.S. Army, and military families with dependents' cards: free admission.
Information on all groups is available here.
UNIQLO Free Friday Nights
Visitors could enjoy every Friday until before COVID-19 UNIQLO Free Friday Nights, which consisted in opening MoMa every Friday, free of charge, from 4:00 pm to 8:00 pm. This service has been suspended for the time being, but it is expected to be reactivated very soon.
Restaurant discounts available with MoMa ticket purchase
The restaurants where you will get a discount when you present your MoMa ticket are the following:
Bengal Tiger: 10% off dinner on the day of ticket purchase.
Bill's Bar & Burger: 10% discount on the bill.
Fogo de Chãov: 10% discount on food eaten (does not include drink and is not valid during happy hour).
II Corso: 10% discount on a main course on the day of the date of purchase of the ticket.
Il Gattopardo: 10% discount.
La Esquina Midtown: 15% off.
MakiMaki Sushi: 10% discount.
Shake Shack: 10% discount.
Side Door: 10% off.
Taco Dumbo: 20% off.
Parking discounts available with your MoMa admission ticket
ICON Parking, 1330 Sixth Avenue:: An additional fee starting at €8 ($10) will apply to oversize vehicles at the established rates listed below. Tickets must be validated in the MoMa lobby.

The 1345 Garage, 101-41 W.54 St:: The 1345 Garage, 101-41 W.54 St: An additional fee starting at $7 ($9) will apply to oversize vehicles at the prices listed below. Tickets must be validated in the MoMa lobby.
You already have all the information about tickets and discounts. Still, if you want more information, you can read our post about MoMa tickets.
And if when you have finished your visit you are not sure where to continue your itinerary through New York City, do not hesitate to visit our New York City Guide.