Madison Square Garden Tickets in New York
Madison Square Garden is the epicenter of music and sports in Manhattan. Whether you want to experience it live or stroll through its secret corners, here's how to visit it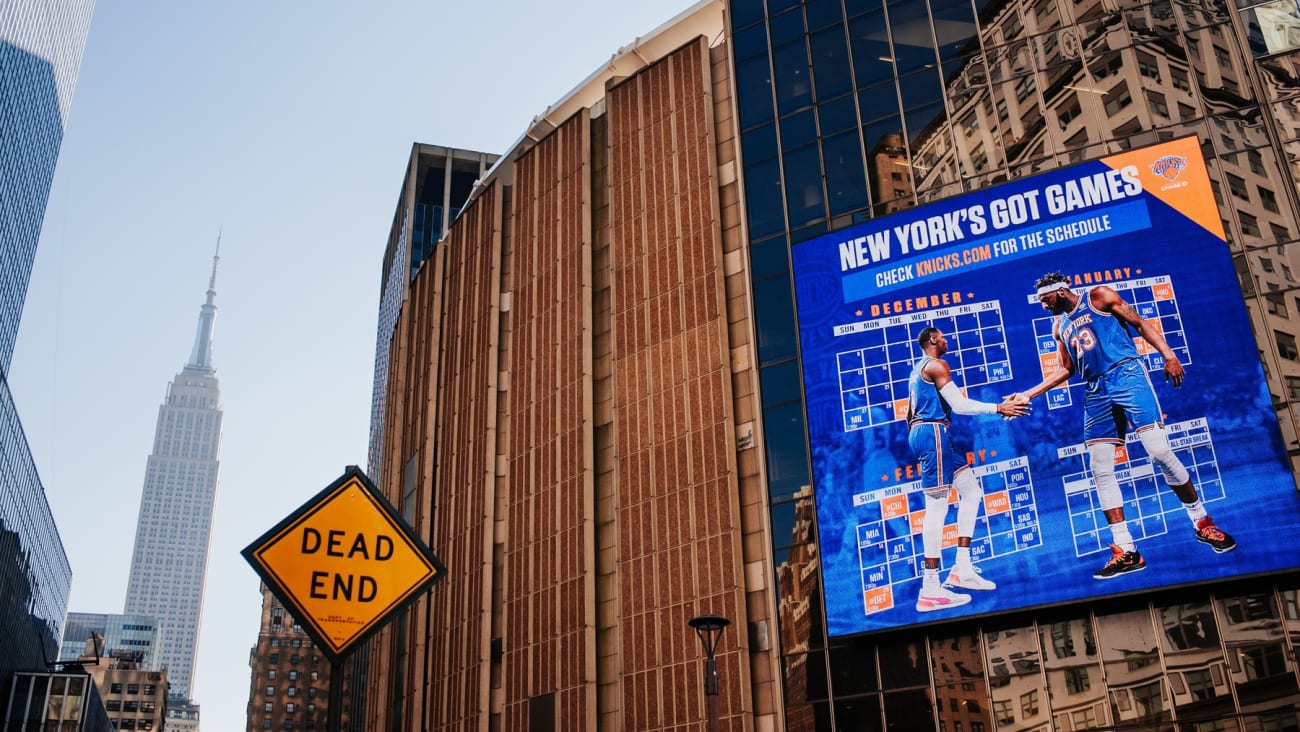 Madison Square Garden, also known as "The World's Most Famous Coliseum", is a huge indoor arena in Midtown Manhattan home to the New York Knicks (NBA) and the New York Rangers (NHL). Ready to experience the magic of the legendary MSG?
1. How to visit Madison Square Garden?
You have two options to explore the inside of the stadium:
Take a tour of Madison Square Garden
With a tour of Madison Square Garden, you will be able to see its inside. Although you can buy tickets at the Chase Square Team Store located in the MSG lobby, if you have the New York Pass, the New York Explorer Pass or the New York Sightseeing Pass this tour is included for free so I recommend getting the tourist card as you can visit many other New York attractions with it.
Buy Knicks (NBA) or Rangers (NHL) tickets
Buy a ticket for a Knicks or a Rangers game to experience these legendary East Coast teams live. In this article you will find all the details about how to buy NBA tickets in New York.
2. What is the MSG tour like?
The Madison Square Garden tour begins at the perimeter ring, where you can see multiple photographs of the history of this arena that was erected around 1874 and was torn down and rebuilt several times after. The current one is the fourth MSG and opened in 1968.
This part of the tour is very informative: images, interactive screens and text allows you to learn about iconic scenes from sports, music, or social events that have taken place here.
Continuing with the visit, I really liked the giant panels on display that tell you about a particular event and show objects related to it. From Patrick Ewing's equipment on the night of "The Dunk" to the photographs and invitations of J.F Kennedy's birthday where Marilyn Monroe famously sang happy birthday to him.
3. Visit the box seats and The Bridge Level
Afterward, you will visit the box seats area, where you'll be able to see what these VIP areas for millionaires, artists, and politicians are like. They have everything you can imagine! Bar, comfortable seats, food buffet, and privileged views of the game.
One of the areas I liked the most at Madison Square Garden is The Bridge Level, at the top of the stadium, which was created in 2011 and has views that will definitely test your fear of heights. The feeling of watching the whole court on a bird's eye view is simply wonderful.
4. Enter the team locker rooms and dressing rooms
From there, the tour will head to the lower level of the stadium where the locker rooms are located. If you are lucky you can visit them (they are not open to the public on game days). This is a very interesting visit, in which you can enter the teams backstage and discover what most people never see. The guide will explain how depending on the team that's playing some decorations are changed and as a superstition, neither players nor visitors are allowed to step on it.
Don't worry if the visit is done on the same day of a game: the guide shows one of the dressing rooms where music stars prepare before going on stage. It is also very exciting to see it and hear some incredible anecdotes on the way.
5. Experience the jaw-dropping MSG virtual reality court tour
Before the end of the tour, you will also be shown the stadium's court. Sometimes it's set for basketball, sometimes for ice hockey and other times for a legendary music concert, but in here there's always the wow factor! However, they don't allow you to step on it even though you can see it perfectly from the side.
In addition, during the tour of Madison Square Garden, there is a very cool virtual reality glasses experience in which you will savor the atmosphere of a show or sports game, and see how the stadium is transformed from a basketball court to an ice rink to a stage.
6. Check out the souvenir store before you go
The tour of Madison Square Garden ends in the gift store. Normally, I would label this as a cash-grab move, but hear me out! The Madison Square Garden gift shop is quite amazing and a perfect place to pick up a souvenir of your trip in the form of a shirt or cap of your favorite team, so you can wear it when you return to watch an NBA or NHL game.
7. Tour Schedule
Tours are usually held daily from 9:30 a.m. to 3 p.m. and from 12:15 p.m. to 3 p.m. if the Knicks are playing. I recommend you check beforehand if there is an event taking place on the day you plan to take the tour.
Tours are offered on a first-come, first-served basis and are subject to availability, as there may be changes without prior notice due to events. It is recommended that you arrive at Madison Square Garden 10-15 minutes before the start of the tour. Please note that the Madison Square Garden tour is closed from February 28 - March 14.
8. Where is Madison Square Garden and how to get there?
.
Madison Square Garden is located in Midtown Manhattan, on 7th Avenue between 31st and 33rd Streets.
The arena is located just above Penn Station and is easily accessible by public transportation. The closest subway is 34th Street - Penn Station (1, 2, 3, A, C, E).
9. How to buy NBA or NHL tickets at Madison Square Garden?
To buy tickets for the Knicks or the Rangers you have two options:
Buy them online in advance
If you are passionate about sports and you are excited about catching an NBA or NHL game during your trip to New York City, my advice is to buy your tickets online well in advance.
To get the best seats at the cheapest price the key is to buy them the sooner the better. The demand for an ice hockey game, and even more so for a basketball game, is extremely high so tickets usually sell out in no time.
Generally, prices increase as the date of the game approaches and the supply decreases, just like with flights. So if you wait too long to buy them, you run the risk of running out of tickets or having to pay a lot for a seat with a worse view. In addition, another advantage of buying tickets online is that you can choose the seat you like best at Madison Square Garden.
At the stadium box office
It doesn't seem the most advisable option in my experience. I'll explain why: for starters, buying Knicks or Rangers tickets once you arrive in New York means that you will have to adapt to the ticket office hours, travel to the stadium, and wait in a very long line to buy them. This means that you will waste a lot of time of your trip waiting in line at the door of Madison Square Garden.
In addition, getting tickets at the Madison Square Garden box office will be months later than when you could have bought them at home, there will be fewer options and surely the price will break your wallet. Or, even worse, they will be sold out because of the high demand for NBA or NHL tickets.
10. How to choose a good seat for an event at Madison Square Garden?
Obviously, it will depend on your budget, since the price of tickets usually depends directly on how close you are to the court. The cheapest are the farthest and highest seats as well as those in the corners. As you get closer to the court, the price of the tickets goes up.
At Madison Square Garden, the premium sector corresponds to the sides at the foot of the court where you can see the game and the players almost as if you were part of the team, although they are the most expensive seats. Behind the baskets or goals are the best value for money seats, letting you see the NBA or NHL stars from up close without paying VIP prices.
In any case, when buying tickets online, you will see a preview image of views from your seat before you buy, to get a better idea of which place to choose.
11. How do I receive the NBA or NHL tickets I have purchased online? Will they arrive on time?
The digital tickets will be sent to your email so you can access them whenever you need them. The only thing you should know is that, for security reasons, tickets are usually issued a few days before the game, so it may take a while to receive them (but don't worry, this is normal and they always arrive on time).
Do I need to print them?
Please read the instructions you receive carefully because you usually do not need to print them. However, if you have received the tickets in PDF format and you prefer to print them but you are already away from home, don't worry. Usually, the hotel will help you print them or you can look for a Staples or Copy Center (Google Maps will be a perfect help here) to print them near your hotel or the stadium.
What if I don't have internet access, how do I show the tickets?
If you don't have a stable connection or you don't have internet access during your trip, don't worry. You can always download them at your hotel (or at a Starbucks) to have them ready when you get to the stadium.
12. When to go to the stadium on game or concert days?
The days when the Knicks or the Rangers play at Madison Square Garden are special in the city. You can feel it in the atmosphere and there is a greater hustle and bustle of people on the streets of New York than usual.
Many simply walk to the stadium because it is located in the heart of Manhattan and take the opportunity to go for a stroll. It is also quite common to get there by public transportation so you must keep in mind that there will be a bit of traffic to get to Madison Square Garden.
That's why, on the day of the game, I advise you to go at least one hour in advance to go through the security check, find your seats, experience the atmosphere before the game with music and cheerleader dances, listen to the National Anthem before the game and watch the players enter the court. A spectacle in itself!
13. Is it possible to go in with my backpack? What about my camera?
According to Madison Square Garden's official recommendations, it is discouraged to bring backpacks or unnecessary large items into the stadium. In addition to the fact that they will take seating space, you will have to take all bags through the security checkpoint and this will undoubtedly slow down your access to the stadium.
14. Do children pay admission at MSG?
The sport is a very family-friendly show that many parents attend with their children, but to the question of whether children pay admission, Madison Square Garden's policy states that children who have reached the age of two must have a ticket.
If you are going to the stadium with children under the age of two, bring proof of the children's age with you in case you are asked for it at the gate. Valid forms of identification are a birth certificate or passport.
15. Why visit Madison Square Garden?
Having fun during your trip to New York City is quite easy, and even if you do not like sports and in particular the NBA or the NHL, the truth is that watching a game of basketball or ice hockey in this legendary stadium is a real spectacle of music, dancing, partying and, of course, sport. A unique opportunity to experience the thrill of high competition sport that you can not miss at Madison Square Garden.
With a capacity of more than 20,000 people and five floors, this is one of the main multipurpose halls of the city. Madison Square Garden is a reference for sports on the East Coast, as both the New York Knicks (NBA) and the New York Rangers (NHL) play their home games here.
16. Historic events held at MSG
This venue is living history of American sports and a true New York landmark. For decades it was the boxing mecca of the country and legends such as Muhammad Ali, Mike Tyson, Joe Frazier or Rocky Marciano fought in its ring. Although boxing matches are still held there today, the most important ones take place in Las Vegas at hotels like the MGM Grand.
However, the history of Madison Square Garden is also linked to big musical events: throughout its history, it has hosted concerts by such popular artists as Elvis Presley, Frank Sinatra, John Lennon, Madonna, Michael Jackson, The Rolling Stone or Queen, among many others.
Its facilities have even been used for meetings of a political nature (such as the Republican Party convention in 2004) or religious (such as the great homily given by Pope Francis in 2015).
17. Other options for sports lovers
If you are thinking of attending an NBA game, which I highly recommend you do, check ahead of time the schedule of games taking place during your trip. If you are in New York between October and April, you will most likely be able to catch a Knicks or Brooklyn Nets game. Here is an article about how to attend an NBA game in New York.
If in addition to getting to know the nooks and crannies of Madison Square Garden you would like to visit the Barclays Center, the home of the Brooklyn Nets, I tell you all about it in my article on how to visit the Brooklyn Nets stadium.
Finally, you can also go see The New York Giants play soccer at MetLife Stadium and catch a game of baseball of the legendary New York Yankees at Yankee Stadium in northern Manhattan. Here is everything you need to know to buy your tickets: how to go to a soccer game in New York and how to catch a baseball game in New York.