How to Get to Top of the Rock NY
Are you dying to go up to the Top of the Rock and see the Big Apple at your feet? I'll tell you how to get there with different alternatives to get around.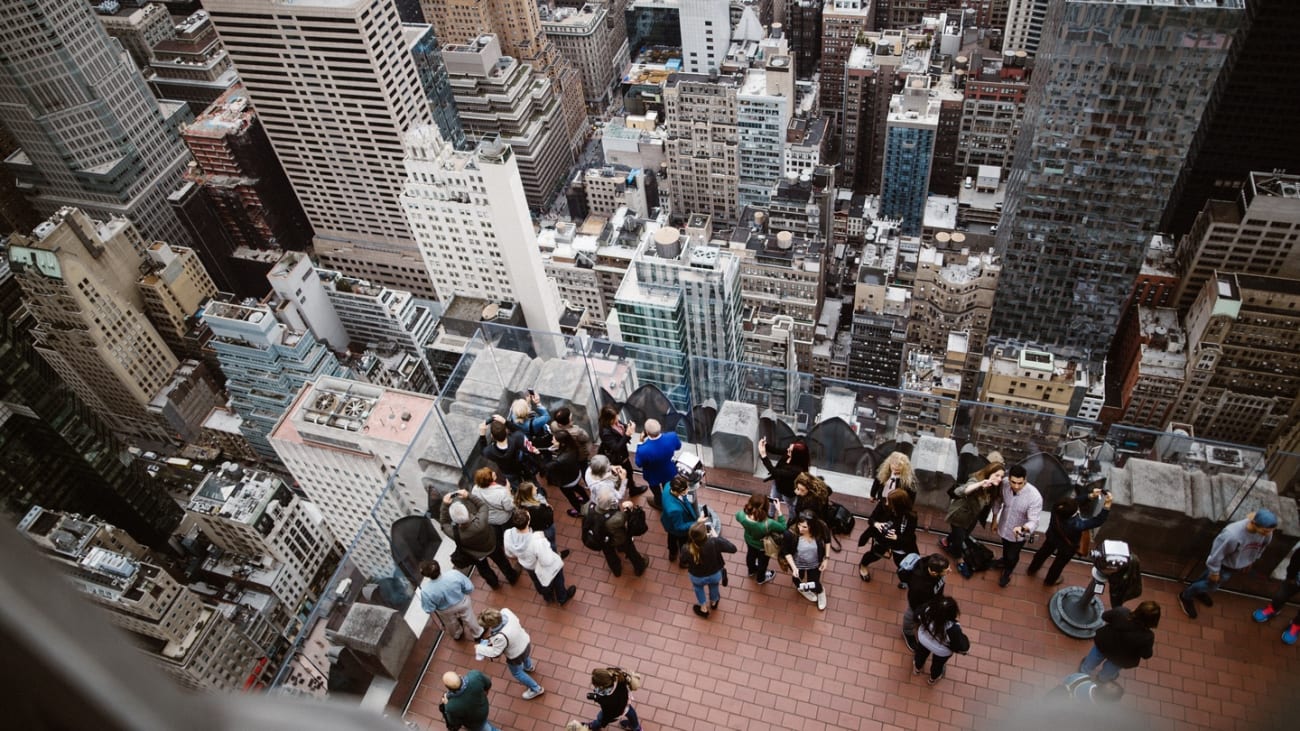 Located in the heart of Manhattan (between 49th and 50th Streets and 5th and 6th Avenues) is the Top of the Rock observation deck, at the top of Rockefeller Center.
This tourist attraction is very well connected with the city's transportation, so it will be very easy to get there, but if it's your first time in New York and you don't know what your options are, don't worry, because in this post I'll tell you how to get to the Top of the Rock in no time, wherever you are.
1. Reach Top of the Rock with a stroll through Midtown
While you are walking around Midtown, there is no better time to go up to the Top of the Rock and enjoy the best views of New York. It is also the most economical and enjoyable way to go to the sites during a day of sightseeing because it costs nothing and there is always something new to see and be surprised by.
If you're not in a hurry and enjoy walking, taking a short stroll to the next tourist attraction on your itinerary is a good idea and won't be a chore.
In fact, it's more than likely that the time will fly by and you'll get there without even noticing because walking is a unique opportunity to explore new routes and places of interest, which is always a joy when you're visiting.
So don't think twice and take to the streets to investigate New York on foot and make your way to the Top of the Rock.
Walking distances from popular sites in the city
St. Patrick's Cathedral: it will take you 4 minutes to walk from this famous church.

Times Square: it will take you about 6 minutes to walk from here.

Grand Central Terminal: it will take you about 11 minutes to get there from the iconic station.

Central Park: it will take you only 12 minutes to walk to the Top of the Rock from the Big Apple's green lung.

Chrysler Building: it will take you about 16 minutes to walk from this famous skyscraper.
2. Take the subway to go like lightning to Top of the Rock
The main subway lines to Top of the Rock are:
47th-50th Street Rockefeller Center stop (B, D, F and M lines)
50th Street stop (line 1)
51st Street stop (line 6)
49th Street stop (N, Q and R)
Why take the subway?
If walking doesn't convince you because you fear for your feet at the end of the day, the subway is the best way to get around to arrive early and with British punctuality to the Top of the Rock viewpoint.
The New York subway usually runs punctually except for occasional incidents and there are quite frequent trains so if you are a little pressed for time, I recommend taking this transport.
3. On the city bus seeing the sights of New York sitting down
If you opt for the bus, the lines that go to Top of the Rock are:
Madison Avenue (northbound) or Fifth Avenue (southbound): M1, M2, M3, M4 or M5 lines to 50th Street.

From Broadway: M7 line.

From 49th and 50th Streets: M50 line. Stop between Fifth Avenue and Sixth Avenue.
The bus is another good option to go to the Top of the Rock lookout in case you prefer not to go into the subway because you are not too familiar with it (it looks like one city under another!) and you don't want to get disoriented on the way.
New York's bus network is extensive and using it is also a good opportunity to enjoy the day to day life of the city while you travel comfortably seated. I recommend that you download the bus map to make it easier for you to find your way around and get around.
How much does the bus ticket cost?
The single ticket is $2.75 (the same as on the subway) but if from your location you need to transfer to another line at some point along the route, then ask the driver for a ticket with transfer (free for the next 2 hours).
However, if you are going to use public transport several times during your stay in New York then I recommend you to get the MetroCard, the city's transport pass, you will get a lot out of it!
4. I have a tourist bus ticket, can I use it to go to the Top of the Rock?
That's right! The Big Bus Red Route covers downtown, right where the Top of the Rock observation deck is located.
So if you have your tourist bus ticket I recommend using it to get to this tourist attraction, as this route passes by Rockefeller Center, the building where the lookout is located.
You will kill two birds with one stone! On the one hand, you can use the tourist bus as a means of transportation to move around New York and on the other hand, it will allow you to enjoy the views of downtown quietly and without tiring your legs.
If you still don't have your tourist bus ticket but you are interested in this option, you can read about it in the post The best tourist buses in New York, don't miss it!
5. Is it difficult to hail a cab to Top of the Rock?
Who hasn't wanted to ride in one of the famous "yellow cabs" at some time? A good occasion can be the visit to the Top of the Rock if due to circumstances (crowds, tiredness, bad time, not speaking English...) you do not want to go on foot or by public transport and prefer to opt for a door-to-door service such as that provided by cabs or Uber or Lyft companies in New York that will make things easier for you.
By cab
Fear not, although in the movies it's mission impossible to find a free one, cabs are not in short supply in the Big Apple. They tend to pass frequently through the streets of Manhattan, so as soon as you see one driving by... flag it down so it doesn't get away from you!
Estimated cab fare from key points in the city
By Uber or Lyft
This is a very interesting alternative to take into account to go to the Top of the Rock. They are similar to cabs but have the advantage that the price of the ride is fixed before leaving (goodbye treacherous taximeters!) so you know what it will cost you before arriving at Rockefeller Center.
In addition, the Lyft Share or UberPOOL versions of the well-known companies allow you to share a ride with other passengers going in the same direction so finding a free vehicle to move wherever you are is even easier. Keep an eye on them!
Estimated cost of Uber from key points in the city
How to use Uber or Lyft
Isabel's Traveler Tip

Remember to leave a small tip of 10% to 15% for the cab driver. In New York it is customary.