12 Things You Can´t Miss at Madame Tussauds NYC Wax Museum
At Madame Tussauds New York you will meet the most acclaimed celebrities of the moment. Take note of the people and movie sets in which you will be immersed.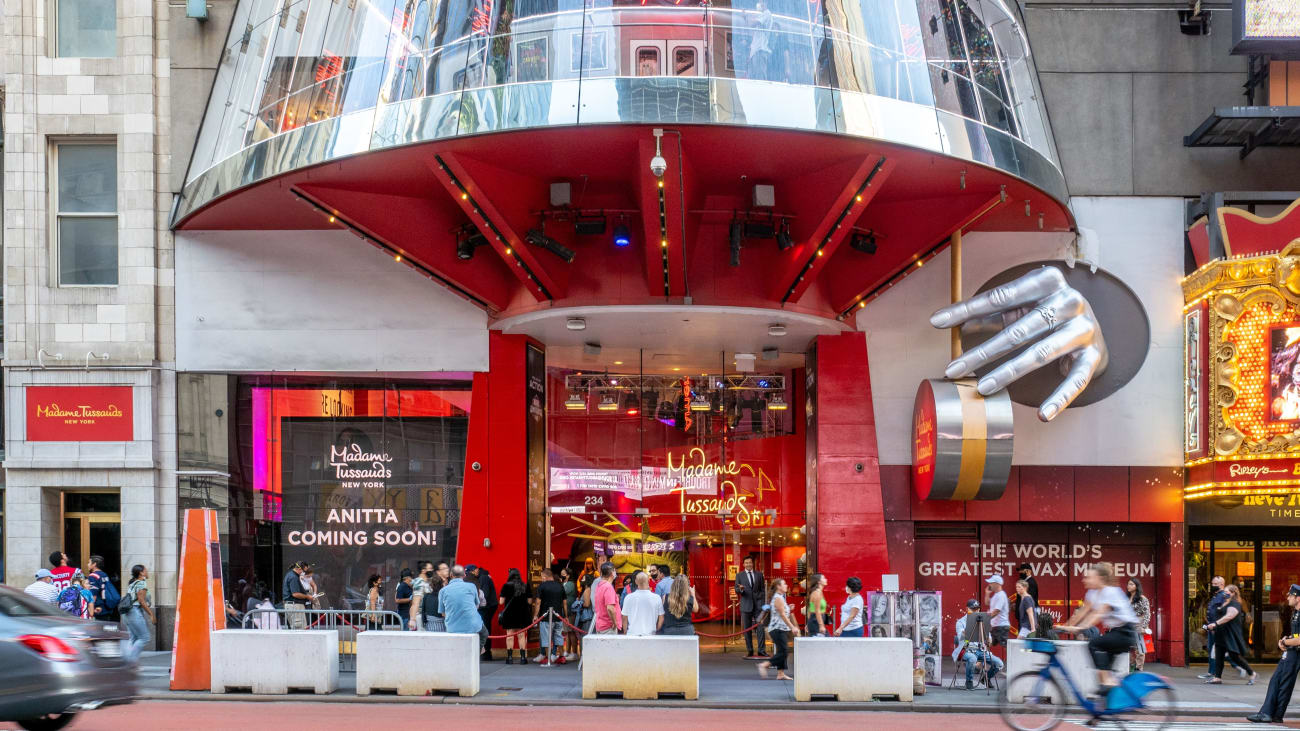 If you feel like visiting one of the best museums in New York while having a good afternoon of laughter with family or friends, the New York Wax Museum (Madame Tussauds) is the perfect choice.
8,000 square meters, five floors and more than 200 personalities will make you become the protagonist of your own movie. If you already have your tickets to Madame Tussauds New York, take note of everything you will see there.
1. New York Wax Museum celebrities of note
At Madame Tussauds New York you will be able to see the most acclaimed celebrities in history and today in real size: Marilyn Monroe, Audrey Hepburn, Charlie Chaplin, Brad Pitt, The Beatles, Einstein, Picasso, Kate Winslet, Jennifer Lopez, Bruce Willis, Jennifer Aniston, Sofia Vergara and Michael Jackson are just some of the characters you will have the opportunity to meet and be photographed with.
The tour begins with the Opening Night Party, a party like any other where drinks are served and music plays.
2. The world of film and movie sets at Madame Tussauds New York
Cinema plays a prominent role at the New York Wax Museum. Movies like E.T., Ghostbusters or The Phantom of the Opera, actresses like Marilyn Monroe in Gentlemen Prefer Blondes or Audrey Hepburn in Breakfast at Tiffany's and numerous performers like Kate Winslet, George Clooney, Anne Hathaway, Scarlett Johansson, Johnny Depp and Sandra Bullock, are just some of the celebrities you will find at the Museum of Wax in New York.
In addition, characters from acclaimed series like Don Draper, from Mad Men, are also present. As you can see, you'll feel like a Hollywood star during your visit.
Where?... The celebrities are on the fifth floor, while the movie sets are on the fourth floor.
Ghostbusters sneak into Madame Tussauds
The Wax Museum has brought Ghostbusters to life by taking inspiration from the 2016 film and creating an attraction that will immerse you in a scenario in which you will walk through the subway tracks of the New York subway, enter the basement of a haunted house and hunt down paranormal presences such as the ghost Slimer. A tour in which you will not miss the Ghostbusters.
In this scenario, never better said, of movie, you will meet Kate McKinnon, Leslie Jones, Mellissa McCarthy and Kristen Wiig.
King Kong
In collaboration with Ledgendary Pictures and Warner Brothers Pictures, the New York Wax Museum has brought King Kong to life with a multi-sensory animatronic head that breathes, blinks, growls and roars.
A chilling experience that will embark you, along with James Conrad, on an adventure through the tropical Skull Island, the setting in which the 2017 King Kong movie took place. You will have to escape the petrifying spiders and many other traps you will encounter.
3. Marvel's World of Superheroes at the Wax Museum of New York
The New York Wax Museum has also paid tribute to the world of Marvel- did you ever think you'd meet your favorite superheroes? Now you have the opportunity to be photographed alongside Thor, Captain America, the Incredible Hulk, Iron Man, Black Panther, Spider-Man and so many other superheroes.
In addition, if you pay a supplement at the entrance you can enjoy the 4D Marvel movie.
4. Broadway sets take over the Wax Museum in New York City
On your visit you will also experience the magic of Broadway first hand. You will play music on a giant piano and join the cast of a musical, plus you will enter a dressing room as if you were a star.
This stage, which leaves no visitor indifferent, is located on the fourth floor of the New York Wax Museum.
Where?.... Fourth floor.
5. Walk the runway and immerse yourself in the world of fashion
At the New York Wax Museum you can also be the star of your own fashion show. Brazilian model Alessandra Ambrosio will accompany you in this experience in which you will meet other fashion icons such as Tyra Banks, Kendall Jenner, Heidi Klum or Anna Wintour.
The catwalk is on the second floor. What are you waiting for?
Where?.... Second floor.
6. Best of TV: The Tonight Show at the Wax Museum in New York City
At the Wax Museum of New York you can also enter a television studio, MTNY Studios, and star in a typical American television show. Specifically, The Tonight Show with Jimmy Fallon, Al Roker or Michael Strahan.
This is another of the favorite sets for visitors to the Wax Museum of New York.
Where?.... Third floor.
7. Meet the most famous royal houses and politicians at the New York Wax Museum
Enjoying tea with the Queen of England or visiting the White House are two other experiences that will not leave anyone who visits the New York Wax Museum indifferent. Yes, you can visit the Oval Office! and have your picture taken with Obama or Donald Trump.
You will also meet other political leaders such as George Washington, Abraham Lincoln, Helen Keller, Lady Di and even one of the latest additions, Pope Francis...
Where?.... Third floor.
8. Pose with singers, bands and rock stars.
Obviously there are also the greats of music such as Jimmi Hendrix, Michael Jackson, Whitney Houston, Lenny Kravitz, Elton John, or Lady Gaga.
But these are not the only celebrities of the music scene, you can also take pictures with Rihanna, Bob Marley, Jennifer Lopez, Selena Gomez, Justin Timberlake, the Spice Girl, Rihanna or Selena Gomez. All of them can be found on the second floor.
Where?.... Second floor.
9. Meet the most famous athletes
The world of sports is also present on the second floor of the Wax Museum in New York. Soccer player Lionel Messi, tennis player Serena Williams and boxer Muhammad Ali are just a few examples.
Where?.... Second floor.
10. Other personalities not to be missed at the Wax Museum of New York
And along with all the celebrities mentioned above, there is also Ernest Hemingway, Einstein, Picasso and, of course, Madame Marie Tussaud, the promoter of all the wax museums in the world, among many other characters.
In fact, it would be impossible to list all the personalities that this fun museum hosts. Of course, you have to keep in mind that sometimes they remove some statues and incorporate others, so you can expect to find someone who is temporarily absent.
Where?.... Third floor.
11. The best immersive experiences at the Wax Museum in New York City
At the New York Wax Museum you can also enjoy a number of attractions for an additional fee with your ticket, such as the Ghostbusters 4D movie or Carnival Carnage 7D.
Ghostbusters 4D Movie
After rubbing shoulders with superheroes such as Captain America, Thor, Hulk or Spiderman, you will have the opportunity to enjoy the special effects of Marvel's 4D movie. An immersive experience with more than 150 realistic figures.
Carnival Carnage 7D
Also for a supplemental admission fee, you can enter the world of Coney Island Carnival Carnage, a multi-sensory interactive gaming experience where you'll experience the thrill of riding a roller coaster or a laser gun fight. The enemy? A terrifying clown who seeks revenge and traps us in his sinister nightmare.
Traveler's Tip

Our recommendation is to pay the admission supplement and enjoy the Ghostbusters 4D movie and the Carnival Carnage 7D experience. You will not be disappointed!
12. Don't miss the educational workshops at Madame Tussauds
The New York Wax Museum hosts educational workshops for student groups, including an interactive 4D cinema presentation.
The workshops feature different types of educational programs and are available for elementary and high school students, as well as college students.
---
Recommendations for seeing the most at the Wax Museum
For your visit to the Wax Museum in New York, I throw two recommendations.
Buy your ticket in advance: To avoid long lines and waste unnecessary time at the ticket office, it is advisable to buy your ticket in advance.
Go first thing in the morning: Madame Tussauds' opening hours are extensive and you can visit it when it best fits your itinerary, but if you want to visit it comfortably and have the opportunity to take all the pictures and selfies you want, I advise you to go in the morning on a weekday.
Better accompanied: Unlike other museums where it may be more comfortable to go alone because each one needs a certain time to see the collection and recreate with the different works of art, in the case of the New York Wax Museum we recommend, without a doubt, to go accompanied, as it is a visit to share laughter and moments. In addition, in terms of photography, there is no doubt that it will be much better.
Camera: This is one of the visits in which it is essential that you take a powerful camera or a cell phone that has a camera with good resolution, so you can capture some pictures to remember.