Best Rome Tours
Don't miss this list of the best tours in English for an in-depth look at the Eternal City.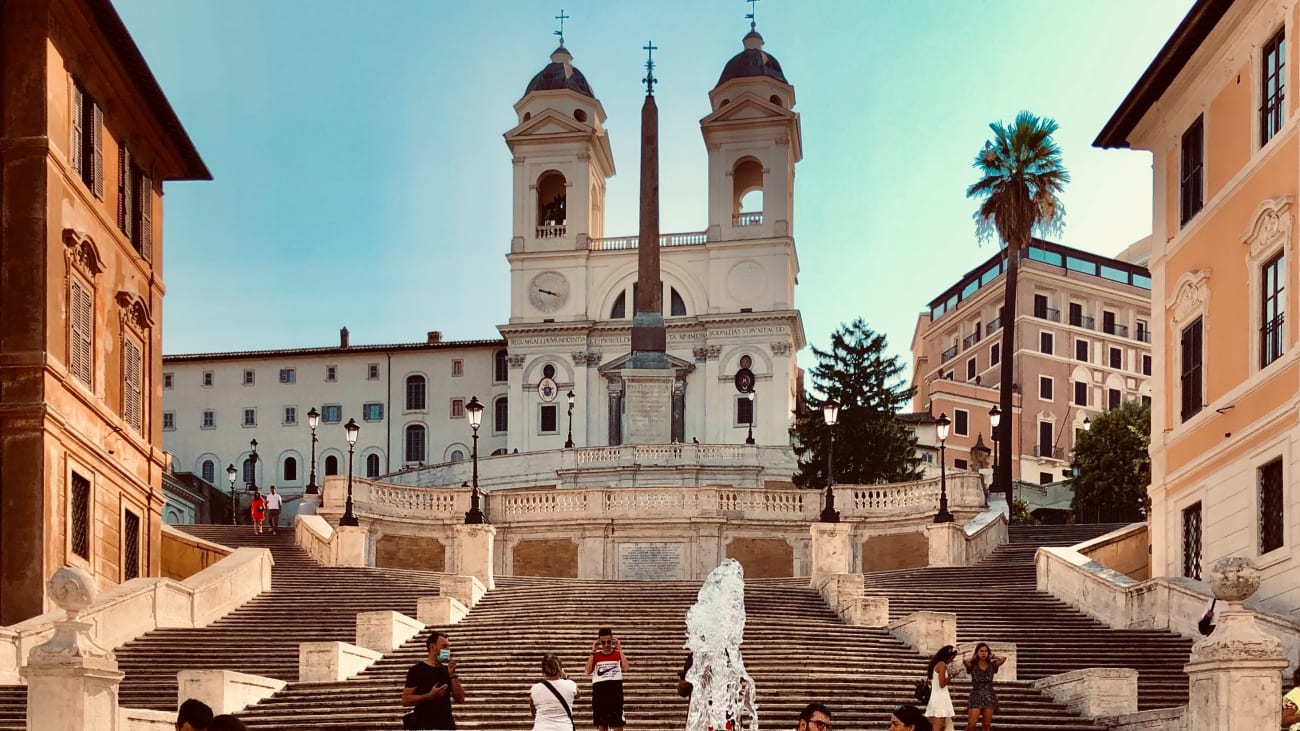 Rome is an open-air museum. In every corner, you can find a statue, a fountain, or a building that exudes history; to be discovered along with the ways of the Roman folk and the exquisiteness of their gastronomy. A guided tour is the best way to get to know the city and since the huge variety of tours can be quite overwhelming, here I am to help you choose the best one for you.
1. Vatican City Tour with a local guide, From
$ 53
Leaving Rome without tasting its pizza or its famous 'prosecco' wine is an unforgivable sin, just like skipping a visit to the Vatican. This tour of the Vatican takes you to the Holy See's city to explore it privately (on your own, only accompanied by the group you are traveling with) led by a knowledgeable local guide. The more historical and academic side of Rome is made aside in this tour, focusing instead on showing you the bustling neighborhoods of Vatican City.
2. Night walking tour of the center of Rome, From
$ 41
This is one of my favorite options since it lets you discover the true beauty of Rome past sunset. The city is absolutely impressive during the day, but it also offers surprisingly beautiful sights at night. Don't just take my word for it, go discover it yourself in this night tour of Rome.
3. Bus tour of Rome, From
$ 29
Although Rome is a perfect city to discover on foot, sometimes this is not a possibility for everyone. If this is your case, you have the option to do it aboard this tourist bus of Rome without giving up the commentary of a specialized guide. The area covered by the bus is larger than any walking tour, so I also recommend this option if you are short on time during your visit.
4. Bike tour of Rome, From
$ 53
If you are in good physical condition and looking for a Rome tour with an extended itinerary, I highly recommend this bike tour of Rome. It lasts about 3 hours, bike rental is included, and it is led by a specialized guide who will take you around Rome on a route tailored to bike accessibility. You will be able to stop whenever you like and, in addition to the city center, you will catch sights of the Trastevere and Colosseum areas.
5. Gastronomic tour of Rome, From
$ 82
Of course, there are also gastronomic tours in Rome and the food in this city simply deserves it. In this gastronomic tour of Rome you will make no less than ten stops to taste pizza, pasta, ice cream, and many other typical dishes of the city. The best part is that the tour is not only focused on gastronomy, but you will also get to visit some of the main landmarks of Rome and you will be given the best recommendations to eat like a local during your trip.
6. Small group tour of Trastevere, From
$ 73
If you prefer a cozier experience, consider choosing this guided tour of Trastevere in which you and a maximum of other 12 people will be led by a local guide. As the name of the tour suggests, the tour will mainly cover the Trastevere neighborhood, one of the most authentic in Rome, along with Campo de Fiori, a place of gathering for local merchants, and the Jewish Ghetto. The best thing about this tour? It stays away from the more crowded areas and includes food tastings along the way.
7. Walking tour of Ancient Rome, From
$ 51
For three hours and in a small group you will get the chance to explore the Colosseum and the Roman Forum. The guided tour of Ancient Rome includes entrance tickets to both sites, but unlike the guided tours of the Colosseum, this also includes a general tour of the area. If you are passionate about stories of emperors and gladiators, you will be enraptured by this tour.
8. Private tour of Rome, From
$ 57
In this private tour of Rome you will not have to share your guide with anyone else except with those who travel with you, and it is also totally customizable to whatever places you want to see in Rome. It is a unique experience that is twice as worthwhile as a regular tour because all the explanations and recommendations will be personalized according to what you are most interested in. This tour lasts about two and a half hours and is ideal for visiting areas away from masses of tourists, such as the neighborhoods of Little London or Monti.
9. What you will see in most Rome tours
Roughly speaking, the city of Rome can be divided into four tourist areas: Ancient Rome with the Colosseum and the Roman Forum as the main points of interest; the Vatican City State with St. Peter's Square as a reference point; the Trastevere district and the center of Rome with the Trevi Fountain, the Pantheon and Piazza Navona as must-see spots. Unless the tour you are booking covers a specific neighborhood or area, it is quite common for all of them to take you to the following places:
La Fontana del Tritone
Usually, this is the meeting point of the tour, located in Piazza Barberini, and is a baroque fountain designed by Bernini. In addition to telling you about the myth of Triton, the guide will surely tell you about the journalist Margaret Fuller as there is a plaque in the square dedicated to her.
Piazza Navona
The largest square in Rome, with its stunning baroque fountains, is one of the areas that most fascinate visitors to the Eternal City. There are many legends forged around these statues, that represent the great rivers of the time when they were built (mid-seventeenth century); the guide will explain some of these legends and myths, some of them true and some of them not.
Trevi Fountain
Undoubtedly the most representative fountain of Rome as well as the largest. Bring loose coins because you may have already heard that the tradition is to throw them with your back to the fountain: one coin to return to Rome and two coins to find love in the city.
The Pantheon
When you get to the Pantheon, the guide will probably tell you about the reunification of Rome since here rest the mortal remains of Victor Emmanuel II, the first king of reunified Italy. Try to keep up with the guide's explanations when contemplating this marvel of Roman architecture; its beauty will not make it easy. Admission is free.
The Church of San Ignacio de Loyola
This baroque church, built between the seventeenth and eighteenth centuries, houses the model of a temple dedicated to all of the world's religions and a very special optical illusion that will be revealed by your guide. Free admission.
Hadrian's Temple
This Corinthian-style temple from the first century is the best location to learn about the history of the ancient emperors of Rome. No doubt your guide will not miss this opportunity to tell you all about it.
10. Get organized for your guided tour of Rome
How to get to the meeting point
The meeting points of the walking tours in Rome are usually located in the city centre. Triton Fountain, Piazza Trilussa in Trastevere, Piazza del Popolo, Piazza de Campo de Fiori, Via Labicana... I recommend that you take the metro to a stop nearby and then walk to the meeting point (you can ask your guide for some references to get there when booking the tour).
Schedules
Normally you will be able to choose between several schedules available when taking a tour of Rome. As for the days of the week, there are usually tours every day, but let me remind you that on Mondays most of the museums in Rome are closed, so visitors may take the opportunity to sightsee in the center. As it is the case of any big city, weekends and holidays also tend to be more crowded in the tourist areas.
Duration of tours
They usually last between two and three hours, depending on the option you choose. The walking tours in the center of Rome are long enough to soak up the history of the most emblematic places and then walk around them at your leisure, but if you take the walking tour of the Colosseum and the Roman Forum, keep in mind that the time you will spend inside the monuments may be short if you truly want to see them in depth.
Meals
Bring water and snacks. The longer tours usually have a 15-minute stop in the middle of the tour. Depending on where you end the tour, your guide will probably recommend places to have lunch or dinner away from the general hustle and bustle of the city.
Tours with children
If it is not a very long tour, the children will be able to handle it because they are outdoors and can run around and play (not like in a museum, where they have to stand still and be quiet) while the guide shows them the sights. The distances covered on most tours (especially those in the city center) are quite manageable, but be aware that at most stops there won't be a place to sit down.
Ana's Traveller Tip

If you get the chance to choose a specific date for your guided tour, avoid weekends and holidays, as this is when there are usually the most tourists in the center of Rome.
11. Tips for travelers interested in the tour of Rome
Locating the meeting point, choosing schedules, and preparing your backpack is important, but there are other details you'll want to know before taking a tour of Rome. Here are my top tips:
Check the language. You will not have any problem because these tours are available in several languages (English, Spanish, Portuguese, German and French are the most common), but check the availability for the chosen time and language. Another tip is that a city tour is not the time to practice a language, you will enjoy it much more in your native language.
Wear comfortable shoes. You will be walking for several hours and standing for a long time, as sometimes there is no place to sit down during the tour. Make sure that the shoes are not new and do not chafe (watch out for summer shoes and sandals). Just in case, take some band-aids with you.
Ask questions. Ask for recommendations to eat like a local or to find the best parties, ask about the top viewpoints to take the best pictures, about the most original souvenirs you can buy in Rome, about hidden places you can't miss, about excursions to complement your trip... Ask everything you want because you won't always have an expert guide in the city to answer you.
Take notes. Okay, maybe it's an exaggeration, but more than once I have personally enjoyed the stories I have been told on walking tours so much that I have found myself taking notes on my cell phone. Lately, I always carry a pen and notebook to these kinds of tours because I do not want to forget anything. It will also be an ideal practice if you are going to make a travel notebook later on.
12. If you are interested in tours of Rome you will also be interested in...
If you are one of those who enjoy the stories, details, and anecdotes behind the main monuments, you cannot leave Rome without taking the two most important guided tours: the Colosseum and the Vatican tours. Both places are wonderful to walk around and take a thousand pictures, but you don't fully understand the importance of them until you take a guided tour. Here are the guides I have written about St Peter's Basilica Tickets and Colosseum Tours in case you are interested in getting organized for a guided tour.
If you also want to get off the beaten track, I suggest you visit the incredible Borghese Gallery (which is also located in one of the most beautiful parks I've ever seen). This is the article I wrote about it, Borghese Gardens and Gallery Tours & Tickets, which you can read to organize your visit.
Traveller tips
Helpful advice from us and our travellers so you can enjoy your experience to the fullest.
What's the average city tour length?
Most of the city tours are between 1h30m and 3h long, so plan the rest of your activities in the city bearing this in mind.


What is the best way to move around Rome?
Most of Rome's landmarks are packed within the old city centre, so walking is usually your best bet to get around Piazza Navona, the Pantheon, the Trevi Fountain and the Spanish Steps. But here's the pro tip: rent a bike or book a bike tour. It will let you explore more of the city's hidden gems and make the most out of your time.


What are the most common tourist mistakes I should avoid?
First and biggest mistake: not buying tickets in advance. Make sure to plan ahead and skip long waits under the Roman sun. Also, don't try to hail a cab in the street, there are designated spots for taxis. Coffee-wise, keep in mind that cappuccinos are reserved for breakfast, so instead try ordering un caffè or un caffè macchiato after noon (if you ask for a latte, you'll get a cold glass of milk).