Where to Eat in Trastevere
Here's a guide to get your fill of Rome in the most picturesque neighborhood of the Eternal City, based on pasta, pizzas and lasagna. It's not your grandmother's food, but it's close. yum!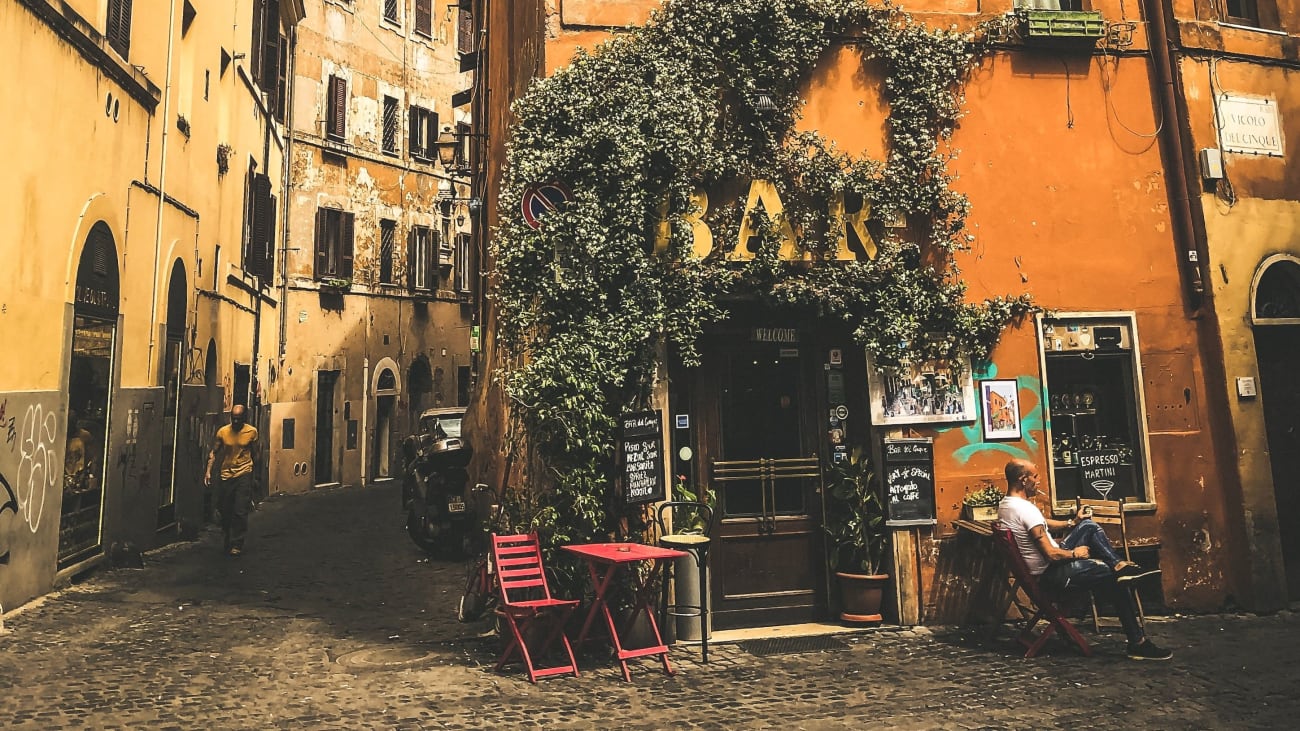 If you want to taste in the district of Trastevere something more Roman than the Capitoline wolf, but you are afraid that the fame of this bohemian and charming neighborhood has gone to his head, take note of some gastronomic suggestions to make your foodie visit to this district a success. Of course, if you allow me a fundamental tip, applicable to almost all my culinary proposals: book a table! This golden rule should be taken into account by all travelers who want to fill their stomachs in Trastevere, the most genuine neighborhood of the Italian capital. He who warns, is not a traitor.## 1. Feel like a real Italian at Trattoria Da Augusto
If you are one of those who enjoy the neighborhood restaurants, the typical Paco bar or the food houses where they serve homemade dishes, you will love this Roman trattoria. Located in the heart of Trastevere, the Trattoria Da Augusto will make you travel through the senses to the past. It is a small restaurant that is usually crowded with Italians and serves homemade food at a very affordable price. You will feel like the protagonist of the series "Cuéntame", Antonio Alcantará, but in Italian version. Before traveling to Rome, you should know that "trattorias" are family-run restaurants that serve the menu of the day at a very affordable price.### Bring cash
Attention! In this restaurant credit cards are not accepted, so bring cash if you do not want to be left to wash the dishes. As for the atmosphere, it is common to share a table with other diners and you will probably be amazed because they will give you the bill directly on the paper tablecloth. That's what it means to make good use of the raw material!### Practical information about Trattoria Da Augusto
Where: Plaza de' Renzi, Nº15 - Average price: between 8 and 10€ approximately per dish - Opening hours: from 12:30 to 15h for lunch and from 20 to 23h for dinner - Chef's tip: the meat of this place is very famous, one of the specialties of the house - Recommended if... you want a cheap restaurant and you don't have big pretensions.

2. The best pizza in Trastevere, at Pizzeria Ivo

Just outside the Pizzeria Ivo| ©Despejo

Did you know that pizza came to Rome after World War II through immigrants from the south of the country? So if you thought, as I did, that Romans were born with a pizza under their arm, you are very confused. However, in less than a century it has already become the signature dish. Although it is difficult to choose the best pizza in Rome, in my case, I choose the one from Pizzeria Ivo. It is finger-licking good!### The pastry shop converted into a pizzeria

This place has been delighting the inhabitants of Rome and tourists for more than 60 years. Specifically, it was in the early 1960s when its founder, Ivo Stefanelli, set up his own business in Trastevere, first focusing on desserts and then pizzas, and thanks to word of mouth it became the trendy place in the area.### High quality pizzas at a good price

Today, his son Ivano is the one who has taken the reins of the pizzeria and has begun to improve the selection of raw materials: introducing Danish meats, cheeses and sausages from leading brands, organic labels and craft beers. The good thing? The average price of 20 € has not changed. Good, nice and cheap.### Practical information about Pizzeria Ivo

Where: Via di S. Francesco a Ripa, Nº158. - Average price: €10 per pizza - Opening hours: mainly dinner, from 6 pm to 0:30 am, except on Sundays when it is also open from 12 pm to 3 pm - Chef's tip: try the fiori di zucca (zucchini flowers stuffed with cheese and anchovy paste) and the tiramisu - Recommended if... you want to eat the best pizza and are not in a hurry (sometimes the waiters are a bit slow).

3. The best pasta, at the best price at Da Enzo al 29

Enjoying the pasta at Da Enzo al 29| ©Kalboz

Despite the long lines that form (logical and normal, on the other hand) it is worth waiting to enter the restaurant Da Enzo al 29 and try one of the best pastas in Trastevere. I can only say that the carbonara dish was spectacular, so much so that I repeated the following days. It would be a sin to come to Rome and not dine here - be careful because they don't take reservations! But who is the owner? You will have to look for him, as if he were Wally, on one of the walls of the dining room, where you will find a photo with his portrait hanging in the trattoria. He passed away at the end of the 80's, but Enzo's presence is still very much felt: he is in the memory of the customers who frequented the restaurant when he himself ran it.### Practical information about the trattoria Da Enzo al 29

Where: Via dei Vascellari, No. 29 - Average price: 13 € for a pasta dish - Opening hours: Monday to Saturday, from 12:15 to 15 and from 19 to 23 h. - Chef's tip: try any of his pastas, they are all delicious! - Recommended if... you want an authentic Roman meal in a place that keeps the essence of Rome.

4. The best spaghetti at Tonnarello restaurant

Carbonara at the Tonnarello Restaurant in Trastevere| ©Jaclyn Chen

Are you one of those who takes advice or one of those who go crazy at restaurants? In my case, I'm of the first group, I don't decide until I read a thousand positive reviews. A good example of this was my visit to the Tonnarello restaurant, which had more than 35,000 reviews and most of them were outstanding. I thought: everyone can't be wrong, right? So I took the plunge and my experience was brutal: a fantastic terrace ideal for the summer in Rome, a charming place and the hallmark of the house: delicious tonnarelli (a kind of spaghetti), handmade like the Italian noas. Carnivores, meanwhile, can get their fill of lamb, oxtail and meatballs. Each ingredient here is carefully selected, as is its presentation.### Practical information about Tonnarello restaurant

Where: Via della Paglia, 1-2-3 - Average price: 9 € for a pasta dish and from 14 € for the main course - Opening hours: from 10:00 to 23:00 - Chef's tip: the tonarello Cacio e Pepe, rated the best in Rome - Recommended if... you want to go to a charming restaurant and eat well for sure.## 5. The best pasta with seafood at a good price at Osteria Der Belli

Entrance to Osteria Der Belli| ©Gillian Longworth McGuire

If you want to treat yourself to a well-priced culinary treat and feel like another Roman, I suggest you go to Osteria Der Belli, a Sardinian restaurant that specializes in simple seafood dishes such as octopus with baked potatoes; sea bass carpaccio and grilled squid. All at a great price! It's a very family restaurant where everyone participates: the owner's sisters prepare their delicious fresh pasta with seafood every day. They also have tasty options for vegetarians, such as pasta with mushroom sauce or ravioli with spinach and ricotta cheese. In summer, it is best to try their menu on their lively outdoor terrace.### Practical information about Osteria Der Belli restaurant

Where: Piazza di Sant'Apollonia, 11. - Average price: between 10€ and 16€ each dish - Opening hours: from 12:30 to 15:00h for lunch and from 19:00 to 23:30h for dinner - Chef's suggestion: mussels, bruschetta al pomodoro and pasta with spigola (sea bass) - Recommended if... you want to taste seafood in all its forms at a good price.## 6. Enjoy the most original pizza at Tu pizza Illuminati

Enjoying a Good Pizza| ©Seu Pizza Illuminati

If you are tired of the typical Italian pizza with thin dough (although it is impossible to get bored) and want to try something different, I advise you to book a table at Tu pizza Illuminati, a minimalist style place that moves away from the clichés and folklore of traditional pizzerias. Here the pizzas are a mix between a calzone and a crepe with thick but very juicy edges that will delight your taste buds. One of the characteristics of the restaurant is that the menu varies according to the season and they also have wonderful sweet pizzas (worth a visit) and fried pizzas, which are sublime. The prices are a little higher than other places but not exaggerated and in line with the proposal.### Practical information about Tu pizza Illuminati

Where: Via Angelo Bargoni, 10-18 - Average price: between 10€ and 15€ each pizza - Opening hours: from 19:00 to 00:00 every night (Mondays off) - Chef's tip: the classic pizzas are infallible, such as the margherita, marinara and cosaco, among others - Recommended if... you want to try a minimalist pizza and its sweeter version.## 7. The best appetizer at the Cantina dei Papi Ham Shop

Aperitivo at Cantina Dei Papi| ©cantinadeipapiviterbo

To live the full experience in Rome, you must try the typical appetizer of Rome, which has become a ritual. It is a kind of fun afterwork that is usually held every day around 6 p.m. and is as traditional as the vermouth on Sundays in Spain. In this case, you pay a fixed price for the drink and it includes a sophisticated aperitif. Want a break from the pasta and try this delicacy? I recommend you go to the Cantina dei Papi ham store, which stands out for its tables with an exquisite selection of cold meats and cheeses of the area. You can take them accompanied by a good wine and in a cozy and intimate atmosphere. If you want to drink water, they serve it for free in a pitcher, which is appreciated.### Order a mixed board

My suggestion is to order a mixed board where you will be served ham, bacon, wild boar sausage, pork loin, pork lard and other Italian gourmet products on rustic wood. You will also be able to taste various cheese specialties, such as those flavored with truffles and pistachio and walnuts. There are also bruschettas (a kind of Italian toast) with various sauces and pates such as olives, artichokes, truffles... They are to die for!### Practical information of the Prosciutteria Cantina dei Papi

Where: Via della Scala, No. 71 - Average price: 5€ - 10€ - Opening hours: daily from 11:30 a.m. to 11:30 p.m. - Chef's tip: try the boards and sandwiches, based on hams and high quality artisan cheeses - Recommended if... you want a snack dinner in an informal and youthful atmosphere with a very friendly and helpful staff.## 8. The best and healthiest ice cream you will eat at Fiordiluna

Entrance to the Heladeria| ©mdfeeds

Why did Audrey Hepburn fall in love with Rome, the scenery, the pizzas, the Italians? We don't know, but what is clear is that one of the reasons was its exquisite handmade ice creams, considered the best in the world. In particular, I prefer Fiordiluna 's because of their way of pampering the product: they only use fresh fruit! For more than 25 years this place has been preparing their ice creams with top quality ingredients that they buy from small producers: from hazelnuts to cocoa. And you can tell when you taste them. If you are on a diet, don't worry, because they have also developed ice creams without added sugars, with an incredible flavor and creaminess. You are already late to try them!### Discover the neighborhoods of Rome through its ice creams

If you have a sweet tooth by nature and you are curious about where to find the most spectacular ice creams in the Eternal City, here is a guide to the best ice creams in Rome, you will become an expert!### Practical information about Fiordiluna

Where: Via della Lungaretta, 96 - Chef's tip: the pistachio gelato is delicious - Recommended if... you want to try the most authentic gelato in Trastevere.## 9. Taste the best street food at Trapizzino Trilussa

Food at Trapizzino Rome Trilussa| ©Trapizzino

The more modern and street food lovers can enjoy a good street food at Trapizzino Trilussa, which has developed a kind of tapas, somewhere between sandwich and pizza, which you can order to take away and eat in the square. Specifically, it is a triangular-shaped slice of pizza, rolled and open in the center filled with typical and delicious dishes of Roman cuisine. Today, the idea has been so popular that it has already opened several franchises in Italy and even in... New York!### Traditional recipes wrapped in a pizza

Founder Stefano Calligari has a notebook where he writes down his mother's and his aunts' traditional recipes such as cuttlefish with peas, chicken with peppers... Which he then introduces in his closed pizzas. The chef has given a twist to the matter with this fun way of tasting them: with no messy cutlery and with the possibility of enjoying the trapizzinos in the street, in any corner of Italy.### Practical information about Trapizzino Trilussa

Where: Piazza Trilussa, 46. - Average price: 4 € a trapizzino - Opening hours: daily from 12 to 1h. Fridays and Saturdays until 2h. - Chef's suggestion: polpetta al sugo, zighini, chicken alla cacciatora... - Recommended if... you want to try signature food at a good price and you don't want to waste too much time on it.## 10. Try the best slushy at Sora Mirella overlooking the river

Sora Mirella stall in Rome| ©Kalboz

In summer the best way to combat the high temperatures in Rome is to have a good grattachecca (a Roman invention similar to slushies to cool down). I suggest you go to Sora Mirella, a charming little open-air kiosk by the Tiber River and order one of these milkshakes - the views are spectacular! Plus, it's one of the few places where grattachecca is prepared the traditional way: that is, by scraping a block of ice with a tool, rather than with a modern machine. On top of your grattachecca you will get delicious fresh fruit and you can even order it with alcohol. Watching the sunset with this drink sounds good, doesn't it?### Practical information about Sora Mirella

Where: Lungotevere Degli Anguillara - Average price: very cheap - Opening hours: daily from 9:00 to 1:30 am - Recommended if... you want to enjoy a delicious dessert outdoors with a nice view of the river and the bridge.

How much money do I need to eat in Trastevere?

Paying

the bill| ©David Lombardía

Probably one of our biggest worries when we go on a trip is figuring out how much money we need. However, in this neighborhood of Rome, as you have seen, there are options for all budgets and some with which you will barely scratch your pocket. A good example of this are the tapas you can order to go at the restaurant Trapizzino Trilussa, each for about 4€. If you want to eat cheap but seated, I recommend you also try the family trattorias that offer the dish of the day at a good price. On the other hand, if you are looking for something more sophisticated and modern this suburb is at the forefront of the sector, so you will find numerous options with which to please your palate without dying broke in the attempt.## How does tipping work in Rome restaurants?

The million-dollar question: do you have to leave a

tip| ©Sam Dan Truong

? You can breathe easy... In Italy, tipping is not obligatory and it is not very common. You don't have to leave a percentage of the bill as in other European countries, but you can leave some money voluntarily as a token of your appreciation if you liked the service and the food, which you will probably love! In restaurants you usually pay for the service, a fixed amount per person that can vary depending on the restaurant from 1 to 4€. And now, bon appetit!