10 Tips to organise your trip to Rome
Whether you're a first-timer in the Eternal City or a seasoned traveler, take note of these tips to avoid falling into tourist traps - stay alert!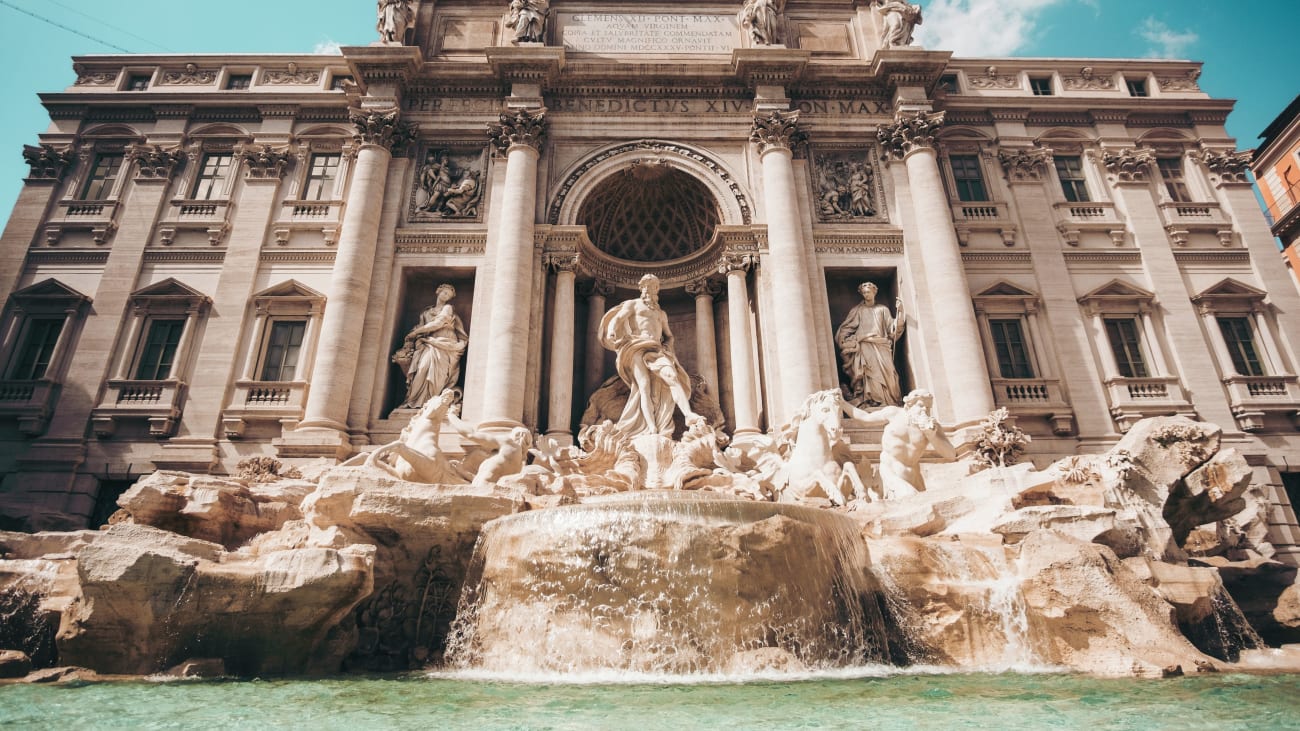 You already have a list of things to see and do in Rome, but now you're planning your trip and don't quite know where to start. Don't worry. In this brief guide I'm going to give you some basic tips to help you easily organize your trip to the Eternal City, know what is the best time to visit the capital and survive the roguery and tricks designed to deceive tourists. Be smarter than them!
1. When to travel to Rome?
It may sound like a cliché, but any time of the year to visit Rome is fantastic, since the temperatures are very bearable and each season has its charm. Can you imagine seeing the Colosseum covered in snow? Well, although it is not usual, it has been dyed white on occasion.
Spring
In spring there are more daylight hours and the temperatures are very mild, which invites you to stroll outdoors and walk through the gardens of Rome's parks full of flowers. Take note of the 10 things you can do in the capital during spring, including experiencing an authentic Roman Easter.
Summer
During the summer in Rome, the heat can play a trick on us. Temperatures are very high and sometimes very stifling. However, you can take the opportunity to enjoy the Tiber Island and its open-air cinema, the turquoise water beaches in the surroundings or take a dip in the Colli Albani Lake, where you will have as a neighbor in his summer residence none other than... Pope Francis!
Winter
If you are not afraid of the cold and rain, visiting Rome in winter is a good idea because Christmas is magical and you can enjoy its fairytale Christmas markets. On the other hand, January in Rome and February in Rome is low season and there is little tourism, so you will have the tourist attractions all to yourself. Like a king!
Autumn
One of the most beautiful and colorful seasons is the Roman autumn, the gardens are filled with reddish, orange and ochre tones and the temperatures are perfect for long walks. In addition, in this season prices are relatively low and there is hardly any overcrowding of travelers.
2. Compare flights in a search engine
There's a book for every traveler. And every traveler has their own tricks to save money on their getaways. My advice is that when you go to buy the flight to visit Rome, compare the price in a search engine where you can select the cheapest month, check which is the cheapest return and choose the best non-stop flight.
Secrets to finding cheap flights
If you have flexibility of dates, try to organize the departure of your flight on weekdays, since on weekends prices soar. Avoid Easter, since it is one of the most famous religious celebrations in the world, you will pay a lot.
Finally, try to search for your trip from the incognito window of your computer or cell phone because otherwise the page will detect your trace and in the next searches will raise the price.
What are the best days of the week to search for flights? Mondays, Tuesdays and Wednesdays at noon, when there are fewer people doing this task. At night and on weekends you will notice an increase in the amount. Now that you know all my secrets, get to work!
3. How much time do I need in the Eternal City?
We already know that to see "Roma, non basta una vita". So the more days you spend in the Italian capital, the better, I promise you won't get bored. But as vacations and money are not infinite (I wish!), I suggest you visit Rome for at least 4 days. In my opinion, the ideal is 7 days to visit Rome quietly and not leave the essentials along the way.
However, if you are passing through the metropolis or you have little time, here is a brief guide to discover the essentials of Rome in one day, which will serve as a first contact with the Italian capital.
Take the opportunity to get to know Florence
If you are lucky enough to spend several days in Rome and you feel like leaving the big city to discover other corners of Italy, I recommend you to visit Florence from Rome, the cradle of the Renaissance and one of the most beautiful cities in the country. Here's how to get from Rome to Florence for a full day.
4. How to get from the airport to the center of Rome?
Once you land in the Eternal City you have several possibilities to reach the center from its two airports: Ciampino and Fiumicino. It is a very touristic capital that is quite well connected. Its public transport network includes bus, train and subway, which allows you to move from one place to another quickly. The problem is the frequency to go downtown from the airport. Another much more expensive option is the cab, which has a fixed rate of about 30 euros plus the night supplement if we arrive at night.
Compare the different options
In this article I will summarize everything you need to know to get to the center of Rome from the airport, but I already tell you that the best option, according to my experience, is the shared transfer where you will travel aboard a fully equipped vehicle with all the comforts, which will save you time, money and hassle. Besides, it is much cheaper than the cab!
5. Is it a safe city?
Rome is one of the safest cities in Europe. In terms of danger indexes, it is always behind Paris, Athens and Naples, among others. However, this does not mean that, especially at night, you have to be careful, especially in isolated streets and in subway and train stations. The most dangerous areas of the capital are in the east and on the outskirts of the city.
Caution in tourist sites!
As in all big cities like London, Madrid or New York there are pickpockets. So that you don't get a disappointment, pay special attention to your bag and your belongings in these hot spots (I usually put my backpack in front of it to keep it under control):
6. Check your mobile and Internet rates and upload your selfies
Every corner of Rome deserves to be photographed and surely during your trip you will want to share your snapshots with your loved ones through your social networks. My advice is to carefully read the conditions of your mobile tariff and analyze the cost of calls and Internet connection abroad.
It isbest to check with your phone company beforehand to avoid surprises and ask if you have to activate your roaming service or if it is activated by default in Europe. Roaming is the service that allows you to use your cell phone in another country. Normally, if you travel to a state that is part of the European Union you will pay the same rate you have in Spain. But check, don't gamble!
7. And once there... How do I move?
If the idea of renting a Vespa and riding with your hair in the wind seems like a very romantic but impractical idea, Rome offers several alternative means of transport to move around the city like a Roman. Here are the best ones:
Metro: although it has only three lines (it is one of the smallest in Europe) it reaches the main points of interest. In this article I leave you a guide for you to move around Rome's metro like a fish in water. You can't miss it!
Tramway: despite being a very comfortable means of transport, it is not very useful as it does not run along the main arteries of the city.
Bus: there are more than 350 bus lines. The ideal, if you want to use public transport, is to combine it with the subway.
Nuria's Traveller Tip

If you are going to be in Rome for more than 7 days, I advise you to buy a metro ticket valid for one week. Don't forget to validate your ticket, otherwise it could cost you a 50€ fine.
8. What to eat in Rome: pasta or pizza?
It's not only pasta and pizzas in Rome that the Italian lives (but almost). In the Eternal City you will find restaurants for all budgets, from the most sophisticated ones, where celebrities go, to family trattorias where you can eat as if you were at your grandmother's house.
Put your boots on in Trastevere!
If you like the idea of going to a trattoria, check out my guide to the 10 best places to eat in Trastevere, Rome's most genuine and picturesque neighborhood, so you won't fall into any tourist traps. Oh, and don't forget to try Rome's artisan gelato and tiramisu for dessert. Delicious!
9. Save money and time on your trip
The million dollar question we have all asked ourselves on a trip: Is it better to go on your own or buy a special pass? In my opinion, if you want to be carefree and save money, the best thing to do is to buy the Roma Pass tourist card. In this post I will help you choose the right Rome Tourist Card for you. Check it out!
What is included in the Roma Pass?
Free admission to 1 museum if you choose the 48-hour card and 2 if you choose the 72-hour card.
Reduced rate (minimum 20% discount) at all other museums.
Discounts on shows and temporary exhibitions.
Discounts in archaeological areas that are not managed by the Municipality of Rome.
Queue-free access to the Colosseum and other points of interest.
Free access to all public transport in Rome (metro and buses) for the duration of your card.
A map and guide to the main points of interest in Rome.
10. Buy your tickets in advance
The Colosseum has been the most visited monument in the world for years, can you imagine the queues that can form? Therefore, the best advice I can give you is to buy your Colosseum tickets online and in advance.
This way, you won't have to spend the whole morning waiting in line and you will have the option to experience the Rome of the gladiators and emperors with an expert guide, which will elevate your experience. You also have the combined ticket to the Colosseum and the Vatican.
Did you know that this amphitheater was used for bloody amusements such as fights between wild animals? There could be fights between hippopotamuses, bears, lions, elephants... That ended with their cruel death. This is one of the stories that you will learn with your guided tour, which usually lasts about three hours. Are you going to miss it?