Rome's Piazza di Spagna: all you need to know to enjoy it
If you are in the beautiful city of Rome, you cannot miss the wonderful Piazza di Spagna and everything around it. It is an area full of glamour and shopping streets for all visitors to shop and take a souvenir of this amazing city.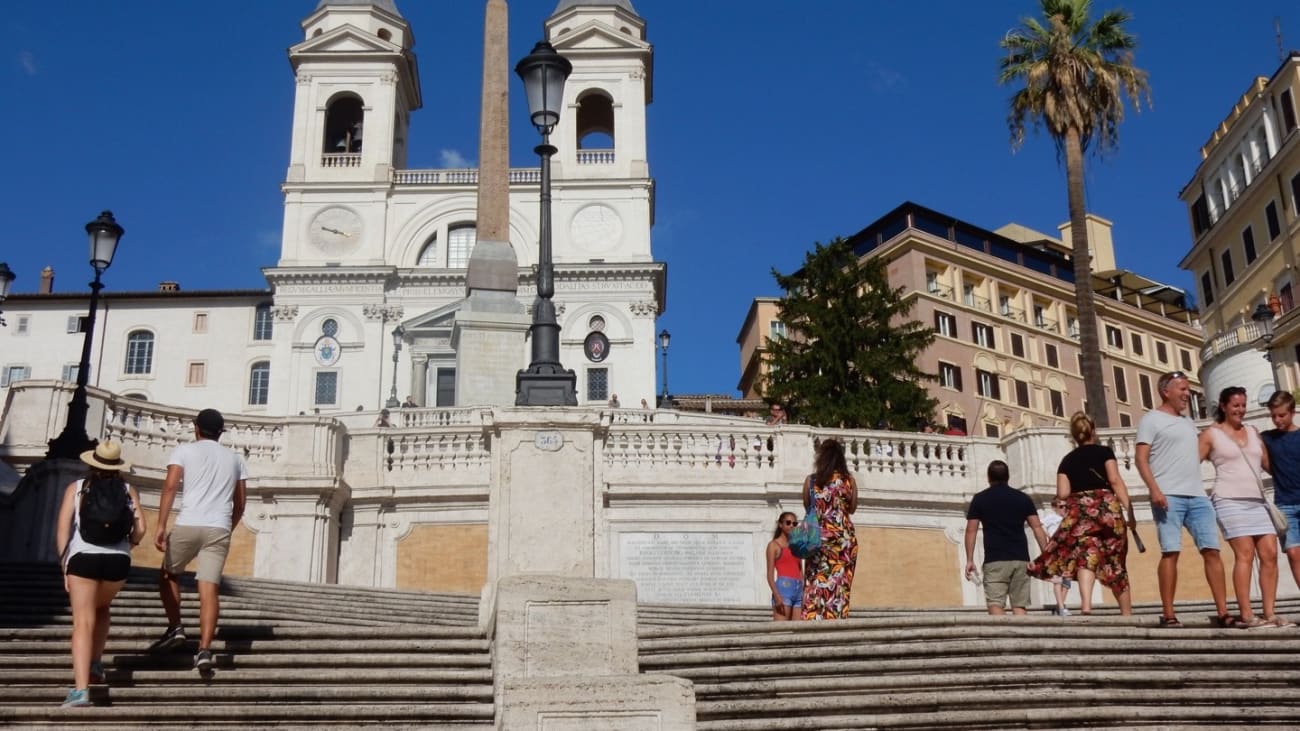 The Piazza Spagna is one of the most magical places in Rome, in its surroundings are the most significant sites such as monuments. In addition, it has restaurants that offer typical local foods and other dishes that will delight your palate. Undoubtedly, a must for your list of things to see and do in Rome.
In this article I will tell you everything you have to see to enjoy all the charm of the place, knowing each enclave without having to overlook any.
1. Take a tour of the Spanish Steps
The best way to get to know a place is with an expert guide who will tell you all its secrets. In Piazza di Spagna you can take a tour to know the most significant and beautiful monuments of the city. In this type of tour you will also get to know:
This street of Rome begins in Piazza di Spagna and its name is due to the canals that lead to the thermal waters of Agrippa. As it is very close to the square, it is very crowded by tourists, so much so, that it is the fashionable shopping center in Rome. As it is the largest shopping center in the city I leave you an article on the 10 best things to buy so you can take a souvenir.
The Villa Borghese is a park in the city of Rome that has different styles of Italian garden with large areas and with ponds, English style and fountains. This large park has 9 entrances and one of them is the PIazza Spagna, inside it has museums, buildings and attractions like the Villa Borghese Pinciana, so when you enter you will enjoy different attractions in the same place. I leave you an article on tickets to the Borghese Gallery that will be useful if you decide to extend this part of the visit.
Many tours go from Piazza Spagna to Piazza del Popolo which is one of the most famous squares in Rome. In this square there are 3 churches, in them we observe their architecture and baroque style. These churches give the square a unique style and it is very popular with tourists.
2. Piazza di Spagna staircase
This square is known as Piazza di Spagna because the Spanish embassy is located there. It is one of the most emblematic places in Rome. The staircase is named as a stairway to heaven, because it is a place perfectly built with steps made of marble.
Near the square there are places where you can buy a delicious ice cream to enjoy the beautiful view and structure of the place. In that staircase takes place the Donne Sotto le Stelle parade, one of the events that are celebrated in July in Rome, dressing up the square. It is perfect to go on that date to see the parade.
It is ideal to walk there in the evening and sit on the stairs to enjoy the sunset in the company of other tourists.
3. Barcaccia Fountain
It is a baroque style fountain in the shape of a boat and has the family coats of arms engraved on it. It is located in the middle of Piazza di Spagna and there it is possible to take amazing pictures with a unique style.
You will find this fountain as you go down the marble staircase. If you go to Rome in summer you will find that the fountain is a relief from the sweltering heat of Rome.
4. Church of the Trinità del Monte
The central monument of the Piazza di Spagna is the church of the Trinità del Monte. It is located at the top of the staircase, with a gothic style and a facade adorned with symmetrical bell towers.
From the church you can observe the beautiful view of the surrounding area. To get there, you can take a bus or the Rome subway. Visits are available from Tuesday to Sunday from 6:30 am to 8:00 pm. Admission is free, but it is common in many churches in Rome to be asked to make a donation for its upkeep.
5. Restaurants around PIazza Spagna
If you are going to visit the Piazza di Spagna you should not overlook the restaurants to eat in Rome around it. They have unique dishes with the typical foods, but not only that, they also offer different dishes for all the people who visit the place.
Alla Rampa
This restaurant is suitable for vegetarians and with the option to create gluten-free or vegan dishes. You can find Italian food with Roman specialties.
They offer meals for dinner, lunch, brunch and are always open late. Meal prices range from 4,50 € to 16,00 €.
Fashion It Caffe' Restaurant
Near the PIazza Spagna is this 4 star restaurant, serving Mediterranean and Italian food. It has outdoor seating so you can enjoy the nice weather in Rome and the scenery.
Also, their service is quality, they are experts in making desserts and cocktails. Their prices are quite affordable so that the whole family can eat.
La Degusteria del Bergamotto
Another restaurant that you should not miss is La Degusteria del Bergamotto. It is located very close to the square with a simple but elegant decoration and unique dishes. Its meals are especially for lunches and dinners, with the best wines that Rome has to offer.
Something that this restaurant has is that it includes WiFi so you can continue doing the activities that you like so much with your phone. It has a jazz bar that offers a relaxed and quiet atmosphere.
To eat there, you must make your reservation in advance. Gift cards are also available. Prices range from 12,00 € to 22,00 €.
Ristorante Leonardo
It has an elegant decoration with gray and white colors that give a unique touch to the place. It is suitable for people who are vegetarian and like to eat gluten free.
It is always open until late at night, so if you have spent your time watching the surroundings of the PIazza Spagna you can come to this place to taste a tasty dish.
It also has a terrace for you to eat outdoors and its prices are approximately 10 €.
La Strega Nocciola
One thing that makes this restaurant stand out is that all its food is Italian and you can order take-out. Besides, it has affordable prices ranging from 2,50 €, 3,50 €, 4,50 € or 6,50 €. The main attraction of the restaurant are its desserts and what they sell the most are ice creams.
6. Keats-Shelley House
This is a museum dedicated to the romantic poets Percy Bysshe Shelley and John Keats, located east of the Piazza Spagna. The building preserves various memorabilia from the lives of these writers and poets.
In the large collection they have there are sculptures, manuscripts, paintings and first editions that recall the lives of poets to whom they pay tribute. In addition, the museum has the largest and best library of romantic literature in the world, to which thousands of volumes are added every year.
Tickets and opening hours of the Keats-Shelley House
You can buy tickets directly at the box office. Ticket prices are:
Children under 6: Free admission.
Adults: Around 6 €.
Seniors over 65 and under 18: Approximately 5 €.
The museum is open from Monday to Saturday from 10:00 to 13:00 and 14:00 to 18:00. So if you are a fan of the poem and romance, you must stop by this unique place in the world.
7. Column of Inmaculada
This magnificent work is dedicated to the Immaculate Conception which was proclaimed by Pope Pius IX and with Roman style. Also, it is composed of a marble base and supported by cipollino marble. The column is twelve meters long and supports a bronze statue of the virgin on its top.
The feast of December 8th
This enclave is very important for the people who live in that place because every December 8th they celebrate the Solemnity of the Immaculate Conception. All the people unite to offer baskets of roses together with the holy father. Those flowers symbolize the love of the inhabitants of the city, feeling that they are children of the Virgin Mary.
It is a very beautiful event full of joy and peace, so if you plan to visit Rome in December do not hesitate to stop by to enjoy this unique celebration in the world.
8. Antico Caffé Greco
After having walked the entire Piazza di Spagna you can stop by this cafe which is an elegant place and the oldest in the city. It is also the third oldest café in the world, which means it is full of history.
It is located on Via del Condotti, a few steps from Piazza Spagna. The café used to be visited by artists and intellectuals. It is a place with decor and atmosphere that transports you to other times, also, it is a kind of gallery for everything that is exhibited. It is very visited by tourists because of the type of architecture it has and the pictures it has, making it an unbeatable café.
The room has the name ''Ominibus'' keeping multiple works of art and memories to those characters that went to the café. Among those important characters is Maria Zambrano, who often went to the café.
9. Mausoleum of Augustus
The Mausoleum of Augustus is located near the Piazza di Spagna and to get there you have to walk to the river. This monument is one of the most important of Ancient Rome.
You can see its circular structure covered with white marble. In addition, it is surrounded by beautiful evergreen trees and a statue of the founder of this monument. Inside are concentric corridors that are joined together, with chambers that support the roof. In its central hall, there are two circular drums covered with earth, and at its entrance there are two obelisks.
Over the years it has been used as a medieval fortress, an ornamental garden, a bullring and a stage for concerts. Today, after an arduous restoration, it is a tourist site for the world.
Undoubtedly, a place full of history and charm; a visit is a must.
10. Via Margutta
Finally, five minutes from Piazza di Spagna you will find one of the most charming and characteristic streets of the city of Rome, it is also present in movies like ''Roman Holiday'' and in songs. It is located between Piazza Spagna and Piazza del Popolo and its name is Via Margutta.
Via Margutta is a magical place where citizens and tourists stroll in tranquility. Also, you can see how ivy and vines cover the facades of the palaces. This road has art and antique galleries, restoration workshops and handicraft stores.
These are all the things you can see and do in the Piazza di Spagna to enjoy all its wonderful monuments and enter its restaurants to taste the tasty dishes they offer.
And if that is not enough for you (which I don't think it is), there is also the option of getting to know the city with night tours of Rome so you can experience the square from a different perspective.