10 places to eat in Rome
In Rome you can eat a lot and eat very well. So that you don't fall into the typical tourist traps, here is a list of the best restaurants in Rome.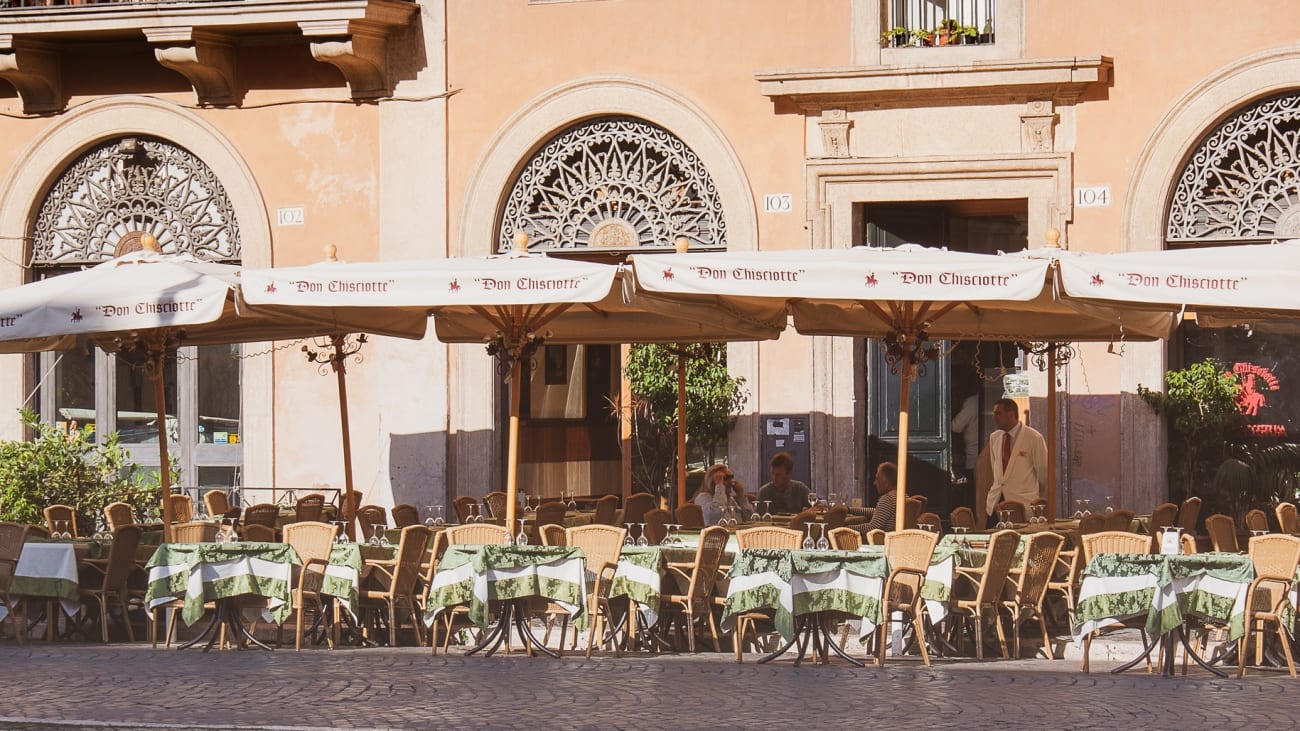 Rome is a city to taste with all five senses, and perhaps the taste is, after the sight, the one that will enjoy the most your trip to the Eternal City. After delighting yourself with the wonders that rise above its streets, it's time to continue enjoying, tasting each and every one of the flavors of Roman cuisine. Below, I leave you my personal selection of restaurants for each area of Rome, which will serve as a reference when planning your meal of the day no matter what your planned visit is. I hope you come to this post hungry: here are 10 different ways to devour Rome.## 1. Ristorante Fiammetta, a classy but unpretentious place in the Historic Center
Ristorante Fiammetta is a hidden gem on a street of antique stores, Via dei Coronari, and that must be why this restaurant retains all the flavor and elegance of yesteryear, without the artifice and frills of modern restaurants. Here, everything is real food, good service, reasonable prices and the possibility of eating both on the premises and on the pleasant outdoor terrace. Here you will find typical Roman dishes, wood-fired pizzas and even a variety of fish, all with an unusual freshness for a restaurant in the heart of Rome. Everything is delicious, so don't be afraid to order whatever you feel like and enjoy a great meal and a break after a morning of sightseeing.### More info about the restaurant
Location: Piazza Fiammetta, 10 - Hours: From 12:45 to 15:30 and from 19:00 to 23:00, Mondays and Tuesdays closed - Price: Between 20 and 25 € per person
2. La Taverna dei Fori Imperiali, a small family restaurant next to the Colosseum
La Taverna dei Fori Imperiali is a family-run restaurant serving traditional Roman food. Over time it has become a somewhat touristy place that is often recommended in guidebooks, but it still maintains its quality and that is why I mention it. They have a burrata ravioli that I hope they keep on their menu, because the next time I go to Rome I plan to repeat. Their desserts are also a delight. For lunch, and especially for dinner, it is almost essential that you book in advance, due to the proximity of the restaurant to the Colosseum. Reservations can only be made by telephone.### More info about the restaurant
Location: Via della Madonna Dei Monti, 9 - Hours: From 12:30 to 15:00 and from 19:30 to 23:30, closed on Tuesdays - Price: Around 20 € per person
3. Pizzeria Ai Marmi, an authentic pizzeria in Trastevere
This pizzeria is more like a kitchen than a restaurant. At Pizzeria Ai Marmi all the tables are next to each other, which means that you will share a table with strangers, and they will literally make the pizza in front of your eyes. And what a pizza. Everything this restaurant doesn't spend on trying to attract customers, it invests in the care they put into the dough and ingredients for a spectacular product. If you could eat pizza every night of your life like me, I sincerely believe you must try this place, and almost any Roman who knows it will tell you the same, since as you can see it is frequented by many locals.
Location: Viale di Trastevere, 53-59 - Hours: From 6:30pm to 2:30pm, closed Wednesday - Price: About 15 ¤ per person
4. Il Sorpasso, an escape from the tourist traps near the Vatican
This restaurant is a real delight and a good recommendation for lunch or dinner soon after a visit to St. Peter's Basilica. Il Sorpasso serves Roman cuisine with a touch of creativity and careful presentation, and a very good value for money. They have a quality charcuterie (you will see the hams hanging in the kitchen), rich cheeses and a wide selection of wines, and for main courses the best is pasta or meat.
Location: Via Properzio, 31/33 - Hours: 8:00 am to 6:00 pm, Sundays from 10:00 am to 6:00 pm - Price: Between 20 and 25 € per person
5. Mercerie, upscale street food next to Torre Argentina
At the
Mercerie is a restaurant, cocktail bar and fast food place all in one. The grace of this place is that its menu reinterprets the classic dishes of Italian cuisine and transforms them into small baskets full of flavor, and you can choose between lasagnas, stuffed cannoli, and desserts that you can order to take away. Another option is to stay in the restaurant and taste the rest of the menu, since the restaurant serves more traditional dishes, such as pastas, tartares, and meats. After dinner I recommend you try their incredible cocktails. If you are traveling to Rome with a group of friends, you will love this place, especially after a tour of the Jewish quarter.
Location: Via di S. Nicola de' Cesarini, 5 - Hours: From 12:00 to 00:00 - Price: Between 15 and 50 € per person
6. Ai Fienaroli, a short walk from the Borghese Gallery
I get the impression that this restaurant is not very well known yet, and it is certainly off the typical tourist itineraries recommended by most guidebooks, but I wouldn't be surprised if this changed overnight as the food they serve at Ai Fienaroli is exquisite.
It is a very simple place but with a very good service where you can order delicacies such as bluefin tuna tartar with crusty bread and fennel cream, sea bass carpaccio with pistachios and black truffle, and my personal recommendation, the artichokes with beans.
Location: Via Piemonte, 125 - Hours: From 12:00 to 14:30 and from 18:00 to 23:00 every day of the week - Price: Between 35 and 40 € per person
7. Osteria Fernanda, near the pyramid of Caio Cestio
Osteria Fernanda is a restaurant that proposes a very innovative cuisine with unconventional ingredients. Both locals and well-informed tourists flock to chef Davide del Duca's kitchen because what you will find on the menu of this place is literally out of the ordinary. Rigatoni served with snails, buffalo milk foam and root vegetable sauce, cheese ice cream risotto with herbs and miso, and three choices of meat, venison, lamb or pigeon, plus fish; these are some examples of what you will find on the menu of this restaurant recommended in the Michelin Guide.
Location: Via Crescenzo del Monte, 18 - Opening hours: From 12:00 to 18:00 every day of the week - Price: Between 80 and 100 € per person
8. Giulia, a gourmet experience next to Palazzo Farnese
At Giulia you can dine overlooking the Via Giulia through its large windows in an elegant place that combines vintage furniture and industrial decor. The tasting menu will surprise you with very particular flavors, of which I especially enjoyed the risotto with mandarin and burnt onion and the carrot fritter with homemade tomato sauce. However, if you come hungry I recommend ordering plates: they have a variety of spectacular pastas such as cheese ravioli, egg and snails, and meats accompanied by very creative garnishes.
Location: Lungotevere dei Tebaldi, 4/4a - Hours: 6:00 p.m. to 2:00 a.m., closed Tuesdays - Price: Between 50 and 80 € per person.
9. SantoPalato, a return to the origins close to Piazza dei Re di Roma
SantoPalato is a somewhat retro trattoria that has become one of the locals' favorite places for its return to traditional flavor. In this restaurant they cook with offal, and tripe, sweetbreads and pork tongue are the star dishes on the menu along with classics like pasta amatriciana and pasta alla genovese, and perhaps more appetizing meats like oxtail or meatballs. Although this place is not for all tastes, I recommend booking in advance as it is quite fashionable.
Location: Piazza Tarquinia, 4 - Hours: 12:00 to 10:30 pm, closed on Mondays - Price: Between 30 and 40 € per person
10. Altrove, Mediterranean cuisine a few steps from Circo Massimo
Altrove is a restaurant that makes multiculturalism its forte with a menu of international cuisine dishes. It is open all day and is both a cafeteria, pastry shop and restaurant, where you can order dishes such as tempura vegetables, ceviche, cous cous, and kofta. It is last on the list because you will not find traditional Italian cuisine here and, personally, when I travel somewhere I like to try the most authentic local flavors, but it can be an alternative if pasta and pizza have managed to saturate you during your trip.
Location: Via Girolamo Benzoni, 34 - Hours : From 12:00 to 15:30 and from 18:00 to 22:00 - Price: Between 20 and 40 € per person