Pompeii Day Trips from Rome
Almost 2000 years ago the lava of Vesuvius devastated the city of Pompeii and brought it to a standstill. Today it is possible to visit this ancient petrified Roman city. Here's how.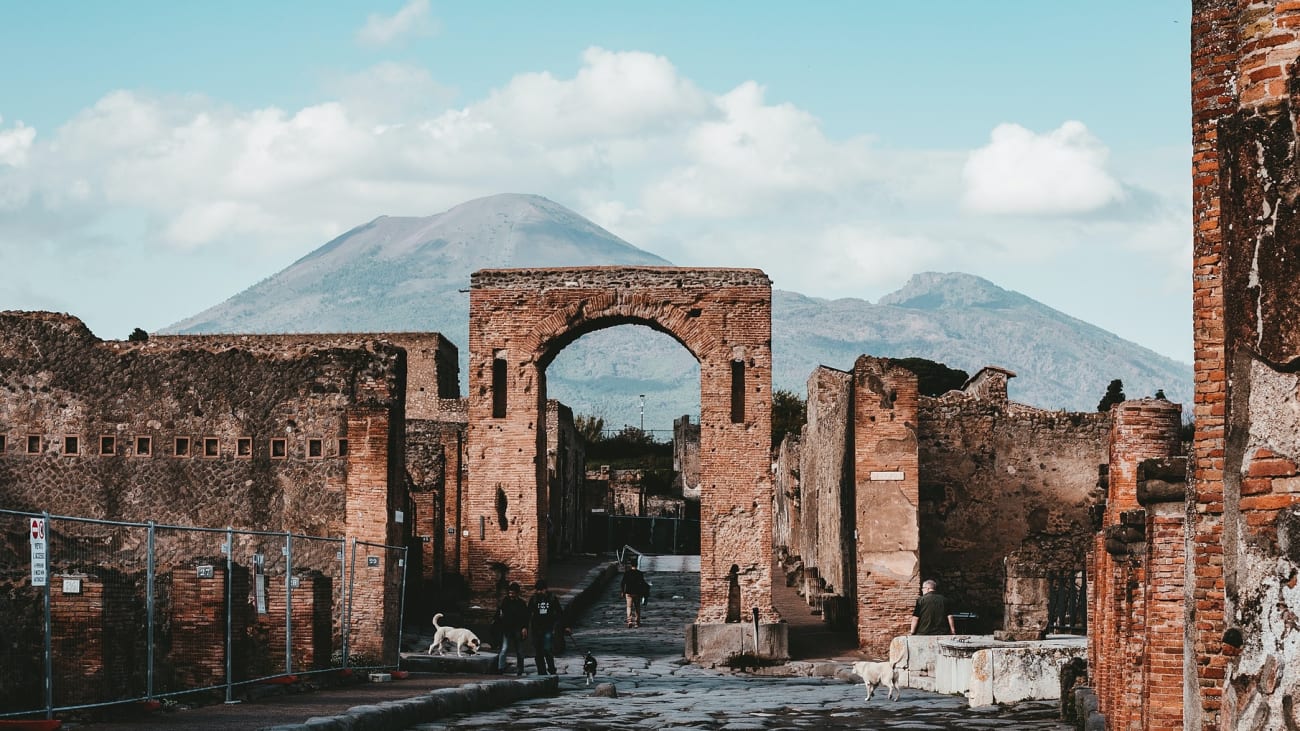 Pompeii is located in the center of the Italian peninsula, very close to Naples. Its location could not be more perfect: to the north, the imposing volcano Vesuvius rises and, to the south, the mythical Amalfi Coast. The best way to visit it is to join an organized tour from Rome, where you will not have to worry about anything but enjoying the route and the visit to this historic city petrified under the lava of Vesuvius.
The best option
All-inclusive tour to Rome from Pompeii
This tour is perfect if you want to visit Pompeii during your trip to Rome but don't want to spend a lot of effort (or budget) in preparing the visit. Everything is included so you don't have to worry about anything.
Duration: 13 hours
Visiting Pompeii is a journey back in time. The city of Ancient Rome is a must for anyone who wants to walk through the remains of its streets and recreate how the ancient Romans lived. This tour starts in the center of Rome, where you will board a private bus to head straight to the archaeological park of Pompeii.
Once there you will take a guided tour of the city, where an expert guide will explain not only how the city was formed, but also how the life of its inhabitants was, their social customs in the Forum and their leisure time in the Theaters and the amphitheater that are so well preserved. You will see ancient mosaics and even some of the inhabitants of Pompeii who unsuccessfully tried to escape from the lava and were petrified. A real open-air museum.
In addition, the tour also includes entrance fees and lunch in the price, so you don't have to worry about anything else. At the end of the day you will arrive back in Rome with the feeling of having traveled back in time.
Why I recommend this tour: it is the most comfortable and convenient option to travel to Pompeii from Rome with everything organized. Guided tour, lunch, transportation and entrance fees are included in the price.
---
Why is it worth going to Pompeii from Rome?
Although Rome is an open-air museum and was the epicenter of Roman civilization, it is worth going to Pompeii to see how they lived. The layout of its streets, the structure of their homes, their places of worship and leisure... All this and more can be found in one of the most important archaeological parks in the world and a UNESCO World Heritage Site.
To get the most out of your visit, hire an excursion that allows you to visit the archaeological complex with a guided tour. Also, if you wish, you can combine the trip with other nearby destinations such as Naples, Vesuvius or the Amalfi Coast.
If you like history, architecture or art, do not hesitate to come here and soak up everything you have to see and know. From discovering what happened in Pompeii to admiring -from its ruins- the imposing Vesuvius, the volcano that changed everything. And if you are still not convinced, feel free to check out my article on whether it is worth visiting Pompeii from Rome.
Interesting details about excursions to Pompeii
Distance from Rome to Pompeii: 242 kilometers
Travel time: 2:30 hours by road, 2:05 hours approx. by train (one transfer).
Where they depart from: some tours set up a meeting point (such as Piazza del Popolo) and others pick you up at your hotel. Don't forget to check this point depending on what is most convenient for you!
What time do they leave: around 7:30 am (it's a long tour, it's worth getting up a little early).
How is the transportation: these tours are done in a comfortable, air-conditioned bus.
What you will find on this tour: you will visit one of the most impressive Roman ruins complexes in the world.
But how much does it cost to visit Pompeii or take an excursion to Pompeii from Rome?
Depending on the option you choose: an all-inclusive organized excursion to Pompeii from Rome costs just over 100€ at Hellotickets. The price includes private transportation, lunch, entrance fees and guided tour, all in one day.
If you prefer to organize the trip on your own, you will have to buy the tickets to Pompeii in advance, book a train or bus ticket and pay for the food on your own.
But if what you are really worried about is how to introduce the visit to Pompeii without your budget suffering too much in the attempt, don't worry: I always recommend to do the math before you go to see more or less how much it will cost you to make an excursion to the city of Vesuvius from Rome. In this article on how much it costs to visit Pompeii I help you calculate it.
How to get to Pompeii from Rome?
If you are in Rome and you are planning to visit Pompeii, it is clear that joining an organized tour is the most comfortable and easy option, but you should know that there are also other ways to get to Pompeii if you prefer to visit Pompeii on your own.
Starting from the Italian capital, you will have the option to travel by train, by bus or even by car if you decide to rent your own vehicle to have more autonomy while visiting the country. Prices, travel time and how to get tickets are summarized in this article on how to get to Pompeii from Rome.
How long are the excursions to Pompeii from Rome?
To visit Pompeii from Rome you will need a full day. The two cities are separated by more than 200 kilometers and although the trip is not too tiring (the views by road are beautiful) you will need to spend several hours in Pompeii to get the most out of the city.
On a guided tour from Rome it is most common to leave the center of the capital early in the morning and return to the same point late in the afternoon, after having spent an incredible day visiting the city petrified by Vesuvius. In this article about the duration of tours and visits to Pompeii I tell you more details to help you with the organization.
If you want to visit Pompeii on your own, the logistics become more complicated, as you will have to go by public transport. In this case, a high-speed train, although more expensive, will help you to save time and to make the most of your day in Pompeii.
Of course, an expert guide will certainly help you to visit and understand the essentials of the place without having to waste time wandering the streets on your own without a fixed direction.
Can I visit Pompeii with children?
Of course you can, Pompeii is a great destination to visit with the whole family and the youngest members of the family will love it. You will spend a day outdoors visiting palaces, temples and petrified theaters with Vesuvius in the background.
The important thing is that they go prepared with comfortable shoes (in fact this is essential for the whole family), protected from the sun and heat in summer and above all that they do not miss a snack or fresh water throughout the day.
If you also want to introduce them to history, you can always take the opportunity to tell them how volcanoes work and the history of Pompeii. Italy with kids is always a good idea and Pompeii, of course, too. I leave you here linked my article about visiting Pompeii with kids so you can take into account some recommendations.
What to see and do near Pompeii
Pompeii is in an enviable location: south of Rome, near Naples and its bay and close to Vesuvius. If you want to know what you can see and do near Pompeii, take note:
Peek into the crater of Vesuvius
During your visit to Pompeii it will become clear how important Vesuvius was in the history of this city. If you have time and energy, climbing up to the crater is a great idea.
It will give you the best views of the trip, you will see Pompeii from the top and the whole area of the Bay of Naples. Besides, how many times have you had the crater of a volcano in front of you? Well, there is nothing better than a visit to one of the most famous volcanoes in the world.
There are some excursions to Pompeii that include it, but if you go on your own , don't hesitate to consider the option anyway. I tell you here how to climb Vesuvius, the volcano of Pompeii.
Visit Naples
There are some excursions to Pompeii from Rome that include a stop in Naples. The itinerary is similar: you will see the ancient city of Pompeii with a professional guide and you will also stop in Naples.
These itineraries usually include a bus tour of Naples' must-see sites such as the Royal Palace, Piazza del Plebiscito... while listening to the stories of the city on an audio guide.
You can also stop for lunch, followed by a guided tour of the archaeological park of Pompeii, a Unesco heritage site - a real treat!
When is the best time to visit Pompeii?
In Pompeii, winters are long - from November to March - and this is when you will find a cooler climate. However, summers last from June to August and the heat can be stifling.
Undoubtedly, if there is a perfect season to visit Pompeii it is spring, when temperatures are milder and there is not so much mass tourism.
August is the least advisable month for several reasons: there are more tourists (and therefore more queues), many restaurants close in Naples as it is their vacation month and the heat is sultry. You can read more here about the best time to visit Pompeii.
What is the best day of the week to visit Pompeii?
The archaeological park opens every day of the week at 9:00 am (8:30 am on Saturdays). Closing time depends on the time of year: in winter they usually close around 3:30 pm, while in summer you can extend your visit until 6 pm. Anyway, we recommend you to check their official website for updated schedules.
My advice is to arrive as soon as possible because you will be able to enjoy the complex with milder temperatures and less crowds. In addition, we recommend you to visit Pompeii from Monday to Friday, since weekends are when most tourists visit these ruins.
One last tip: if you go on your own and want to save the entrance fee, make your visit coincide with the first Sunday of each month. It's free!
Tips to make your excursion to Pompeii a round trip
So that you don't miss anything, I have created an article with the best tips for visiting Pompeii. I summarize here the 5 most relevant tips for you to take note of:
Book your ticket or excursion to Pompeii in advance: most tours already include the entrance fee, so you won't have to worry about it. But if you decide to go on your own, buy it in advance. You will avoid long lines, especially during the weekend.
Look for an excursion that suits your travel style: choose between dedicating all your time to Pompeii or combine it with a panoramic visit to Naples or climbing the Vesuvius volcano.
With a guide, better: Keep in mind that you will be visiting a city in ruins so, although there are some indicative signs, you will understand much better what you are visiting if they tell you how the reality was millennia ago in that same place. In most tours you will have a local guide who will explain every corner and, if you go on your own, we recommend paying a little more and renting an audio guide at the ticket office.
Unmissable corners: The forum, the amphitheater, the theaters and the lupanar can not miss on your tour. Visit them all!
Be prepared for an outdoor visit: if it is hot season, do not forget your water bottle, hat, sunglasses and sunscreen. If rain is forecast, you'll appreciate having an umbrella and rain jacket handy. And, hot or cold... comfortable shoes!
Ana's Traveller Tip

Avoid traveling in summer. Outside the summer season, there will be fewer people and, above all, you will be able to enjoy yourself without the sweltering heat of July and August exhausting you.
What should I take to Pompeii?
As you stroll through the ruins of the city, you will find that very few places offer shade. So, we recommend that you carry a small backpack with a bottle of water, which you can refill for free at the various fountains along the route.
Don't forget to wear comfortable shoes because walking around Pompeii can take an average of 4 hours. And, in the sunny months, wear a hat, sunglasses and sunscreen. And, of course, don't leave your camera behind to keep the memories of this unique tour.
If you have a large backpack and don't want to carry it with you during the tour, don't worry because at the entrance you can find lockers to leave it there.
What to see in Pompeii
Pompeii was involuntarily frozen in time. More than 2000 years ago, in 79 BC, the Vesuvius volcano erupted burying the entire Roman city. And it was not rediscovered until 1550, when excavations began to free it from the mantle of lava that covered it. Today, visiting its ruins is a journey through time and a silent reminder of the power of nature.
If you want to make the most of your visit to this archaeological park, here are the must-see places in Pompeii:
Forum
Undoubtedly, it was the epicenter of the city's life. This was where the social, religious and political life of Pompeii was concentrated. In its 150 meters long we can still enjoy some of the columns that surrounded it and imagine how it was originally filled with statues.
Temple of Apollo
Dedicated to the god of the sun and reason, this is one of the emblematic places of Pompeii, very close to the forum. It was built between the eighth and seventh centuries BC, being one of the oldest in the city. At present what is preserved are several of its columns and the stairs that gave access to the podium.
Great Theater
Up to 5,000 spectators could be concentrated in the stands of this theater. As it happened in other enclosures, the disposition of the spectators was according to the social class: the poorest, upstairs and the richest, downstairs.
Small Theater
Although its dimensions are smaller - it can accommodate up to 1,000 spectators - its acoustics are much better. In fact, today it continues to host theatrical and musical performances, a privilege to see them from its stands!
Amphitheater
It is true that its Roman brother, the Colosseum, gets the fame, but the amphitheater of Pompeii is the oldest amphitheater that remains. It dates back to 70 BC and had the capacity to hold 20,000 spectators. As in other similar arenas, gladiators passed through here to display their bravery.
If after visiting Pompeii and its Amphitheater you still want to visit the Colosseum in Rome, don't forget that on your return you can organize a guided tour of the Colosseum or simply buy tickets to visit its interior at your leisure. I leave you here linked to the guides we have written about it so you can consult them: Rome Colosseum Tours y Rome Colosseum Tickets: how to buy, prices and schedules.
Lupanar
If there is one place that attracts the attention of the traveler in Pompeii, it is this building. It is an ancient brothel, the most important of the Roman city. It is worth walking around its two floors, seeing its stone beds and appreciating its frescoes: from erotic motifs to engravings on the walls made by visitors and prostitutes. The upper floor was dedicated to the richest clients, while the lower floor was reserved for the poorest.
Orto dei fuggiaschi
In this place we can put a face to the tragedy of the eruption of Vesuvius. 13 people who tried to flee were found here. Molds were made with their bodies and today we can appreciate their faces of desperation.
Terme Sabiane
Of the different thermal baths that were in the city, these are the best preserved. Come here to be impressed by the vault that covered its baths -differentiated between cold, warm and hot-, its gym surrounded by columns or its outdoor pool.
House of Faunus
It is one of the most important buildings to visit. It is one of the largest and most luxurious Roman houses known in the city. Different works of art that decorated it have been found here, such as the bronze statue of a faun or a mosaic of the battle of Issos. Today, however, you have to go to the Archaeological Museum of Naples to see the authentic pieces.
Villa of the Mysteries
This villa was actually located on the outskirts of the city but it is worth a visit because it is one of the best preserved buildings. Inside, its frescoes have stood the test of time, so you can travel back to Roman times with greater clarity.
Where to eat on your excursion to Pompeii
If you are thinking about booking an excursion from Rome to Pompeii, most of them already include food in the price. If, on the other hand, it is not included or you prefer to go on your own, here are some tips on where to eat in Pompeii.
The proximity to Naples means that this area has a spectacular gastronomy. You can't pass up the opportunity to eat an authentic Neapolitan pizza, with fat and spongy edges. The coffee in this area is one of the best in the world and, if you want to end your meal on a high note, order a limoncello, brought from the neighboring Amalfi coast.
Festivals and events worth seeing in Pompeii
Want to make your visit even more special? Attend one of the events and exhibitions taking place in the ruins of Pompeii. For example, the 'Pompeii Theatrum Mundi' festival has been running for years in the summer months inside the archaeological park. Its ancient theater hosts contemporary dance performances and mythical plays, from Sophocles to Shakespeare.
If you are interested in Pompeii, you will also be interested in
If you have already decided to visit Pompeii from Rome, I think you will not go wrong and I am sure you will remember this excursion for the rest of your life! If you are still not sure if this is the destination for you, I have also written another article on The 9 best excursions from Rome that you might find interesting. In it I summarize the details of other excursions that can be done in the surroundings of Rome or other picturesque towns and villages that you can visit during your trip to Rome.
If you want to make the most of your days in the capital of Italy, I also leave you some links to other guides to Rome so you can better organize your days there. Here you have the one of Rome Pass and other passes if you want to get a tourist card that will allow you to save on visits to monuments, museums and attractions or this one about Top 11 tours of Rome if you are one of those who like to tour the cities and not leave a single corner to discover.
Frequently asked questions
Am I going to see dead bodies in Pompeii?

Yes, there are about 1,000 bodies covered in stone and ashes scattered throughout the ruins, which will give you an accurate impression of the last moments of Pompeii's inhabitants.

Can I bring a baby stroller to the exhibition?

No, strollers are not allowed in the exhibit, as it contains numerous delicate objects and excavated material on display.

What attractions can be visited in Pompeii?

On your visit, you will see Pompeii's great amphitheater, the Villa of the Mysteries, which contains the finest example of Ancient Roman painting of the period, the Temple of Jupiter, the Temple of Apollo, and the Garden of the Fugitives, where the largest number of victims together in Pompeii are found.