10 Things to Do in Rome in Winter
Enjoy one of the most magical seasons of the year, marked by Christmas and its beautiful prints. Here is a list of plans so you don't freeze.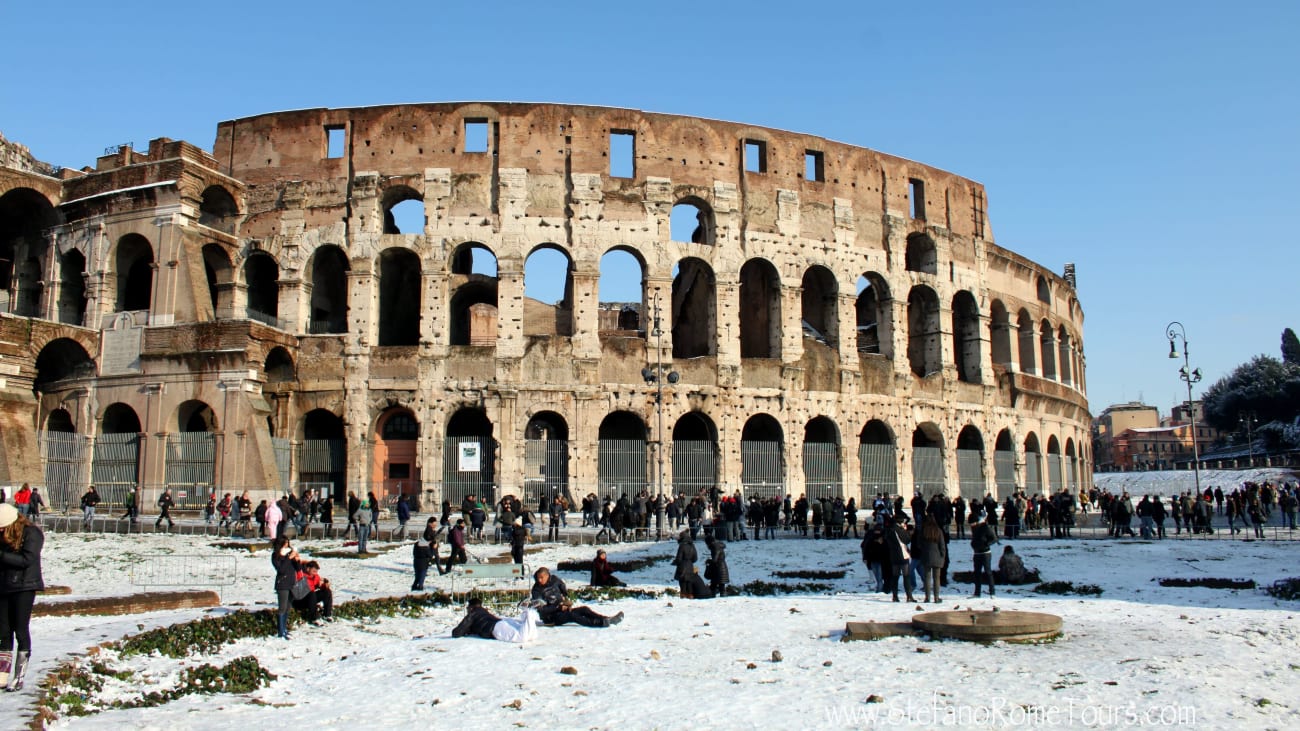 Winter is a magical time to visit Rome: you will have the whole city to yourself, enjoy the Christmas markets and have fun behind a beautiful mask at the Italian carnivals. Take note of the 10 plans you can't miss in the Eternal City during the coldest and most idyllic months of the year. Don't let the weather stop you, brave!
1. Enjoy the Piazza Navona Christmas market
The majestic Piazza Navona hosts Rome's main Christmas market, near the splendid fountains created by Bernini. How can you resist a hot chocolate in the open air with this magical panorama? If during your trip you go on a guided tour of the city, you will surely pass by this square.
What can I find in this market?
This flea market located in the heart of Rome hosts food stalls specialized in Italian sweets and chocolates; stalls with decorations for the Christmas crib, among which stands out the figure of the Befana, the original good witch who brings gifts on January 6 in Italy (which I will tell you about in depth later), and spaces for the sale of handicrafts.
Christmas lights and street musicians do the rest. If you are left wanting more, write down the best Christmas markets to make your experience in the Eternal City unique. You will want to see them all!
2. See the Pope's Floral Offering to the Virgin Mary
If you are traveling on the December long weekend to Rome, one of the most exciting and spiritual celebrations in the city, along with Rome's Holy Week, is the Feast of the Immaculate Conception on December 8. Whether you are a faithful believer or not, I advise you not to miss it - it will give you goosebumps!
In this act, the Pope performs the traditional public homage to the Immaculate Conception in the Plaza de España with the laying of a wreath of flowers to the statue of the Virgin. However, it is the firefighters of Rome who place the wreath, since the statue is... No less than 10 meters high!
If this plan interests you, I leave you this article on how to attend a Papal Audience.
3. Marvel at the opera of Rome
Whatever time of year you visit Rome, you can never miss in your agenda a good cultural plan, especially in winter, a time when outdoor activities are not so appealing. I suggest you save one of the nights of your trip to go to the opera in Rome.
Tune your ears and get ready to enjoy classical music at the Teatro Costanzi, a space that has more than a century of history and whose dome frescoed by Annibale Brugnoli of Perugia will leave you speechless. Here melodies and architecture go hand in hand!
Christmas Concerts
If you are a music lover, you can take advantage of Christmas to attend the classical music concerts that are organized all over the city, especially in the squares and churches. Some of them are improvised! My favorites are the ones at Chiesa di Sant'Antonio dei Portoghesi, Santa Maria ai Monti and Sant'Ignazio.
4. Slide on an ice rink in Rome
Did you think ice skating was only available in New York? Well, you were wrong. In winter Rome turns white thanks to the artificial rinks, which turn the city into an ideal setting for a fun afternoon with your partner, friends or family. Just be careful not to slip!
The ice skating rinks are usually open from December to February. What are the best places to visit in Rome?
The Ice Park Village, at the Euroma2 shopping center
If you are traveling in winter to Rome with children, don't let the cold beat you! Although it is not my favorite because of its small size, the rink The Ice Park Village located in the Euroma2 shopping center organizes a specific program dedicated to the little ones of the house with playful games, clown shows and theme parties with Santa Claus as the protagonist sliding on the ice.
On the other hand, adults can warm up with a hot chocolate or a coffee while enjoying live music and ice shows by national and international athletes who usually entertain on winter evenings.
Where? It is located next to the Euroma2 shopping center, at 83 Océano Pacífico Street.
Opening hours? Monday to Sunday, including holidays from 10:00 to 22:00.
Price?: 8 ¤ on weekdays and 10 ¤ on Saturdays and Sundays.
Grizing Village at Castel Sant Angelo
This ice rink located next to Castel Sant Angelo in Piazza Adriana is the most spectacular of all those in the city. In my opinion, skating here is incomparable because we have an architectural jewel as a backdrop. In this article I explain the reasons why it is worth visiting the Castel Sant Angelo so you can take the opportunity to make a visit.
If you skate at the Castel Sant Angelo rink, don't forget to stop at the market and try the typical Italian sweets and mulled wine, you'll love it!
5. Lose calories in the San Silvestre Roman race
"Where you go, do as you see". How many times have you seen on TV Santa Claus running the San Silvestre on New Year's Eve or swimming in the sea in the middle of winter? Don't worry, because with this plan you won't freeze, but you will warm up: the city has its own race on December 31, the We run Rome, to leave behind the calories of your trip.
Can you imagine how much fun it can be to run along with 2,000 other people dressed in your Santa Claus hat? Every year the start takes place from Via delle Terme di Caracalla at around 2 pm. The funny thing is that you can choose from ten possible routes through the Roman districts and also decide whether you want to participate in the competitive 10 km race or in the non-competitive 5 km race .
6. Celebrate New Year's Eve in Rome... with lentils and pork!
Who hasn't ever dreamed of ending the year in another city? If you are one of those lucky ones who are going to end their 365 days on a good note (especially because you will be in the Eternal City), I can tell you that New Year's Eve in Rome is amazing.
Forget about dieting on the last night of the year
Don't expect to have lamb, prawns or 12 grapes to welcome the new year. The Italians have prepared a unique feast composed of lentils and pork, a dish that according to tradition brings luck and abundance. The quantities are so large that you will have trouble finishing it! After dining in a restaurant the typical dish, you can join the custom of toasting at twelve o'clock with a good "spumante" wine.
Concerts and fireworks to welcome the New Year
"Happy New Year, what now? After midnight, the city transforms into a giant stage and you can enjoy free concerts all over the city. The most famous are those held at the Circus Maximus and the Imperial Forums. In addition, fireworks welcome the new year, what more could you ask for?
7. Take advantage of the sales or the winter "saldi"!
After Christmas in Rome begin the sales, one of the most anticipated events of the year where stores make spectacular discounts of up to 70%. It's definitely a good time to go shopping in Rome and show off Italian fashion on your return, so leave some room in your suitcase!
The winter sales start in early January and end in mid-February. If you are a big shopper, this is the best time of the year to find bargains, since the stores, unlike the summer sales, are not overcrowded with tourists. Shopping in Rome is a great plan!
8. Meet the friendly Italian Queen Maga: the witch Befana
Did you know that in Italy it is the jovial witch Befana who delivers the presents in the early hours of January 5? This legendary old lady on her flying broom has stolen the job from Santa Claus and the Three Wise Men. Would you like to meet her?
What to do the evening before the arrival of His Majesty?
If you are traveling to Rome at this time of year, don't miss the festivities on January 5 and 6. The evening before the witch Befana sneaks into Roman homes, Piazza Navona is decked out to welcome her, a place where an impromptu carnival is held with people in costume under the moonlight. The square also hosts rides, handmade toy stores and candy stalls.
What to do on Three Kings Day, but without kings?
Forget about chocolate and roscón de Reyes! On the morning of January 6, however, you can attend the parade that runs from Via della Conciliazione to St. Peter's Square in the Vatican, with the participation of more than a hundred people dressed in period costumes, mounted on horses, and, of course, starring the Befana. If you have behaved well, she will leave you delicious white coal in the evening and if not, as is tradition, black coal.
9. Wear your mask at the carnivals of Rome
If you want to live an unforgettable experience and immerse yourself in the carnival of Rome, one of the most centuries-old traditions of the country, I advise you to get a mask. This mask preserves intact the elegant, baroque and ornate aesthetics of the seventeenth century. You will camouflage yourself with this fun costume among the Italians!
The Roman carnival is celebrated before Easter. The grand parade starts in Piazza del Popolo and continues through the Spanish Steps and Piazza Navona filled with horse-drawn carriages, troupes, street performers and the knights and dames dressed in their colorful masks. Count yourself among them!
Some ideas for your original costume
If you have any doubts about what to wear, I suggest you dress up as the traditional characters of Rome, such as "Rugantino", an arrogant rogue from Trastevere who always wears old pants, or the nobleman "Cassandrino".
10. Celebrate the most special Valentine's Day in Rome
It's not Paris, but it doesn't need to be. Rome is one of the most romantic European capitals. You've made up your mind: you're going on a getaway to the Eternal City with your better half on Valentine's Day. But what can you do? Here are some suggestions:
Contemplate the sunset among aqueducts
One of the best places to walk hand in hand and declare eternal love in Rome is the Park of the Aqueducts, literally a movie set (here Sorrentino shot one of the scenes of the film 'La Grande Bellezza'). This secluded and hidden enclave has become one of the most spectacular secret corners of the Italian capital to watch the sunset.
Enjoy a romantic dinner and stroll along the Tiber river by moonlight
Is there any neighborhood more charming than Trastevere? If you want to treat yourself on Valentine's Day with your better half, I suggest you have dinner with your partner by candlelight in one of the most bohemian, artistic and beautiful areas of Rome: Trastevere. Without a doubt, it should be an essential stop on your romantic trip.
Take note! There is no better plan for this day than a good dinner at Enoteca Ferrara, in Piazza Trilussa, which will make you fall in love for several reasons: for its pleasant and romantic inner courtyard, the abundant dishes and its reasonable prices.
A small door without signs, at number 41 in Piazza Trilussa, will welcome you to this historic place: the former convent of Sant'Eufemia, now converted into a wine cellar restaurant. I hope you will also arrive thirsty. Because its wine list will take your breath away. The best part? You can toast with one of their wonderful bottles.
In case you are not convinced by any of these plans, here is a guide to the most romantic places in Rome. Take a pen and paper... And surprise your better half!
What is the temperature in winter in Rome?
December: the minimum temperature is 4°C and the maximum is 13°C. Bring your umbrella because it usually rains 8 days on average during this month!
January: the thermometer registers temperatures between 12º and 3º C. Temperatures drop even more!
February: the thermometer registers lows around 3º C and highs of 14º C.
Nuria's Traveller Tip

Coffee in Italy is a symbol. Take shelter from the cold in one of its emblematic coffee shops, some of them with more than a century of tradition. You could use a caffeine shot!
What to wear for winter travel in Rome?
Before traveling to the Italian capital in winter, I recommend that you take a look at the weather forecast for your stay. In recent years, they tend to be pretty accurate.
However, in winter temperatures are quite cold so I recommend that you pack sweaters and warm clothes in your suitcase. Be careful not to forget an umbrella and a raincoat because the rains in these months are recurrent.
What should not be missing in your suitcase?
Wool hat.
Thick scarf.
Warm and thermal gloves.
Wool sweater or polar fleece, whichever is more comfortable.
Thermal undershirt. Better safe than sorry!
Thick pants.
Coat or down jacket.
Umbrella and raincoat
In summary, compare the different seasons for visiting Rome
In this post I have just recommended some winter plans, but if you doubt about what is the best season, here are the guides to the best things to do in summer in Rome, what to see and do in spring in Rome and what to do in autumn in Rome to make the most of the capital. The Eternal City is always a success in any season!
Winter
December - March
Weather: Freezing
Highest 16°C
Lowest 2°C
Ideal for visiting museums
Spring
March - June
Weather: Temperate
Highest 27°C
Lowest 4°C
Ideal for outdoor activities
Summer
June - September
Weather: Hot and humid
High 31º C
Low 14º C
Ideal for outdoor activities
Autumn
September - December
Weather: Temperate
High 27º C
Low 6º C
Ideal for outdoor activities Ideal for outdoor activities