Rome's Piazza Navona: a practical guide to discovering it
Rome's Piazza Navona is one of the free tourist spots you can't miss when in the beautiful Italian capital. Its architectural and historical appeal is complemented by great artistic monuments, pleasant ambiance and entertaining places nearby, so hurry up and go!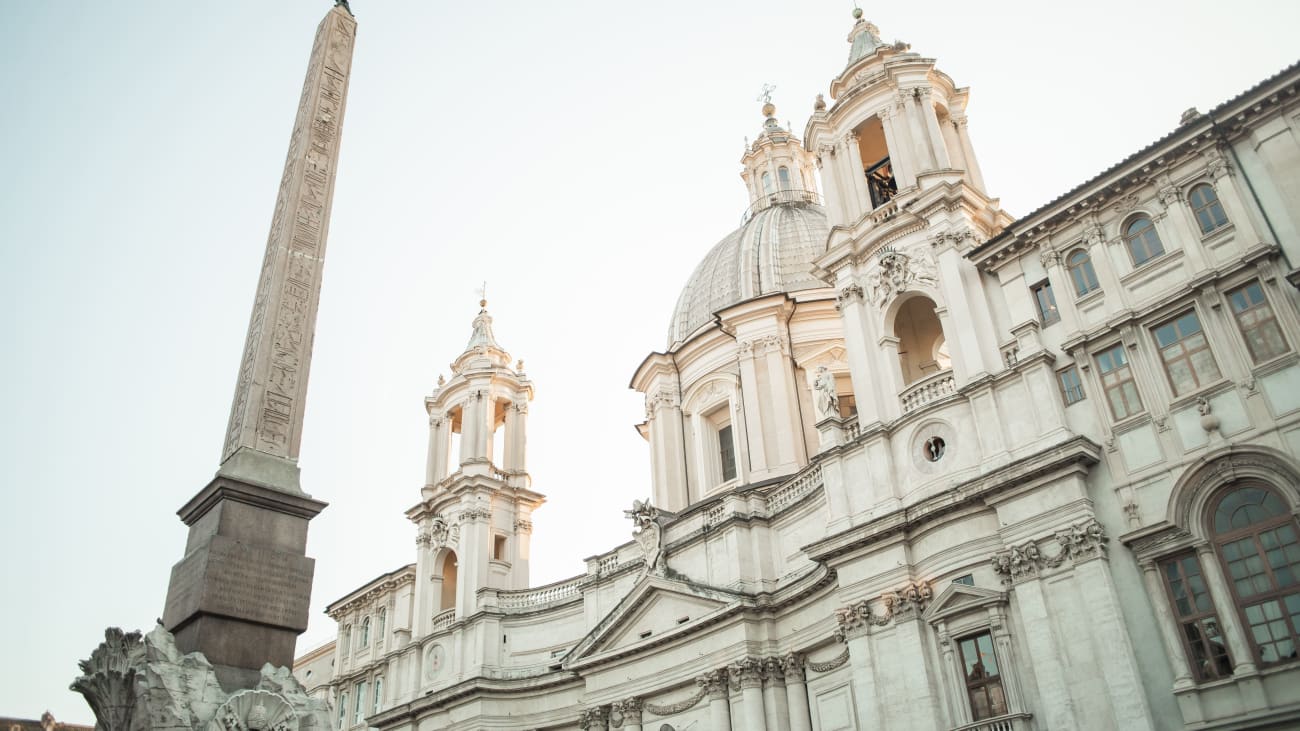 The baroque style that reigns in Rome's Piazza Navona makes it among the most popular squares in Rome. Visiting it, you will come across more than one fascinating fountain, quality restaurants and lots of people, both locals and tourists. So you will feel the welcoming and lively spirit that reigns in the square.
Very creative and fun events are held there that you will want to see and keep forever in your memory. You also have many places nearby where you can learn more about Roman history, take fantastic pictures and eat like the Italians do. Add this visit to your list of things to see and do in Rome and enjoy a day in and around Piazza Navona by doing one or more things from this list
Admire the impressive Cuatro Rios Fountain
The famous Fountain of Four Rivers steals all the attention of visitors and is one of the best fountains in Rome. It is a huge sculptural ensemble made of marble bench and features an Egyptian obelisk, with a height of up to 16 meters. It is located in the central area of this square and is the most outstanding of the 3 fountains.
Its name, which is Fontana dei Quattro Fiumi in Italian, is due to the 4 statues that compose it. These are an allegorical representation of 4 rivers: the Silver, the Danube, the Nile and the Ganges. These were the largest and most important known during the time when it was built.
This work is attributed to the popular sculptor Bernini and was commissioned by Pope Innocent X. The fountain was sculpted in 1651 and also contains representations of significant animals. Among these the alligator, the horse, the snake and the lion, which correspond to the different continents. It is a must stop on any of the best guided tours of Rome.
Visit the interesting Gladiators Museum
If you want to enjoy an excellent Roman exhibition, you can not miss the interesting Gladiator Museum, located in the same square. There you can witness various weapons and the type of clothing worn by the gladiators who lived at that time. You will be transported to the past reliving the epic battles of those men.
You will get, through an audio-guide, details related to those soldiers who fought amazing fights to the death. You will also be allowed to take pictures of this fine collection displayed in this small but attractive place.
Clearly this visit will add some variety to your trip, and you can do it with your family or friends. It is also one of the things you can do in Rome with children; I bet they will be fascinated by the gladiators' weapons and costumes.
Tickets and opening hours of the Gladiators Museum in Piazza Navona
The museum is open every day from 10 am to 7 pm and you can get tickets at the ticket office or on the official website for 12 euros for adults and 10 euros for children from 6 to 15 years old.
Enjoy the variety of street events
Rome's Piazza Navona is the ideal place if, like me, you like casual and original events. Depending on when you go, you will find daytime markets with souvenirs or evening shows of different kinds. If you go in a festive season, you will definitely come across celebrations and much more.
Painters and cartoonists, both portrait and caricature artists, often gather in this square to show their talent. So you can get a portrait that will make you treasure your visit to Italy even more. You will even see and hear musicians that will further enliven the artistic and bohemian atmosphere that characterizes the area.
Take pictures of Neptune's Fountain
The Fountain of Neptune is one of the popular fountains in Rome that contains fresh water. It is an attraction located in Rome's Piazza Navona and is a popular attraction for all tourists. I guarantee that the pictures you take of this architectural landmark will be worthy of the best photo tour of Rome.
You will be totally impressed with the works of various Italian artists who, over the centuries, participated in its formation. Among them Giacomo della Porta, who designed it, and Gregorio Zappalà together with Antonio della Bitta, who finished it.
Initially, the Fountain of Neptune had no statues, but only a white marble basin. However, large statues were added to give harmony to all the fountains that dominate this square. Therefore, it ended up being very striking and is worthy of more than a glance.
See the luxurious Pamphili Palace
It is not every day that you get the chance to see an authentic ancient palace like the Palazzo Pamphili. However, being in Rome's Piazza Navona, you have that option at your fingertips. You will be amazed to see the elegance of the imposing structure which is composed of 3 buildings of 3 gray floors each.
There is the central one, with a balcony supported by 4 columns above the portal, and one on each side. The windows differ on each floor, but all convey a singular and beautiful architectural style. The coat of arms, which identifies the Pamphili family, stands out on the structure and has 3 lilies above the dove holding an olive branch in its beak
When it was completed in 1650, it was the noble residence of the Pamphili family, but since 1920 it has been used for the Brazilian embassy in Italy. Whatever its function, you will want to see it and take a few pictures in front of it.
Discover the secret Domiziano Stadium
I want to tell you an interesting secret or curiosity about Piazza Navona that you probably didn't know. Underneath it, exactly at 4.50 meters, are the remains of the ancient Stadio Domiziano, declared a Unesco heritage site. Although it no longer exists, you have the possibility to visit what remains of its ruins.
The modern city has replaced it and almost buried it, but the square retains its dimensions and shape. In fact, in several basements of buildings is where the various remains of the stadium are located. So they are an additional option to the secret places of Rome. Escape the crowds and chaos by visiting these archaeological sites with an audio-guide, 3D videos and panels.
That way you will learn more about that stadium of the past Imperial Rome, which held almost 30,000 spectators. You will be able to imagine the screams and excitement that filled the place for the athletic feats that took place there. To plan that sightseeing tour, go to the Domiziano Stadium website, although it is a curiosity that you will surely be told if you book a guided tour of Piazza Navona.
Indulge in a delicious dessert at a nearby ice cream parlor
Tasting Roman gelato is not something you can only do if you visit Rome in the summer. While walking around the city of Rome, there is nothing better than tasting a delicious cold dessert. You can treat yourself to one by visiting one of the ice cream parlors near Piazza Navona. In them, you will have the possibility to choose from a wide variety of flavors, according to your tastes.
I assure you that in the different places there is a pleasant atmosphere and the service they offer will meet your expectations. The elaboration of these ice creams not only includes presentations that will attract you and make your mouth water. They also use different natural fruits and delicious high quality ingredients.
There are many ice cream parlors that you can visit, which are in the same square or quite close to it. But, if you want to try the best ice cream in Rome, (and I know you do) you can't choose just any of them. Here I make it easy for you to choose by recommending at least 2 places:
Cremi Gelateria Artigianale: It has very tasty ice creams that come in cones with different sizes and prices. Their ice creams are handmade and use a great diversity of fruits, depending on the season. As it is close to the Piazza, you can enjoy them watching the fountains.
Gelateria Tre Fontane: Their handmade ice creams are of excellent quality and come at a very affordable price. They have a variety of flavors including chocolate, tiramisu and pistacchio. Enjoy these ice creams while sitting in the beautiful Piazza Navona in Rome.
Don't miss the charm of the Fountain of Moro
The Fountain of Moro, which is fed by virgin water, *has a charm that you should not miss. To see it you need only head towards the southern end or side of the wide Piazza Navona. Its decoration included masks, dragons and tritons, thanks to the striking work of artists who lived in the 16th century.
However, in 1874 it was renovated to create the design that prevails in it to this day. Gian Lorenzo Bernini was commissioned to create a pool that copies the design of the previous basin. In this one was placed in the center the statue that was carved by the artist Giannantonio Mari.
This representative statue is of a Moor squeezing between his hands a dolphin's tail and his head. From there is where the water flows or comes out, from the legs that the statue has. If you go at night, you will notice that the different colored lights that illuminate these pieces add an extra positive touch.
Enjoy the local food in a good restaurant
If you spend a long time touring Rome's Piazza Navona, and the surrounding area, it's only natural that you'll want to eat. Fortunately, there are several restaurants nearby that place at your disposal multiple dishes that reveal the excellence of Italian gastronomy.
Try different pastas, pizzas, appetizers and other foods that will delight your palate. Due to the privileged location of this tourist area, prices are usually higher than in other places. But, believe me, the view, the ambiance, the attentive friendly service and the quality of the food will justify what you pay.
Of course, to ensure that this is the case you have to choose well which restaurant to eat at. I recommend 2 specific places that you can add to the best places to eat in Rome:
Tucci: It stands out for its touristic atmosphere, its pastas, its risotto, its pizzas and the excellent service of the staff. From there you will be able to observe directly the square and, if you prefer, eat in an outdoor terrace. If you are vegan or vegetarian, ask for their special menus.
Bernini: With a good quality/price ratio, it stands out mainly for its ravioli, lasagna and pizzas. The waiters provide first class service, so they will make you feel at ease and you will be right in the square.
Take home nice souvenirs from L'Artigianato
I can't think of a better way to end your tour of Rome's Piazza Navona than by visiting a souvenir store. Although there are several, among the favorites is L'Artigianato, which has very affordable prices. There you will also get a lot of variety in gifts that you will want to take home.
For example, there are some handmade wooden pieces and other very captivating representative ceramic figures. Everything you will find is related to Italy and Rome, and many of these details are totally original. While others are good quality copies that you may still want to own.
It is worth it to immortalize your visit and take with you something that will last in time. If you want a special detail, do not hesitate to look for it in this store.