Rome photo tours: how to get the best pictures of the Eternal City
Tour the Eternal City with a guided photo tour to capture the magic and beauty of the Italian capital with your camera. It will be an unforgettable experience!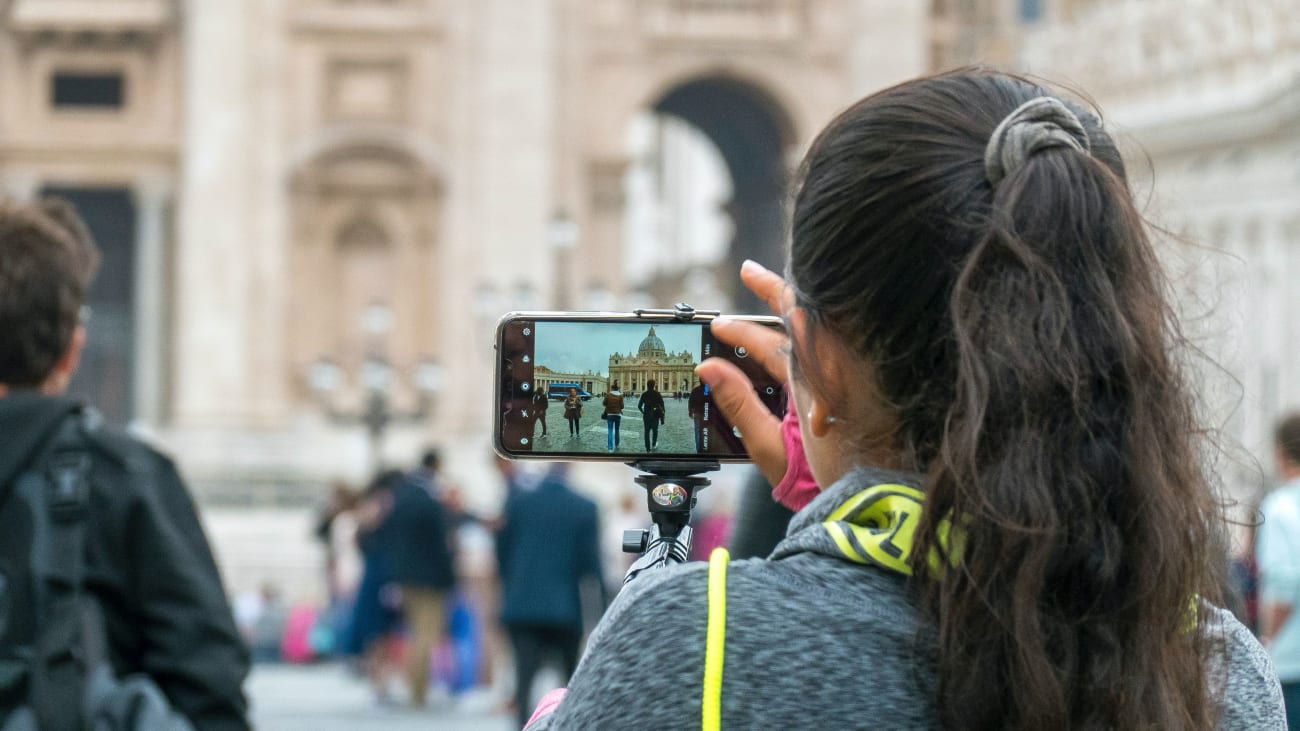 Rome is a city of fascinating beauty. A landscape decorated with ancient Roman ruins, Renaissance palaces and Baroque churches capable of leaving you in awe as you admire so many wonders together in such a small space.
A place that bears witness to distant past times and where the divine and the mundane coexist in total harmony, a city this photogenic must be photographed! And there is nothing better than taking a photo tour to discover the most emblematic monuments of Rome while you take some of the most beautiful images of your trip. Want to know what photo tours you can do in Rome? Read on!
Get behind the camera for a photo workshop and photo tour in Rome
If you are passionate about photography, there is no doubt that Rome will be one of the destinations in Europe where you will enjoy your hobby the most.
The antiquity and monumentality of the Eternal City give the Italian capital an overwhelming beauty. Some charms that will give you a lot to play when it comes to get behind the lens of your camera and make a beautiful souvenir photo report.
These types of photo tours are an excellent opportunity to develop all your creativity and improve your technique as you will be accompanied by a guide and professional photographer who will not only show you some of the most beautiful places in Rome to capture with your camera, but will also give you useful tips to boost your full potential (practical skills, visual perception, special effects and much more).
What kind of tours can you choose?
Rome is a multifaceted and amazing city. If during the day it is a bustling and vibrant place, at sunset its atmosphere changes completely and becomes quiet and enigmatic, with a very special romantic charm.
Depending on the side of the city you want to capture in your photographs, you can choose between a daytime or nighttime photo tour, as there are both daytime tours of Rome and nighttime tours of Rome. They last about 4 hours, so you will have plenty of time to take all the pictures you want of the most beautiful corners of Rome and ask the guide for recommendations to improve your camera technique.
What sites will you visit during the tour?
The Arch of Constantine
Palatine Hill
Castel Sant'Angelo
Starring in a professional photo shoot in the streets of Rome
If instead of being behind the cameras, you would like to get in front of them to take home an unforgettable memory of your vacation in the Eternal City, one of the coolest activities I recommend you to do is a photo shoot in Rome with a professional photographer.
This is a fantastic idea to surprise your partner with a romantic plan or if you simply want to do something different and original during your stay in the Italian capital that you will keep a pleasant memory of on your return home.
It is true that Rome is a city of the most "instagramable" and in any corner you can make a nice "selfie" to upload to your social networks, but that you portrait a professional photographer is another story.
With his experience, technique and talent he will help you to get artistic, natural and fun pictures with the beauty of Rome as a backdrop. He will show you not only the most emblematic sites of the city but will also surprise you with other places in the historic center that only Romans know.
The result will be a photographic reportage of great quality and attention to detail that will convey a lot of emotions.
What kind of tours can you choose?
The great thing about having a professional and private photo shoot is that you can choose from several possibilities of different lengths**(from 90 minutes to** approximately3 hours ) so that this activity fits into your busy schedule in Rome.
What all these tours have in common is that you will be able to customize the tour to suit your tastes and best reflect your personality.
What sites will you visit during the tour?
Trevi Fountain
Sant'Angelo Bridge
Piazza Venezia
Campidoglio Square
Aventino Street
The Pantheon
Piazza di Spagna
Piazza Navona
---
How much does it cost to take a photo tour in Rome?
From 50 ¤ you can find options on Hellotickets to take a photo tour in Rome to get behind the cameras with a professional photographer and capture the soul of the Eternal City.
Instead, if you want to make a professional photo shoot in Rome to have a precious memory of your vacation in the city, you can be the protagonist of your own reportage from 120 €.
How long are the photo tours in Rome?
The duration of the photo tours in Rome is very varied. Depending on the theme you choose (in front of or behind the cameras) they can last from 1 hour and 30 minutes to about 4 hours.
A wide range of possibilities so you can choose the one that best suits your schedule during your vacation and also your tastes.
Is it worth taking a photo tour in Rome?
Totally! Taking a photo tour in Rome is a fun way to explore the historical center of the city to visit its most emblematic monuments and at the same time to have a great time bringing out your creative side and enjoying your passion for photography.
In addition, you will be accompanied by a guide and professional photographer who will help you with tips and ideas to get the most out of your camera and improve your skills to get a beautiful report with which to take home a lot of memories.
And in case you prefer to be the protagonist of a photo shoot in the streets of Rome with a professional photographer, this tour will allow you to leave aside the typical "selfies" to get a magnificent album of your stay in the Eternal City where everything is taken care of to the maximum detail and the result is very artistic and natural.