Discover the Trastevere Neighbourhood by Night
Being in Trastevere, you will notice that it is one of the neighborhoods of Rome that has its own charm, as it is perceived in its streets. You have the opportunity to visit squares, fountains, bookstores, restaurants and many other different places that you will love as soon as you see them, you will never forget them!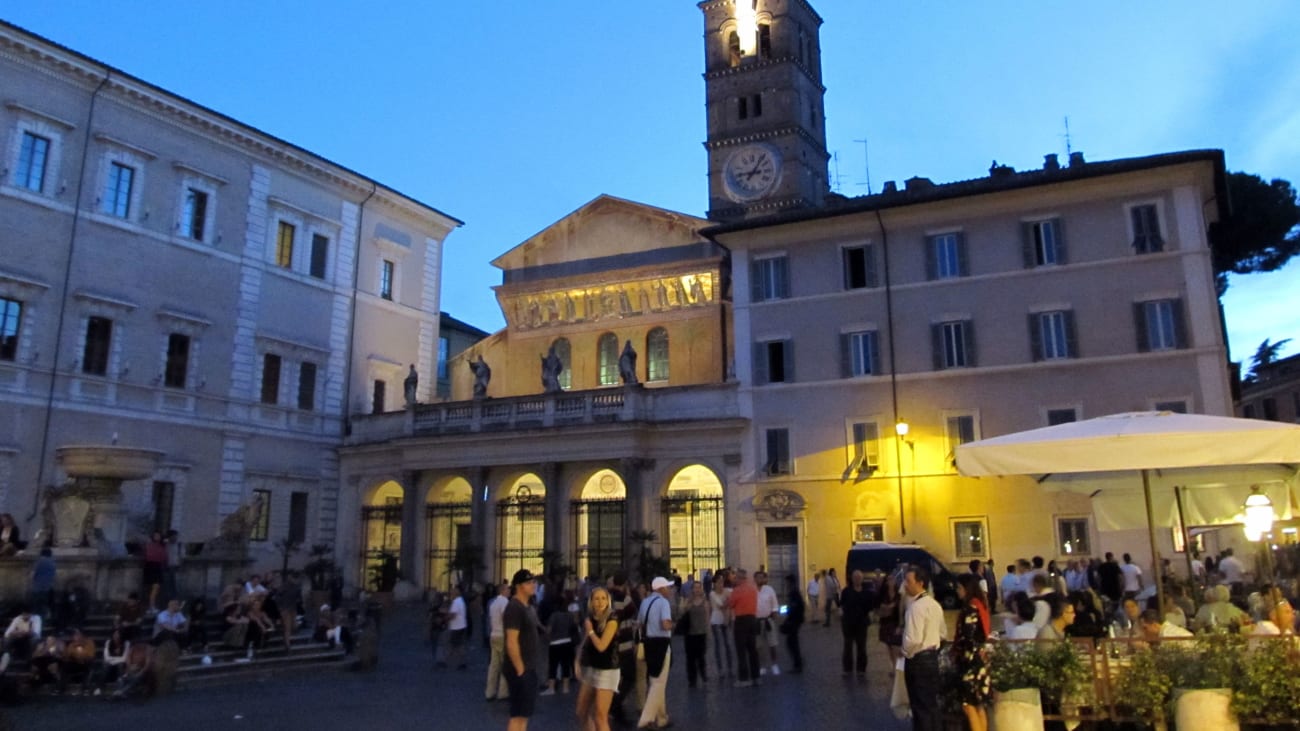 The bohemian atmosphere, the terraces, the cobblestone streets and the shutters made of wood reign in the Trastevere neighborhood when the sun goes down. All these details create a true Italian flair that make visiting this neighborhood at night one of the must-do things to do in Rome.
There are bridges with musicians, hills to climb for extraordinary views and also some of the best gelato shops in Rome that you will love to visit to taste their flavors. Chances are, once you start your tour, you'll want to stay there all night. Take advantage of the time of your visit to venture out and discover the wonders of this area close to the west of the great Tiber River. Here I recommend the best of them.
1. Get to know the heart of the place in Santa Maria Square
The famous Piazza Santa Maria is considered the heart of this neighborhood, where you will meet locals and tourists alike. You will see a basilica that many take the opportunity to visit at night because it closes at 9:00pm. This is called the same as the square, it has an amazing facade, golden mosaics and a bell tower that captivates the eyes with multiple bright lights.
It is believed that this fountain is one of the best in Rome and the oldest in the city, among all those still in operation. Clearly it is not enough for you to simply walk through the square, the idea is to linger and hang out there. The difference between day and night is undeniable, and you will surely like the nighttime atmosphere better even though there are many other things you can do in Trastevere during the day.
During the morning there are usually only locals passing by, lost tourists or teenagers playing hooky. But in the evening the best part starts. There will be more people and the chances of having a nice time in the place increase considerably.
2. See the city on the small hill of Gianicolo
One of the best options to see the city from Trastevere at night is the Gianicolo hill or mountain. This has a height of 88 meters, which puts it in second place among the hills in the city. From that vantage point, if you go up to its main terrace, you will have some of the best views of Rome, they are truly spectacular.
You will see the magnificent center of the Italian capital with its fantastic night lighting. Among so many structures, especially stand out the monument made for Vittorio Emanuele II that, with its lights, looks more imposing at night. As you start to climb this hill at sunset, you will notice that there are several points with excellent perspectives. Without fail you will want to capture those images in beautiful photographs.
Of course, the views are not the only attraction of the place, there are other things to do in Trastevere at night there. For example, visit some of the best monuments of Rome that give value and historical interest to the hill.
3. See the imposing Acqua Paola fountain
The huge Acqua Paola fountain is one of the top 5 fountains in Rome. When it gets dark, the fountain is illuminated, in front of it there is a belvedere from which you can see a part of the city. The atmosphere that forms around the fountain at night is very lively and, thanks to the subtle lighting, becomes romantic.
Its design may remind you of the Fontana dell'Acqua Felice, also known as the Fountain of Happy Water. The reason behind it is that, apparently, that served as inspiration to create the Acqua Paola. It was inaugurated in the early 17th century to commemorate the restoration of an ancient aqueduct.
This symbol of the famous hill is built with marble, partly coming from the great Roman Forum. It also incorporates 6 columns that once belonged to the ancient facade of the Vatican and its history makes it locally beloved. Luckily, it will only take you about 20 minutes to reach it on foot.
4. Walk through the beautiful and unique Ponte Sisto
The Ponte Sisto is among the most beautiful places that crosses the Tiber, connecting Trastevere with Rome and its center. Therefore, visiting it is a great answer to the question what to do in Trastevere at night. Across this bridge, you will find various musicians that will delight and amuse you.
When crossing it, you should take it easy if you are looking to get some of what the street vendors have to offer. Thus, some pieces of their street artists will stay with you and you will take them home as a pleasant souvenir. Of course, don't forget to bring your camera and save those images for a long time.
This pedestrian bridge was built during the 15th century by order of Pope Sisto IV. Parts of an old Roman bridge were used. There are even rumors that a part of it was also made with stone from the Colosseum. In addition, the views towards St. Peter's dome in the Vatican are fantastic.
5. Visit Piazza Trilussa and enjoy the musical ambiance
Piazza Trilussa will give you a warm welcome to the Trastevere Quarter in Rome, as it is like an appetizer. Among the things to do in Trastevere at night is to visit the Piazza where street artists gather.
Its beautiful structure and steps are the right place for you to sit and relax and listen to the artists. In addition, the beautiful and eye-catching fountain dominates the entire Piazza, and provides a good view. When you gather there with friends or some family members, you will enjoy a cheerful and festive atmosphere.
The name of this square is in homage to the poet of Rome Carlo Mariano known as Trilussa. You can walk up to where his bronze statue of him stands. He was famous for writing in Romanesque, the dialect of Rome, and for his satires on politics and social issues.
6. Visit the same nightclubs as the Roman citizens
If you like to go to parties with friends or family, on your vacation it is also possible to do so. Trastevere is characterized for being a modern and bohemian area, there are many nightclubs where you can go. The atmospheres are different, so you are sure to find something that suits your preferences.
Some of the most famous discos in Trastevere are the following:
Piper: this is one of the most famous party places in all of Rome, if you like the atmosphere of the 1960's, Piper is perfect for you.
Art Cafe: this is one of the trendiest nightclubs in the Italian capital, the atmosphere is modern.
Circolo degli Illuminati: in it there are three rooms, each one is dedicated to a musical genre: Techno, Hip Hip and Chill.
Anima Club: if you are young or you are traveling with a group of young people, I recommend this option, as it is very visited by the younger people in Rome.
Spazio 900: 1000 square meters ready to welcome those who love to dance. In the disco there are also two terraces. If you plan to attend, I don't recommend you to dress too casually.
7. Taste and enjoy the local gastronomy in the best restaurants
One thing you can't miss in Trastevere at night is eating, because there are many fantastic restaurants that represent the Italian gastronomy. There you can order typical Roman dishes such as pasta carbonara, cacio e peppe and all'amatriciana.
Of course, you should not miss tasting Rome's best original Italian pizzas and a delicious tiramisu for dessert. The variety and quality in each restaurant varies, so it is not easy to choose.
If you really want to eat at the best places in Trastevere, here is a list of which ones deserve to be considered as such:
Pizzarius: Its very name indicates that it offers a candidate for best pizza in the world, although it is not very cheap. Being in Santa Maria square you can buy there by the slice and eat near the fountain. Their opening hours are from 10:00 am to 12:00 am.
Grazia & Graziella: This is among the favorites for both the food and the service, which is guaranteed to make you laugh a lot. The carbonara, gnocchis, tiramisu and carciofi alla giudia are the most acclaimed dishes. The line goes fast and, if you sit outside, you will enjoy a good atmosphere. Open from 10:00 am to 2:00 am.
Carlo Menta: A place with a classic and casual style that is ideal if your budget is low. This is because it has a varied menu and promises an excellent relation between quality and price. You can go between 12:00 pm and 11:30 pm, as it will be open.
8. Spending a good time in Campo de' Fiori
Yes, its name means "Field of Flowers", but don't be fooled, that doesn't mean it's a garden or any similar space. Campo de' Fiori is a square widely visited by both tourists and Roman citizens, especially in the evenings, making it one of the most famous squares in Rome.
As is common in the squares of the Italian capital, there is a fountain and a statue (with a somewhat somber appearance) of Giordano Bruno. During the mornings there are food stalls, when these begin to leave, an evening atmosphere is generated. This is a favorite of the city's young people.
What can you do if you go to Campo de' Fiori at night? Around the square there are terraces where people sit and enjoy food and drinks. While doing so you can see how the citizens are having fun and discover why this is a place frequented at night.
9. Enhance your love for books at Open Book
Do you like to read and love to visit old bookstores or libraries? Then Open Book will be like a little paradise in Rome. Entering this famous bookstore in Italy's capital should be on your list of things to do in Trastevere. Although the place is tiny, you'll find baskets and shelves full of books.
Those that are there are used, in Italian and mostly in English, but the prices are somewhat adjusted. For that reason, if you don't want to leave empty-handed, it is advisable to save some money. This place, which has been open since the 1970s, is located on the Via della Lungarretta.
Of course, you can only go there at night on weekends, when it is open non-stop from 12:00 pm to 8:00 pm. Alternatives to this bookshop are Ottomassimo, Minium Fox and Almost Corner Bookshop. The 1st is on Luciano Manara, the 2nd on della Lungaretta and the 3rd on del Moro.
10. Watch the Manfredi Lighthouse light up the city
On Mount Gianicolo you find a lighthouse built in 1911, near it there is no sea or ships looking for a light to guide them. What there is is a beautiful panoramic view from which you can see the Italian city when the sun has already set.
Locals and tourists alike are accustomed to approaching the Manfredi Lighthouse in order to marvel at the night sky and Rome illuminated. Near this point there are small trails that you walk along to reach other parts of Mount Gianicolo.
From many areas of this mount you get great views of the capital of Italy and the Manfredi Lighthouse is no exception. A curious fact about this construction is that it was a gift made to the city by the Italians who emigrated to Argentina.
11. Attend the Feast of Noantri
If you go to Rome in July, take note. The Feast of Noantri begins in mid-July, this is such a special occasion for many of the citizens that even in the evenings it is celebrated. For two weeks the streets are illuminated, filled with markets and people coming from different neighborhoods of Rome.
For two weeks the image of Our Lady of Mount Carmel is placed in the Church of St. Agatha. All those who want can go to this religious center to venerate her before she is taken back to her church.
Thanks to the activities that take place on this feast, the nightlife in Trastevere is very lively. For this reason, even non-religious people attend the celebration.