Trastevere Tours
Here's everything you need to know to fall in love with this quaint, cozy, and charming area of Rome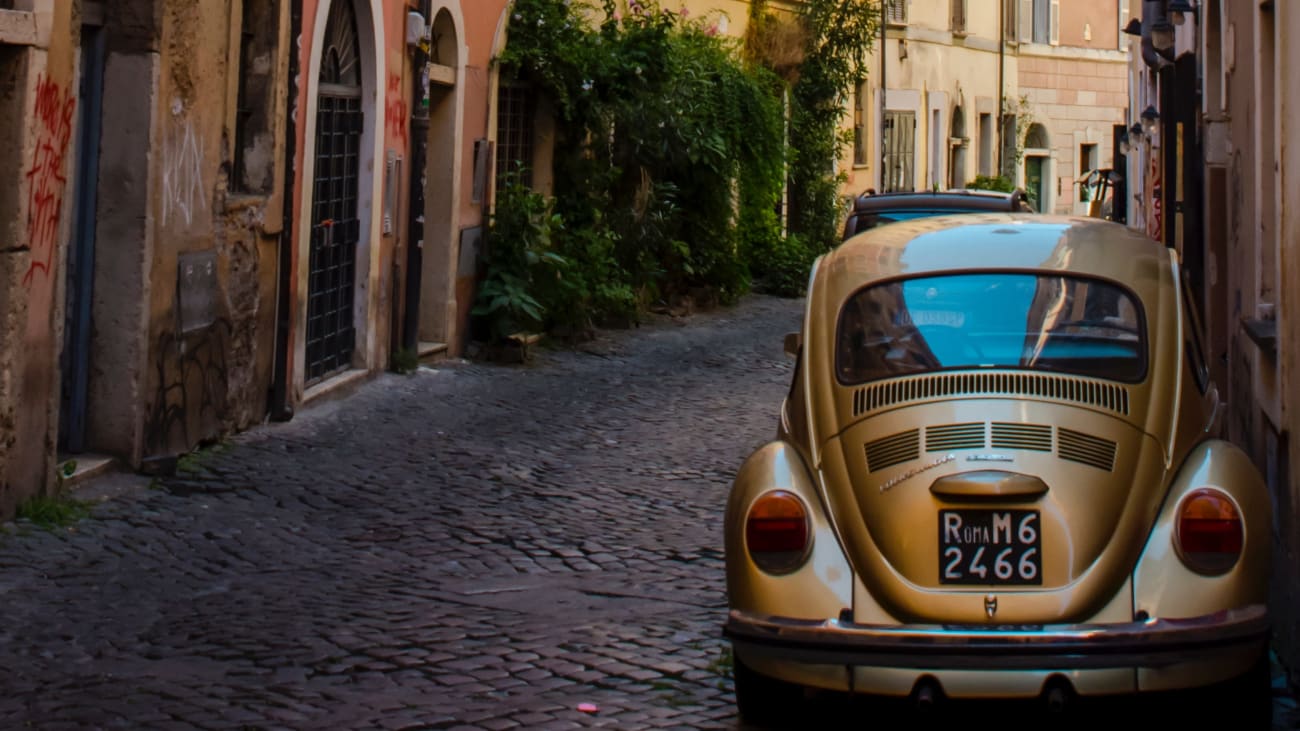 In Trastevere you won't find the Colosseum, the Trevi Fountain or St. Peter's Square; in Trastevere, you won't see palaces or luxuries, but you will find narrow, colorful, and charming streets that will make you feel like you're inside a Fellini movie.
1. Take a gastronomic tour in Trastevere
There are dozens of charming streets and a long list of restaurants to enjoy in this neighborhood of buildings eroded by time and covered in ivy, that's why many tours of Rome include the Trastevere area in their itineraries. One of the best ways to tour the area is by taking this gastronomic tour of Trastevere and the Jewish Quarter in which, in addition to getting to know its streets and its history for three and a half hours, you can taste some of the most exquisite dishes.
About gastronomy in Trastevere
Gastronomy is an essential part of this tour, because it is an essential part of this particular neighborhood of Rome. You will taste some of the best pasta dishes and pizzas in the city. Be ready to get your mouth watering while reading this list of the Italian specialties you will taste during your visit:
Pasta: it is one of Italy's star dishes and if you have an Italian friend you will know that it is kind of a ritual for them. They effortlessly prepare the most perfect and impossibly delicious dishes of pasta.
Pizza Bianca: this is how pizzas without a tomato base are called in Italy. Depending on where you're from, this might sound weird, but in Rome, this is considered the ultimate delicacy! Thin dough, just a few ingredients; that's how the real Romans eat their pizza.
Fresh Mozzarella cheese and cured salami: fresh products in Italy are of excellent quality and cheese is always the finest.
Risotto balls: also called suppli, they are a typical Jewish dish.
Fried artichokes: in the Jewish area they just fry everything with such mastery... and the result couldn't be more delicious. No greasy fritters here!
Artisan ice cream: you haven't tasted real ice cream until you eat gelato in Rome.
What the tour consists of
All this tour and the tastings included are enjoyed in a small capacity tour where a maximum of 12 people guarantees an intimate experience. The experience of this gastronomic walk in Trastevere and its surroundings lasts three and a half hours and, despite having a specialized local guide, it is more like a relaxed and interesting evening with friends than a sightseeing tour.
2. See Santa Maria in Trastevere Square
It is the center of the social and cultural life of this neighborhood and it is essential to visit it at dusk when it is lit up and becomes a meeting place for locals. The square owes its name to the church that presides over it and in the center, there is a fountain around whose steps dozens of young people gather every night, and street shows are organized. In the streets that lead to this square is where you will find most of the restaurants in the neighborhood, with tables outside to dine al fresco in the summer months.
3. Visit the Church of Santa Cecilia in Trastevere
Santa Cecilia is the patron saint of music, so it will not be unusual that on the organized tour your guide will take you here to talk about the Italian musical scene and especially about all the concerts that can be seen in this bohemian neighborhood. He will also tell you the chilling story of the sacrifice of this saint who was made a martyr in this very place.
4. Touring Villa Sciarra
This is a romantically decorated park full of fountains and statues. It is definitely at its peak when the cherry blossoms bloom in spring and from it, you can see beautiful views of Rome reaching up to Gianicolo Hill.
5. Strolling through the Jewish Quarter
Also known as the "Jewish Ghetto", in this area, you will find points of interest such as the ruins of the portico d'Ottavia or the main synagogue of Rome, but being honest its biggest attraction is the local specialties that you can taste in its small, cozy restaurants with a genuine atmosphere. I hope you like fried food because it is the house's specialty.
6. Discovering Campo dei Fiori by night
This area is identified by its huge open-air market with daily fresh fruit and vegetables. Once upon a time, this enclave was full of medieval inns and Renaissance palaces such as Palazzo Farnese (where the tour usually begins) or Palazzo Spada. The inns are no longer preserved, but the palaces and mansions are. In the center of the square where the market is located, you will find a statue dedicated to the famous philosopher Giordano Bruno.
7. Take a private tour of Trastevere
If you fall in love with this neighborhood and the daily life in Rome, you have the option to book a private tour of Trastevere for you and your travel companions. This option also lasts 3.5 hours (on foot), includes the Jewish quarter and Campo de Fiori, and, of course, it is also a gastronomic tour.
Why choose this tour? The atmosphere of intimacy that you will enjoy with the guide and the possibility of adapting the tour and its times depending on what you are most interested in visiting in this neighborhood. You will also be able to get personalized restaurant recommendations that will come in handy during your visit.
8. Crossing Ponte Sisto
Built in the 15th century to connect Trastevere with the center of Rome, strolling along it at sunset is a soothing experience in which you can also be surprised by musical performances.
Ana's Traveller Tip

If you want to take home a gastronomic souvenir, buy gourmet products in the stores near Piazza della Cinque Scole.
9. Have an aperitif at Plaza Trilusa
At the end of the Sisto bridge, you will find this square full of street artists and painters. A must-see atmosphere to get to know the essence of Trastevere.
In case you didn't know, I'll tell you that the aperitif is one of the most ingrained customs among both young and old Italians. In mid-afternoon, it is very common to see groups of Italians drinking a traditional spritz or a beer while tasting a delicious snack composed of focaccia, salamis, pizzettas... The best part? You pay for the drink and the "tapas" (or appetizers) are on the bar. I bet you can't wait to try it!
10. Visiting the Church of San Pietro in Montorio
It is located in the lower part of the Gianicolo and its terrace is also an excellent viewpoint of the city of Rome. Don't miss the view of the circular temple of this convent from the lower part of its courtyard.
11. Touring the Via Portuense
The Porta Portese is located at the end of this street and is one of the entrances to the neighborhood behind the wall that surrounds part of it. Through it, you will access the less touristic Trastevere and if you go there on Sunday morning you will find one of the most popular street markets in Rome.
12. Catch a show
Urban culture is very present in the Trastevere area and therefore you will have the chance to attend more than one interesting show in this neighborhood. Best of all, late in the day in Piazza Santa Maria or Piazza Trilusa, you won't even have to pay an entrance fee because there are many (and very good) street performers in this neighborhood.
13. Shopping
If you want to get a different souvenir from your trip to Rome, Trastevere is the place to go. In addition to buying gourmet products in some of its stores, you can also enjoy handicrafts and small stores with peculiar objects that you will not find in any other area of Rome.
14. Spending your last night there
Although it is not the most accessible place for a tourist visiting Rome, spending the last day of your trip in Trastevere can be a perfect farewell to the Eternal City. Wandering through Trastevere is like entering a different version of Rome and enjoying it during the last hours of your trip away from the tourist crowds could be a perfect end to your experience.
Ana's Traveller Tip

Don't miss the sunset from Gianicolo Hill. Then end the day having dinner in Trastevere and discovering its nightlife.
15. Get organized for your tour of Trastevere
How to get there
Simply walk across the Sisto bridge or the Garibaldi bridge. If you are visiting the Vatican, the walk to Trastevere will only take 30 minutes. In any case, so that you don't get exhausted walking (you will have time to do it walking through the streets of this iconic neighborhood) it is possible to get there either by bus H (leaving from Termini station and passing through, among other places, Piazza Venezia) or by tram 8 (leaving from Piazza Venezia).
Many tours, although they pass through Trastevere, do not leave from there directly, so be sure to check the address of the tour's meeting point. If you have any doubts you can ask for details about how to get there when booking, but don't worry too much, it is usually very easy to find.
Schedule
You can do the Trastevere tours at various times depending on the day of the week you choose. I recommend doing it at mid-afternoon so that, at the end of the tour, you can see the Trastevere neighborhood at night. Keep in mind that, if you do the tour on Sunday, you will find many stores closed.
Duration of tours
The tour lasts three and a half hours and it is a walking tour, but, as it includes several stops to taste local gastronomic products, it is not as tiring as a tour of the center of Rome of the same duration. For me, in particular, the time flew by because of the relaxed atmosphere and lively attitude of the guide and group.
Where to eat
If you're still a bit hungry at the end of your tour, you're in the best place in Rome for lunch or dinner. Any of the bars near Piazza Santa Maria in Trastevere will be worth a visit. Don't miss the gelaterias; they are also famous in this area and many of them have many years of history.
By this point, you will already have discovered that the neighborhood is known for its gastronomy. It is one of the best areas in Rome to enjoy Italian food. Tip: avoid the tourist menu and ask for local recommendations. As for the quantities, they are usually quite plentiful so you may be able to get by with just one plate.
Another recommendation is not to shy away from dishes that seem "simple" or "typical": I can attest that a Margherita pizza or a plate of pasta arrabbiata in Rome will be a heavenly bit of food that no other imitations from around the world can even compare.
Languages
The tour is available in several languages: English, German, Spanish and French.
Visiting Trastevere with children
The tour is perfectly adapted for children. Just make sure they try every kind of food included in the tastings, it will the best way for them to learn about food from this part of the world!
Having fun with your camera
This neighborhood is one of the places that lends itself best to quiet and thoughtful photography without the stress of a typical picture of any of the famous landmarks in Rome. The deeper you go into its streets, the more possibilities you will discover. It is essential to climb Gianicolo Hill from where you will have a wonderful view of Rome, especially at sunset.
16. If you are interested in the Trastevere neighborhood tour you will also be interested in...
If you have fallen in love with the gastronomy of Trastevere, you can't miss the restaurants in another of Rome's neighborhoods known for attracting foodies: Testaccio. This neighborhood is located on the opposite bank of Trastevere and is also worth a visit, if only for its eateries. Although it is less known, some describe it as one of the most authentic neighborhoods in Rome.
Visiting the Vatican
Finally, if you are going to visit Trastevere in the afternoon, I recommend doing so after seeing the Vatican Museums in the morning for two reasons. The first is the proximity of both places (about a thirty-minute walk) which can be a perfect plan to round out the day.
The second is because you already know that the Vatican is a must-see in Rome, but also one of the busiest places; after the hustle and bustle you will find in the museums or in St. Peter's Basilica, enjoying the serenity of Trastevere will be the perfect way to recover your energies for the rest of your trip to Rome. If you are interested in this option and want to know more about how to organize your visit to the Vatican, I suggest you to read this other article on Best Vatican guided tours .
Do other guided tours of Rome
If on the other hand, you prefer to take a broader tour of the city that doesn't just focus on Trastevere, don't worry because the availability of guided tours of Rome is endless. In fact, so much so that it can be overwhelming. I wrote this guide on Best Rome Tours that can help you choose the best option.
The best excursions from Rome
And finally, if by now you have fallen in love with Rome like me, I recommend you to visit the rest of Italy, as there are thousands of wonders to discover outside the Eternal City. Here's an article on Best Day Trips from Rome so you can start dreaming about all the day trips you could do once you are there.