10 things to do in Rome with kids
Traveling to the Eternal City with children can be a great plan: take note of this list of things you can do in Rome with the little ones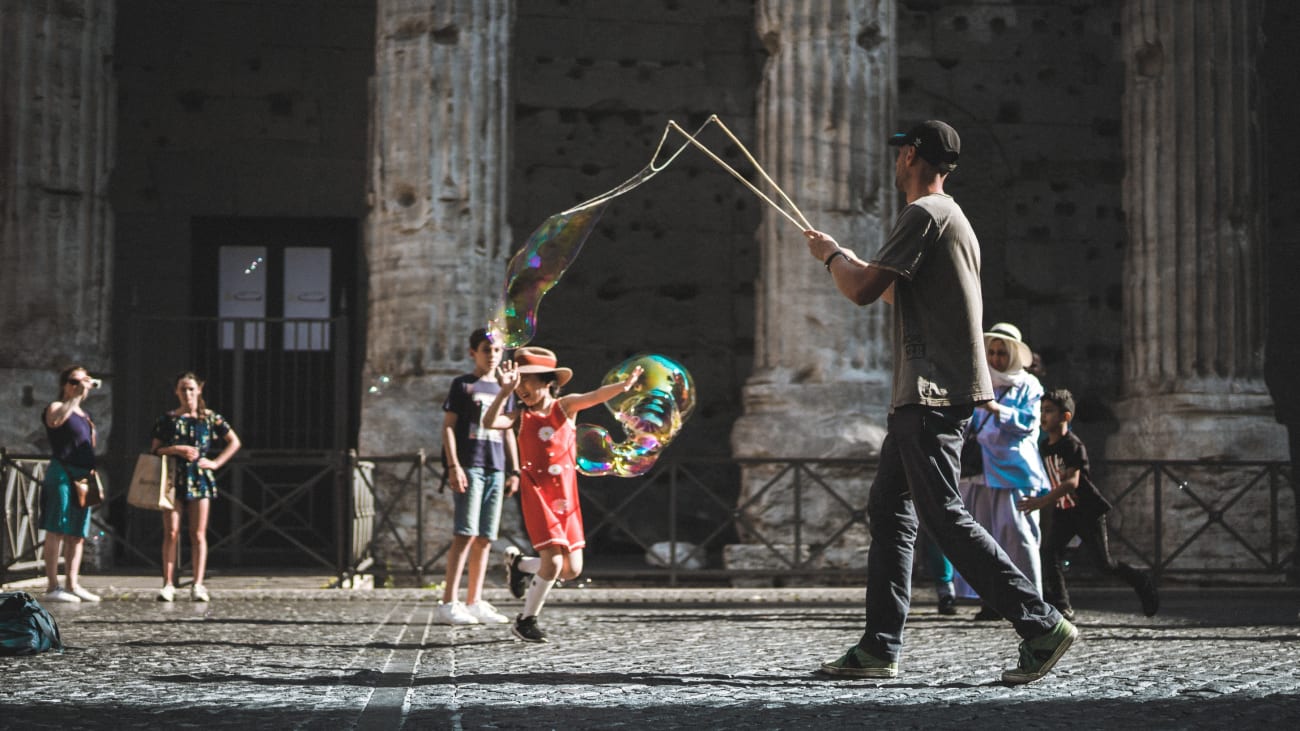 Rome can be like an amusement park for children, especially with a little context about the history of the Empire and with the right tours and activities. Luckily, the Eternal City has many options for them to enjoy an unforgettable trip.
Here's a list of 10 things to do in Rome with kids, with activities that even you will want to do. But sorry, you only get to be a kid once in a lifetime!
1. Rent a bike or roller skates to tour the Borghese Gardens
The gardens of Villa Borghese are a delight for a stroll, before visiting the fascinating Borghese Gallery. But here's something a little different to enjoy with your family: renting a bike, skates or a segway to ride through the flowery paths of this park. Around Villa Borghese, you will find bike-renting stores and stalls.
You can also hop on the miniature train that goes around all the sights of Villa Borghese, from 10:30 a.m. to sunset uninterruptedly.
2. Experience a day in the life of a gladiator
The Official School of Gladiators of Rome, located on the ancient Appian Way, offers an unparalleled experience for young travelers visiting the city: becoming a gladiator for one day.
With an authentic gladiator training session in which kids will learn the fighting techniques that raised cheers in the Colosseum, this is a way to learn an aspect of the history of the Roman Empire in a different way. The school uses special tunics, swords, and shields to faithfully recreate the experience of a gladiator.
3. Tour the Bioparco, a very special zoo
Bioparco, also known as Giardino Zoologico di Roma, is a zoo with more than two hundred different species of animals located in the park of Villa Borghese. There you can find lions, monkeys, elephants, tigers, giraffes, and some endangered species such as the Egyptian tortoise.
It offers a very pleasant walk and unlike the zoos of other European capitals, it is a natural environment that fits very well with a walk in the Borghese Gardens.
4. Searching for hidden treasures in Rome
Sometimes it's hard to get kids to be willing to walk a whole day through a city at its best, especially if it's on the typical tour full of facts and history. Luckily, there's a really fun way to tour Rome, and that's by turning the walk into a scavenger hunt game.
A map, a manual with clues, and a pass that allows access to certain places in Rome: with this in your backpack, the Trastevere Revolution experience will take you to discover the streets of the Trastevere district as a family, discovering secrets in ancient statues, hidden courtyards and even viewpoints with panoramic views.
When you book this experience, you will receive a confirmation email indicating a meeting point. Once there, you will have to enter the code from your email on the website and you will receive a password to open a secret box and receive your inventory to start the adventure.
5. Unleash the adrenaline at the Rainbow MagicLand amusement park
Rainbow MagicLand is a theme park located one hour from Rome, in the village of Valmontone, where you can find a wide range of 40 attractions and shows, perfect for a day of thrills and excitement for the whole family.
Much of the amusement park is set in the Winx Club universe, with a recreation of Alfea Castle and Fairy Lake, where you can ride roller coasters, shuttles, water rides and enjoy performances and musical shows. There are also areas dedicated to the legend of King Arthur, with horseback tournaments, arena battles, and taverns where you can eat medieval style (disclaimer: no cutlery provided).
To get to the Rainbow MagicLand amusement park, it is best to go by train or bus, both departing from Termini station. As this is a full-day excursion, I recommend doing it only if you are staying five or more days in Rome.
6. Explore the Catacombs of Rome
When I was little, my favorite holiday of the year was Halloween and my favorite thing to do with my friends was to play Dungeons and Dragons, so if my parents had taken me to visit the Catacombs of Rome, it would probably be an experience I would have never forgotten.
Okay, maybe it is not an activity for all children as it can be a bit scary, but as long as you take a tour of the Catacombs of San Callisto or San Sebastiano, you will not find human remains or tombs built with bones. These are two of the most popular in Rome, of which the former may be the most interesting for its historical importance and size.
If you want to enjoy this experience with your family, please note that they can only be visited on an organized tour. For more information about visiting the Catacombs of Rome, I recommend you to read this article: Catacombs Tickets.
7. Visit the Largo di Torre Argentina Cat Shelter
Largo di Torre Argentina is the name of a group of ruins from the time of the Roman Republic, and includes four temples as well as part of the building of the Senate of Rome. Many visitors come to this site for its historical interest: history claims that the assassination of Julius Caesar took place here in 44 BC.
But on the other hand, Largo di Torre Argentina is home to hundreds of abandoned cats who live in a shelter placed in the same square, and wander quietly among the ruins of what was once an important place in ancient Rome. If you go with children, the experience of being able to learn about the history of the place while petting a cat or watching them walk around can be very endearing and beautiful.
8. Buy wooden toys at Bartolucci's
After a hard day of walking and visiting tourist attractions, you can buy a nice souvenir for the little ones at Bartolucci, in Via dei Pastini 96-99. This is a wooden toy store, where you will find cuckoo clocks, Pinocchios, airplanes, and little wooden horses, made with great taste and with the unique quality of old times.
Another option is to visit Al Sogno, in Piazza Navona, 53, known for its endless catalog of stuffed animals. Here, your children can take home a unique souvenir of their visit to Rome.
9. Discover Leonardo Da Vinci's machines at work
The Leonardo Da Vinci Museum, in Via Conciliazione, 19, is the only museum in the world with more than 50 certified inventions by Da Vinci, as well as a place where you can see some of his most famous paintings.
Here you can discover how the mind of the Renaissance genius worked by operating his machines and learning about mechanics and physics, something that can be very interesting for both adults and teenagers.
10. Take a children's tour of Rome
Most tours of Rome are not very child-friendly, so if you are traveling to the Eternal City as a family you often have no choice but to organize most of the activities on your own or risk your children getting bored to death in a group of adults.
Luckily, there is a Rome tour for families with pizza and gelato at sunset, where you will tour the city discovering sites such as the Column of Marcus Aurelius, Piazza Navona, the Pantheon and the Trevi Fountain, but adapted for children with photo contests, quizzes and treasure hunts. At the end of the tour, you and your kids will have a pizza and an ice cream with the rest of the tour members.
11. Tips and tricks for traveling to Rome with children
I can't end this article without telling you some of the tips and tricks for a trip to Rome with your family and how to save some money and time, as many attractions and museums have free admission for children or special advantages. Here are a few things to know before your trip:
The metro and bus are free for children up to 9 years old, and the train is free for children up to 3 years old, with 50% discounts for children between 4 and 11 years old.
Admission to the Catacombs is free for children up to 6 years old and children between 7 and 15 years old have reduced admission.
Similarly, for the Vatican Museums, admission is free for children up to 5 years of age and reduced admission for children up to 18 years of age.
Rome is not the friendliest city for baby strollers, so I recommend you to carry your baby in a baby carrier. It is also a good idea to bring diapers and baby food from home, as the brands sold in the supermarkets there will probably be unfamiliar to you.
With a Roma Pass, your children have free admission and access to everything included in the pass.
I advise you to prepare your children a little in advance of the trip, documenting them even superficially on the history of Rome and the places they are going to see.