10 Rome's Christmas markets
Do you love Christmas markets? Don't miss these 10 very cool Christmas markets in Rome to visit this year and where to give yourself a unique souvenir.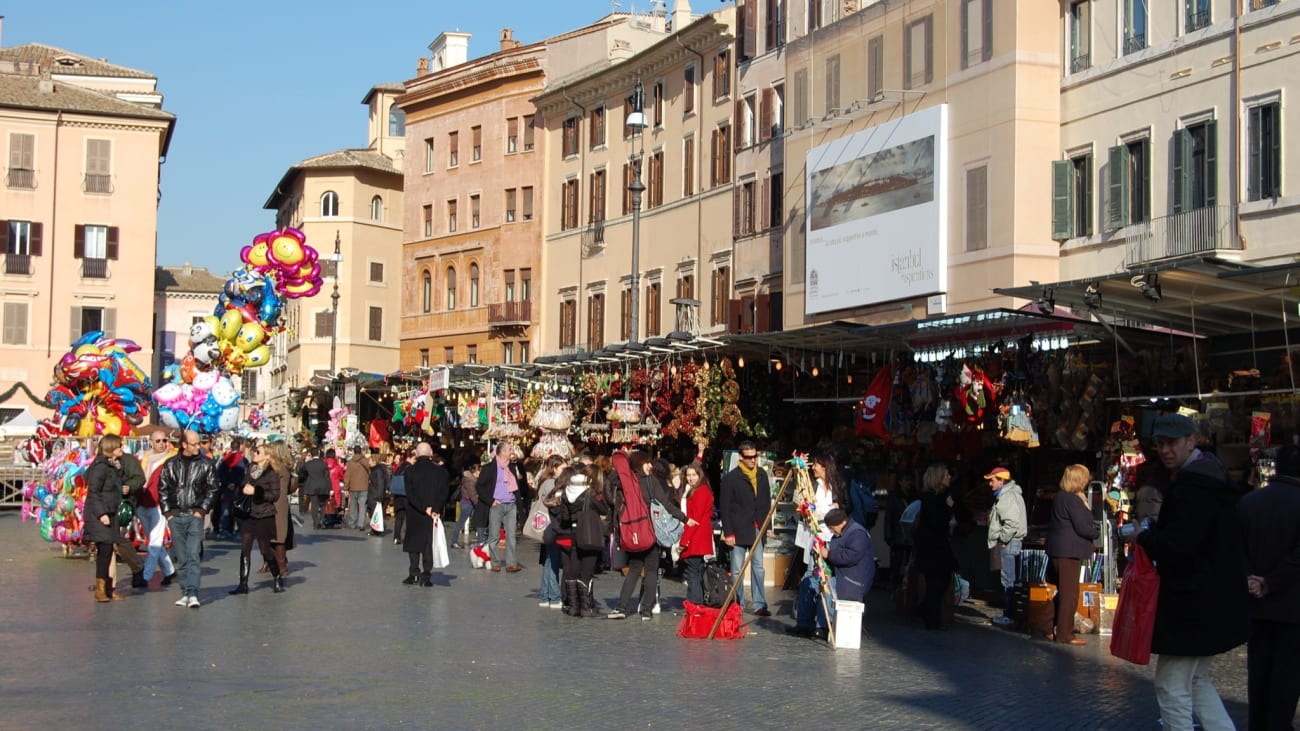 Rome is a city with a special atmosphere, full of monuments and history that during Christmas time becomes even more magical thanks to the nativity scenes, garlands and fir trees that decorate the streets of the city, not to mention the Christmas markets!
From the end of November to the beginning of January, Rome' s Christmas markets flood the squares to sell handicrafts, toys and typical sweets. Take advantage of your stay in Rome during the Christmas season to stroll around, enjoy the atmosphere and buy some gifts - you're sure to find something unique to give as a present this holiday season!
1. Piazza Navona
The Christmas market in Piazza Navona is the most typical of Rome. It is located in the old part of the city (where once stood the Stadium of Domitian) in a beautiful baroque setting presided over by the church of Santa Agnes and Palazzo Pamphili next to the famous Fontana dei Quattro Fiumi by Bernini, one of the best fountains in Rome.
For just over a month, the square is transformed into a beautiful Christmas market that looks like something out of a fairy tale. In addition to the beautiful stalls that decorate this place, there are other attractions in Piazza Navona such as a vintage merry-go-round, a large nativity scene and Christmas tree and even an event with Santa Claus and the witch Befana, two endearing characters during these holidays in Italy.
This is a very pleasant area to stroll around. Many street performers such as musicians and magicians gather there to liven up the atmosphere and you will have a good time. At the end you can stay for lunch in one of the restaurants with terrace to continue enjoying the festive atmosphere if you are not afraid of the cold temperatures of the Roman winter.
Address: Piazza Navona
How to get there: By subway, line A, Barberini station.
Hours: 10 AM to 1 AM. Open until January 6th.
2. Piazza Risorgimento
After visiting St. Peter's Basilica or the Sistine Chapel you can take the opportunity to visit another of Rome's Christmas markets, the one in Piazza Risorgimento just outside the Vatican walls.
There you can find a lot of things and not only related to Christmas. From decorative items for the house to handmade kitchenware and costume jewelry, you will be amazed by the variety of products they have!
The decoration of the Christmas market in Piazza Risorgimento may not be as typical as the one in Piazza Navona as it looks more like a modern fair. However, it's worth a visit because the atmosphere is also festive and they sell so many different things that you're sure to end up snacking on something.
Address: Piazza San Pietro, 00120. Vatican City.
How to get there: By subway, line A, Ottaviano station.
Hours: 10 AM to 8 PM. Open until January 6th.
3. Piazza Mazzini
Not far from Piazza Risorgimento, in one of Rome's most affluent neighborhoods, is located the Piazza Mazzini Christmas market in Prati, which specializes in furniture, antiques and vintage items.
Although this market is not as spectacular as the one in Piazza Navona, they go to great lengths to decorate it with Christmas and winter motifs and create an endearing atmosphere. In addition, Piazza Mazzini is a very pretty square that is adorned with Renaissance gardens and fountains, so it is worth a visit in itself.
Apart from the usual products of this flea market, during this time of the year they expand their offer to sell quality Christmas ornaments, wooden handicrafts and many gift ideas such as clothes, costume jewelry or incense. I recommend you to buy here some typical Italian sweets (for example from Sardinia or Sicily) because the Christmas flea market in Piazza Mazzini is famous for them.
Address: Piazza Mazzini
How to get there: By subway, line A, Re di Roma station.
Hours: 8 AM to 8 PM. Open from the beginning of December until Christmas Eve.
4. Piazzale Ankara
Another of Rome's Christmas markets that you can visit during your trip is the Piazzale Ankara, famous for its antique and fair trade stalls whose profits go to charity.
You will find it not far from the gardens of Villa Borghese, one of the most beautiful parks in Rome. So going to the Christmas market in Piazzale Ankara is a great plan to do after a stroll through this park where nature and art merge perfectly.
Presided by a big Christmas tree, in this place you can buy different kinds of products, from Christmas decorations and delicious food to cool gifts for your loved ones. And if you feel like doing something different, Piazzale Ankara also has a skating rink where you can show off your skills on the ice - you'll have a great time!
Address: Piazzale Ankara
How to get there: By subway, line A station Spagna or Flaminio.
Hours: Open from 7 AM to 2 PM on Tuesdays.
5. Piazza Caprera
If you love the traditional Christmas markets of northern Europe, you can't miss the Christmas market in Piazza Caprera in Rome, where you can recreate that magical winter atmosphere so typical of German markets.
In the stalls of the Christmas market in Piazza Caprera you can find a wide variety of products to give as gifts this holiday season (antiques, jewelry, perfumes, clothing ...) but the food and sweets from different Italian regions sold here are a real treat**(I recommend you try the panettone and Neapolitan struffoli**). If you have a sweet tooth, a visit to this fair is a good time to try some and accompany them with a glass of mulled wine or a cup of chocolate.
In addition, like other Christmas markets in Rome, the one in Piazza Caprera also has an entertaining program of activities to liven up the atmosphere such as traditional music, storytellers or clowns. So if you are visiting the city with your family during the Christmas season, this is one of the places to go with children in Rome along with the Piazza Navona flea market.
Address: Piazza Caprera
How to get there: By subway, line B, station Bologna
6. Museum of Criminology
If you are interested in the world of criminology, in addition to having a fun time in this museum in Rome you can take advantage of the visit to visit its Christmas market, which is promoted by the Department of Prison Administration of Italy.
Here you will find quality products made by the country's prisons such as nougat, panettone, honey, cheese or T-shirts, among many others.
If you are passionate about Italian cuisine and you already know the best places to eat in Rome, this is a good opportunity to buy some things and collaborate with a good cause. In addition, during the opening of the Christmas market, the entrance to the Criminological Museum of Rome is free.
Address: Via del Gonfalone, 29.
How to get there: By bus, lines 23, 40, 62, 64.
Hours: Open from 10 AM to 7 PM from December 11 to 18.
7. Natale all'Auditorium
Another of the Christmas markets in Rome that you can visit during your stay in the city is the one in the Auditorium Parco della Musica, which also hosts the Christmas World exhibition, an exhibition dedicated to celebrating Christmas and the encounter between different cultures.
In addition, the Natale all'Auditorium Christmas market also has a special program dedicated to children consisting of shows, activities and workshops for them to have fun while the adults browse the market stalls and do some Christmas shopping.
There are plenty of gifts to choose from: from typical sweets to beautiful handicrafts, you're sure to find a souvenir to take home from your trip to Rome!
Address: Via Pietro de Coubertin, 30
How to get there: By bus, line 910, Termini/Piazza Mancini Terminal
Hours: Open from December 4 to January 9.
8. Monti Market
Although the Mercato Monti is open all year round, during Christmas time this fair is immersed in a very Christmas atmosphere and many Romans come here on weekends to look for their Christmas gifts. So it is a highly recommended place to visit to buy some souvenirs of your trip.
In addition, the Mercato Monti has as a backdrop the Colosseum of Rome so before or after visiting this Christmas market you can take a guided tour of the Colosseum, which I recommend at any time of the year.
Address: Via Leonina, 46/48, 00184 Roma
How to get there: By subway, line B, Cavour metro station.
Hours: Open from 10 AM to 8 PM every weekend of the year.
9. Piazza di Spagna
There are many things to see in Piazza di Spagna (not for nothing is it one of the most famous squares in Rome ), and, of course, it also has its own Christmas market during the holidays.
It is not very big but it is in a fantastic location, next to the Fontana della Barcaccia and in front of the monumental staircase leading to the church of Santissima Trinità dei Monti, from where there is one of the best views of Rome. A place where both Romans and tourists gather to buy their Christmas gifts.
Address: Piazza di Spagna, 00187 Roma
How to get there: By subway, line A, station Spagna.
Hours: Open from December 1 to January 6.
10. Mercatino Giapponese
The Christmas edition of the Mercatino Giapponese is one of the shortest (it only lasts two days!) but it packs a lot of fun into a few days. Every December
Located in the PratiBus district, it has a little bit of everything for visitors of all ages to have a great time: from shows and demonstrations, to cooking and martial arts workshops. There is even a large gastronomic area where you can get your fill of the best Japanese specialties.
In addition, if you like the Japanese theme, at the stalls of the Mercatino Giapponese you are sure to find the gift you are looking for (jewelry, accessories, art, decorative objects, etc.) either for your loved ones or for yourself!
Access to this Christmas market in Rome is not free, the entrance costs about 4 euros but visiting it is worth it. Only children under 14 and people with disabilities can enter for free.
Address: Via Biordo Michelotti, 2, 00176 Roma
How to get there: By subway, line C, stop Malatesta and/or Pigneto.
Hours: Open from 10 AM to 7:30 PM in mid-December.