Rome in January: things to do in the city
January is a very special month: festivals, fireworks and Christmas villages turn it into a fairytale metropolis. Take note of these plans for the new year.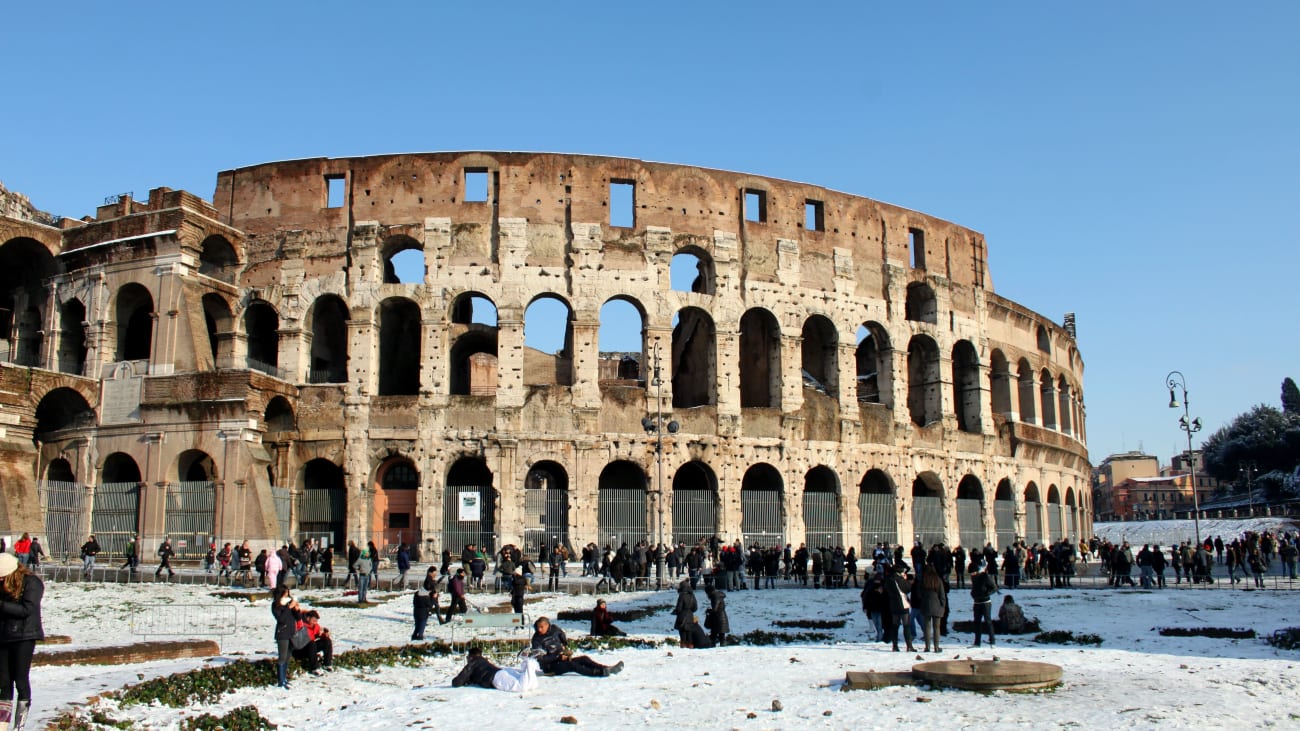 New year, new life. Or so they say, right? We have 365 days ahead of us to fulfill our dreams. For example, January is a good time to set a goal to travel and see all there is to see in Rome by soaking up Ancient History through Rome's majestic monuments. Don't let the winter cold stop you in Rome!
During this magical month you can finish enjoying the Christmas season and Rome's Christmas markets, celebrate the New Year in style with fireworks, take advantage of the best sales in one of Europe's fashion capitals and much more. I leave you with a list of goals for the new year in the form of the best plans for you to have the most fun in the city. Here we go!
1. Welcome the new year... in style!
If you spend New Year's Eve in Rome, you will notice that there are neither the typical grapes, baked lamb nor seafood. Romans end December 31 in Rome with a hearty dish of lentils with cotechino (ground pork) and their delicious panettone. To celebrate the arrival of the new year, at 12 o'clock sharp, forget the Freixenet champagne, in Italy they toast exclusively with "spumante", which by the way is much sweeter and richer. Chinchín!
Dance at the January 1st festival
Every year, to welcome the new cycle, the Eternal City organizes a big festival in the historic center for 24 hours free of charge, with the participation of 1,000 artists, live concerts and more than 100 theater, cinema, dance and circus performances, among other disciplines. The sky over the metropolis is also colored by spectacular fireworks displays at different emblematic points of the city.
Nuria's Traveller Tip

Keep in mind that, on New Year's Eve, the subway generally runs until 02.30 a.m. Be careful! On that day it is difficult to catch a cab and they also apply very expensive fares.
End Christmas with the Befana, the Italian Magician Queen
January 6 is a national holiday in Italy for the Epiphany of the Lord, which celebrates the baptism of Jesus Christ. The night before, a good little witch sneaks into homes and leaves gifts. She is the Befana, the Italian witch-queen who has made Santa Claus and the Three Majesties of the East unemployed.
On that day (the 6th) do not miss the procession that is part of the things to see and do in the Vatican with hundreds of people dressed in medieval costumes, riding horses, donkeys and playing drums. You will experience a very festive atmosphere!
Participants in the procession carry symbolic gifts for the Pope, who then performs a mass which you can attend if you opt for a visit to St. Peter's Basilica. Also, if you visit the different churches in Rome you will find a surprise: the living nativity scenes inside. In this article I tell you what you can do at Christmas in Rome to have a great time.
2. Experience the Pope up close at the Angelus Mass
Whether you are a believer or not, attending a live mass of the Pope will be a legendary experience that you will be able to tell your grandchildren about. If your trip to the Italian capital coincides with the New Year and you have not been seduced by the Roman New Year's Eve too much, I recommend that you get up early to get a seat (it gets crowded with citizens and visitors) and attend the famous Angelus in St. Peter's Square at the Vatican, which takes place around 12 noon.
One of the great attractions of the Vatican is to hear the Pope's blessing, if you do not get to the Angelus because you have stayed up late, do not worry because in this article I tell you how, when and where you can see it or even attend the Papal Blessing.
3. Visit Rome's museums free of charge
To take shelter from the cold in January, I propose a very economical plan for Sundays, which consists of visiting the museums and the great masterpieces of Raphael, Rubens and Caravaggio for free during the first Sunday of the winter months. What do you think of the idea?
Get up early to get a seat
However, keep in mind that in the most popular ones there are huge queues at the gates, where you can be waiting for hours. Especially to visit the Colosseum and to enter the Castel Sant'Angelo. I suggest that if you really want to get in, don't gamble and buy them in advance, or be among the first to arrive.
Take note! Access to the Vatican Museums is also possible during the last Sunday of the month. But being one of the most famous, you will have to get up even earlier. As the saying goes, the early bird catches the worm.
Here is my list of the best museums in the Eternal City:
4. Stroll around the city at your leisure without a car
Another advantage of traveling to the Eternal City during the winter is that you will have the opportunity to walk around the great monuments of Rome in the metropolis without vehicles on some Sundays (only cabs and those using clean energy can pass through). It is a unique opportunity to get to know the capital by walking through corners to which you would otherwise never have access.
Rome's goal with this measure is to take care of the environment, to free the city from the gases that big cities suffer from and to allow pedestrians and tourists to enjoy the city completely. You will have a totally different perspective of the Eternal City and even more if you book a guided tour through the streets of Rome!
5. Tune your ears... and listen to gospel music
At Christmas time, the city is transformed into a fairytale city with its lights, decorations and typical sweets. The best part? The special programming for these dates. Until mid-January you can visit the Auditorium Parco della Musica, which hosts a Christmas market, an ice rink and organizes more than 50 concerts, shows, a gospel festival and exhibitions. Don't miss it!
One of the plans I liked the most was to attend a concert of the Rome Gospel Festival, the most important European gospel event, where some of the best groups in the U.S. perform. The show, directed by Mario Ciampà, was born in 1985 and has a long tradition in the country. You will get the hair on the back of your neck with their voices!
6. Visit a multicultural Christmas village
If you've already fallen in love with Rome's Christmas markets, this plan is for you: can you imagine celebrating Christmas in Sydney at 30 degrees Celsius and dressed as a surfer Santa Claus, or celebrating for 3 months in the Philippines? Traveling to any city at this time of the year is like doing it all over again for the first time. If you want to visit almost every metropolis in the world in one day, I advise you to go to the exhibition that reconstructs a Christmas village at the Auditorium Parco della Musica.
Throughout its more than 25,000 square meters, you will discover how this holiday is celebrated in every corner of the world. The Christmas World exhibition immerses you in Christmas atmospheres, traditions and peculiarities of different countries through its art installations - a wonderful journey through different cultures! I particularly loved discovering the typical products of each region and enjoying the cultural shows in the original language of each country.
Interesting facts about the 'Christmas World' exhibition
Where: Auditorium Parco della Musica, Viale Pietro De Coubertin, 30.
When: from December 4 to January 9.
Price: tickets from 6 euro.
Hours: from 10 a.m. to 10 p.m.
7. Enjoy a nice hot chocolate
Everyone knows that Rome's ice cream is one of the symbols of Italy. I'm sure some brave person will dare to try it in January, but what about the rest of us? A good option to warm up in winter is to have a delicious hot chocolate.
Walking the streets of Rome I discovered one of my favorite places to have a cup of cocoa in the Italian capital: an old chocolate factory hidden in the neighborhood of San Lorenzo, which maintains its essence of yesteryear but has managed to adapt to the new times. A culinary gem!
And for those with a sweet tooth... Chocolate spread!
This is the Said chocolate shop, where you can taste a handmade chocolate, have an afternoon snack or treat yourself to a tray of pastries. Inside, there is also a restaurant, where they serve curious dishes related to chocolate, such as pasta with pear and chocolate. It sounds strange, but I promise it was delicious.
8. Find the best bargains in the sales
Rome is undoubtedly a city of movies and fashion. Thanks to its elegance and wonderful scenery, reflected in the splendid film 'Roman Holiday', the Italian capital has become one of the favorite European cities for shopping lovers.
From January 2, the long-awaited sales arrive and it is possible to find some bargains in the fashion streets: via del Corso, via dei Condotti and via del Babuino. I advise you to take a walk contemplating the bohemian air of its buildings and take advantage of the discounts, some of them reach up to 70 percent. Leave room in your suitcase because I assure you that you will want to sweep the stores!
Take note of the best areas for shopping:
Via Condotti, Via Borgognona and Via Frattina: popularly known as the "fashion trident". Here you will find the most luxurious and prestigious stores in the world such as Armani, Versace and Tiffany, among other brands. Even if you do not buy anything, contemplate their wonderful windows.
Via del Corso: ideal for young people. Take a break at the Alberto Sordi Gallery to have a delicious coffee while you admire the beauty of this wonderful place.
Via Ottaviano and Via Cola di Rienzo: with stores for all budgets and pockets. You can recharge your batteries in two temples of taste, Castroni and Franchi, which sell gastronomic specialties from all over the world.
9. See an open-air farm in Rome
One of my favorite festivals is the one celebrated on January 17, St. Anthony Abbot's Day, the patron saint of animals, when a special Eucharist is held for them. On that day, in true 'Farmer looking for a wife' style, the Italian Cattlemen's Association gathers all of them with their animals in front of St. Peter's Square in Vatican City.
Every year, there is also an exhibition of livestock animals open to the public, where cows, sheep, goats and chickens roam freely, happy to have exchanged their landscapes for the historic buildings of Rome. At noon, there is a horse show, which delights onlookers and tourists with their feats of skill along the street. This festival is an excellent way for visitors to get to know the most authentic traditions of the country.
10. Taste their delicious Christmas panettone
Almost as representative of Italy as the Colosseum is the panettone, a delicious sweet bread that was born in Milan more than 500 years ago. Did you know that the best panettone in the world is baked in Fiano Romano, an Italian town near Rome? Take advantage of the month of January to lick your fingers with this delicacy and order it for dessert or breakfast in one of the many places I recommend you to eat in Rome.
The best panettone in the world
Specifically, it is at the Pregiata Forneria Albanesi pastry shop where the pastry chef, Fabio Albanesi, bakes his magical sweets. And it's normal that they are so good: he has been baking them since he was seven years old. Panettone is a soft and spongy bread made with water, flour, butter, eggs, nuts, orange and lemon peel and raisins. Would you like to try it?
Where: Via Tiberina, 108, 00065 Fiano Romano.
Opening hours: from 6 a.m. to 10 p.m.
Temperatures in Rome in January
January is the coldest month of the winter in Rome, yet it is still very bearable. Temperatures range from 3ºC to 12ºC. In addition to wearing warm clothes, buy warm socks, a hat and T-shirts because you will need them. However, you can always warm up with a good hot chocolate in any of its Christmas markets.
A piece of advice I give you is to get up early enough to make the most of all the hours of sunshine. At this time of the year the sun rises around 7:30 am and the sun disappears on the horizon around 5 pm, which leaves about 9 hours for sightseeing and activities.
Nuria's Traveller Tip

If you travel to Rome in January, don't forget a small umbrella in your suitcase - it rains an average of 7 days a month! Therefore, the probability of getting a rain shower is high.
Prices in Rome in January
Although it is not the preferred month for the coldest travelers, the thrifty ones are in luck. January is one of the months with the lowest number of tourists and, therefore, with the lowest prices of the season, both in flights and hotels. It will be very easy for you to find real bargains!
Now that you no longer have the excuse that Rome is an expensive city, I recommend that you plan your getaway in advance to get an even better deal. If you have already decided to visit the Eternal City as your New Year's resolution, read this guide with the keys to organize your trip to Rome.