How to get from Rome to Florence
Are you in Rome and want to visit the cradle of the Italian Renaissance? I'll tell you all the details on how to get there so you can choose the best option.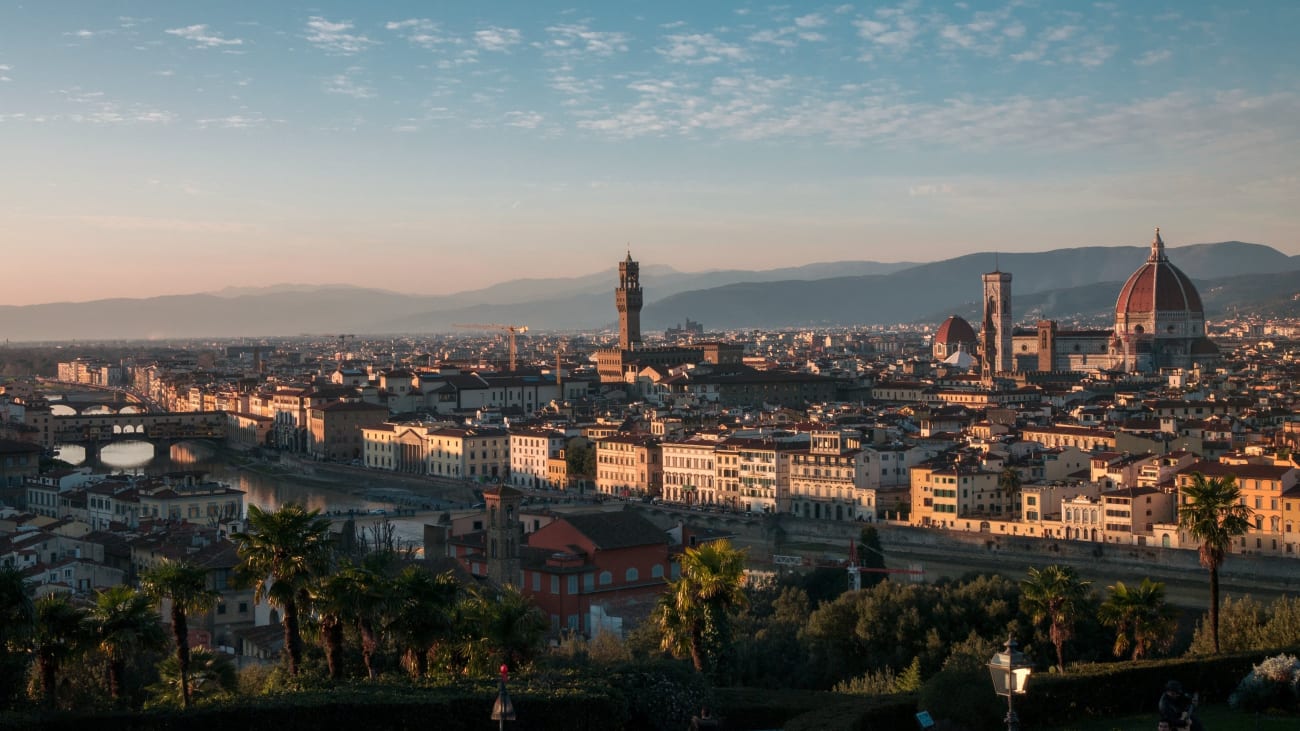 Do you know what the "Stendhal syndrome" is? It is the reaction (elevated heart rate, trembling, palpitations...) to a work of art of extreme beauty. Stendhal coined the term when he visited Florence, the cradle of the Renaissance that houses the masterpieces of geniuses such as Leonardo Da Vinci and Michelangelo. The city will amaze you!
If you have already decided that visiting Florence, the city of art at its best, will be one of the things to do during your trip to Rome, first you should know the different ways there are to travel the 270 kilometers that separate the two metropolises**(bus, train, car or plane**) and know that you can do it on your own or as part of an organized tour. I explain all the possibilities.
1. The best way to get to Florence from Rome: an organized tour
My favorite option to visit Florence from Rome is to do it as part of an organized tour. The best part? You don't have to worry about anything, you'll enjoy a heightened experience with an English-speaking guide and you can even take the opportunity to see other cities like Pisa and its iconic leaning tower.
In this case, the trip, which departs from one of Rome's main stations in the center, usually takes about 3 hours on an air-conditioned bus (very important in summer in Rome!). However, if you choose the option of booking a small group tour to Florence from Rome you will be picked up and dropped off at your hotel. Also, with this option you will travel with only a few other people in a comfortable minivan.
During the tour you will cross the Ponte Vecchio, the only bridge in Florence that was not destroyed in World War II, and you will admire the marvelous dome of the Cathedral of Santa Maria di Fiori, made of four million bricks. And the icing on the cake: you will visit **Michelangelo'**s famous David.
Practical information about the excursions
Price: from 113€.
Total duration: from 12 hours to several days (depending on the tour).
Recommended if: you have several days in the Italian capital and want to make the most of your time.
Types of tours to visit Florence from Rome
The minimum duration of the excursions from Rome to Florence is usually about 12 hours including the round trip, but you can also book a tour of several days if you want to take advantage of the trip in Italy and visit Rome, Bologna, Siena, Florence and Venice.
In addition, if you are looking for a more personalized tour you have the option to participate in a full day tour from Rome for a small group of maximum 12 people (only 6 passengers per van). So you can ask all the questions you want to the guide and have a more individualized attention, perfect for the most demanding travelers!
What do excursions to Florence usually include?
A professional guide in English.
Tickets to the Accademia Gallery
Transfers between cities.
Free cancellation.
Hotel accommodation and meals on the multi-day excursion.
In this article I compare the different excursions you can book from Rome so you can choose the option that best suits your interests and your budget. There is something for all budgets, take a look!
2. How to get to Florence by train: the most convenient option
Particularly, the train seems to me the most comfortable option to get to Florence from Rome. The trip takes only 1 hour and a half and you will hardly notice it. For example, the Italo company operates every day from 5:40 am, with a frequency of 15 minutes or half an hour, depending on the time of day, until 8:40 pm.
The price usually varies in total, the round trip, between 40 € and a maximum of 90 € on days of high demand, such as weekends and during the summer season. You can find offers for 21,75 € one way, but be careful because these trips usually take about 4 hours, instead of an hour and a half. To find the best price I suggest you book your tickets online as far in advance as possible - there is a lot of demand!
Specifically, trains depart from Rome Termini, the most important railroad station in the capital, and arrive at Santa Maria Novella in Florence, located in the heart of the city and very well connected by public transport.
Train fare: from 40€ round trip.
Operating companies: Italo, Frecciarossa and Frecciargento.
Travel time: one hour and a half.
Recommended if... you have little time during your trip.
3. How to get to Florence by bus: the most economical option
Are you on a tight budget? Don't worry because buses in Italy are very cheap, especially the route between Rome and Florence, since it is one of the most common trips for travelers but also for Italians. You will find real bargains from 4,97€ one way. However, be careful, because the journey usually takes between three and a half and four hours, depending on the selected ticket. If you don't mind taking longer, go ahead!
In this case, I advise you to use the Itabus buses, one of the most economical companies and which runs a large number of routes between these two cities every day. The first buses from Rome leave at 6 am and the last ones at 11:45 pm. They are also quite comfortable and have air conditioning, free wifi service (very important for hanging out) and they give you a bottle of water. Can you ask for more?
Disadvantage of the bus
The bad thing? Time is money when traveling and compared to the train it takes twice as long. On the other hand, the main disadvantage of the bus is that the bus station in Rome (Largo Guido Mazzoni) is quite a bit further from the center than the train station, which will waste even more time as you will have to catch another transport first. My advice is to forget about these hassles and hire a tour.
Price: from 10€ round trip.
Operating companies: Itabus, the cheapest one; MarinoBus, Flixbus...
Duration of the trip: 3 hours and a half or 4 hours.
Recommended if... you are a born saver.
Nuria's Traveller Tip

If you don't mind wasting time travelling and you want to go by bus to save money, I advise you to use a ticket comparator, such as "checkmybus". You'll save a few euros!
4. How to get to Florence by car: the most practical option
If you are a free soul and don't like to depend on anything or anyone, renting a car will be the best option. The advantage is that you will be able to stop in places like Cinque Terre, where you will see the five most charming villages I have ever seen in my life, and the stunning Amalfi coast. Don't forget to try a tasting of the best Italian wine on your trip to the capital of Tuscany, Chinchini!
The drive takes about 3 hours or three and a half hours on the highway and you have to pay a toll of 18,40 €. Please note that there is no route that allows you to avoid tolls. For example, if you are traveling alone it will cost you a total of about 42 € per trip, between this fee and the gasoline, plus the car rental!
In my opinion, if you add up all the expenses it is a quite expensive means of transport compared to the previous ones. It is only recommended if you are a group of 4 or 5 people. Also, car rental companies usually charge an extra fee for returning the car in another city.
Price: from 42€ between gasoline and tolls.
Companies operating: Sixt, Europcar, Rentalcar
Travel time: 3 hours and a half
Recommended if... you are traveling in group
BlaBlaCar: the most adventurous option
If you are a globetrotter and love to meet local people on your travels... Read carefully! In Italy lately it has become fashionable the BlaBlaCar platform, a service where people agree to share vehicle and travel expenses. If you're not shy, I recommend it - it's perfect for chatting and meeting new people! In this case, the road will be part of the experience.
Generally the minimum price on BlaBlaCar is around 12€ one way. What's the downside? Drivers usually post their trips two or three days in advance so you won't be able to plan anything far in advance.
5. The plane: the worst option to get to Florence from Rome
If you have in mind to travel by plane to Florence from Rome, I recommend that you discard this idea. Why? Very easy: the prices are exorbitant (in low season you can pay about 160 €), there are few companies that make this route and the trips are usually with a stopover.
However, you can find some "bargains" in low cost airlines like Ryanair or Vueling for 90 €. Of course, as I said, you will have to transfer at an airport and buy the ticket well in advance. It will take you twice as long as in other transports and on top of that it is the most expensive way. So, from my point of view, in any case it is not worth it.
Price: 160€ average price
Operating companies: Ryanair, Vueling
Travel time: 4 hours with stopover
Recommended if... you find a bargain.
In short, we compare the different options to get to Florence
But... What is the best option? You already know the pros and cons of each of the means of transport, if you still can't decide between taking an excursion, the train or the bus I will give you some tips that will help you make a decision. As I said, I would discard the car or the plane because of its very high price.
Is a tour, train or bus better?
I recommend the tour if... you will be in Rome for only a few days, but you want to take advantage of the trip to get to know Florence. In this case, it is best to book a day trip because the guide will take you to the emblematic monuments and masterpieces and you will not waste time in planning, getting situated with the map or in the endless queues at the museums... You'll be on your way!

I recommend the train if... you like to travel on your own. It is the fastest option and also the most comfortable, but book in advance! The ideal is to buy your tickets one month in advance.

I recommend the bus if... you have more days, you are the king of low cost and you like to travel cheap. I promise it will not be as uncomfortable as you imagine! It is another of the most popular transports in beautiful Italy.
Summary of the different options to get to Florence
Excursion

The best option

Price: from 113€ round trip

Duration: 3 hours

: You can book it with Hellotickets
Train

The fastest option

Price: from 40€ round trip

Duration: 1 hour and a half

: Companies: Italo, Frecciarossa and Frecciargento
Bus

The cheapest option

Price: from 10€ round trip

Duration: 3 hours and a half or 4 hours

: Companies: Itabus, MarinoBus, Flixbus...
: Car

The most practical and expensive option

Price: 100€ one way

: Duration: 3 hours

: Car rental with Sixt, Europcar...
: Airplane

The most expensive and cumbersome option

Price: from 90€

: Duration: depends (almost all with scale)

: Ryanair, Vueling...