Cinque Terre Day Trips from Florence
These colorful and picturesque towns hanging from cliffs facing the sea will add a special touch to your trip. Don't miss out!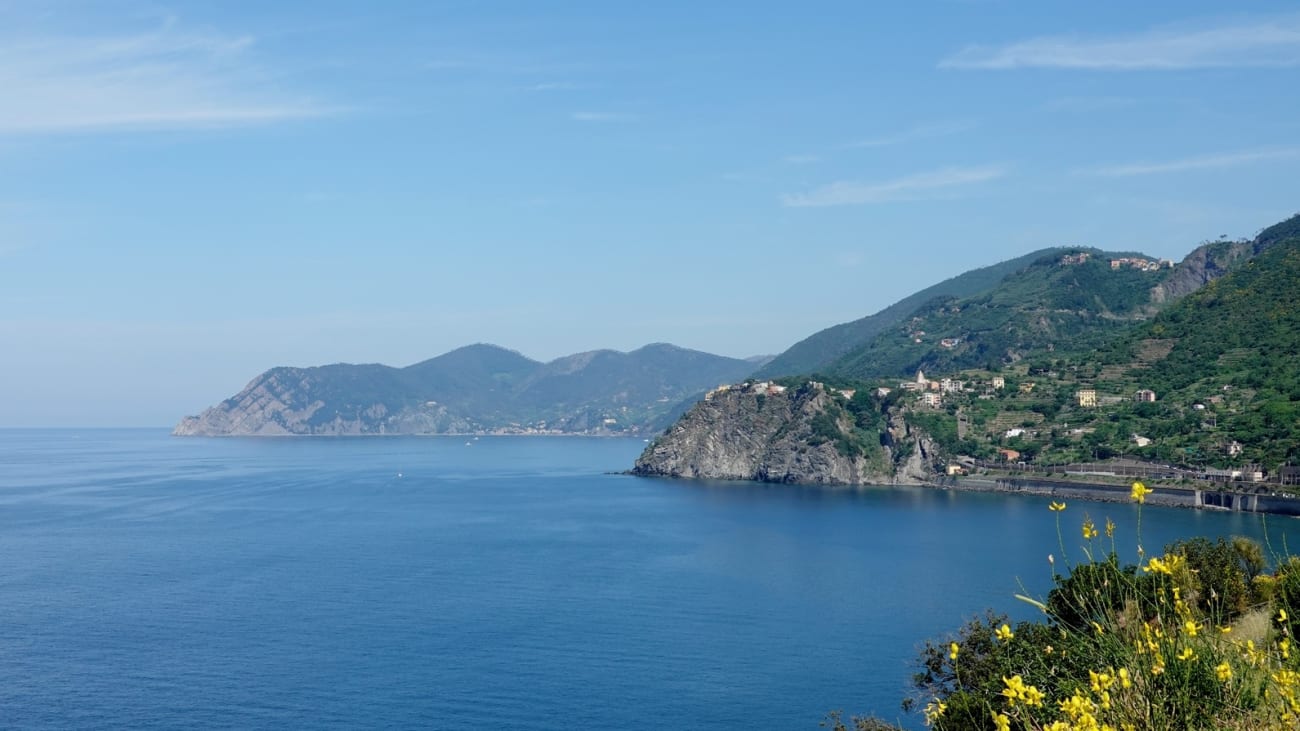 Cinque Terre is an idyllic coastal area of the Italian Riviera, 170 kilometers from Florence. This region encompasses five picturesque villages, perched on impressive cliffs: Monterosso, Vernazza, Corniglia, Manarola and Riomaggiore.
1. The best excursions to Cinque Terre from Florence
The Cinque Terre area is easily accessible from Florence and there are organized tours that take you there and back on the same day. I have selected the ones I think are the most complete here:
2. Day trip to Cinque Terre from Florence
With this excursion to Cinque Terre from Florence you will get to know the four most important towns of Cinque Terre: Riomaggiore, Manarola, Monterosso, and Vernazza, all in one day. You will have time to explore on your own the narrow streets of Riomaggiore, the olive groves of Vernazza, and the medieval relics of Manarola; bring your swimsuit and you can take a dip in the turquoise waters of the beaches of Monterosso!
Why I like this tour
What I find most interesting about this tour is that it allows you to discover at your own pace the small villages of Cinque Terre, so you don't always have to be tied to a group with fixed schedules. The bus from Florence will drop you off in Manarola and from there you will be free to take a boat ride, go for a walk or ride the local train that connects the four villages.
What is included in this tour
Roundtrip day tour to Cinque Terre from Florence
Guided explanations on the bus in English and 5 other languages
Itinerary
Manarola
Riomaggiore
Monterosso
Vernazza
3. Escape to Cinque Terre from Florence with typical lunch
This one-day getaway with lunch and all transfers included will take you to Monterosso, Vernazza, Manarola, and Riomaggiore in Cinque Terre, but in the most comfortable way, so you don't have to worry about anything other than enjoying your day trip.
Why I like this tour
If instead of organizing everything on your own, you prefer to let a professional guide take you to the main points of interest, this is the best option for you. This tour includes all transportation by bus, train, and boat to tour the villages on your own, with a typical local lunch in a restaurant overlooking the ocean to treat yourself along the way.
What is included in this day trip
One day tour to Cinque Terre from Florence
Explanations on the bus in English and 3 other languages
Group of 50 travelers maximum
Round-trip transportation by air-conditioned bus with on-board WiFi, local trains, and ship
Traditional Italian lunch with beverages
Itinerary
Manarola
Riomaggiore
Monterosso
Vernazza
Vicky's Traveller Tip

The best time to travel to Cinque Terre is in the warm months to enjoy its beaches, but avoid July and August, when most tourists crowd these small towns.
4. Private day trip to Cinque Terre with visit to Manarola, Vernazza and Corniglia
Enjoying the most beautiful villages of Cinque Terre more exclusively is also possible, with this private tour from Florence to Cinque Terre. A private vehicle will pick you up at your hotel in Florence and take you to discover the wonders of Manarola, Vernazza, and Corniglia. Along the way, you will make a stop to see the famous marble quarries of Carrara.
Why I like this tour
If you prefer to invest in a more exclusive experience without having to share the day with other travelers, this is the best option. The best thing about this tour is that you can also include an additional stop in the Tuscan city of Pisa, which I highly recommend for you and your companions to see the famous Leaning Tower of Pisa.
What is included in this tour
Private one-day excursion to the villages of Manarola, Vernazza, and Corniglia
Hotel pick-up and transfer back to accommodation within the city of Florence
Private transportation in minivan or car with air conditioning
Itinerary
Manarola
Vernazza
Corniglia
Carrara marble quarries on the road to Cinque Terre
Possibility to stop in Pisa
Why it is worth visiting Cinque Terre
The colorful facades of its old houses are probably the best-known and most remarkable aspect, but not the only one. Made up of four villages bathed by the Mediterranean, Monterosso, Vernazza, Manarola, and Riomaggiore, and one inland, Corniglia, the 'Cinque Terre' is an unforgettable place dotted with natural landscapes, unique architecture, exotic beaches, hiking trails, exquisite gastronomy and sites of cultural interest.
Manarola
Manarola, located on a hill that extends to the sea, is the most famous town of the Cinque Terre. It has a pleasant harbor, where you can take the opportunity to eat in one of its many restaurants and take some souvenirs from the local stores, and a swimming area called Marina di Manarola.
Among its attractions are its medieval relics, the Church of San Lorenzo, and a viewpoint that surrounds a cliff towards Corniglia and from where you can get the best photos of the area, especially at sunset.
Riomaggiore
Known for its local wine, its cobblestone streets and pastel-colored houses that extend to a small and charming harbor, Riomaggiore is one of the most beautiful villages in Cinque Terre due to its exceptional location on a steep mountainside above the valley of the Maggiore River.
This town, which foundation dates back to the thirteenth century, has an interesting historic center with the Church of St. John the Baptist, the Castle, and the Church of the Confraternita dell'Assunta. To get the best souvenir of Riomaggiore, go down to the port and look for its stone jetty, from where you will get jaw-dropping postcard-like pictures. Feeling like taking a dip? Follow the small path leading from the seawall, which will take you to a small and beautiful rocky beach.
Monterosso al Mare
Located in a small natural gulf, Monterosso al Mare is the largest town in Cinque Terre and the best place to stay as a base of operations if you are thinking of sleeping there, as it has a larger hotel offer and therefore more affordable prices than the other towns.
If you like the beach, you will love Monterosso, as it has the longest beaches in the area, bathed by crystalline waters. Also interesting is its historic center, with outstanding attractions such as the statue 'Il Gigante', the emblem of the city, the Aurora Tower, and the Church of St. John the Baptist.
Vernazza
Vernazza, surrounded by terraced olive groves that are said to produce some of the best olive oils in Italy, is a village of narrow, colorful streets perched on a hill and can be reached on foot and a beautiful, if somewhat arduous, trek from Monterroso al Mare.
Among the cultural sites of Vernazza, it is worth seeing the church of St. Margaret of Antioch, built on a pleasant square, and the Doria Castle, from whose tower you can admire the best views of the village.
Corniglia
You can't get to Corniglia without first climbing its Lardarina, a staircase of 382 steps up to the 328-feet-high hill where the only inland village of Cinque Terre, and the smallest one, stands. This town is surrounded by terraced vineyards and olive groves, and among its tourist attractions, the churches located in its main square, Piazza Largo Taragio, stand out.
6. The best beaches of Cinque Terre
One of the best things to do in Cinque Terre is to enjoy its beautiful beaches and swim in the turquoise waters of the Ligurian Sea. Among the various beaches of Cinque Terre are:
Vernazza. The beach of Vernazza is made of gravel and rocks and is hidden behind a cave
Guvano. This natural and wild beach with crystal clear waters is in Corniglia and is one of the most beautiful in Cinque Terre
Fegina. It is the only sandy beach of Cinque Terre and the largest and most frequented
7. Hiking in Cinque Terre
If you also like hiking and usually do trekking routes in your travels, you will fall in love with Cinque Terre, as it is one of the best areas in the country to practice this sport thanks to its landscape full of cliffs, postcard villages, vineyards, and olive groves.
Cinque Terre has a famous route of 12 kilometers, the Blue Trail, which is simply wonderful because it takes you between the five villages of the area by the shortest and easiest way. To do any of the sections of this trail you must buy the Cinque Terre Card, which costs less than € 8, and make sure to pack water and wear comfortable clothes and shoes.
8. Other interesting activities in Florence
If you found this article on how to visit Siena from Florence useful, you may be interested in checking out my guide on Tours and Daytrips from Florence, or that of Pisa Day Trips from Florence. If you are interested in getting to know Florence in depth, you can't miss the Duomo and the Uffizi and Accademia Galleries. Here are the links to their guides so you can organize your visit: Florence Duomo Tickets and Tours, Uffizi Gallery Tickets and Tours and Accademia Gallery Tickets and Tours.
Frequently asked questions
What is the prettiest town in Cinque Terre?

Generally, Manarola and Monterosso are regarded as the coziest towns in the Cinque Terre area, but places such as Vernazza, Riomaggiore and Corniglia are also quite charming as well.

What is the best trip to Cinque Terre?

In case you're an outdoor enthusiast, the Cinque Terre Hiking Day Trip from Florence will let you experience a guided hike through the charming coastal villages of the area. You can also choose the Day Trip with Transport from Florence, a relaxing experience providing transport between each town.

What can I bring home from Cinque Terre?

Cinque Terre typical products include anchovies, honey, wine, olive oil, and lemon marmalades and other products.