Siena Day Trips from Florence
Walking through the streets of Siena is to travel back in time to the Italian medieval past. All aboard the Delorean!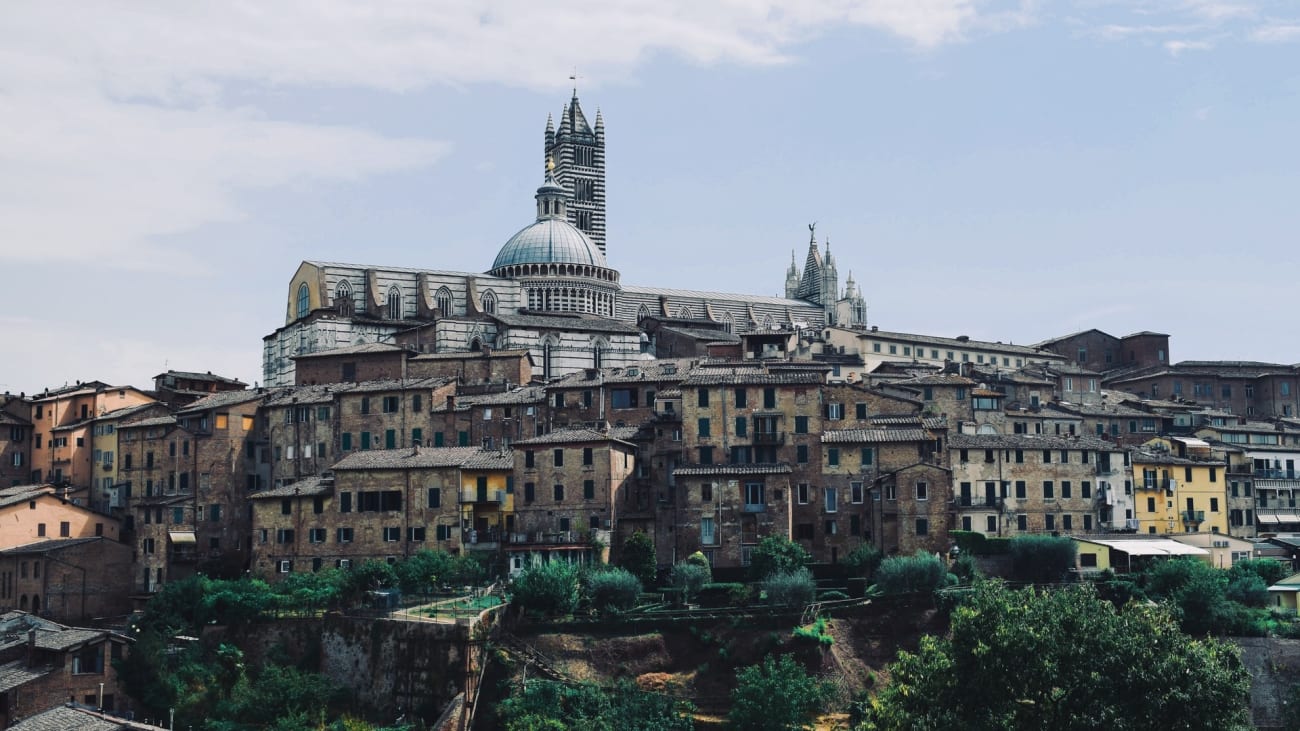 Siena, with a historic center declared a World Heritage Site, is one of the wonders of Tuscany that you can visit on a day trip from Florence, as well as Pisa, Chianti, San Gimignano, or Monteriggioni.
1. The best excursions to Siena from Florence
Siena is located just 43 miles from Florence and its main attractions are located around its historic center, making it very easy to visit. Here's a summary of the main organized day trips to discover Siena and the magical Tuscany.
2. Small group guided day trip to Siena and San Gimignano with lunch
With this excursion to Siena and San Gimignano, you will discover Siena in depth thanks to a local guide who will take you through this beautiful monumental city, home of the famous Palio horse race. In addition, you can explore on your own the charming medieval town of San Gimignano, halfway between Florence and Siena and known as the 'Manhattan of the Middle Ages' with its skyline of numerous and high medieval towers.
You will also enjoy a typical Tuscan lunch to replenish your energy during your journey and paired with a local wine tasting at a vineyard in the village of Monteriggioni. Of course, the explanations of the guide will be in English.
What is included in this tour
9-hour tour to Siena and San Gimignano from Florence
Group of 25 people maximum
Guide of Siena available in English
Roundtrip transportation in air-conditioned minibus or minivan
Entrance ticket to visit the interiors of the Cathedral of Siena (if the option is booked)
Lunch in a Tuscan winery with tasting of local wines
Itinerary
Siena, with Piazza del Campo, Duomo di Siena
Monteriggioni, with stop at the Fattoria Lornanola winery and vineyard with lunch
San Gimignano, with free time to visit it
3. Transfer to Siena, San Gimignano and Monteriggioni from Florence with wine tasting in Chianti
If you want to discover the area on your own, there is the option of only booking a transfer to Siena and San Gimignano from Florence, with time to explore also the charming walled village of Monteriggioni on your own, this transfer is perfect to comfortably reach these three locations and do a ** self-guided tour**.
In addition, this tour includes a typical Tuscan lunch and a tasting of local wines of the appreciated Chianti Appellation of Origin in a rustic local winery, where you will learn all the secrets of its production.
What is included in this tour
11-hour day trip to Siena, Monteriggioni and San Gimignano from Florence
Informative comments on the bus
Round-trip transportation by air-conditioned coach with WiFi
Entrance ticket to visit the interiors of the Cathedral of Siena (if the option is selected)
3-course Tuscan lunch with wine tasting in a Chianti winery
Itinerary
San Gimignano
Siena
Monteriggioni
Chianti with lunch at a local winery
4. Private guided day trip to Siena, San Gimignano, Monteriggioni and Chianti
For the most VIP and personalized experience in Tuscany, this 100% private tour will take you from your hotel to a comfortable and complete tour of Siena, San Gimignano Monteriggioni, and the Chianti countryside from Florence.
What is included in this tour
8-hour tour to Siena, Monteriggioni, Chianti and San Gimignano from Florence
Pick up and drop off at the hotel, provided you are staying in the center of Florence
Transportation in an air-conditioned luxury vehicle with onboard Wi-Fi
Professional driver
Private guide with explanations according to your interests in Spanish and 4 other languages
3-course Tuscan lunch with wine tasting in a Chianti winery
Itinerary:
Siena
Chianti countryside
Monteriggioni
San Gimignano
Vicky's Traveller Tip

Siena can be seen in half a day, so while you're at it, take the opportunity to visit other places in beautiful Tuscany with an organized tour.
5. Tuscany Tour: Siena, Pisa, San Gimignano and Chianti, with lunch in a winery
This tour is my favorite option, as it allows you to make the most of your time in Florence by spending an amazing day discovering the highlights of Tuscany. In one day you will visit the typical Tuscan vineyards in Chianti with a typical lunch and a wine tasting of its Denomination of Origin, besides touring San Gimignano and visiting the other two Tuscan cities like Pisa, with its famous Leaning Tower and Siena, with a guided tour.
Pisa is a city that is really worth including in your discovery of Tuscany and that you can visit on your own with this tour. It is home to one of the most famous monuments in the world, the Leaning Tower, almost 183 feet long and with 294 steps that you can climb to admire unparalleled views of the architectural ensemble of Piazza dei Miracoli, with the Cathedral and the Baptistery.
What is included in this tour
12-hour excursion from Florence to Siena, San Gimignano, Chianti and Pisa
Round-trip transportation by air-conditioned GT bus with Wi-Fi on board
Guide in English and 3 other languages in Siena
Headphones during the guided tour of Siena
Entrance to the Cathedral of Siena
Lunch in a Chianti winery with two varieties of local wine
Itinerary:
Siena with guided tour
Chianti with Tuscan lunch
San Gimignano
Pisa
6. Why Siena is worth visiting
Siena is a magical city in which to lose yourself in the narrow medieval streets of its historic center, flanked by splendid palaces and historic stores, historic buildings, and monuments, among which you cannot miss:
Piazza del Campo
In this medieval square, one of the most beautiful and largest in the world, is held the famous and ancient race of the Palio of Siena. The rest of the time, it is the center of the city's life.
Duomo of Siena
The Cathedral of Siena, built in the XIV century, is a spectacular construction in whose interior the baptistery and the crypt stand out. It also has magnificent views of the city from its viewpoint, the 'Panorama del Duomo'.
Church of San Domenico
This is the second most important church in Siena. With a sober appearance due to its brick construction, the Church of San Domenico was erected in the 13th century and later remodeled in gothic style.
Palazzo Pubblico
Another place from which to get panoramic views of Siena is from the 88-meter tower of its Palazzo Pubblico, the seat of the city's town hall and one of its most representative historic buildings, with a brick and white marble facade.
7. Other interesting activities in Florence
If you found this article on how to visit Siena from Florence useful or if you are still not sure which visit might fit best in your trip, here is my guide to Tours and Daytrips from Florence. My personal recommendations are to consider Cinque Terre or Pisa as alternative destinations to Siena. Here are the articles I have written about them: Cinque Terre Day Trips from Florence and Pisa Day Trips from Florence.
Frequently asked questions
What is Siena known for?

Standing as one of the most famous Italian cities, apart from the city's beautiful architecture, there is a bi-annual horse race, the Palio, that takes place right in the centre of the city, drawing thousands every year.

What food is typical to Siena?

In keeping with the standard of Tuscan cuisine, Siena's food scene is lush with fresh food and local specialties. You can expect dishes that consist of extra-virgin olive oil, truffles, pecorino cheese, porcini mushrooms and wild boar.

What are the important sights of Siena?

Siena's Duomo is a striking site due to its striped design, making this usually the first place on most visitors itineraries, then there is the Orti dei Tolomei and the Campo Regio, which both give you incredible panoramas of the city. Finally, there's the Piazza del Campo, home to the Palio.