San Gimignano Day Trips from Florence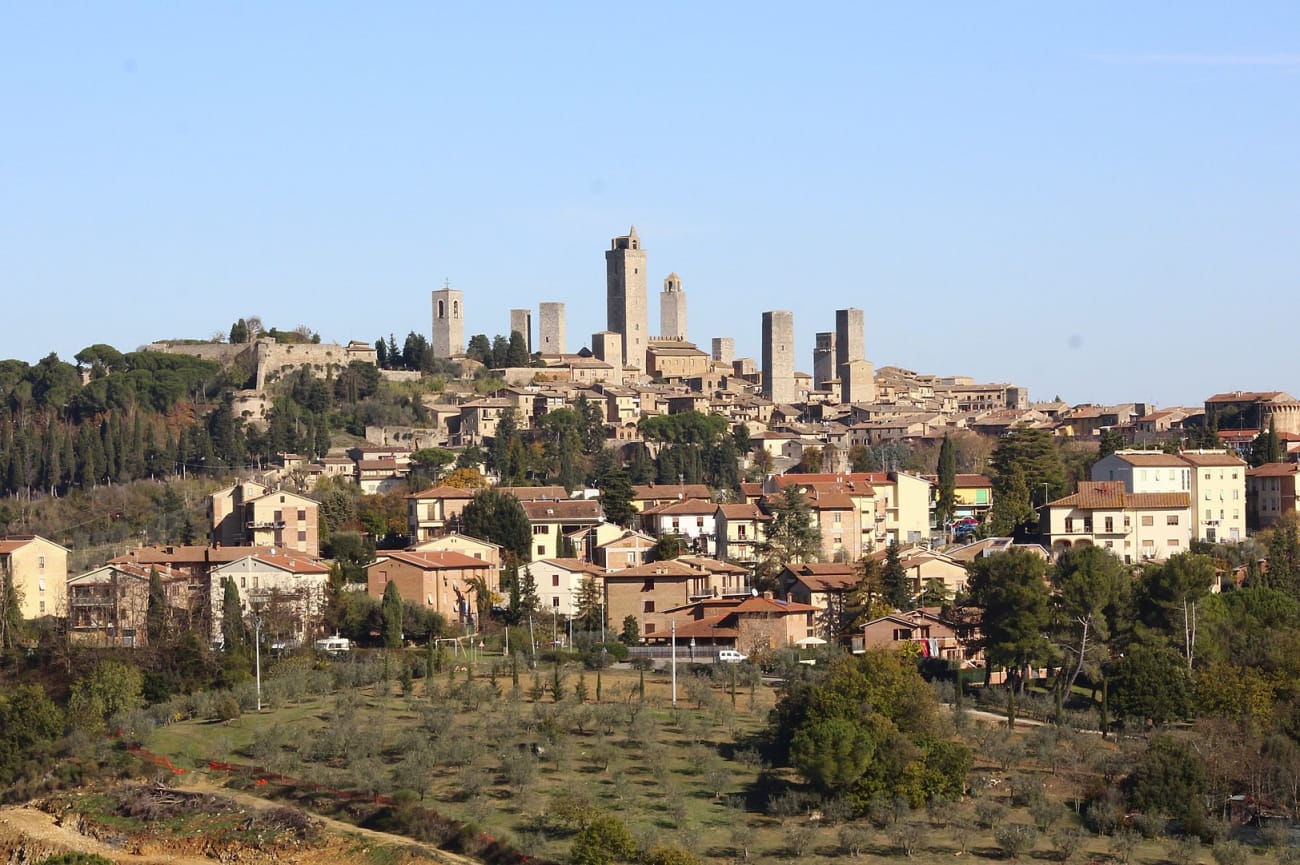 Italy is one of the most beautiful countries in the world, but if there is a region whose history, medieval villages, gastronomy and landscapes fascinate travelers, it is Tuscany.
Take advantage of a trip to Florence to explore some of the most emblematic destinations in Tuscany such as Pisa, Siena, Chianti or San Gimignano on a day trip by bus.
1. Best day trips to San Gimignano from Florence.
:
Known as "the New York of Tuscany" for its imposing stone towers, the medieval town of San Gimignano is located just 60 kilometers from Florence and thanks to its beautiful dreamy old town is a top destination to visit during a trip to this emblematic Italian region.
Here are the main organized excursions to discover San Gimignano and the magical Tuscany.
2. Day trip to San Gimignano, Siena and Chianti (lunch and wine tasting included).
:
A road trip to Tuscany is one of the most romantic experiences to do in Italy. This is a land of green meadows, rolling hills and vineyards that spread in all directions, of charming little villages and delicious gastronomy that will make you sigh.
If you want to let yourself be seduced by the magic of Tuscany, this day trip to San Gimignano, Siena and Chianti: from Florence is one of the most complete you will be able to do, because for a very adjusted price you will not only visit in one day some of the greatest pearls of the region (Siena, San Gimignano and Chanti) but you will also have the opportunity to enjoy in a nice winery in Chianti a rich traditional lunch and a tasting of regional wine and olive oil.
Why I like this tour
One of the advantages of Florence's geographical location is being able to visit some of Italy's most charming towns and cities located in the surrounding area. In Tuscany there are real gems lost among the hills that exude art on all four sides and that every traveler should enjoy at least once in a lifetime (although I warn you that this region hooks you!).
With this day trip to San Gimignano, Siena and Chianti by bus you will get an unforgettable and complete souvenir of your trip to the beautiful Italian Tuscany for an affordable price and you won't have to worry about planning your travels or lunch during the route, as it is included. You will save time and money that you can spend on other things, which is always great!
In addition, when it comes to getting to know the tourist attractions that are part of this tour, the formula of a guided tour is combined with free time in the different cities that the excursion covers, which is a very interesting option to value if you want to enjoy the advantages of both modalities.
What to expect
You will leave Florence early in the morning (at 8:45 AM) to take the coach with your group to these emblematic Tuscan towns that played such an important role in the Middle Ages and the Renaissance, making this region a mine of history and art!
Get ready because along the way you will travel through the bucolic countryside filled with vineyards that have inspired many artists, stroll at your leisure through the medieval town of San Gimignano (known as "the New York of Tuscany" for its impressive towers), you will visit the Monteriggioni fortress (one of the best preserved medieval complexes in Italy that has hardly changed since the 13th century), you will walk through the small village of Chianti to visit a winery where you will participate in a wine tasting and have lunch with regional specialties.
Finally you will go to Siena, the medieval treasure of Tuscany and home of the famous Palio horse race. Here you will explore the historic center accompanied by a guide who will show you all the secrets of this beautiful monumental city and such impressive sites as the Duomo, Via di Citta, Piazza and Palazzo Salimbeni, Palazzo Tolomei, Piazza del Campo and Fonte Gaia, Palazzo Pubblico and the Civic Museum of Siena.
What this tour includes.
Travel by GT air-conditioned coach.
Expert multilingual escorts.
Guided tour in Siena with monolingual guide in English or Spanish.
Free time in San Gimignano.
Visit to the fortress of Monteriggioni.
Itinerary
San Gimignano
Monteriggioni
Chianti, with tasting of its wine and typical products.
Siena
3. Day trip to Pisa, Siena and San Gimignano (with lunch and wine tasting).
Medieval villages that captivate the soul, fertile valleys and landscapes covered with vineyards, colorful sunsets, a gastronomy that takes your breath away... Leaving Florence and choosing a destination among all the corners of Tuscany to spend the day seems an almost impossible task. This Italian region is a treasure trove of art and culture that is almost beyond comprehension.
What's there to resist when it's so easy to fall in love with everything in Tuscany? As a traveler, I have asked myself this question more than once but fortunately there are activities like this day trip to Pisa, Siena and San Gimignano: with which you will not have to give up anything during your trip.
You will travel through the green plains of Tuscany to Siena (the artistic pearl of Tuscany and World Heritage City), enjoy a delicious Tuscan lunch and wine tasting in a charming wine cellar-restaurant in Poggibonsi, visit the medieval town of San Gimignano (famous for its impressive towers) and visit Pisa (known worldwide for its leaning tower). What more could you ask for?
Why I like this tour
If you have never visited this famous Italian region before, the most complete way to get to know in just one day its culture, traditions and all the must-see sites of Tuscany such as Siena, Pisa or San Gimignano is by taking this tour.
It's all advantages! **You won't have to worry about organizing your travel arrangements (as you will travel comfortably from one place to another by bus) or stops to eat and rest (as this tour includes a traditional Italian lunch and a wine tasting), or finding the main tourist attractions to see. Everything is perfectly planned for you to enjoy the experience to the fullest!
In addition, this tour combines in an excellent way the formula of a guided tour with free time in the different cities addressed by the tour, which is a very interesting option to take into account if you want to have the advantages of both modalities.
What to expect
At 7:45 AM you will depart Florence by bus for Siena, the so-called "Red City", where you will visit the historic center with a guide and visit such outstanding monuments as the Duomo, Piazza del Campo and Fonte Gaia or Palazzo Tolomei, among others.
Then you will make a stop in Poggibonsi for a break and lunch in a nice winery. In addition to tasting typical Italian dishes, you will have the opportunity to participate in a Chianti wine tasting, a truly fantastic gastronomic experience and a lot of fun!
The next stop on this tour is San Gimignano, a medieval hilltop town with the best skyline in Tuscany. I'm not exaggerating! Its spectacular medieval towers that stoically stand the test of time are visible from the road.
During the walk through San Gimignano you will have the feeling of being immersed in a movie set. Not for nothing is it considered one of the most beautiful villages in Tuscany. Enjoy free time to lose yourself in its beautiful medieval streets, contemplate gems such as the Piazza della Cisterna or Porta San Giovanni, visit the Duomo or climb one of the famous towers - the views from the top are amazing!
Finally you will visit Pisa and its impressive Piazza dei Miracoli, where you can admire the Duomo and the Baptistery as well as the famous leaning tower that has made this city world famous.
Isabel's Traveler Tip

By the way! Don't forget to have your picture taken holding the Leaning Tower of Pisa. It's a tradition that every traveler must do in Italy.
What's included in this tour
Air-conditioned bus
Professional tour guide
Guided tour in Siena in English and Spanish only.
Lunch and wine tasting at Poggibonsi
Visit to San Gimignano and Pisa
Itinerary
Siena: the Piazza del Campo, Fonte Gaia, the Duomo, Palazzo Tolomei, Via di Città and its historic center.
Poggibonsi: traditional Tuscan lunch in a local winery located halfway between Siena and San Gimignano. Menu based on bruschetta, salami and fresh cheese as starter, tagliatelle with ragù sauce (on request with tomato) as first course and dessert. Wine and water included.
San Gimignano: Piazza della Cisterna, Piazza del Duomo, Torre Grossa and Porta San Giovanni.
Pisa: Piazza dei Miracoli, the Duomo, the Baptistery and, of course, the Leaning Tower.
4. Day trip to Siena and San Gimignano.
Tuscany is one of those corners in Europe where everything is worth seeing. It has sublime landscapes of green meadows and vineyards, spectacular gastronomy and historically significant villages of unparalleled beauty that are easy to fall in love with.
But as in any trip, sometimes you have to choose because it is not always possible to cover everything we would like. So, if during your trip to Florence you have limited time to tour this mythical Italian region, my advice is to take this day trip to Siena and San Gimignano.
Why I like this tour
With this tour you will see the highlights of both locations and explore the beautiful Tuscan countryside with the advantages of traveling in a small group and having the assistance of a guide for part of the tour, specifically in Siena.
Thanks to your guide you will learn first hand everything you want to know about the main sites of interest but you will also have free time to customize the tour in San Gimignano and go at your own pace, getting lost in its beautiful medieval streets and stopping wherever you want and whenever you want. It is a very interesting option to consider if you like to combine both modes of visit.
In addition, you will live the experience of lunching in an authentic Tuscan winery where you can taste the excellent wines of the region, relax for a while chatting with the group and taste a little of that "buona vita" Italian style that has crossed borders. Sounds wonderful, doesn't it?
Another highlight is that on the way back to Florence, as the bus has free Wi-Fi, you can take the opportunity to upload to your social networks all the photos and videos of the tour, which I can assure you will be many because Tuscany is a fascinating land that raises real passions.
What to expect
To make the most of the day, the tour departs early from Florence (at 8 AM) for Siena. You'll have to get up early, but even if it's tempting, I don't advise you to take a nap on the bus because along the way you'll see a beautiful rural landscape between hills and vineyards, a prelude to that "gothic dream" that is this World Heritage City.
When you arrive you will believe that time in Siena seems to have stopped in the 13th century. It is an incredible city! During the guided walking tour of the historic center you will see important monuments such as the Piazza del Campo and Fonte Gaia, the Duomo and Palazzo Tolomei, among others. Watch out for stories about the Palio di Siena party because it's more than just a horse race!
At the end and before lunch in an ancient typical Tuscan winery you will have time to see the fortress of Monteriggioni, a small walled village on a hill and surrounded by olive trees that looks like something out of a fairy tale. In my opinion, one of the most beautiful places of the tour, you won't get tired of taking pictures!
The last stop of the tour will be San Gimignano, the best preserved medieval citadel in the region famous for its skyline of large stone towers. The most iconic are Torre Grossa (for being the tallest) and Torre Rognosa (for being the oldest) although in the old town you will see other very cool monuments such as the cathedral, the palazzo del Popolo or the church of San Agostino.
Before returning to the bus that will take you back to Florence, I recommend you to go to the main street of San Gimignano because it is full of typical shops where you can buy souvenirs or ice cream.
What this tour includes
-One day tour to Siena and San Gimignano from Florence in small group.
Professional English speaking guide and driver.
Round trip transportation by air-conditioned minibus or minivan with free wifi.
Guided walking tour with free time in Siena
Entrance tickets to visit the Siena Cathedral (if the option is booked)
Lunch in a Tuscan winery, along with its excellent red wines.
Free time in San Gimignano.
Itinerary
Siena
Monteriggioni
San Gimignano
5. Why San Gimignano is worth visiting.
Although it may not have the fame of other Italian cities like Florence, Pisa or Siena, in my opinion San Gimignano is one of the most beautiful villages in the country and one of the must-see places to visit in Tuscany. It was declared a UNESCO World Heritage Site for a reason.
The village can be covered in a couple of hours comfortably because it is not very big and is known especially for its landscape of stone towers, so high that can be seen even from the road before reaching the town. They have a curious origin and it is that they arose from a kind of competition between the wealthy families of the area to show which was the richest and most powerful.
Of the 72 that came to have during the Middle Ages, nowadays 14 are preserved and you can even climb some of them to contemplate the views of the surroundings. Something I recommend to admire from the sky both the magnificent architecture of San Gimignano and the beautiful landscape of cypresses, vineyards and olive trees that surrounds it.
In addition to its towers, during the walk through its coquettish medieval streets you will see other buildings such as the Duomo (which has wonderful 14th century frescoes), the Palazzo Comunale (home of the Civic Museum and from where you can enter the Torre Grossa), the church of San Agostino, the Cisterna square and the Rocca di Montestaffoli, which serves as a viewpoint of the town. The views from here are also fabulous, so take your time to take the pictures you want and enjoy the moment.
There are many reasons to visit San Gimignano but I recommend it especially because during the visit you will have the feeling of making a trip back in time to the past, as it still preserves that medieval atmosphere of great beauty that transports us to another era and catches us.
6. If you like this tour, you might be interested in...
If during your trip to Florence you would like to make several excursions to get to know the surroundings of the city, I advise you to take a look at the article The 10 best tours and excursions from Florence to find inspiration for your next getaway.
However, in case you prefer to focus on the capital of Tuscany to get the most out of your vacation, don't miss the post [The best things to see and do in Florence](https://www.hellotickets. es/italia/florencia/c-123): where we review the city's must-sees such as the Duomo, the Uffizi Gallery or the Accademia Gallery:, among many other emblematic places.
Frequently asked questions
Why should I visit San Gimignano?

Known as the Medieval Manhattan, San Gimignano is famous for its 14 tower houses, which contribute to its impressive skyline. It is also home to Vernaccia wine and the world-famous Gelateria Dondoli, a gelateria set up by former gelato world champion Sergio Dondoli.

How far is San Gimignano from Florence?

San Gimignano is located around 60 km (37 mi) away from Florence, and takes roughly 1 hr 20 mins - 1 hr 40 mins to get there depending on travel your mode of transport.

What souvenirs should I bring from San Gimignano?

The Vernaccia wine is something specific to the San Gimignano town, and a great gift to bring back, while ceramics featuring the medieval skyline are perfect to remember San Gimignano's uniqueness.