Pisa Day Trips from Florence
The famous leaning tower of Pisa is actually quite close to Florence, and visiting it on a day excursion is a great way to round out your trip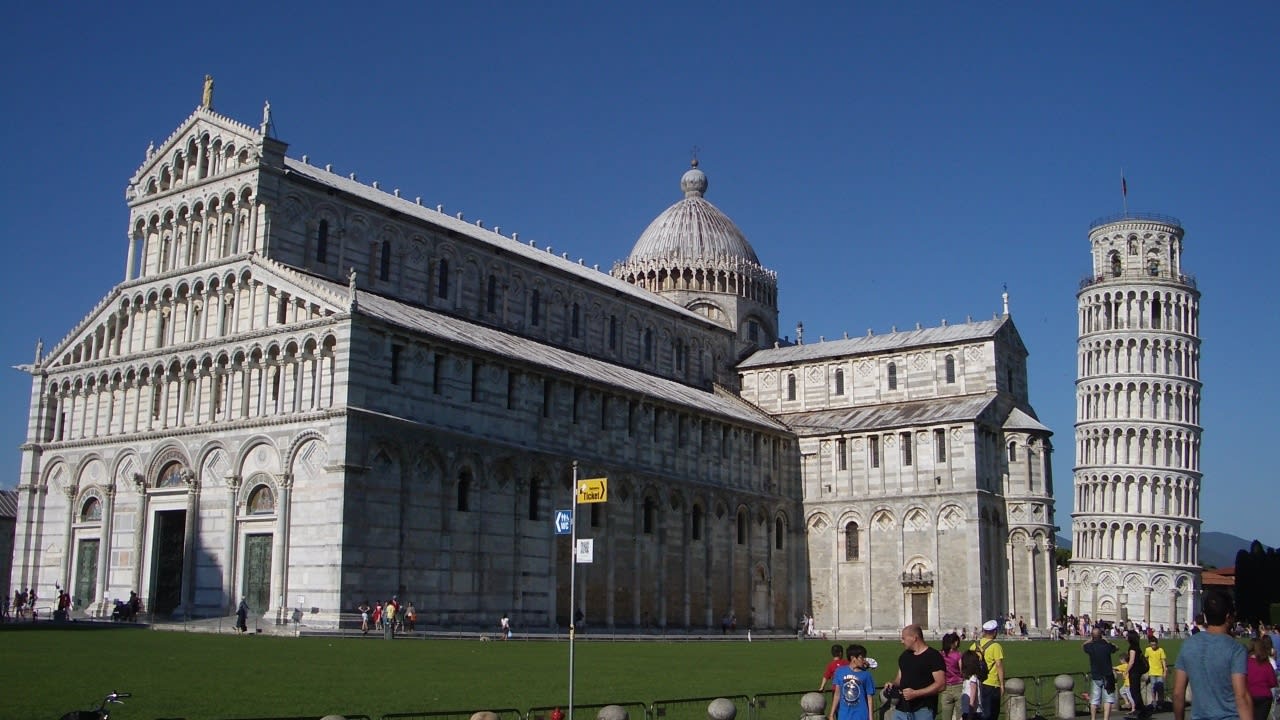 If you travel to Florence I recommend that you set aside a few hours to visit Pisa and see one of the most famous monuments in the world, its leaning tower, declared a World Heritage Site.
1. The best excursions to Pisa
There are several organized tours to visit Pisa and even other areas of beautiful Tuscany from Florence in the most comfortable way, let's see the best ones.
:::link|text=Day trip to Tuscany: Pisa, Siena, San Gimignano, Chianti and Monteriggioni|element=pr-34473:::
2. Half day guided tour of Pisa from Florence
This organized half-day excursion to Pisa departing in the morning will take you to Pisa from Florence accompanied by a guide and other travelers for a tour of the city and to see its most emblematic monuments, with free time to walk around the must-see Piazza dei Miracoli on your own.
What is included in this tour
6-hour excursion to Pisa
Transportation available by air-conditioned bus or by train
English speaking guide
Itinerary
Piazza dei Miracoli
Tower of Pisa
Pisa Cathedral
Pisa Cemetery
3. Half day guided trip to Pisa with skip-the-line entrance to its Tower from Florence
This tour is the same as the previous one, with a half day guided tour of Pisa with entrance to the Tower of Pisa and the Cathedral. This option is very convenient if you feel like visiting the Tower but don't want to wait in the long queues at the entrance.
Climbing the Leaning Tower of Pisa is worth it for the spectacular views that its viewpoint offers, although, keep in mind that to enjoy them you will have to climb 294 spiral steps. In addition, you will have free time to explore other points of interest in Pisa, such as the Piazza dei Cavalieri and its oldest church, the Church of San Sisto.
What is included in this tour
6-hour excursion to Pisa
Quick entrance to the Tower
Entrance to the Cathedral of Pisa
Transportation available by air-conditioned bus with WiFi
English speaking guide
Itinerary
Piazza dei Miracoli
Duomo di Pisa
Tower of Pisa
Plaza de los Caballeros
San Sisto Church
Vicky's Traveller Tip

If you have some extra time in Florence, I recommend that you take an excursion to see not only Pisa but take advantage of a combined tour of other locations and immerse yourself in the enchanting Tuscany.
4. Day trip to Pisa and Lucca
Very close to Pisa, there's a charming village called Lucca and that is often visited on the way to Pisa. This excursion to Lucca and Pisa from Florence will show you, with a guide, both places so that you can make the most of this day trip outside Florence.
What you will see in Pisa
In Pisa you will discover, of course, its Cathedral, the Baptistery, and its Leaning Tower. One of the things that make Pisa a pleasant and attractive city for its visitors is that its main points of interest are located in its famous Piazza dei Miracoli.
What you will see in Luca
In Lucca you will explore its Cathedral, the great Piazza dell 'Anfiteatro and the tasting of a buccellato, a sweet cake typical of this town and with which you will put the finishing touch to your getaway. Lucca is also home to an impressive collection of Etruscan ruins and Renaissance architecture.
What is included in this tour
9-hour excursion to Pisa and Lucca
Air-conditioned bus transportation with WiFi
English speaking guide
Entrance to the Cathedral of Pisa, with the superior option
Tasting of the sweet "buccellato".
5. Tuscany tour: Pisa, Siena, San Gimignano, Chianti and Monteriggioni
This great excursion to Tuscany will transport you from the bustling Florentine streets to the vineyards and hills of the spectacular Tuscan countryside, touring some of its greatest gems: Pisa, Siena, San Gimignano, Chianti, and Monteriggioni.
Itinerary
You will see Pisa and its Piazza dei Miracoli, with the Cathedral, the Baptistery, and the Leaning Tower and in Siena you will visit Piazza del Campo, home of the famous Palio di Siena horse race, with the Torre del Mangia, the Palazzo Comunale and the impressive striped marble of the Duomo. You will enjoy a 13th-century fortified town, Monteriggioni, with eleven impressive towers and surrounded by medieval walls.
In San Gimignano you will discover an old town declared a World Heritage Site for its architectural treasures such as the Palazzo del Podestà, the Piazza della Cisterna, the Dome of San Gimignano, and the Church of San Agostino. You will then travel through the vineyards of the Chianti region, the prized appellation of origin of one of the world's most popular wines.
There you will learn the secrets of the production of this wine with a visit to a local winery to pick yourself up with a typical lunch of pecorino cheese, salami, bruschetta with seasonal ribollita and vegetable soup accompanied by a Chianti and Vernaccia wine tasting.
What is included in this tour
Small group tour with a maximum of 8 people to Pisa, Siena, San Gimignano, Chianti and Monteriggioni.
Transfer to and from your hotel, provided you are staying in the center of Florence.
Transportation in an air-conditioned minivan with WiFi
Typical lunch with wine tasting in Chianti
6. What to see in Pisa
Pisa is a small town on the western coast of Italy, in the beautiful region of Tuscany. It was the birthplace of the famous physicist and astronomer Galileo Galilei and is home to one of the most famous monuments in the world, the Tower of Pisa, as well as other magnificent buildings in a characteristic Pisan Romanesque style.
Its majestic appearance is the result of the period of splendor that Pisa experienced during the twelfth century, something that can also be seen in its old town with magnificent buildings, squares, and alleys that run along the Arno River, the main route of communication for centuries.
Piazza dei Miracoli
This square is one of the most spectacular monumental complexes in the world, declared a World Heritage Site by Unesco, with the Duomo, the Baptistery, and the Leaning Tower of Pisa. It is because of the amazing architecture of these buildings that it is known as the 'Square of Miracles'.
Tower of Pisa
It took 177 years to build this tower, which was conceived in 1173 as the bell tower of the Duomo, and began to lean shortly after its completion due to the unstable subsoil on which it sits. Today the Leaning Tower of Pisa is a World Heritage Site and remains the symbol of the city, being the most famous leaning tower in history, with an inclination of almost 4 degrees.
The Leaning Tower of Pisa was closed for 20 years for restoration to prevent its fall, but since 2011 it is possible to re-enter this monument that, at 180 feet high, offers panoramic views from its eighth floor after ascending 294 spiral steps. Legend has it that Galileo Galilei proved one of his theories by throwing two cannonballs from the top of the tower.
Pisa Cathedral
The Cathedral of Santa Maria Assunta stands in the center of Piazza dei Miracoli. It is a medieval Catholic cathedral built in 1063 in the Pisan Romanesque style and dedicated to the Assumption of the Virgin, as the episcopal see of the Italian city of Pisa. It stands out for its delicate facade of white and gray marble and a huge solid bronze door.
Its interior is also impressive because it houses several works of art, two rows of impressive Corinthian columns from the island of Elba, mosaics, and a carved pulpit, a masterpiece of medieval sculpture sculpted by Giovanni Pisano in 1310.
Baptistery of Pisa
Located in front of the Cathedral, it is the largest baptistery in Italy, with a height similar to that of the Tower of Pisa and a diameter of 118 feet. Its spectacular white marble facade gives way to a more sober interior, which highlights its octagonal baptismal font. Using its side stairs, you can climb to the top of the Baptistery and admire a magnificent view of the Cathedral of Pisa.
Cemetery or Monumental Cemetery in Pisa
A monument that completes the architectural complex of the Piazza dei Miracoli, the Cemetery of Pisa took almost two centuries to complete, from 1278 to 1464. It is striking for its long marble facade with 42 blind arches and was designed as a Gothic-style cloister decorated by frescoes to house 84 tombs from imperial times.
7. Other interesting visits in Florence
If this article on how to get to Pisa has helped you when planning what to see and do in Florence, take a look at other articles you may find useful about other destinations, such as Cinque Terre Day Trips from Florence or Siena Day Trips from Florence.