Florence Food Tours
Italy and Florence are synonymous with good food and for this reason I share with you the best gastronomic tours that you can do in the Florentine city and its surroundings.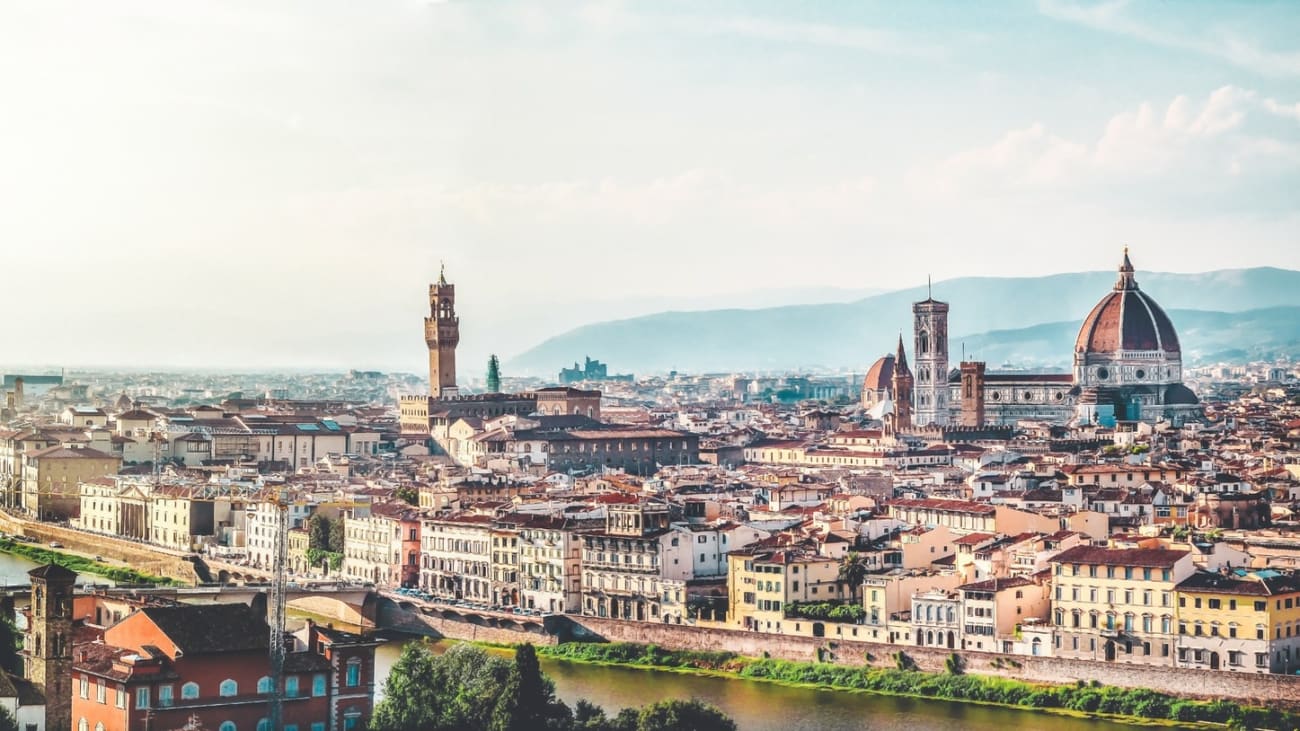 The art and charm of Florence goes far beyond its museums and monuments. It is also reflected in its gastronomy. Italian food has earned its worldwide fame and is much more complete than the famous pasta and pizza combos. Florence is also one of the best cities to enjoy this gift that Italy offers us in the form of food.
Its location in the heart of Tuscany makes it a favorite destination for lovers of gastrotourism. In the streets of Florence we can taste its most traditional dishes such as pasta, pizza or gelato, lesser known dishes such as Ribollita, try its street food or enjoy eating while tasting a good wine in Tuscany. Whatever the tastes of your palate there is an option for you and in this post I discover what are the best gastronomic tours in the city of Florence.
1. Learn how to make pizza and gelato like a real Italian chef
If there is one thing Italian chefs are known for, it is for making the best pizzas and ice creams in the world. Fortunately, some of them share their knowledge and give classes for visitors to learn the secrets of Italian cuisine to make the best pizzas and ice creams possible.
There are many locals and restaurants in the city center that offer these organized classes in which a chef will explain everything you need to make a good pizza and gelato, provide you with the best ingredients and then you will be able to taste your own creations with drinks included. Many of them will also give you a certificate so that no one will doubt the skills you have learned.
Price: Around 50 euros.
What you'll taste: You'll learn how to make the best pizza dough, what are the best combinations of ingredients and sauces, baking times and secrets and the best techniques for making ice cream.
Recommended if: In addition to tasting the best of Italy, you want to take home the knowledge to do it at home.
2. Wine tasting and typical Tuscan dishes in Chianti
The gastronomy of Florence goes beyond its streets. The city is located in the heart of Tuscany, in fact it is the capital of the region, and offers endless options for excursions to the typical vineyards of the area.
You can visit them not only to taste the wine, but also to accompany it with a good typical Tuscan meal with the postcard of its vineyards in the background. The best region for this is Chianti, very close to Florence. Guided tours to this region include transportation to and from the city as well as a visit and tasting at a winery in Chianti. If you want to know the best vineyards to visit you can do it by clicking on this link.
Price: Tours start at 30 euros.
What you will taste: Traditional Tuscan dishes accompanied by the best wines of the region.
Recommended if: You want to live the most authentic Tuscan gastronomic experience.
3. Gastronomy and art in the historic center of Florence
Everyone who visits Florence does so for its historical and artistic heritage. Just as you can not miss its museums and monuments, you can not and should not miss the opportunity to taste its gastronomy. To enjoy it at the same time that we enjoy its tourist attractions there are guided tours that combine both.
These tours usually include the entrance to the Duomo, the entrance to the Accademia Gallery and the entrance to the Uffizi Gallery and places like the Ponte vecchio with the addition of completing the itinerary with a tasting of typical products such as sausages, pasta and sweets in a typical trattoria in the center of Florence.
Price: All inclusive usually starting from 80 euros.
What you will taste: Typical cured meats, Tuscan cheeses, pasta, sweets and wines of the Tuscan region.
Recommended if: You are looking for the most comfortable way to combine tourism and gastronomy in the same day.
4. Gastronomic Tour in the San Lorenzo district
If we want an exclusively gastronomic tour, the best ones are usually in the neighborhood of San Lorenzo. This neighborhood is full of restaurants, ice cream parlors, and all kinds of food places. But its main attraction in this regard is the central market or San Lorenzo.
Tours of this neighborhood always pass through the market and offer tastings of traditional Florentine food with top quality products and the chance to see how they are made first hand. This also applies to ice cream as there are ice cream parlors with demonstrations of artisan ice cream making that are often stops on these tours.
Price: Including the visit to the market, tasting and demonstration of elaborations, wine tasting and visit to an artisan ice cream shop from 90 euros.
What you will taste: Typical dishes such as Bruschetta, Bistecca alla fiorentina, Lampredotto, Panino or schiacciata accompanied by Tuscan wines and artisan gelato.
Recommended if: You want to taste dishes with top quality products and learn how to prepare them.
5. Tasting of typical Florentine dishes
If you don't want to beat around the bush and want to know directly which are the best dishes in Florence, there are tours that show you from breakfast to dinner in the historic center of Florence.
These tours start in a typical Florentine coffee shop where you can taste the best Italian coffee after which you visit a bar, or in some cases the market of San Lorenzo, to taste a series of elaborations with typical products such as truffles, sausages or cheese. Dessert is also included and you can't miss a tasting of sweets such as the famous cantucci and homemade ice cream.
Price: From 30 euros.
What you will taste: Italian coffee, elaborations with cold meats, cheeses, truffles, etc. Wines and drinks, sweets and homemade ice creams.
Recommended if: You want to get straight to the point and try the simplest and most typical dishes without beating around the bush.
6. Tour for sweet lovers.
Maybe you have a sweet tooth and for you meals are a mere formality until you get to dessert. Well if this is your case there are tours designed for those who are for you. These make a short tour of some historic pastry shops and ice cream parlors in the center of Florence.
In them you can taste the most typical sweets of Florence such as Cantucci, dry cookies filled with nuts, or Schiacciata alla fiorentina, sweets covered with powdered sugar and are typical of carnivals but can be tasted all year round. Of course, homemade ice creams also play a leading role.
Price: From about 20 euros.
What to try: Typical sweets such as Cantucci or Schiacciata alla fiorentina and homemade ice creams.
Recommended if: You have a sweet tooth.
7. Gastronomic excursion to San Gimignano
There are hundreds of excursions and gastronomic tours in Tuscany but San Gimignano deserves a special mention. This beautiful medieval village is one of the most famous postcards of Tuscany and a highly recommended gastronomic destination. The traditional cuisine of the Italian mammas is the protagonist of the ancient trattorias in the center of the village.
The tours to San Gimignano are very popular and include transportation to and from the center of Florence as well as a guide who will not only show you the town and its history but will also advise you on gastronomic issues. Also as an extra we can complete the visit with a wine tasting in a winery in the same village.
Price: A day tour to San Gimignano with gastronomic visit is around 100 euros.
What you will taste: Traditional Tuscan cured meats and homemade dishes.
Recommended if: You want to visit one of the most beautiful villages in Tuscany and round off your visit with a good gastronomic experience.
Other gastronomic experiences
In addition to these tours Florence offers other gastronomic options to do on our own if we want to enjoy the virtues of local and Italian cuisine:
Tour of some of the best trattorias in Florence
The trattorias
are a type of Italian restaurant in which homemade food predominates. In fact, the word trattoria comes from "trattore" which means to prepare and has its origin in the Italian mammas and their homemade dishes. The center of Florence is full of this type of restaurants and you can take an organized tour or go on your own to try them.
Some of the best known trattorias in Florence are Trattoria Mario in San Lorenzo, Trattoria Giovanni in Santo Spirito, Trattoria dall Oste in the center of Florence or Trattoria da Ruggero near Porto Romana.
Price: Trattorias average between 20 and 30 euros per person.
What to try: The best known homemade Italian dishes such as Bistec alla fiorentina, pasta of all kinds, Ribollita soup etc.
Recommended yes: To go on your own and try the best homemade Italian dishes.
Taste the best gelaterias in town.
No matter how much you eat there is always room for a good ice cream and if they are Italian even more so. If you are a lover of dessert par excellence in Florence and throughout the country you can and should take a tour of the best ice cream parlors in the city.
There are hundreds of them but the most recognized are: Grom ice cream parlor, a franchise already consolidated and spread all over the world, the artisan ice cream parlor Perche no, the Vivoli, one of the oldest in Florence, and the Dei Neri ice cream parlor near Palazzo Vecchio.
Price: Prices vary a lot but you can taste good ice creams from just over 2 euros.
What you will taste: The best gelato in the world.
Recommended yes: The answer is easy. If you like ice cream.
The city of Street Food.
Street food plays a leading role in the gastronomy of Florence and not only for the pizza slices. In the Florentine capital reign the snacks known as Lampredotto. These are sandwiches similar to hamburgers but stuffed with cow tripe. The paninos or schiacciata are also typical snacks but much more varied and there are thousands of combinations.
To eat well, fast and cheap this type of food is the best option and in the center of the city there are hundreds of places that serve this type of food and that make it the capital of Street Food in Italy.
Price: There are options with drink from about 5 euros.
What you will taste: The best street food in Italy.
Recommended if: You are looking to eat well without making too many breaks in your trip and also cheap.
Book a table at the Hard Rock Cafe in Florence
If you feel like playing it safe or you are a fan of American food, make your reservation with menu for the Hard Rock Cafe in Florence and you can enjoy various types of menus with barbecue meat, salmon or burgers surrounded by rock classics.
Price: 23 euros
What to try: Two or three courses of barbecued meat, chicken, salad or burgers.
Recommended if: You prefer American food in a mythical place.
Tips for a gastronomic tour of Florence
Whether you hire a gastronomic tour or visit the bars and restaurants of Florence on your own there are a number of points you should know so that nothing will sour your meal:
In most bars and restaurants they charge you for tapas based on seating at the table. On the bill it is reflected as "coperta" and the price is usually between 1 and 2 euros. However, in the more touristy areas this surcharge is usually higher.
It is increasingly common for restaurants in Florence to charge a 10-15% service charge on the bill. Tipping is separate.
There is no written law regarding tipping. Italians are not in the habit of tipping and nothing happens but in tourist places like Florence it is more common for tourists to leave a tip. They will not look at you badly if you don't, but it is advisable to leave a couple of coins, 1 or 2 euros no more, if you liked the service.
Meal times are similar to those in Spain and you eat a little later than the usual European schedule. Lunch is usually between 13:00 and 15:00 and dinners from 20:00. Nevertheless the restaurants in Florence are usually very flexible in this aspect.
As the dinner in Florence is relatively late, Florentines have the habit of having a kind of pre-dinner with a wine and a small tapa in the bars of the city.
Italian coffee has its own laws. After 11 a.m. it is almost frowned upon to add milk to coffee. Coffees with milk are more typical of breakfast and after that time it is very rare for Italians to drink coffee with milk. Exceptions are made for espresso macchiato, a coffee with milk foam, but the undisputed king in the afternoon is espresso.
Finally regarding coffee, the most common is to order it and drink it at the bar, because if you drink it on a terrace or at a table it is quite likely that you will be charged a little extra.